Episode Transcript. Length - 37:02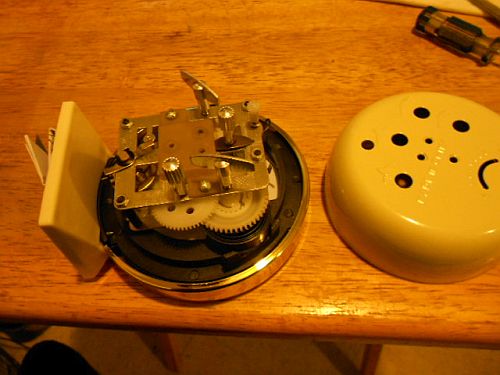 Magnetofunky No. 101. It's Saturday, December 8th, 2018.

[intro theme]

Hey. Larry here. This week I'm finally ready to test the Benitez-1, and I decided yeah, I will play Tesla after all. The music is a mostly submitted set of fresh funky tunes...

[song] - 00:49

Ok, that was Public Radio Deadbeat, played in honor of KPFA Pacifica over in Berkeley, which is running a pledge drive right now, and yes, I have donated to the station... Anyway, the band is Octopolis from down in SoCal, with five albums on Spotify/Apple Music/Bandcamp/etc, new one coming out next year. They're sort of like Zappa-meets-Ween-meets-Pavement. The song's from their latest release, Transincontinental. Cool. And, sorry Cathleen - you'll probably need the dump button for the rest of the music this week. Anyway, this week the Benitez got a first Coefficient of Performance test while I found a loophole in said testing, as it applies to the SRO Grid. So...

This is a laid back (and often explicit - you bet your ass) weekly international podzine of extremely eclectic music and progressive politics, with a focus on energy independence for the 99%. My podpages are 1223studios.com/mfunky.h and facebook.com/1223Studios.

[Grid Theory] - 04:34

1.32

Ok, In Grid Theory,

We start here mid-week, which was full of mishigoss away from the lab, but otherwise I was hitting the hardware store for the final parts for my intentional hobby project - a 3V Mini Tesla Coil. I'm replicating it from a YouTube video called Plasma Channel - it's on the FB page. I picked it cause it's small enough to allay fears of generating ozone or large high frequency energy fields in a tight SRO space. And yeah, it's mostly for showing off, but, if you're gonna play Tesla, you got to make a Tesla Coil to check that box on the mad scientist list...

Anyway, Thursday and Friday was spent on final prep for Benitez testing, mainly deciding which of the 'B' batteries to hook the Ammeter to (the B1 negative), but I realized that I don't really need to achieve 2.2 battery charging efficiency cause it'll never happen with these 4Ah batteries. Dr. Lindemann himself said you need much larger capacities, like 60 - 100ah each or more, then it's a cinch if you properly build the thing, but those are big-ass infrastructure total off-grid system batteries, and I don't need a scaled-up system designed to outlast a zombie apocalypse. My portable SRO Grid will only upgrade to 20 or 30Ah portable batteries to match the size of my load (10A at 12V).

Now the Benitez-1 system is his proof of concept within a closed loop, unlike the Benitez-7, and frankly I'm good with an efficiency of 1.2, though I'm hoping to get as high as 1.32, which is 60% of 2.2. And if 2.2 means those batteries would last a decade or more, if I can get say, 6 or 7 years instead of 3 or 4 out of these dinky batteries with a C of P of 1.1, that's fine, because it'll completely satisfy my requirement from show no. 1: the ability to charge a battery on day 3 (and maybe day 30) of a blackout---

[bell]

Ok, coming back with with interrupted Benitez fun...

[Back To The Stage] - 07:58

Ok, Back to The Stage, continuing with a hard blue set of numbers freely dropping F-Bombs galore...

Kicking off with Republifucks - another fresh piece by Mind`s Eye, the Alternative Rock / Pop artist from Oshawa, ON, CA, then it's WTFIWWM by realkingK, a Hip Hop artist over in Colonial Beach, VA who caught my ad on DC Craigslist.

[songs] - 08:34; 11:45

[Second Set] - 15:06

Ok, second set opens with Glad Im not white(FUCK NAZIS) - Difference of Opinion, a hardcore punk band from the NorthEast Los Angeles area of Cypress Park that was started in 1997. The band broke up in the 2000's but you can find some members in The Dolemite Project and Los Creepers, then we wrap with GOP-God Over Politics - Columbine Christ, a Slam Death Metal/GoreGrind band out of Springfield, VA. No-frills, stripped-down, unapologetic Slam-Grind. This one's pretty rough, I think it's full of F-Bombs...

[songs] - 15:58; 18:19



["Geeknotes"] - 21:14

Geeknotes: 12/08 - East Bay Alternative Book & Zine Fest 2018 @ Omni Commons, Oakland, 12/11 - LAFLA Expungement Clinic @ LA Law Library, 12/11 - Lynn Fitzgerald @ The Gallery Cabaret, Chicago, 12/13 - Pack the Chamber! Hearing on the Public Bank Task Force @ SF City Hall, Room 250...

Hey, Geeknotes!

Today it's Saturday the 8th of December, not Friday because I waited for the Mueller fallout, but mainly because of the PG&E Grid Down. Anyway, there was no shocking developments, nothing you didn't already know, and even with the overhyped drama I feel like Mueller is vamping until the new Congress is sworn in.

Meanwhile, an important win - the goddamn Nazi who ran over Heather Heyer at Charlottesville was found guilty of 1st Degree Murder, and fuck his name...

Meanwhile, we had the spectacle of hagiography over the planting ceremonies for former President George Willie Horton Bush AKA Papa Doc Bush, AKA the butcher of Panama City AKA the Iran/Contra cleanup man AKA the only adult who don't remember where he was the day JFK was assassinated (oh, what was that? Show proper respect for the honored dead? Excuse the hell out of me, but I'm only treating him the way too many of y'all treat black and brown and poor folks freshly killed by the po-lice...) So, as he checks out his new condo in the 7th circle of hell reserved for patrican murderers and tyrants, let's move on past the continuing atrocity of brown children still being separated from parents and the angry lame duck minions in Wisc. and Mich. monkeywrenching the election results and run some dates...

12/08 - East Bay Alternative Book & Zine Fest 2018, 11 AM – 5 PM, Omni Commons, 4799 Shattuck Ave, Oakland

They're introducing a Zine Store at EBABZ Fest this year. Drop off your zines and let Fest volunteers manage your sales. Some of the workshops cover Writing From the Margins: Creativity & Embodiment for Artists of Color with Fatima Nasiyr, Mixed Media Sticker Making with Rafael Tapia III, and Letterpress Basics with Kristi Holohan. Cool...

12/09 - Int'l Anti-Corruption Day, World Genocide Commemoration Day

12/10 - Last Day of Chanukah, Human Rights Day

12/11 - Int'l Mountain Day

12/11 - LAFLA Expungement Clinic, 5:30 PM, LA Law Library, 301 W 1st St, Los Angeles

Legal Aid Foundation of Los Angeles hosts an expungement clinic every second Tuesday of the month at LA Law Library. All participants must be pre-screened for our services and pre-registered for our clinics. Call 1-800-399-4529 for screening and registration. Visit their website calendar via the FB page for more information.

12/11 - Lynn Fitzgerald @ The Gallery Cabaret, 2020 N. Oakley Chicago 7 PM to 9PM

A Puddin'head Press event We will have our regular open mike and other weirdness with a poetry performance by Lynn Fitzgerald. Lynn is the author of "Closer To The Earth". She has been featured all over Chicagoland and beyond. She has traveled the world with her poetry and this night she is landing here.

We'll read from John Dickson's "9 X Christmas"

We will also remember the poetry of Dorothy Wahl, Chicago poet, one time member of The Poets' Club of Chicago.

12/13 - Pack the Chamber! Hearing on the Public Bank Task Force, 10 AM – 1 PM, SF City Hall, Legislative Chamber, Room 250

Come speak with us at public comment to demand the Treasurer recommend a public bank for the people, by the people!

Malia Cohen is calling the Treasurer's Office to the Budget and Finance Committee to answer for what (little) progress Treasurer Jose Cisneros has made on the Public Bank Task Force.

The Treasurer--who has built his legacy on providing Wall Street banks with more customers from low income neighborhoods--has all but dragged his feet this entire year. Should be interesting...

If you have promos, pluggers, gig info, an art opening, etc, send me an email. The address is mfunkyzine@gmail.com. And bands, artists and poets - download links, no attachments, please, and no promises...

[Grid Practice] - 27:40

Benitez 1(7)

Ok, in Grid Practice...

Picking up last weekend, when the screw pot cases and the bug zappers came in. Meanwhile, I ran down the 'B' batteries using the 160W inverter and plugging in my laptop. It ran fine, and I saw that I could get at least 2 hrs out of each battery without concern for straining them... Ran 'em down to between 12.2 - 12.3V. On Sunday I charged up the 'A' batteries and popped in on the Howard Zinn Book Fair, pick up a few goodies and left a few podcast flyers...

On Monday I went over to the Berkeley store for a couple parts and a consult (cause the guy there is pretty much the only spotter I can ask stupid questions), like about that stupid diode in the Lindemann Benitez circuit diagram, and he confirmed that it was drawn backwards. Score one for me...

Meanwhile, the 30 gauge magnet wire and the spring wound clock came in...

Anyway, the very last thing to check on the Benitez build was to continuity test the reed switch to make sure it was ok, meaning no continuity when it's not running.

And, as I sat there on Friday in the middle of a PG&E-imposed Level 3 Grid Down, I'm about ready to jump straight to the Benitez-7. After all, the only difference in the two doohickeys are that the '7' replaces the motor, resistors, transistor and reed switch with a capacitor and induction spark coil that does the same thing - rapid on-off switching of the signal. The transformer in the '7' is connected in series with the B1 positive and the business end of the induction coil; in the Benitez-1 that business end is the collector of the PNP transistor. Anyway, I now have the transformer on little terminal blocks and it's wired up in parallel for 12V input/115V 60Hz output, so after I run two or three efficiency tests I'm throwing it on...

[One More Tune] - 31:05

For One More Tune, we close out with another number by Octopolis I almost put in as the lead-off. Anyway, it's from their first platter - self-titled, and we're going out with a blue bang. The song is Small Price To Pay (For Pussy), and dedicated to you angry dateless wonders called InCels who thinks their shit don't stink...

[song] - 31:43

Well Ok...

[Closing] - 35:19

Hey, this show is a 1223studios joint.

Show files are at iTunes, Internet Archive, Stitcher, Tunein, Listen Notes, Podknife and Mixcloud. Episode notes are on the podpages, and you can download the MP3 directly.

If you like the show, tell your friends, and, here's something nobody's talking about: you want a long-term solution to fixing many of our problems with government? How 'bout returning Civics back to Junior High and High Schools; the first thing the old farts did in their 'dumb down the schools' campaign 30+ years ago. They attacked and banished Civics teachers as Commie-Lovers and killed the classes off, and if the masses are left with the Corp. Media and corporate politicians explaining what's in the Constitution, you eventually get this shitty political atmosphere. And I mean Civics, not Social Studies...

Show themes "Rocket Power" & "Spy Glass" by NY musician and composer Kevin MacLeod. Some additional audio from freesound.org.

Next episode is set for Friday, December 14th.

I'm Larry, trying hard to stay chill at my garrett in the Mission, and this is Magnetofunky, from San Francisco, where we go through, not into, the darkness.