Benitez Crash Test

Episode Transcript. Length - 33:39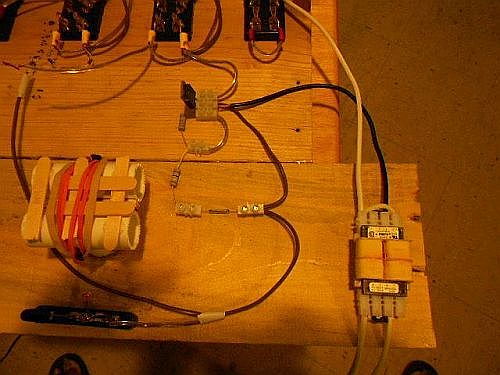 Magnetofunky No. 102. It's Friday, December 14th, 2018.

[intro theme]

Hey. Larry here. This week the first Benitez test went sideways, but I made progress on the Mini Tesla build. The music is a few all submitted numbers pulled from the pending stack because I spent so much time in the lab...

[song] - 00:49

Ok, that was Hello - Black Stardust, the LA Rock n Roll Magic band. And BTW, their next gig is at The Park Bar and Grill in Burbank on Dec. 22nd.

This is a laid back (and often explicit - you bet your ass) weekly international podzine of extremely eclectic music and progressive politics, with a focus on energy independence for the 99%. My podpages are 1223studios.com/mfunky.h and facebook.com/1223Studios.

[Grid Theory] - 04:31

Continuity Detour

In Grid Theory,

It's been 2 steps forward, 1 step sideways - over the last weekend I wired up the triple tap transformer so it would be ready to bump the system up from 1 to 7, then after watching the Mini Tesla video a couple more times I laid out the acrylic top and base sections on the graph paper with all the drill holes measured and marked.

On Monday, after I did a bit of non-lab running around, I set up the Benitez-1, took a voltage reading from the B1 battery and turned the doohickey on, and after a couple miutes it was clear that something was off - the A batteries barely moved, but both B's were very slowly discharging. I checked all the connections, but no improvement. I checked the circuit, and discovered that if you move the reed switch away from the pulley wheel the motor stops, but moving the central part of the reed switch directly under the wheel had the motor diode smoking. After I replaced it, I wondered if the thing would improve with the transformer as a load, so I hooked that up, turned the system back on but no light from the plugged in AC night lamp. So I took the transformer off, took off the wires, ran the output off the AC handcrank and got light, then checked the transformer itself and discovered that the primary coils failed the continuity test, but the secondaries were fine. Didn't think I had to check that since it came from the shop.

So, instead of going back to the store for another one, I popped a coil out of another LED lightbulb to do it like the mini booster and addressed the Mini Tesla[bell]

Uh, anyway, coming back still in the Benitez weeds...

[Back To The Stage] - 07:21

Ok, Back to The Stage, continuing the all submitted set with a new band gracing the scene - Chet & His Alter Egos, a New Alt Rock band based in downtown Los Angeles, about to release their first EP. Here's Rebuild...

[song] - 07:44

Ok, wrapping the short set with The Beauty - A Primitive Evolution, the Alternative / Rock / Grunge Toronto band last feat. in show 89, back in Sept. This is from their new album of dark electronic metal, Becoming.

[song] - 11:57



["Geeknotes"] - 16:14

Geeknotes: 12/15 - Gun Buy-Back SF @ United Playaz, SF, 12/16 - Legalize Affordable Housing Everywhere Mtg 1 @ 1260 Mission St, SF, 12/18 - Pop-Up African Market @ Stonemill Matcha, SF, 12/20 - Pedagogy of the Oppressed reading group @ DSA, SF...

Hey, Geeknotes!

Today it's Friday the 14th of December, and I want to get back to the lab, so I'm keeping it brief on the schadenfreude of P-Grabby's bad week - of getting his ass handed to him by Nancy Pelosi on live TV, of the Senate calling out MBS on the murder of Jamal Khashoggi and slapping an end date on supporting Saudi Arabia's slaughter in Yemen, because while his mob fixer Michael Cohen gets an insulting short stretch at Club Fed for his pusillanimous perfidy, the non-rich non-connected non-white Cintoia Brown gets 51 years for defending herself against kidnapping and rape, and a 7-year old non-rich non-connected non-white little girl died hours being kidnapped from her refugee parents. So maybe now every Border Patrol and LICE kiddie concentration camp and uniform should sport the phrase 'El trabajo te libera' - yeah, that's Spanish for arbeit macht frei.

And, with a hearty seasons greetings to Prada NYC with the lovely jigaboos in the storefront window, let's run some dates...

Anyway, let's run the dates:

12/15 - Gun Buy-Back SF, 8 AM – 12 PM, United Playaz, 1038 Howard St, SF

Hosted by Gays Against Guns SF

United Playaz is a violence prevention and youth development organization that has worked in San Francisco for 20 years. The buy-back gun program is a "no questions asked" trade of cash for guns: handgun = $100.00 ea, assault weapon = $200.00 ea. Cool, and you guys - don't let the kids listen to last week's show...

12/16 - Legalize Affordable Housing Everywhere Mtg 1, 5 PM – 7 PM, 1260 Mission St, SF

This event sponsored by local Political Candidate Sonja Trauss and numerous community orgs and the YIMBY party.

Currently, zoning laws make it illegal to build Affordable Housing in 88% of San Francisco. Non-profit Affordable Housing developers can't afford to build Affordable Housing unless they're allowed to build 50 units per 10,000 sq ft of land. Unfortunately, that's only legal in 12% of the city. This is a major reason why so little Affordable Housing is being built in San Francisco.

Proposal to be discussed: Change the zoning laws!

12/18 - Arabic Language Day, Int'l Migrants Day

12/18 - Pop-Up African Market, 7 PM – 9 PM, Stonemill Matcha, 561 Valencia Street, SF

This is the first pop-up African Market featuring handmade products made in Kenya. All items have been uniquely designed by artisans just for the org. Freely in Hope! Using brass, beads, wood, and traditional weaving, the African Market is sure to inspire your Christmas gift giving.

That includes home goods, baby items, and jewelry.

All proceeds support programs that fund education and leadership for survivors of sexual violence in Kenya.

12/20 - Int'l Human Solidarity Day

12/20 - Pedagogy of the Oppressed reading group, 6:30 PM – 8:30 PM, DSA, 350 Alabama St, SF

Hosted by Democratic Socialists of America SF

Paulo Freire's Pedagogy of the Oppressed is much more than a text for educators on education. It is a field guide to the way that oppression is made hegemonic, a thorough critique of the way mass education is conducted the world over, and a practical framework for what DSA might consider to be base-building. It has been banned by dictators and celebrated by radicals in the decades since its publication. This reading group will be a valuable starting point for important conversations about the work DSA does, and how they can do it better as they build a movement against capitalist exploitation.

12/21 - Winter Solstice Day, an important day in the ancient world that was kidnapped and turned into Xmas.

If you have promos, pluggers, gig info, an art opening, etc, send me an email. The address is mfunkyzine@gmail.com. And bands, artists and poets - download links, no attachments, please, and no promises...

[Grid Practice] - 23:08

Battery Impedance Weeds

Ok, In Grid Practice,

Back in the lab, on Tuesday I drew the sections on the acrylic sheet and tried to cut it with a jigsaw and got a shattred splintered mess, so I used a box cutter to score and snap the pieces out, then I knocked out the holes with my power drill (one thing of note: even if you take care to cut the large holes starting with the tiny drill bit, the 1/4 inch bit still made a mess). Anyway, I went on and got the wire stuff done - put about 30 turns of 32 gauge wire on the lightbulb coil for the replacement transformer and took care of the secondary coil for the Mini Tesla.

On Wednesday and Thursday I went back to the Benitez - checked the battery wire layout and confirmed all the connections on the knife switches, then turned to the 4Ahr batteries; maybe too much internal resistance for testing. So I did the measuring and math with my 6 Ohm 50W resistor to get the numbers for my batteries. B1 had 0.9 Ohms, B2 had 0.77 Ohms, and the fully charged A2 had 0.72 Ohms. Now that's just the internal resistance, not the impedance, and my lab is not the Keck Engineering Lab at CalTech, I can't run Electrochemical Impedance Spectroscopy (no, my oscilloscope by itself ain't enough), but even without that, all the research indicated that anything over .1 to .4 Ohms is pretty high, and that's still a ballpark guess, unless any spotters wanna chime in to the show...

But I saw one silver lining; one benefit of building the Mini Tesla is that the use of aluminum foil tape to ground out the secondary coil will also work to ground out the AC outlet in my mini booster...

[One More Tune] - 26:40

For One More Tune, we close out with Gamma Ray, another cool number from Octopolis who made a splash last week...

[song] - 26:53

Well, OK.

[Closing] - 32:24

Hey, this show is a 1223studios joint.

Show files are at iTunes, Internet Archive, Stitcher, Tunein, Listen Notes, Podknife and Mixcloud. Episode notes are on the podpages, and you can download the MP3 directly.

If you like the show, tell your friends, and, it's funny, but the yuppies and tech bros that exhibit the most contempt for the homeless invariably are the ones who let their chi-chi dogs shit in the middle of the sidewalk...

Show themes "Rocket Power" & "Spy Glass" by NY musician and composer Kevin MacLeod. Some additional audio from freesound.org.

Next episode is set for Friday, Dec. 21st.

I'm Larry, trying hard to stay chill at my garrett in the Mission, and this is Magnetofunky, from San Francisco, where we go through, not into, the darkness.