Tesla on Third Base

Episode Transcript. Length - 32:52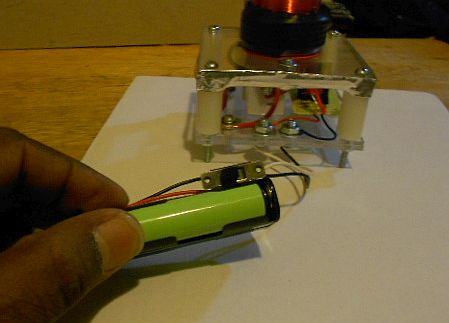 Magnetofunky no 103. It's Friday, December 21st, 2018.

[intro theme]

Hey. Larry here. This week the second Benitez test went crash and burn, but I'm almost done with the Mini Tesla. The music is almost all submitted fresh beats...

[song] - 00:44

Ok, that was Kemir Beni - She Past Away, a band from Bursa, Turkey, now hanging out between Barcelona and Athens. They blend dark-wave with an 80's influence and post-punk era guitars with minimalist poetry. The fine folks at Metropolis Records in Philadelphia sent me an advance copy of their 2012 album "Belirdi Gece" they're reissuing in the states next month, and the band is now on tour - if you're in Stockholm catch 'em on Xmas night at Debaser Strand.

This is a laid back (and often explicit - you bet your ass) weekly international podzine of extremely eclectic music and progressive politics, with a focus on energy independence for the 99%. My podpages are 1223studios.com/mfunky.h and facebook.com/1223Studios.

[Grid Theory] - 05:16

Crash and Burn No. 2

In Grid Theory,

The Benitez is still on the drawing board, where I laid out the switch 1 battery orientation on the circuit diagram for switch 7, and I changed the transformer connection to knife switch 3 instead of 4, as shown in the lab notes pics. I installed the little transformer before test no. 2...

So, crash and burn test no. 2 ran for 15 min., demonstrated first that the transformer 32 gauge wire couldn't handle the 24V from the circuit - yeah,like an idiot I forgot the 3-6V volt range of this coil cause it looked so funky (so I'm gonna get another trople tap at the shop, but I'm taking my cheap multimeter to do the continuity test). The batteries showed the same result - very slow discharge from the A batteries and faster discharging from the B batteries, and when I stopped the test, the B batteries barely reached the starting voltage. Perhaps there is too much overall resistance in these batteries and too much overall impedance in the wiring and connections to allow proper charging, unless it's something else, the motor maybe? Maybe then, instead of spending $150 for 4 bigger batteries, I'll just go directly to circuit 7 and see if that improves the batteries perform--- [bell]

Uh, anyway, coming back with the Mini Tesla on third base...

[Back To The Stage] - 07:38

Ok, Back to The Stage, continuing the set of numbers hitting the 'Hey Larry' inbox.

We open with Hard - Ray Elle, the Denver-based Pop / R&B artist previously featured as Brandon Varsity.

Next we have WNDW (spell it), by Rivr (spell it), a Hip Hop artist from Hephzibah, GA who just wants to make music. I found his piece on the 'Wildin' Out' collection referred by a recent tip from Reverbnation. And you'll need the dump button for this one Cathleen...

And we wrap the set with another number from darkwave band She Past Away - Soluk, a tune from their reissued 2015 LP "Narin Yalnızlık". And BTW, you can catch them on the 28th at Dürer Kert in Budapest, and the 29th at Elektropionir in Belgrade...

[songs] - 08:51; 12:34; 14:58

["Geeknotes"] - 19:53

Geeknotes: 12/22 - Drag Queen Storytime @ Alameda Free Library, 12/25 - Bridgewatch Christmas Day 2018, 12/28 - Telegraph Open Mic @ Nomadic Press, Oakland...

Hey, Geeknotes!

Today it's Friday the 21st of December, happy winter solstice, and it looks like the Friday news dump is rather full, with P-Grabby's shithole shutdown immanent and SecDef Mattis telling Uncle Caligula to take this job and shove it, while the only thing he has left is provide his red hat zombies is the grand guignol spectacle of brown babies freezing and dying in concentration camps, deporting refugees from the Vietnam War, and the entertainment of a Yemeni mother begging to come see her baby and say goodbye before he dies. Dammit.

I could go on, but since it's now the season of the 'War on Xmas' (actually the war on 'Happy Holidays') in full swing, let's send happy thoughts to Supreme Court Justice Ruth Bader Ginsburg, recovering from lung cancer surgery (because plenty of red hats are praying for the tumors), and let's run some dates:

12/22 - Drag Queen Storytime, 2:30 PM – 3:30 PM, Alameda Free Library, 1550 Oak St The Alameda Free Library is proud to present Drag Queen Storytime, with Alameda's very own Queen Snaxx! We will be having an hour of kid-friendly drag. It is for kids ages 3-8 along with their favorite adult. Dressing Up is encouraged! The event will be held at the Main Library. It is an absolutely free event.

12/24 - Xmas Eve

12/25 - Xmas Day

12/25 - Bridgewatch Christmas Day 2018, 10 AM – 2 PM, Golden Gate Bridge

The Bridgewatch Angels will dedicate Christmas Day to saving lives on the Golden Gate Bridge. We are seeking compassionate volunteers to greet everyone with smiles while bringing hope to those feeling depressed and suicidal. Our primary focus will be to engage individuals on the bridge who are walking alone, displaying negative body posture, or lingering mid-span

Volunteers should arrive to the Bridge Cafe (San Francisco Welcome Center) no later than 9:30am. A mandatory orientation will begin promptly at 10am so we ask you to arrive 30 minutes early to park and use the facilities/purchase snacks. The Bridgewatch Angels Trainers will greet you and provide you with the materials you will need.

12/26 - First day of Kwanzaa - Umoja (Unity)

12/27 - Second day of Kwanzaa - Kujichagulia (Self-Determination)

12/28 - Third day of Kwanzaa - Ujima (Collective Work and Responsibility)

12/28 - Telegraph Open Mic with Cassandra Rockwood-Rice and Anna Allen, 7 PM – 9 PM, Nomadic Press (2301 Telegraph Avenue, Oakland, CA)

Telegraph Open Mic takes place every fourth Friday from 7-9:00 PM at our Uptown location. It will have six open-mic slots open to the public. Spots are filled on a first-come, first-serve basis and the list opens at 7:00 PM sharp. They're calling for $10 at the door (plus whatever else you may be able to give), but no one turned away for lack of funds. Nomadic Press books, as always, will be for sale at the event.

If you have promos, pluggers, gig info, an art opening, etc, send me an email. The address is mfunkyzine@gmail.com. And bands, artists and poets - download links, no attachments, please, and no promises...

[Grid Practice] - 25:08

Waiting For Toroid

Ok, In Grid Practice,

Being deep in the weeds with the Benitez gave me the time to put the Mini Tesla 95% together, once I cut out some more acrylic plates and re-drilled for the top of the base. And yeah, the spark gap supports went in straight (I used a single bolt and a jig to hold them in place for gluing), the machine screws decided to tilt on their own, but at least they're not loose. The secondary coil was mounted on the top plate and I wired the primary with the 16 gauge from Al Lasher's, along with a 2-cell AA battery holder and a little DPDT for a basic on-off switch. I want that because they say this thing shouldn't run for longer than 30 seconds or so at a time...

Once I wired up the base components and connected the power, I finished the top - the bottom secondary wire was stripped and wrapped around the counterpoise bolt and ended under the aluminum tape. It looks cool, but I can't turn it on yet, cause I don't have the toroid that crowns it, cause none of the closest hardware stores have metal cabinet knobs that are the right metal to conduct a spark (in other words, my antique silver knob was a product name, not a description). Anyway, I found a stainless steel knob on a local hardware store's website (but not available in the actual store), so I ordered it and we'll see if it comes before or after Xmas...

[One More Tune] - 27:31

Ok, For One More Tune, we close out with a hard gangster rap number sent in by A.Sil with no bio, but it looks like LA from the Soundcloud page picture, where he says he raps/writes screenplays/ and soon acting and directing - yep, sounds like LA... And yeah, I've played little to no gangster rap here, but, first time for everything. The piece is 'Queen'...

[song] - 28:11

Well, OK.

[Closing] - 31:41

Hey, this show is a 1223studios joint.

I'm on iTunes, Internet Archive, Stitcher, Tunein, Listen Notes, Podknife and Mixcloud. Episode notes are on the podpages, and you can download the MP3 directly. Send email to mfunkyzine@gmail.com.

If you like the show, tell your friends, and, while I'm not his biggest fan, how the hell can the US try Julian Assange for treason when he's Australian and Ecuadorian, not an American citizen?

Show themes "Rocket Power" & "Spy Glass" by NY musician and composer Kevin MacLeod. Some additional audio from freesound.org.

Next episode is set for Friday Dec. 28th.

I'm Larry, trying hard to stay chill at my garrett in the Mission, and this is Magnetofunky, from San Francisco, where we go through, not into, the darkness.