Wiring The Right Knob

Episode Transcript. Length - 46:28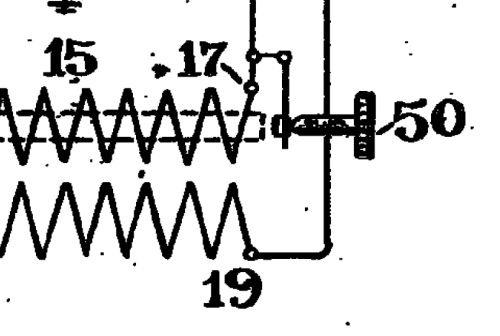 Magnetofunky No. 105. It's Saturday, January 5th, 2019.

[intro theme]

Hey. Larry here, in the pursuit of grid power to the people. This week I nailed down how much wiggle room I have in the Benitez-7 design, while it's still baby steps on the booster box and the Mini-Tesla coil. The music kicking off the new year is an all-submitted mix of tunes featuring the gui-tar...

[song] - 00:52

Ok, that was NatGeo - Vertacyn Arc Materializer, a Bay Area band that has a new album called Tasting The Sea and includes a scientist who used to do high-energy-physics, but spent 3 years working on catalysis for clean-energy (before his funding ran out). Cool BTW, they're playing at the Golden Bull in Oakland on Feb. 13 (maybe with the previously featured Bay Area band Slow Torpedo)...

This is a laid back (and often explicit - you bet your ass) weekly international podzine of extremely eclectic music and progressive politics, with a focus on energy independence for the 99%. My podpages are 1223studios.com/mfunky.h and facebook.com/1223Studios.

[Grid Theory] - 06:51

3 Wiggles

In Grid Theory,

Still on the wiggle room in the schematics for the Benitez switch no. 7 (oh, for newcomers, I'm talking about the Carlos F. Benitez System for Generating Electric Curents, that scored a number of patents between 1914 and 1918, where you charge one bank of batteries with another through a high frequency oscillation circuit, and if you get the Coefficient of Performance right, those batteries should last for decades).

Ok, cutting to the chase - from all the ways you can hang capacitors, resistors, diodes, wires and other relays onto a 5-pin relay switch, I found two, maybe three ways to do this, mainly by not connecting the capacitor across the 30 and the 87a pins, because Benitez didn't, neither did Rick Friedrich in his switch 7 diagram. Anyway, the lab notes pics shows the two wiggles - no. 1 has the B1 positive line connected to the 87a pin and the capacitor connected to the 30 pin, then they both jumper over to the 86 coil pin. No. 2 has the B1 line (with a transformer primary in series) connected directly to the coil, with the 30 and 87a jumpered to it.

It did concern me that an induction coil has a primary and a secondary, and the relay has one coil, then late Wed. I got the half asleep wild idea to add the coil from another relay switch to give me four coil pins like in the diagram, but then I looked to see if anybody else tried this and the closest I could find was on wiring two or more inductors in parallel, but that brought up mutual inductance and inductive reactance, but then again, it might just be redundant. I got no spotter to stop me so I might try it.

But either way, this setup should work just fine, but I stopped there once my cabinet knob arrived---

[bell]

Uh, anyway, coming back with booster box and Tesla Torus updates...

[Back To The Stage] - 10:06

Ok, Back to The Stage, continuing the guitar variations with a little trance-rock - It's Setting In - BoogieDoo, AKA Mikey, an artist who just moved from SF to the DC area who jams with a loop pedal, piano, guitar, and drum samples. The song comes from his Demo released last August 22, but the video on the FB page is from a Live performance at The Pinch, Washington, DC 10/29 Cool.

After that, it's No One Told, a piece by NYC rock band Stereoship from the new EP released on December 8 that includes the previously featured single Drowning,

[songs] - 11:01; 16:45

[Second Set] - 19:58

Ok, second set opens with Rock / Blues / jazz / Alt.Country artist Randy Raatz over in Chicago, who's been compared to George Benson, Jeff Healy, Robert Fripp and Adrian Belew. The song is The Fear (with vocals by Mary Vaughn), and we wrap the set with one more number by SoCal rockers Octopolis, with Mistified, a bonus track off the latest album Transincontinental.

[songs] - 20:36; 24:00



["Geeknotes"] - 28:31

Geeknotes: 01/05 - Protest Against National Chains on Ocean Front Walk in Venice, LA, 01/05 - Witness at the Texas Border, Berkeley Zion Presbyterian Church, 01/08 - Public Forum on CA's New Privacy Law @ Milton Marks Auditorium, SF, 01/09 - Mass mobilization to tell Oakland school board no cuts no closures...

Hey, Geeknotes!

Today it's Saturday the 5th of January, new year, new Congress, and the same old bullshit from Orange Queenie throwing yet another hissy behind the very last level of double-down he can go to - yeah the 'border wall', the original red-meat jerky he's gotta keep throwing to the rabid minority red-hats to keep them sedated, that he's terrified of reneging on because Rush Limbaugh and Ann Coulter would remove him from office in less than 6 months, because they (and Hannity and the comfy crotch couch) owns P-Grabby's base, not him, so they own his ass; a lot of People flatout owns a small piece of Trump's fat ass - Putin and the Nazi Channel, a few American plutocrats and Nazis in Europe all have a small hand on the wheel of the ship of state adding to the rough ride.

One thing many of these people own is an orange IOU that that 5 billion is supposed to pay off, in addition to a nice fat welfare check to Ivanka to help her get over her crashed and burnt up brand name... Forget about ever seeing a fully built anti-brown border wall - that money is for stuffing into pockets and parking in a Swiss bank, because I think the 1% already knows and regular people will start to recognize that the stock market is slowly imitating the new normal climate patterns. Not a Bull or a Bear market, but an unstable series of wild swings on the stock tickers. Meanwhile before the Dems could even take the House the corporate news greek chorus started with the concern-trolling and pearl-clutching and demanding bi-partisanship. Hey, kiss my red-white-black-and-blue ass!

Meanwhile, it's only a couple days since the new Congress, and, small victory, the big fat raise Pence and the other minions were about to give themselves while smiling at all the black and bown and wimminfolk federal workers having to work for free at their own personal plantation, yeah, it got cancelled.

So, happy new year, bring on the Democratic Thunderdome (oh and Speaker Pelosi - do something about the Jones Act, like waive it, to speed up Puerto Rico's recovery). Let's run the dates:

ANyway, let's run the dates:

01/05 - Protest Against National Chains on Ocean Front Walk in Venice, 1 PM – 4 PM, 909 Ocean Front Walk, Venice

On Thursday December 13th, Starbucks quietly opened at 909 Ocean Front Walk, the ex-Freak Show building, Ben & Jerry's opened in April 2018, and Skechers is planned to open in early 2019 just one block south at 1015 Ocean Front Walk. Please join us in front of Starbucks on Saturday January 5th between 1-4pm to protest these establishments and the opening of future national chains on Ocean Front Walk.

This is not a protest against the Starbucks corporation or Ben & Jerry's in particular, but against these national chain stores, and preserving the character and uniqueness of Ocean Front Walk, which is the identity of Venice.

01/05 - Witness at the Texas Border, 3 PM – 4:30 PM, Berkeley Zion Presbyterian Church, 545 Ashbury at Lincoln

In June I saw images of tent city prisons built for children separated from their families and all I could think about was the concentration camp where my mother's family lived for several years during World War II.--Learn more about the plans at the Texas- Mexico border when local resident Tomi Nagai-Rothe presents her pictures and report back from her work along the border of Texas and Mexico. For a preview, read her blog post at www.elcerritoprogressives. com

Light Refreshments will be served as well as well as opportunity to learn about new local initiatives to support immigrants.

01/07 - Orthodox Xmas Day, Int'l Programmers' Day

01/08 - Public Forum on CA's New Privacy Law, 10 AM – 1 PM EST, Milton Marks Auditorium, State Building, 455 Golden Gate Ave., SF

Hosted by Media Alliance and other privacy advocates.

The CA Attorney General's office is holding public meetings around the state in January to talk about how to implement CA's new privacy law. On the agenda will be things like how much you will pay for your privacy, whether the law applies to loyalty programs like HHhonors or grocery and drug store discount programs, opt-out procedures, what needs to be disclosed about how your data is sold, and how to verify whether an information request is really from a customer or not. This is the only Bay Area forum with others to be held in San Diego (1/14) , Riverside (1/24) , LA (1/25), Sacramento (2/5) and Fresno (2/13).

We know industry and business will be out in force - and consumers and customers won't be - so we're trying to spread the word and even things out a bit.

01/09 - Mass mobilization to tell the school board no cuts no closures, 5 PM – 8 PM, 1050 2nd Ave, Oakland

Hosted by OPEN - Oakland's Public Education Network

Now is the time! Public education in Black and Brown communities is under attack. We must not just defend and keep our schools open, we must demand sustainable community schools and create the schools we deserve.

There will be at least two big items on the school board agenda:

1. Cutting $30 million from the 2019-20 budget, including $8.6 million directly from schools. 2. The closure of ROOTS Academy and the end of this school year and closing over 20 other schools over the next 5 years.

Address for board meeting - La Escuelita Elementary School, 1050 2nd Ave

If you have promos, pluggers, gig info, an art opening, etc, send me an email. The address is mfunkyzine@gmail.com. And bands, artists and poets - download links, no attachments, please, and no promises...

[Grid Practice] - 37:30

The Booster Backside

Ok, In Grid Practice,

I finally settled on a fix for the back end of the booster box after imagining how each design would fail in usage and it comes to four holes and three loops, so to speak, in a doubled-up vinyl plate being the best to handle the stresses. Turns out the damn thing IS a much bigger hassle than the control panel...

Anyway, the actual booster unit is now mounted on the base so now with the front panel in place I can see how to run the wires to the control panel and how to fit the floating ground and a 20A fuse in with the power and selector switches.

And Thursday evening the stainless steel cabinet knob arrived, so I soldered the secondary wire to it and attatched it to the tower, and it looks sweet but when I switched it on the little indicator light came on but no spark in the spark gap or off the torus. I poked around the circuit, and on Fri. I took the top off the base and checked all the connections, hooked it back up and still no dice. Maybe it's the indicator light that's not in the video build (and I'll cut that off after doing the show) and if it's the whole circuit board I did buy two electric fly swatters. I mean, this thing is halfway between third base and home - I want little tiny sparks...

[One More Tune] - 39:47

Ok, for this week's One More Tune we close out with 10327 - FTR, hailing from Paris, France. They play hypnotic, dark, goth-tinged, psychedelia infused, shoegazing feedback laden post punk utilizing driving bass, fuzzed out guitar, & rumbling percussion. This is from their new Metropolis Records album Manners, set for release February 15th.

[song] - 40:25

Well, OK.

[Closing] - 44:52

Hey, this show is a 1223studios joint.

Show files are at iTunes, Internet Archive, Stitcher, Tunein, Listen Notes, Podknife and Mixcloud. Episode notes are on the podpages, and you can download the MP3 directly. Send email to mfunkyzine@gmail.com.

If you like the show, tell your friends, and, here's a random thought - when you think of 'free market,' free of what? It ain't communism, cause Putin and Xi Jinping got no damn problem with making a profit. Forget the vauge Econ 101 definition; free market is more like free baseball - with no rules or umpires enforcing 'em...

Show themes "Rocket Power" & "Spy Glass" by NY musician and composer Kevin MacLeod. Some additional audio from freesound.org.

Next episode is set for Friday. Jan. 11th - New Congress!

I'm Larry, trying hard to stay chill at my garrett in the Mission, and this is Magnetofunky, from San Francisco, where we go through, not into, the darkness.