Wiggle 1.5

Episode Transcript. Length - 38:40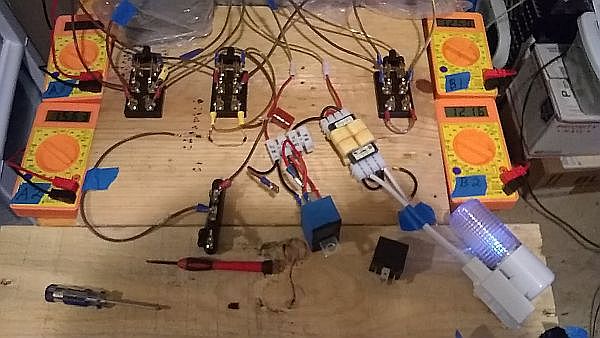 Magnetofunky No. 106. It's Saturday, January 12th, 2019.

[intro theme]

Hey. Larry here, in the pursuit of grid power to the people. This week I figured out which wiggle would get my Benitez-7 to oscillate. The music is all-submitted except for the lead-off, a couple quick bites of big beat...

[song] - 00:47

Ok, that was Pure Adrenaline/Ruff, the first two tracks from the EP '2 Damn Loud' by eddy, the mysterious cat last featured in show 87 who makes Psych-Rock, Indie-Rock Music for Video. The EP came out last Sept. at the Free Music Archive, which I hadn't been to in awhile, and it seems they were about to disappear from WFMU but they've been saved, they found a new home this month. Right on.

This is a laid back (and often explicit - you bet your ass) weekly international podzine of extremely eclectic music and progressive politics, with a focus on energy independence for the 99%. My podpages are 1223studios.com/mfunky.h and facebook.com/1223Studios.

[Grid Theory] - 03:16

Split The What?

In Grid Theory,

It was supposed to be all R&D in the lab - diagnosing the mini-tesla coil, working on the booster box control panel, and setting up the Benitez-7 and testing the three wiggle configurations, but the world outside the lab is more time consuming and hectic, so I didn't get to the mini-tesla at all. The Benitez-7 diagnosis required going back into the whole 'split the positive' concept after the first try failed.

The idea is commonly known as John Bedini's 3 Battery system: take an LED and 3 batteries, say, 1.5V AA's. Put two in series on one side and the third battery on the other side of the LED, which is connected to the two positives. The two in series makes 3 volts and 3 volts – 1.5 volts in opposition means there is still a voltage potential difference of 1.5 volts between the positives. The LED lights up because potential differences are what are important in electricity and NOT polarity. The kicker is that while the bulb is lit up, the current from the two batteries in series is charging up battery #3. Rotating the batteries keeps them all charged. John Bedini came up with this method after studying the concepts in the famous Ed Gray motor, which had a similar process, but with much higher voltages.

Now, Edwin Gray looks like a real deal engineer and inventor who was suppressed - in WW II he attended advanced engineering school in the Army until discovered to be under age (15) and discharged. He re-upped in the Navy, and after the war, in 1958 he learned to perform what he called "splitting the positive", using "cold electrical energy" as well as the normal positive electrical energy. His first motor was operating by 1961. He scored a patent in 1975, even though the year before the Los Angeles District Attorney confiscated all Gray's records and prototypes behind a bad rap. While working on new prototypes, he died in Nevada under mysterious circumstances in April 1989.

Interesting thing is, he proposed that using "cold electrical energy" or negative electron flow would generate a negative electromagnetic field, or antigravity. That's where I stopped researching, but with a better idea of what splitting the positive means, I was able to get the Benitez-7 relay wired up right and finally got my AC bulb lit up--- [bell]

Uh, anyway, coming back with the Benitez on first base...

[Back To The Stage] - 07:05

Ok, Back to The Stage, continuing the big beat with another number by Denver R&B artist Ray Elle, A Problem With My Love. Again, you can find his music at all major Streaming platforms including: Spotify, Apple Music, and Tidal.

Next up it's Hatevol - Front Line Assembly, who went 'Hey Larry' after being previously featured incidentially. Anyway, this Electro-Industrial tune is on their upcoming Metropolis Records release 'Wake Up The Coma' due out on Feb. 8th...

And we wrap the set with another piece by Bay Area band Vertacyn Arc Materializer - Stuck Between The Trivial And The Impossible. And once again, they're playing at the Golden Bull in Oakland on Feb. 13...

[songs] - 08:11; 11:43; 16:40



["Geeknotes"] - 22:25

Geeknotes: 01/13 - Alternatives to Calling Police-White Supremacy and the State @ Skyline Community Church, Oakland, 01/17 - Marching Orders @ BRIC, Brooklyn, 01/17 - How Some Countries Are Solving Climate Change @ Climate One, SF, Advance Notice - ONYXCON SANKOFA 2019, 02/16-17, Atlanta...

Hey, Geeknotes!

Today it's Saturday the 12th of January, as the Shithole Shutdown breaks another personal best milestone for our Shithole Stalin dancing to the Nazi Channel's tune, and who knows - maybe some helpful terrorist will commit an atrocity so he can declare martial law and kill any number of Constitutional birds with one big stone. Hell, I wouldn't put it past these dead end White House mofos, led by the head mofo who said himself he's more a daughter...yech, I can't say it after all... Uh, let's just call him P-Grabby the Ivankanator...

Anyway, since the corporate media refuses to talk about the 'Publicans in disarray and is just as terrified of Alexandria Ocasio-Cortez as the Minions (and no, I'm not interested in fake naked pics of AOC or real nude pics of Melania), let's move on past the notion of P-Grabby grabbing disaster relief funds from Puerto Rico cause that envelope was never filled, or that the Notorious RBG's security detail should be increased, or the stark fact that the writing on the wall is the 25th Amendment, or that the Earth's magnetic field is starting to go nerky but we can't know how bad because of the friggin shutdown, etc. crisis etc., and let's run a few short dates:

01/13 - Alternatives to Calling Police - White Supremacy and the State, 1:30 PM – 5:30 PM, Skyline Community Church United Church of Christ, 12540 Skyline Blvd, Oakland

A growing coalition of organizations in the Bay Area is coming together to explore alternatives to calling the police to our campuses and into our neighborhoods. Over the coming year, we will be offering a series of workshops to explore alternatives to calling the police. Some of these workshops will provide deepening analysis and grounding in alternative ways of thinking about safety. Others will provide practical skills. All of them will lift up a transformative justice framework and emphasize the importance of self care.

01/14 - Orthodox New Year

01/17 - Marching Orders, 7 PM – 10 PM EST, BRIC, 647 Fulton St, Brooklyn, New York

Hosted by Girls for Gender Equity.

first event of 2019, "Marching Orders: Reflecting on this Moment, 'The Movement', and our Mission".

This intergenerational evening of community building, networking, food and fellowship will be hosted by cultural critic and writer Jamilah Lemieux and will include...

- A performance by poet, artist and activist Emily Carpenter
- A Fireside Chat between Agunda Okeyo, Director, Women's March NYC, and Joanne N. Smith, GGE President and CEO
- A Youth Roundtable, led by Nylon's Sesali Bowen, on what the young activists we work alongside envision for the future of movement building, specifically as it relates to gender, identity and equity.


This event is open to all genders and all people who are committed to moving the racial and gender movement forward.

Tickets are free but limited and RSVP is required!

01/17 - How Some Countries Are Solving Climate Change, 6:30 PM – 9:30 PM, Climate One, 110 The Embarcadero, SF

Hosted by Climate One and Commonwealth Club of California.

When it comes to cutting emissions, there are many paths to success. Sweden, France, South Korea, and Ontario have all taken steps to replace fossil fuels with nuclear, hydro and renewable energy. Norway and China are also making moves. But the absence of U.S. climate leadership is causing heads of state to ease off their goals.

Energy expert Sonia Aggarwal (Energy Innovation) and authors Joshua Goldstein and Staffan Qvist discuss who's moving ahead and who's moving backward in the transition to a clean energy economy.

Advance Notice - ONYXCON SANKOFA 2019, February 16-17, Wolf Creek Library, 3100 Enon Rd, Atlanta

ONYXCON returns for another celebration of the HISTORY of the African Diaspora in Popular Arts! JOIN US Saturday and Sunday FEBRUARY 16-17 for family fun and EDUTAINMENT!

Comics, Gaming, Cosplay, Art, Panels, and specail guests including Brian A. Price, the 6'9'' star who dons the Predator suit.

APPLY via ONYXCON@gmail.com

If you have promos, pluggers, gig info, an art opening, etc, send me an email. The address is mfunkyzine@gmail.com. And bands, artists and poets - download links, no attachments, please, and no promises...

[Grid Practice] - 29:31

Benitez-7 First Base

Ok, In Grid Practice,

Covering the actual lab work for the past week...

First the booster box - for the belt loops, I got a well-seasoned but solid old leather belt from the neighborhood thrift store and permanently installed it in the booster backside. Once I insulate it from the circuitry inside the box that panel is done. The control panel on top I measured for placing the little on-off slide switch and the big rocker power selection switch, but I couldn't find any wiring diagram on these 6 pin DPDT units that would let me wire it the way I want, so I'm replacing the rocker with a big slide switch, keep it simple...

Now, the Benitez-7 - using the terminal blocks I tried wiggle no. 1 and 2 with the 24V relay and didn't make progress, then tried using a second relay as a secondary, then after wandering in the Ed Gray weeds I took out the 24V units, swapped the 12V relay back in with the secondary, shifted the 86 coil wire directly to the 87a and got light, for about 15 seconds. I took out the secondary, tried it again and got a sustained light and a buzzing relay. Cool, but, the thing only work with the knife switches in the 'up' position and it works without the power switch. It was about 2AM Sat. by then so I'll continue after doing the show, but at least I'm on first base with the thing, and now I'm pretty confident that bringing back knife switch no. 3 will get me to second or third base...

[One More Tune] - 32:09

Ok, for this week's One More Tune we close out with another rap piece by A.Sil down in SCal - Bonnie and Clyde. And yeah, Cathleen, keep the dump button ready...

[song] - 32:28

Well, OK.

[Closing] - 37:10

Hey, this show is a 1223studios joint.

I'm on iTunes, Internet Archive, Stitcher, Tunein, Listen Notes, Podknife and Mixcloud. Episode notes are on the podpages, and you can download the MP3 directly. Send email to mfunkyzine@gmail.com.

If you like the show, tell your friends, and, the corporate media (AKA the Gaslight Distribution Service) can kiss my ass with any further profiles of suffering red hat voters that doesn't emphasize the sad fact that far too many of them voted for P-Grabby to explicitly kick darkies in the face and are only pissed now because he's turned on them as well...

Show themes "Rocket Power" & "Spy Glass" by NY musician and composer Kevin MacLeod. Some additional audio from freesound.org.

Next episode is set for Friday, 18th - New Congress!

I'm Larry, trying hard to stay chill at my garrett in the Mission, and this is Magnetofunky, from San Francisco, where we go through, not into, the darkness.