Benitez-7 Calibration

Episode Transcript. Length - 46:48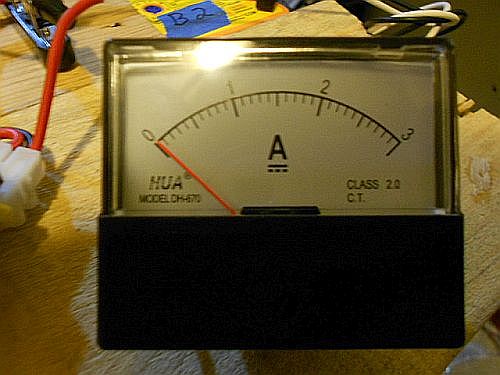 Magnetofunky No. 108. It's Saturday, January 26th, 2019.

[intro theme]

Hey. Larry here. This week I finally got the Benitez-7 through a round of efficiency testing with a positive result. The music is all submitted, including a few new local band singles, some guitar, some not...

[song] - 00:45

Ok, that was Rituel - She Past Away, the Dark-wave / Post-Punk band currently in Barcelona / Athens, from from Belirdi_Gece.

This is a laid back (and often explicit - you bet your ass) weekly international podzine of extremely eclectic music and progressive politics, with a focus on energy independence for the 99%. My podpages are 1223studios.com/mfunky.h and facebook.com/1223Studios.

[Grid Theory] - 06:28

Just Gotta Climb That Hill

In Grid Theory,

Last Sat., using a 24V relay switch, three 9V batteries and a power outlet, I whipped up a dinky doohickey - AC power in a pinch. So far it's too weak to run the laptop, a regular lamp or even charge a phone, but it gave me an excuse to buy a few rechargeable 9V batteries, just in case. Also my Kill A Watt power meter came in, which is honestly more useful right now than the oscilloscope.

On Sun. I figured out where I miswired the ground last week, and decided to let the Mini Tesla sit a while longer and stick with the Benitez build - you can only stand in one patch of weeds at a time...

On the Benitez-8 I made a diagram of the two middle knife switches for the back and forth battery action, and for the induction/spark coil, I decided not to jury-rig an interrupter out of scrap metal, instead I'm gonna use one of the 24V car relay's ready-made interrupters and to save time on the primary and secondary coils I decided to go ahead and use a regular ignition coil, but not a HV car coil - a scooter/ATV ignition coil will do. There's universal coils that cost $10-15. Cool. And I have a 25W rheostat coming, which is almost identical to a potentiometer (AKA volume knob) except it has 2 not 3 terminals and is meant to deal with current, not voltage.

Meanwhile, the CoP testing on the Benitez-7 was mainly a do-si-do of tweaking both the hardware and the testing method-- [bell]

Uh, anyway, coming back with the Benitez coefficient calibration...

[Back To The Stage] - 09:31

Ok, Back to The Stage, continuing with new singles from SF bands and artists, firstly Something's Coming Over Me - Noble Savages, a four piece rock outfit whose mission is to throw a rock 'n roll dance party wherever they go. They've been active in the Bay Area since 2012, released two albums and just completed their third, uh, Only at Night.

After that it's Pillars - JXA, a producer from out of the DMV area - (DC-Maryland-Virginia) specifically Falls Church.

[songs] - 10:17; 15:02

[Second Set] - 18:54

Ok, second set opens with Wild Animal (Drumless Version) - Hante, the one woman project of Helene de Thoury, based in Paris. A unique blend of darkwave & striking electronics. This is from her new album, FIERCE. And we wrap with the alternative/indie SF rock band Amalgamation with We're Not the Only Ones. It's been a while, and now, there's a new crew and this new single available at your music source of choice.

[songs] - 19:39; 24:40



["Geeknotes"] - 29:50

Geeknotes: 01/26 - F*** Your Hair World Premiere & '63 Boycott Screenings @ Gene Siskel Film Center, Chicago, 01/26 - 9th Annual Whale Fest Monterey 2019, 01/28 - Suicide Prevention for Black boys @ Sisters Uptown Bookstore and Cultural Center, New York, 02/01 - Ch. 4. The Future of Truth @ The Embassy Network, SF...

Hey, Geeknotes!

Today it's another Saturday the 26th of January, and though I'd like to cheer at the apparent (and maybe temporary) end of the shutdown, but we know that it'll take longer than 35 days to recover from this shutdown, and since I have no faith that Orange Queenie won't reneg on whatever he agrees to, we'll just have to see what his next eruption of spite is , or will he got pound on Venesuela with a little regime change as practice for violating Posse Comitatus (yeah, he would. Uncle Caligula sure the hell would)... And the whole Covington entitled little shits episode... I saw what I saw, screw your PR and paid for pleas of presumed innocence, and the very definition of priviledge: Righteous benefit of the doubt no matter what, and face time on the Today show, especially when dealing with 'them people...'

You may as well stop ASKING the corporate media to facilitate some sort of racial understanding because it's not profitable, not as much as gushing and arguing over a slow trickle of atrocities, the race war kept at a cold war simmer. But the news is not supposed to make a profit. It's a public service. This media hooked on steady reliable profits sure don't want full on race war cause it won't stay in the hood - the gated enclaves and sundown towns won't have to watch it on TV.

The thing to remember is that some trolls manipulated the Covington kids episode once it hit the media in order to inflame tensions; manipulated the story's content to get some left wing assholes with a screw loose to go postal, I guess. But one thing I'm sure of, the first time some black kid in trouble (who doesn't get murdered) hires a PR firm to run interference for him, you red hats will scream bloody murder...

so let's run a few short dates:

01/26 - F*** Your Hair World Premiere & '63 Boycott Screenings, 6 PM – 8 PM CST, Gene Siskel Film Center of the School of the Art Institute of Chicago 164 N State St

One City Films is proud to announce the world premiere of their short subject documentary film, F*** Your Hair, at the internationally renowned Gene Siskel Film Center in downtown Chicago! It's the triumphant story of the Latin American immigrant owners of Chicago's 5 Rabbit Cervecería and their bold statement against the bigotry and hatred of then candidate Donald J. Trump. A thoughtful, funny look at an enduring act of protest.

The other film is '63 Boycott. (Academy Awards shortlisted). In 1963, 250,000 students boycotted the Chicago Public Schools to protest racial segregation. '63 Boycott connects the forgotten story of one of the largest Northern civil rights demonstrations to contemporary issues around race, education, and youth activism.

Also screening on Wed. the 30th.

01/26 - 9th Annual Whale Fest Monterey 2019, 10 AM – 5 PM, Monterey Old Fisherman's Wharf 1 Fishermans Wharf, Monterey

This free, fun and educational interactive family event for all ages celebrates the biodiversity of the Monterey Bay National Marine Sanctuary and much more! It features a 2-day Symposium with world-renowned marine experts and dozens of exhibit booths,

Also, the NorCal Chapter of the nonprofit org Sea Shepherd will be there on Saturday, Only.

01/27 - World Holocaust Remembrance Day, World Leprosy Day

01/28 - Suicide Prevention for Black boys, 6 PM – 9 PM EST, Sisters Uptown Bookstore and Cultural Center, Inc. 1942 Amsterdam Ave, New York

Hosted by Dr. Obari Adéye Cartman and Sisters Uptown Bookstore and Cultural Center, Inc.

it is one thing to lose our boys to state violence. it's another to see them turn the violence on each other. and now we have to prevent them from taking their own lives. Black suicide is rising at rates faster than we can understand. (I understand just fine - it's PTSD from the toxic national atmosphere. Anyway...)

You're welcome to join this sober yet important discussion about strategies to speak life and demonstrate excellence for young Black men. the conversation will be facilitated from an African-centered wellness perspective. particular attention will be given to historical contexts, social media and popular music influence, and tools for cultivating emotional intelligence.

01/29 - Kansas Day

02/01 - Nat'l Freedom Day, Nat'l Wear Red Day

02/01 - Ch. 4. The Future of Truth, 7 PM – 9 PM, The Embassy Network, 399 Webster St, SF

In 2016, Oxford Dictionaries declared "post-truth" word of the year, meaning "relating to or denoting circumstances in which objective facts are less influential in shaping public opinion than appeals to emotion and personal belief." AKA propaganda through crafted BS.

Uh, what can we do to encourage the emergence of trusted methods to block false narratives and allow the most accurate information to prevail in the overall information ecosystem?

The topics are - - Fake news and the erosion of truth
- AI enabled audio and video manipulation
- Shortening attention spans
- Algorithmic Echo Chambers
- Tribal instincts and Polarization of Politics

No spectator - everyone is a speaker. Check the FB page for the SALONS ETIQUETTE.

If you have promos, pluggers, gig info, an art opening, etc, send me an email. The address is mfunkyzine@gmail.com. And bands, artists and poets - download links, no attachments, please, and no promises...

[Grid Practice] - 38:20

CoP Tweaking

Ok, In Grid Practice,

Back to the tweaking - over the past three days in between hustling away from the lab, I had to run the CoP testing in shakedown mode to adjust the hardware, as well as change a few of the protocols because this isn't a Bedini Motor. First run had a current reading of 500mA with a load and 50mA without, the relay and the transformer both got rather warm and caused the relay to start cutting out, giving me a result of less than 1 CoP. The usual terminal block was failing the wire connections and the common ground blocking diodes also crapped out, so I rebuilt that and bought a more substantial Bussmann type terminal strip, then I moved the transformer back to where the cut-off switch is; both it and the relay stopped getting hot and the current reading went down to about 50mA. I put the relay wires all on ring terminals and the cutting out greatly reduced.

I got the system down to a range of 20 - 50mA current with the load lamp plugged in or not, and finally got decent results - a read of exactly 1 CoP, and the best result, a read of 1.46 Cop with no load on the charging side and a load on the discharge side. That is a good base number - good enough to ensure a longer life than normal for even these smaller capacity batteries. I have a few more tweaks to try with this system to stop the relay from cutting out, but I'm feeling a little better about the version 8 now, which will need larger batteries...

[One More Tune] - 41:46

Ok, for this week's One More Tune we close out with one more new local single and video by DEAFBOUTIQUE. It's VELORIO (WAKE), from the new album AUTOPHAGY, due out 2/14

[song] - 42:05

Well, OK.

[Closing] - 45:370

Hey, this show is a 1223studios joint.

I'm on iTunes, Internet Archive, Stitcher, Tunein, Listen Notes, Podknife and Mixcloud. Episode notes are on the podpages, and you can download the MP3 directly. Send email to mfunkyzine@gmail.com.

If you like the show, tell your friends, and, to end on a bright note, Johns Hopkins Univ. is releasing the first of the new Ultima Thule pictures online, something to nerd out on!

Show themes "Rocket Power" & "Spy Glass" by NY musician and composer Kevin MacLeod. Some additional audio from freesound.org.

Next episode is set for Friday. Feb. 1st.

I'm Larry, trying hard to stay chill at my garrett in the Mission, and this is Magnetofunky, from San Francisco, where we go through, not into, the darkness.