Wading in Virgin Weeds

Episode Transcript. Length - 49:44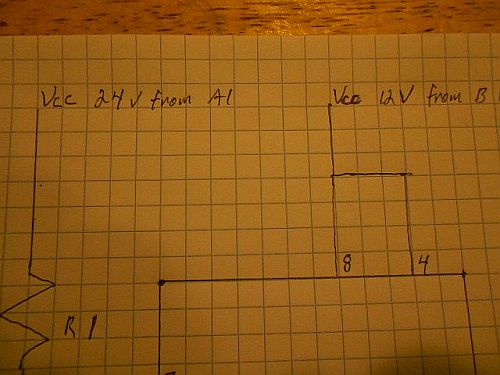 Magnetofunky No. 111. It's Friday, February 15th, 2019.

[intro theme]

Hey. Larry here. This week I find myself in virgin weeds on the Benitez front, as the music is a very eclectic mix of submitted indieness from around the country...

[song] - 00:42

All right, that was Down The Road - Set The Controls, a SF rock outfit drawing inspiration from the heavy hitters of the late 60's / early 70's. Cool. All the fresh music comes in response to the latest Craigslist ad sent out with the added Tesla Coil pic...

This is a laid back (and often explicit - you bet your ass) weekly international podzine of extremely eclectic music and progressive politics, with a focus on energy independence for the 99%. My podpages are 1223studios.com/mfunky.h and facebook.com/1223Studios.

[Grid Theory] - 07:17

I Got Your Split Positive Right Here

In Grid Theory,

It was all theory, so it's very short...

It was a deep dive into the 555 timer, starting with the 'For Dummies' pages for the descriptions of the IC parts and to confirm that the 2 and 6 pins (the Trigger and the Threshold) are like the 87A and the 30 pins on a relay switch. Then comes the matter of the two voltage sources, something nobody else in the last 40-some odd years has done or written about, considering how ubiquitous the 555 Astable circuit has been. The voltage range of an NE555 IC chip is 4.5V - 16V, 18V tops according to all the specs (even though I saw a couple folks claim they can handle 20V or more), so the B1 positive HAS to go to pin 8 in the Benitez default position with the battery switches up. That only leaves one obvious place to run the 24V A1 positive - The RC (Resistor/Capacitor) circuit. By only connecting to the IC at the 2, 6 and 7 pins, I'm betting that the 12V voltage drop across the chip will still apply and it won't fry the thing.

It looks like the stronger voltage makes no difference to the RC circuit, but this is virgin territory - outside of Rick Friedrich and Peter Lindemann, nobody else on the interwebs is doing documented Benitez research, in fact, the only analogous work I can find is the many 555 astable circuits used in straight battery charging. Anyway, I put the circuit diagram up in the lab notes pics, so any spotters who think I'm an idiot can get a chuckle, and anybody who thinks I'm on to something can take notes--- [bell]

Ok, coming back with the pre-build, and taking Murphy's Law into account...

[Back To The Stage] - 10:36

Ok, Back to The Stage, continuing the eclectic set with I Have No Reason - Crawfish Kings AKA Crawfish Killers, a band of blues and rock musicians located in Los Angeles, followed by Mother You Are Lucky - Post Cinema, Indie Rock, Pop band in NYC formed in March last year. This is from their new EP Stargazer...

[songs] - 11:09; 14:45

[Second Set] - 18:40

Ok, second set opens with Crimes of the Innocent - Rogue Poet, an Indie / Rock / Folk band in Lisle, IL, part of greater Chicagoland, and we wrap with a bit of jazzy neo-soul - M - SHADDOW, the previously featured up-and-coming artist based in Arlington, Texas, from his new release Prelude...

[songs] - 19:12; 22:59



["Geeknotes"] - 28:06

Geeknotes: 02/16 - Free Move Your Money Workshop @ Berkeley Public Library West Branch, 02/17 - Stacie Williams In Conversation with Tara Betts @ 57th Street Books, Chicago, 02/21 - The 54th Annual Commemoration for El Hajj Malik El Shabazz @ Malcolm X & Dr. Betty Shabazz Memorial and Educational Center, NYC...

Hey, Geeknotes!

Today it's late Friday the ides of February, and no, I don't care about that incoherent attempt to bluster a national emergency past us just so he can steal actual emergeny money to keep paying off his nut and save face at his Nazi rallies (and if the media is getting physically attacked, I'd boycott now before Uncle Caligula has to make a grudging statement over one of y'll being killed - and that includes in the parking lot outside the hatefest).

Anyway, we all know the real emergency is the thousand dumpster fires going on across this country, like family planning freedom. Once Roe v. Wade is crippled by the SCROTUS and kicked back to patchwork status in the states (to be gagged and chained up in the basement in the Red States), don't worry 'bout it if you're middle class and up, you're cool. Choice is just being privatized - it only goes away for poor women, meaning the Underground Railroad and groups like Jane will be a thing again...

And to Tom Perez and the rest of the Corp. Dems at the DNC - you can give the Nazi Channel a gift like A Democratic Primary Debate, but I won't be watching to see which particular slimy red-hat tested memes will pass as debate questions cause we already know. Ya wanna give the Weekly World News a debate too? Here's a thought: agree to it only if the Republicans hold a debate hosted by the Pacifica Network. Can somebody whisper that in the DNC's ear?

And as for the whole campaign season, here's an idea to cut to the chase: keep the primary process, but after all the state are done, both parties should hold their conventions during the same damn week, then after the candidate picks, no campaign ads or appearances at all for a week, then we have three days of presidential and VP debates, then another week with no campaign ads or appearances at all, then we vote. Schedule it right and we can have a result by Labor Day instead of after Halloween, and that traditional November date could then serve as swearing in day, and then have Congress and the White House go on vacation until January. That's not as crazy as staying with the Electoral College, now is it?

Anyway, let's run a few dates:

02/16 - Free Move Your Money Workshop: Divest From War & Fossil Fuels, 4 PM – 5:30 PM, Berkeley Public Library West Branch, 1125 University Avenue, Berkeley

Hosted by Codepink Women for Peace, Golden Gate Chapter

Do you want to align your money with your values and stop funding war and fossil fuels, private prisons, and other enterprises that are bad for our world? Attend this free Divestment Workshop and learn how to take steps to move your money away from Wall Street Mega-banks and investments which hurt the planet and into life-giving enterprises. Small groups will get information and discuss the "how to's" of moving our money, create individual plans, and get further support to "make it happen." Workshop starts at 4pm sharp!

Hosted by CODEPINK Women for Peace, Fossil Free California, Indivisible Berkeley Economic Justice Team, "As You Sow", and CleanPortfolios. Refreshments, handouts, good company.

02/17 - Random Act of Kindness Day

02/17 - Stacie Williams In Conversation with Tara Betts, 3:00pm - 4:00pm CST, 57th Street Books, 1301 E. 57th St., Chicago

Stacie Williams discusses Bizarro Worlds: Jonathan Lethem's The Fortress of Solitude. She will be joined in conversation by Tara Betts. A Q&A and signing will follow the discussion.

Stacie Williams is the Director for the Center for Digital Scholarship at the University of Chicago with numerous publishing credits. dr. Tara Betts is an author, editor, she's mentored young poets, and taught at Rutgers University, University of Illinois-Chicago, and Chicago State University's MFA Program.

02/18 - Presidents Day (the actual Presidents - Ike, Kennedy, Johnson, Tricky Dick, Ford, Carter, Reagan, Papa Doc Bush, Clinton, Gore, stolen by Baby Doc Bush, Obama, Hillary Clinton, stolen by P-Grabby)

02/18 - National Drink Wine Day

02/20 - World Day of Social Justice, National Love Your Pet Day, Hoodie Doo Day (at noon, raise your hands over you head and yell, "Hoodie Hoo!!" to shake off the winter-time blues and prepare mentally for the coming of Spring).

02/21 - Int'l Mother Language Day

02/21 - The 54th Annual Commemoration for El Hajj Malik El Shabazz, 6 PM – 8 PM EST, Malcolm X & Dr. Betty Shabazz Memorial and Educational Center, 3940 Broadway, New York, New York 10032

In observance and commemoration Malcolm X's life and legacy, The Malcolm X and Dr. Betty Shabazz Memorial and Education Center is hosting an intimate conversation exploring the many ways Malcolm's work and legacy are still relevant in the current fight for justice and equality.

02/22 - National Margarita Day

Oh, and lastly... hold still -

[Deep End] - 35:12

You know, we keep wondering why there's such an escalated urgency in the pace of planetary plunder for pure profit, and what if the 1/10 of the 1% know something... On Fri., April 13th, 2029, an asteroid named 99942 Apophis will scream past the Earth within 35,000 km. That's within the sweet spot where all our geostationary satellites are parked, plus, the really bad news that it might not be one big rock the size of a football field, but many smaller (relatively) rocks held together by it's own gravity, in which case it's impossible to rule out an asteroid shower somewhere on the planet that day. In which case if I had enough money and connections, I'd be building a contingency, like escape pods that don't have to go to the Moon, just off the planet for a day or so hiding out on the opposite side. Or maybe these royal pricks actually DO have a Model-T starship and a planet 'B' and all this Mars colonization work is a cover?

Maybe by then we'll have an idea which continent (or ocean) will get rained on, if we haven't started having food riots because all the free pollinator insects have died. Anyway, if we don't save our Democracy in the next three years , it may be a moot point...

[Back to Geeknotes]

Ok... If you have promos, pluggers, gig info, an art opening, etc, send me an email. The address is mfunkyzine@gmail.com. And bands, artists and poets - download links, no attachments, please, and no promises...

[Grid Practice] - 38:01

Murphy's Law Backup

Ok, In Grid Practice,

Continuing the 555 prep for the two Benitez builds meant a second trip to the Berkeley shop for backup parts, mainly extra 555s to cover Murphy's Law and a couple 10K Ohm variable resistors to use in an RC circuit just in case I do burn an IC and have to try adjusting the voltage flow. Anyway, I won't know how this crazy idea will work until I breadboard the circuits, and to that end I ordered a set of mini breadboards that should arrive early next week. Meanwhile, I spent a few days hitting up scooter parts stores for my ignition coil, which ended up being a vintage coil for 70s model Vespa scooters as opposed to modern CDI coils - Capacitor Discharge Interface, which are electronic types that a driver circuit won't work with.

One last thing - when I looked through the 555 battery charger circuits, I came across a few that looks like they could be modified to run like the Benitez system, designed by a cat with the handle 'Alexkor.' There's one circuit that claims to charge a 48V battery bank with a single 12V battery. Anyway, I downloaded the pdf with the specific schematics and instructions, and if it turns out to be feasable, I can scrap plans to mess with big solar panels entirely and stick with small solar appliances like lights or emergency radios. Meanwhile, the lab gets the weekend off and maybe I'll go catch the 'Into the Spiderverse' movie...

[One More Tune] - 40:30

Ok, for this week's One More Tune we close out with the last submission to hit the inbox - From the Heavens, a bit of electronic meta-pop from LA outfit ABANDONspree. This tune was released just last month, but I liked some of their earlier music released in 2017, so they'll get a second spin in March...

[song] - 40:58

Well, OK.

[Closing] - 48:04

Hey, this show is a 1223studios joint.

I'm on iTunes, Internet Archive, Google Play, Spotify, PlayerFM, Stitcher, Tunein, Listen Notes, Podknife and Mixcloud. Episode notes are on the podpages, and you can download the MP3 directly. Send email to mfunkyzine@gmail.com.

If you like the show, tell your friends, and, since it looks like we'll still have to suffer under the goddamn Electoral College next year, we should demand the right to either vote for the people who make up this star chamber, or do like a couple states and require the Electoral College to vote for the candidate who wins the national popular vote, regardless of the state result. Hey, one monkeywrench deserves another, dontcha think?

Show themes "Rocket Power" & "Spy Glass" by NY musician and composer Kevin MacLeod. Some additional audio from freesound.org.

Next episode is set for Friday, Mar. 1st.

I'm Larry, trying hard to stay chill at my garrett in the Mission, and this is Magnetofunky, from San Francisco, where we go through, not into, the darkness.