Quench Time

Episode Transcript. Length - 39:29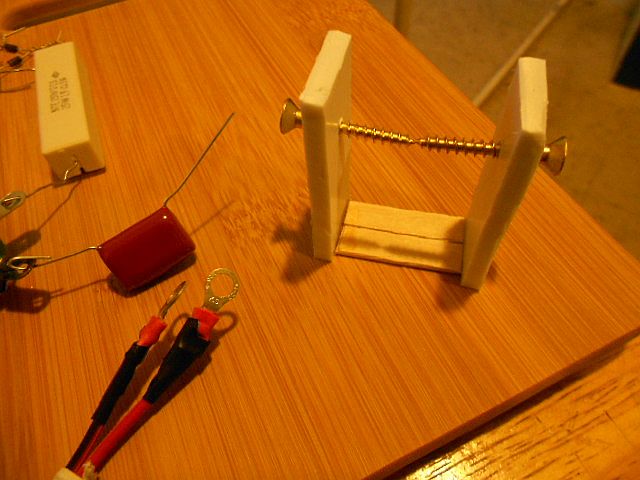 Magnetofunky no. 113. It's Saturday, March 2nd, 2019.

[intro theme]

Hey. Larry here. This week it was going over Tesla's notes on magnetic quenching and the moment of truth time for this 555 Benitez circuit, while the tunes are a few Pacific Rim tunes in tune with the bad date P-Grabby had with Kim Jong Un, which he's gonna have to repeat, like it or not...

[song] - 00:55

Ok,that was Gremlins - Angry Bear, an Indie Rock band from Seoul that ran from 2007 to 2015, found over at Reverbnation.

This is a laid back (and often explicit - you bet your ass) weekly international podzine of extremely eclectic music and progressive politics, with a focus on energy independence for the 99%. My podpages are 1223studios.com/mfunky.h and facebook.com/1223Studios.

[Grid Theory] - 06:16

Going To The Horse's Mouth

In Grid Theory,

With the Benitez-8 coming along up to my mocked up spark gap electrodes, magnetic quenching is the next hill to climb, and for that I decided that Poulsen coils were a hill too far - there wasn't enough info online to build them, so coils out, magnets in, and I turned to the horse's mouth - AKA Nikola Tesla. Luckily, a cat in Amsterdam named Nick has a website called Waveguide with the page 'Tesla's Spark Gaps: A Literature Review' which consolidated and laid out Tesla's own words on the different kinds of spark gaps he came up with. "Quenching" itself is the art of extinguishing an already established arc across a spark gap. According to Tesla, the intense magnetic field from two strong magnets placed at right angles to the arc, pulls on the arc and disrupts it, blows it out as soon as it's formed; the fundamental discharges occur in quicker succession. To increase the intensity and effect, Tesla shaped the magnets into points and placed them as close as possible to the arc. Now I've seen the videos with folks running relatively small quenched spark gaps, but they either used discs or big ass microwave transformer pointy magnets, so I wondered if that was a sticking point, but then I punched up neodymium magnets and, sure enough, they do make cone magnets - half inch x half inch pairs with one North tip and one South tip. Tesla also said he used mica on the magnets as a dielectric or insulator, but in the 21st Century I can use vinyl paint and cover the whole magnet. And the final applied specification from Tesla is having electrodes that kinda come to a point as well, so I'm using brass wood screws, brass because he used brass door knobs for one of his 40KV monsters. That's about it until these next parts come in; in the meantime the biggest issue with the B-8 is mounting this big ass rheostat to the project board--- [bell]

Ok, coming back with the moment of truth on the Benitez-7...

[Back To The Stage] - 09:34

Ok, Back to The Stage, continuing with Music Box - GEN, a power trio of musicians who hail from all corners of the globe: Switzerland, Japan and Vietnam, based in Ho Chi Minh City.

[song] - 09:52

Next up it's Billy Bob and Ephedrine - The Props, an Alternative Rock / Post Punk band from Hanoi described as "The Velvet Underground meets Wilco". No recent shows, band weblink is dead, no FB. Nice piece, with a couple quick f-bombs...

[song] - 14:36

We wrap with Euphorium(Trance Remix Feat. NK) - THE TAMERS, an Alternative outfit from Seoul with no other info than two FB links to a cat named Gyeong Tae Kim and a post-punk artist named Lunais. Interesting...-

[song] - 20:18





["Geeknotes"] - 24:39

Geeknotes: 03/03 - Thresholds 20 year Anniversary Reading @ Heirloom Books, Chicago, 03/03 - Free Max Harris, Oakland Metro Operahouse,03/05 - Action Night for SB 24 for Student Access @ Naral Pro Choice California, SF, 03/08 - International Women's Day Conversation, Manny's, SF...

Hey, Geeknotes!

Today it's Saturday the 2nd of March, and let's all shed a crocodile tear for fearless leader, who'll never admit that the parlay with N Korea tanked because he was watching Cohen's testimony where the minions were all doing a poor job of imitating a fixer. Orange Queenie threw a huge hissy and didn't care anymore about 'stupid N. Korea' and he's coming back to hold a Nazi rally at the CPAC Red Scare convention and scream about Socialism, as if that's scarier than these fascist mofos. Y'know, I don't give a warm bowl of sh..aving cream; I'll take a real Socialist (not your cartoon version) over a Nazi any damn day. For that matter, y'all HAVE to say 'Socialism' and not 'Communism' because P-Grabby is so in bed with Putin (who's actually anti-Communist, but let's not confuse the red hats), and the other side is good enough business buddies with China that they let 'em hold a trillion dollars of our debt - but don't be too concerned, Japan's holding a trillion dollar IOU on the US too...

Anyway, one of my show's fans works in town and when I stopped by a few days ago he laid this idea on me: He's cool with Joe Biden jumping into the Democratic thunderdome, but he thinks Biden should throw a curve that only he and Bernie Sanders could pull off - promise to only serve for one term, to do the deep cleaning that needs to be done, and pick a VP candidate who will for President after four years of On the Job Training via giving the VP real shit to do. I like it.

Anyway, let's run a few short dates:

03/02 - Dr. Seuss Day

03/03 - World Wildlife Day

03/03 - Thresholds 20 year Anniversary Reading, 4 PM – 7 PM CST, Heirloom Books, 6239 N. Clark Street, Chicago

Originally published in 1999 by Puddin'head Press, Thresholds, written half a decade earlier, was Jeff Helgeson's glance into the future, exploring themes which have become the reality of contemporary daily life.

03/03 - Free Max Harris, 3 PM – 10 PM, Oakland Metro Operahouse, 522 2nd Street, Oakland

Join us for a day of ART MARKET and LIVE MUSIC in support of our friend, Max!

Max Harris, a brilliant artist and beloved member of Oakland's Arts Community, who has been awaiting trial since June of 2017 in Alameda County's Santa Rita Jail, wrongfully accused of criminal responsibility in the tragic deaths of 36 people lost in the December 2016 Ghost Ship warehouse fire. As a member of the Satya Yuga arts collective at Ghost Ship, Max was known for his tremendous dedication and meaningful contributions to the space and community. We believe the egregious accusations against him are misplaced--he has been made a scapegoat--and that Max should walk free.

03/05 - Mardi Gras

03/05 - Choose-Day Tuesday: Action Night for SB 24 for Student Access, 6 PM – 8 PM, Naral Pro Choice California, 335 S Van Ness Ave, SF

With Roe v. Wade at risk under the Kavanaugh court, California has the opportunity to expand abortion access across the state. The College Student Right to Access Act, which would require medication abortion be available on college campuses, was introduced and passed by the legislature last year, only to be vetoed by then-Governor Jerry Brown, for being "unnecessary." With rising housing and transportation costs, we know that young people need access, and we need your support to pass this monumental legislation!

03/06 - National Oreo Day

03/07 - National Cereal Day

03/08 - International Women's Day Conversation, 6 PM – 8 PM, Manny's, 3092 16th Street, SF

Hosted by Planned Parenthood Northern California Action Fund among others

On March 8, Planned Parenthood Northern California Action Fund, NARAL Pro-Choice California and the San Francisco Women's Political Committee will celebrate International Women's Day by acknowledging the progress made and obstacles that remain in advancing women's equality.

If you have promos, pluggers, gig info, an art opening, etc, send me an email. The address is mfunkyzine@gmail.com. And bands, artists and poets - download links, no attachments, please, and no promises...

[Grid Practice] - 31:38

Benitez-7 Passes Go

Ok, In Grid Practice,

Getting back to the Benitez-7 once I finished my running around for the week. On Wed., I ran the first moment of truth test, but the video I thought I shot wasn't, so I repeated it on Thur., another raw document. Anyway, I decided to swap out the 1K resistor for a 200 Ohm, and instead of the diode or a regular bipolar transistor I installed the IRF510 MOSFET to resolve the connections.

With everything hooked up to the 555, I threw the switch, and the board didn't smoke, the IC took the two different voltage sources just fine, the battery charging function was ok, but the transformer didn't do squat, so I swapped in the LED power meter, which indicated 6.8 - 7V going into the 12V positive rail, while the series positive line read a little under 23V, and the DC Ammeter read less than 10 mA. That concerned me at the time, but a day later I think it's not major impedance but because I haven't done a thing to the batteries lately, like fully charge up the A bank. I did get an interesting read when I put a jumper wire from the switch directly to the 12V power rail - it read 10.8V and the MOSFET (which I kept calling a transformer in the video) let out a tiny high-pitched whine and got hot, but it kept charging the parallel battery bank and the IC chip didn't heat up at all.

So, my concern that the 555 astable circuit couldn't handle the two input voltages is put to bed, but now I see that the resistor and transistor coming off the outpin pin will need adjustments to get a better result and let me run a C of P test, and again, the B-8 doesn't present any of these issues, but for now the B-7 does pass 'Go' Cool...

[One More Tune] - 34:28

Ok, for this week's One More Tune, we close out with a bit of Alternative / ambience - Swimming Pool Everywhere - Shihui, an artist in Shanghai. The Rev. page had no bio or a way to date the page, but one weblink went to a Chinese music site where the EP 'Bird with diamond and small trees' is on sale...

[song] - 34:58

Well, OK.

[Closing] - 38:05

Hey, this show is a 1223studios joint.

I'm on iTunes, Internet Archive, Google Play, Spotify, PlayerFM, Stitcher, Tunein, Listen Notes, Podknife and Mixcloud. Episode notes are on the podpages, and you can download the MP3 directly. Send email to mfunkyzine@gmail.com.

If you like the show, tell your friends, and, big congratulations to my old stomping grounds, Chicago, which will have a black woman Mayor after the runoff. I hope no party machine numbnuts are dreaming of Council Wars: The Sequel...

Show themes "Rocket Power" & "Spy Glass" by NY musician and composer Kevin MacLeod. Some additional audio from freesound.org.

Next episode is set for Friday, March 8th.

I'm Larry, trying hard to stay chill at my garrett in the Mission, and this is Magnetofunky, from San Francisco, where we go through, not into, the darkness.