The Alexkor Assist

Episode Transcript. Length - 33:27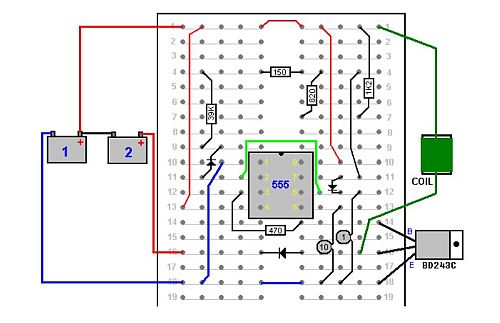 Magnetofunky No. 114. It's Friday, March 8th, 2019.

[intro theme]

Hey. Larry here. This week I considered one of the many re-invented wheels of the Benitez circuit designs and added my own English to it to fit the Benitez-7 power plant. The music is an early Spring offering of submitted indie tunes...

[song] - 00:46

Ok,that was Cancers - roomofwater, Dark-ish Alternative/Indie Rock from Sacramento. All songs written, recorded, performed, mixed, and mastered by Mark Bourassa. Drums recorded by Jordan Lonn. Mark's also into alternative energy research. Cool...

This is a laid back (and often explicit - you bet your ass) weekly international podzine of extremely eclectic music and progressive politics, with a focus on energy independence for the 99%. My podpages are 1223studios.com/mfunky.h and facebook.com/1223Studios.

[Grid Theory] - 05:45

The Re-Re-Invented Wheel

In Grid Theory,

What started as my intention to play around with different resistors and capacitors off the output pin of the existing circuit quickly downshifted into 'why are you re-inventing the wheel?' There are lots of 555 astable circuits out there, and folks like this Russian guy Alexkor have already worked out the components around the IC chip for astable battery charging, I can skip a lot of hassle by just dropping one of these designs in place.

BTW, I found the Alexkor diagrams from an E-book - A Practical Guide to Free-Energy Devices by Patrick J. Kelly. Now this is the same guy who Rick Friedrich said fudged and even outright changed some of the details of Carlos F Benitez' patents in a book, but then I've come across videos of other people replicating Alexkor's circuits, so I picked his first practical design, and on Monday I hit the Berkeley shop and got most of the parts to make the version laid out on a breadboard. It has three resistors, a diode bridge using regular 1N4007's, another power transistor and a 200 turn induction coil of 22 gauge magnet wire.

Anyway, I put it all together, using big-ass 2W resistors that made it look ghetto as hell, so after a second shop run I got 1/4W resistors and the huge power diode for the charging side - the 1kV 3A 1N5408. Because of the design, the A1 series voltage supply has to go to the 8 and 4 pins on the IC, but, my theory that Senor Benitez realized that once you separate the larger voltage of the run batteries from direct contact with the oscillator, even by one step, you still get the same punch that charges the B parallel batteries. Anyway, I added a pre-input voltage divider to the board, in this case a couple 200 Ohm resistors, so the positive rail only gets 12V max. It's ready to go after the show; I'm holding fast to my new rule of no more lab work on Thursday and Friday--- - [bell]

Ok, coming back with the Benitez-8 on third base...-

[Back To The Stage] - 09:07

Ok, Back to The Stage, continuing the first crop of spring indie withCash Cow - Hippie Johnny, an eclectic duo that has been playing a mix of indie rock, jazz, folk, punk and bossa nova around Chicago for the last three years.

[song] - 09:28

Next it's another Chicago band, muet, the sound of American noir, deliberate dissonance and heartbreaking melody stitched together beneath sodium light with tales of the tragic, the romantic, and the bizarre. The trio is set to release their debut eponymous full-length album on metropolis records in two weeks...

[song] - 12:55

We wrap with another short piece from LA duo ABANDONspree - Channel 37, from the August 2017 albm Un...

[song] - 17:21



["Geeknotes"] - 19:14

Geeknotes: 03/09 - UndocuFest 2019, El Rio, SF, 03/10 - Reading - Darius James' Negrophobia @ Alley Cat Books, SF, 03/11 - Town Hall with Mayor London Breed - Districts 5 and 8 @ SF LGBT Center, SF, 03/11 - Albany Park Poets Open Mic @ Nighthawk Cafe, Chicago, 03/15 - Green New Deal Create-a-thon @ Citizen Engagement Laboratory, Oakland...

Hey, Geeknotes!

Today it's late Friday the 8th of March, and let's keep it short - the GFY-GOP don't have the moral standing to lecture any damn body on hate speech - Rep. Omar don't have to apologize for shit; let's hear Steve King apologize, let's hear Pat Robertson apologize for eight years of shit thrown at Obama, let's hear Orange Queenie apologize for Nazis being fine people and shithole countries and brown babies being abused right now and the half dozen other atrocities running through your head. These royal pricks not only want her to sit down and shut up for being uppity, by linking her to 9-11 instead of any Saudis on a red hat poster in her district, they want her lynched. Just like how they fought Reconstruction...

ANyway, let's run few short dates:

03/09 - National Meatball Day

03/09 - UndocuFest 2019, 2 PM – 8 PM, El Rio, 3158 Mission St, SF

Hosted by Dreamer Fund

Last year, over 800 friends, artists, scholars and community members joined us as we celebrated and honored our immigrant brothers and sisters. This year, we hope to bring in the same momentum to show solidarity with our undocumented families, our refugees and asylum seekers at the border, and our immigrant neighbors and friends. All (100%) of the fees, donations, and fundraising from this event will go to the Dreamer Fund Undocumented Scholarship.

03/10 - Daylight Savings Time starts, Mario Day

03/10 - Reading - Darius James' Negrophobia, 7:00 PM – 9:00 PM PDT, Alley Cat Books, 3036 24th St, SF

Join Tongo Eisen-Martin, D. Scot Miller and Terence Alan Smith for readings from and discussions of Darius James' classic 1992 novel Negrophobia: An Urban Parable, in celebration of its republication by New York Review Books.

Darius James' scabrous, unapologetically raunchy, truly hilarious and deeply scary Negrophobia is a wild-eyed reckoning with the mutating insanity of American racism.

03/11 - Napping Day

03/11 - Town Hall with Mayor London Breed - Districts 5 and 8, 6 PM – 8 PM, SF LGBT Center, 1800 Market St, SF

Please note: due to limited capacity, we are asking constituents to RSVP in advance. The event will also be live streamed on YouTube.

Join friends and neighbors for an informative community conversation. This will be the first in a series of town halls to be held throughout the year. Submit your questions in advance at sfmayor.org/townhall.

03/11 - Albany Park Poets Open Mic, 8 PM – 10 PM CDT, Nighthawk Cafe, 4744 N Kimball Chicago

Bring your Poetry, flash fiction, anecdotes, rants etc. to Nighthawk Cafe, 4744 N Kimball, across the street from the end of the Brown Line; Monday March 11th and every 2nd Monday; 8 PM. We perform in short rounds. Emphasis on spoken word but other forms of expression welcome.

03/14 - World Kidney Day, Pi Day, Steak and BJ Day (an unofficial holiday, and being one month after Valentine's Day, I'd say it's pretty straightforward)...

03/15 - Ides of March

03/15 - Green New Deal Create-a-thon, 6 PM – Mar 17 at 3 PM, Citizen Engagement Laboratory, 1330 Broadway #300, Oakland

In a Create-a-thon, writers, artists, videographers, developers, musicians, and other creatives come together with policy experts and political strategists over a weekend to connect, brainstorm, and quickly prototype new, collaborative projects around a focused goal. By Sunday afternoon, you're ready to present results — whether that's a finished video, WPA-style art project, photos of a completed action, social media stunt, or a prototype and proposal for a larger ongoing initiative. Cool. Tickets are $25, if any are still available...

If you have promos, pluggers, gig info, an art opening, etc, send me an email. The address is mfunkyzine@gmail.com. And bands, artists and poets - download links, no attachments, please, and no promises...

[Grid Practice] - 25:20

Benitez-8 on 3rd Base

Ok, In Grid Practice, very briefly...

The Benitez-8 build is coming along - on the rheostat I have a simple electrical enclosure for mounting the thing, and with an inch of shims added it floats. The cone magnets came in, and I roughed out a couple Lucite panels and drilled out the magnet holes. Mocked up, the magnetically quenched spark gap apparatus looks fine.

On the board itself the positive and negatives knife switches are switched, with the Bedini Motor power transistor moved off the circuit breadboard in case it needs a heat sink.

Where I stopped on this one was swapping out that ignition coil secondary positive with a proper spark plug wire with the little rubber boot. But after that I could hook everything up and let 'er rip, but I'm gonna wait until I can vinyl paint my magnets...

[One More Tune] - 27:48

Ok, for this week's One More Tune, we close out with Looking for a Body - the new single by Jeromy Darling, Indie Rock, Folk Rock, Singer/Songwriter, Minneapolis, MN, a song dedicated to brave young men and women who have survived incredible cruelties inside the walls of their own homes. Check out his Bandcamp page to see where the proceeds go...

[song] - 28:20

Well, OK.

[Closing] - 32:03

Hey, this show is a 1223studios joint.

I'm on iTunes, Internet Archive, Google Play, Spotify, PlayerFM, Stitcher, Tunein, Listen Notes, Podknife and Mixcloud. Episode notes are on the podpages, and you can download the MP3 directly. Send email to mfunkyzine@gmail.com.

If you like the show, tell your friends, and, to the minions, spare me your outrage at N. Korea's nuclear program humming right along. Y'all are hunky dory with a lying duplicitous bully here, don't be surprised if Kim Jong Un snaps back 'don't hate the player, hate the game...'

Show themes "Rocket Power" & "Spy Glass" by NY musician and composer Kevin MacLeod. Some additional audio from freesound.org.

Next episode is set for Friday, Mar. 15th.

I'm Larry, trying hard to stay chill at my garrett in the Mission, and this is Magnetofunky, from San Francisco, where we go through, not into, the darkness.