Ides All Around

Episode Transcript. Length - 33:47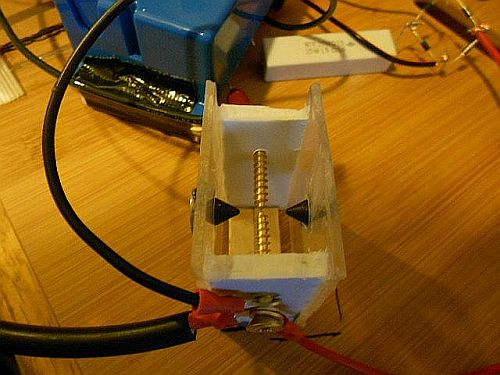 Magnetofunky No. 115. It's Friday, March 15th, 2019.

[intro theme]

Hey. Larry here. This week it's Ides all around as the Benitez/Alexkor builds come down to tying up loose ends. The music is a curated sampler of bands playing in Austin during SXSW 2019...

[song] - 00:49

Ok, that was Gods Among Men - Jojo Abot, a Ghanaian-born singer, songwriter, rapper and performance artist who hangs out in Copenhagen, Denmark / New York City. Her Afro-futuristic works explore identity and empowerment in radical and provocative ways that manifest as activism, fashion, film and, above all, densely arranged and genre-smashing music. This is from her latest EP whose title in Zulu translates to "I am God."

This is a laid back (and often explicit - you bet your ass) weekly international podzine of extremely eclectic music and progressive politics, with a focus on energy independence for the 99%. My podpages are 1223studios.com/mfunky.h and facebook.com/1223Studios.

[Grid Theory] - 05:30

The Checklist...

In Grid Theory,

It was mostly slow going as the two builds were at the loose ends checklist stage, mainly on the Benitez-8. The B-7 - rather, 7.5, has the circuit board and the induction coil installed and ready to go, and I fully charged the two 'A' batteries, but I considered whether the version 7.5 was even worth fussing with, because the Alexkor circuit is designed for just two batteries, like the version 8, but, my adaptation should go through the C of P testing just to be sure. Anyway, the other Alexkor oscillating circuit is the one I'm curious about now - the one where a single 12V battery can charge up to 4 12V batteries wired in parallel. To me, that's much more efficient than battery bank to battery bank, but I'm gonna wait--- [bell]

Ok, coming back with watching paint dry...

[Back To The Stage] - 07:18

Ok, Back to The Stage, continuing the small sampler of bands playing SXSW with Summon The Fire - The Comet Is Coming, a "pre-apocalyptic" Jazz band from London, from an album called Trust in the Lifeforce of the Deep Mystery.

[song] - 07:40

Next we have Children - Chastity, a Punk band out of Whitby, Ontario, Canada, where punk's clenched fist meets the sweet, swirling hookiness of shoegaze.

[song] - 11:52

And we wrap up with Big - Fontaines D.C., Rockers from Dublin, Ireland, whose songs are conversational blurts that lie somewhere between literary high-mindedness and the rants of a worked-up barfly. It's from the group's debut album Dogrel, and yeah, I cribbed the show from Texas NPR's SXSW mixtape, but I didn't download the stream because I don't talk over the songs I play...

[song] - 14:59





["Geeknotes"] - 16:43

Geeknotes: 03/17 - A Reading at SFPL for Lawrence Ferlinghetti's 100th Birthday, 03/19 - Tomorrow Will Be Different, UCLA Friends of the Semel Institute for Neuroscience and Human Behavior, LA, 03/20 - Greg Grandin's The End of the Myth, First Cong. Church, Berkeley, 03/22 - California Counts - Strategies for Reporting on the Census, Center for Health Journalism, LA...

Hey, Geeknotes!

Today it's late Friday the Ides of March, when the top theme isn't a murdered Roman Emperor, but slaughtered human beings in two New Zealand mosques by a Nazi Red Hat fanboy complete with white terrorist mash note dedicated to his fearless leader Orange Queenie, who can miss me with any boilerplate murmured in monotone about this latest atrocity that interfered his with selling that damn white wall and the lynch party forming for Rep. Ilan Omar. Eat shit. And to FB, 8chan, YouTube and Reddit, making tall bank while not being able to take the video down and keep it down - screw you. If it was a bootleg copy of 'Bulworth' it wouldn't last half an hour. And to all you red hat mofos who quickly got and shared a copy of the murderer's live hatestream (and fuck his name), and have been jerking off to it ever since - I hope you all get kidney stones and piss blood for a week. ANyway, let's run the dates:

03/17 - St. Patrick's Day

03/17 - A Reading at SFPL for Lawrence Ferlinghetti's 100th Birthday, 1 PM – 3 PM, San Francisco Public Library, 100 Larkin St, SF

In honor of Lawrence Ferlinghetti's 100th birthday the San Francisco Public Library will celebrate with a poetry extravaganza. Jack Hirschman Aggie Falk-Hirschman, Janice Mirikatani, devorah major, Ginny Lim, Kim Shuck, Alejandro Murgia, Linda Noel, Dean Rader and Tongo Eisen-Martin Poetry read their favorite Lawrence Ferlinghetti poems – and some of their own! Hosted by Neeli Cherkovski

03/19 - Tomorrow Will Be Different, 7 PM – 9:30 PM, UCLA Friends of the Semel Institute for Neuroscience and Human Behavior, 760 Westwood Plaza C7-463, LA

Sarah McBride 's captivating and powerful memoir "Tomorrow Will be Different…Love, Loss, and the Fight for Trans Equality" is a book about falling in love, being true to yourself, and creating change. In her groundbreaking, poignant memoir, Ms. McBride, with revolutionary fervor and down to earth kindness, tells the story of coming out as trans and of the terrain, both personal and political, for transgender people and those who love them. A fearless activist, her life-changing, brave memoir will inspire and change the way we look at identity and equality in this country. "Tomorrow will be Different" offers a message of encouragement for all, especially the LGBTQ community, while reminding us that the fight for equality is just getting started and that we can do better to advocate on behalf of all people for a better, glorious, kinder future.

03/20 - Int'l Day of Happiness, Spring Equinox

03/20 - Greg Grandin's The End of the Myth, 7:30 PM – 10:30 PM, 2345 Channing Way, Berkeley

As part of KPFA's Author Series historian Greg Grandin, author of The End of the Myth: From the Frontier to the Border Wall in the Mind of America joins host Mickey Huff Wednesday, March 20, 7:30pm at the First Congregational Church 2345 Channing Way Berkeley, CA. This is a KPFA Benefit

In The End of the Myth, acclaimed historian Greg Grandin explores the meaning of the frontier across the full sweep of US history, from the American Revolution all the way to the Trump presidency.

03/21 - Int'l Day of Forests, Int'l Day of Nowruz, World Day to Eliminate Racial Discrimination, World Down Syndrome Day, World Poetry Day

03/22 - World Water Day, National Goof Off Day

03/22 - California Counts - Strategies for Reporting on the Census, 8:30 AM – 4 PM, Center for Health Journalism, 3502 Watt Way, LA

Join us March 22 at the USC Annenberg School for Communication and Journalism in Los Angeles (one of the hardest places in the nation for a good count) for a daylong briefing on the U.S. Census. You'll learn about the challenges facing the counters in a state where an estimated 75 percent of residents are considered hard to count. We will discuss reporting strategies and how the climate of fear in immigrant communities might impede a good count, as well as efforts to delegitimize the U.S. Census, which holds the key to how billions of dollars are distributed to local communities. We'll decipher what's in the census anyway – analyzing assumptions built into the census on such fundamental questions as "What is a family?" We'll also roll up over sleeves in a hands-on workshop on using census data to tell important community stories and close with a session on how newsrooms can be smart about census reporting strategies.

Oh, almost forgot -- hold still for a second -

[Deep End] 22:46

Yeah, we're in the deep end...

What if space and the universe aren't the same thing? What if the Big Bang didn't rush out from a singularity but rushed through a portal? You can have a space with nothing in it just like the number zero. The fact that the structure of the entire universe is not uniform and still has branches and voids would make the universe seem like a fluid interacting with a medium of emptiness. But current theory says that everything in the universe is rushing away, so how do you get the crunch?

Well, the one thing planets and even stars don't flee from are black holes, and as current theory also says eventually the black holes will eat everything then each other to form one massive muther, what if instead all the black holes in the universe are already interconnected and performing a multidimensional ballet at their own pace, the universe in one corner of an immense expanse, then contracting and refreshing in a far corner of space...

[Geeknotes cont'd]

If you have promos, pluggers, gig info, an art opening, etc, send me an email. The address is mfunkyzine@gmail.com. And bands, artists and poets - download links, no attachments, please, and no promises...

[Grid Practice] - 25:01

Watching Paint Dry

Ok, In Grid Practice,

The Benitez-8 build took most of the lab time, including Thur., starting with vinyl painting the cone magnets - dipping, rotating for two hours, smoothing out lumps, two more hours of drying, repairing the damage if the magnet stuck to a screw (even two layers of dry vinyl was fragile). That took two days in total, while I finished the spark gap apparatus with a couple tiny-ass tubes of superglue gel, then finished all the wire connections. When it was all done and the magnets were ready to go on, I realized that I forgot to get a cut-off switch for the damn thing, so Thur. went back to Al Lasher's just for a $2 switch. Once that was installed, the magnets were set last night. The Benitez-8 is ready to go, just need a couple 12V batteries with decent capacity, but because I'm not using car batteries, and there's only one battery shop in SF with grossly overpriced sealed or gel batteries, I guess I gotta go to the Fry's 50 mi. away. I think I need a car...

[One More Tune] - 26:58

Ok, for this week's One More Tune, we close out with TAO - yahyel, an electro-pop band from Tokyo that loves a slow burn — and a big frenzied payoff. Nice, and, all the songs come with great videos on the FB page...

[song] - 27:23

Well, OK.

[Closing] - 32:24

Hey, this show is a 1223studios joint.

I'm on iTunes, Internet Archive, Google Play, Spotify, PlayerFM, Stitcher, Tunein, Listen Notes, Podknife and Mixcloud. Episode notes are on the podpages, and you can download the MP3 directly. Send email to mfunkyzine@gmail.com.

If you like the show, tell your friends, and, this is a few disasters ago, but if some of that top quality aid going to a devastated red state fell off the truck and landed in Puerto Rico, I wouldn't lose any damn sleep over it...

Show themes "Rocket Power" & "Spy Glass" by NY musician and composer Kevin MacLeod. Some additional audio from freesound.org.

Next episode is set for Friday, March 22nd.

I'm Larry, trying hard to stay chill at my garrett in the Mission, and this is Magnetofunky, from San Francisco, where we go through, not into, the darkness.