Alexkor Yellow Card

Episode Transcript. Length - 43:30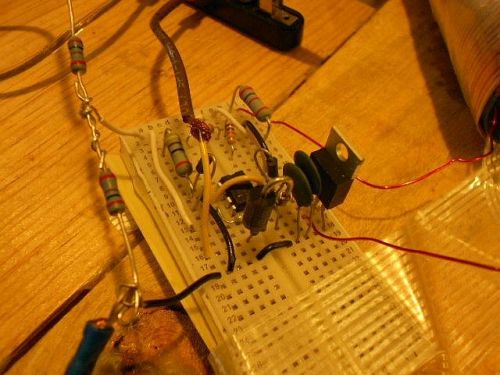 Magnetofunky No. 116. It's Friday, March 22nd, 2019.

[intro theme]

Hey. Larry here. This week the lab work was supposed to be simple, but ended up with me calling a free energy foul on the Alexkor circuit. The music is an overflow Spring sampling from the submissions pile...

[song] - 00:44

Ok, that was Circuits End Cicadas - ABANDONspree, the LA prog rock experimental duo from the 3-piece EP aerialSINES released in Mar. 2017. Because the pending pile got plenty of submissions for the first show of Spring 2019 I have a double set of eclectic tunes coming up...

This is a laid back (and often explicit - you bet your ass) weekly international podzine of extremely eclectic music and progressive politics, with a focus on energy independence for the 99%. My podpages are 1223studios.com/mfunky.h and facebook.com/1223Studios.

[Grid Theory] - 05:03

Free Energy Foul

In Grid Theory,

This week I started on Mon. with a simple task - run a straight power test, then two or three C of P tests for each Benitez system, but I ended up in tall weeds out in left field...

The B-7.5 power test went ok, except for one thing - the circuit was only running at 2.3mA, which didn't bump the charging batteries voltage at all. During the analysis I checked the components, the connections, I discounted the voltage divider, then I went back to the Alexkor circuit diagram with '35KHz 5% Duty Cycle' and ran the resistor and capacitor values through a frequency and duty cycle calculator and got a diferent result from that stated in the Patrick Kelly book. Instead of 35 I got a hair short of 18KHz and a 52% duty cycle. I went through a couple more calculators and got the same result. What the hell is this?

Again, what Rick Friedrich said about Kelly fudging and changing Benitez' specs came to mind - did he do this, or did Alexkor make this obvious mistake anybody would catch after doing the math? I can't ask him, he's not online, none of the info is from him, just about him and his diagrams, with almost all links going back to the Kelly book, and the only circuits anybody else referenced are the later Alexkor designs, not this first practical one. I don't know which one of them did this, but I call foul - yellow card!

Anyway, over at Daycounter.com I found a reverse frequency and duty cycle calculator, punched in the 35KHz at 5% and got a completely different set of components - for R1 I got 3.7KOhm, not 2.061, R2 I got not 39.16KOhms, but 200, and 10nF, not 1. And funny thing, I got a 95% duty cycle that has to be inverted to get that 5% instead. Now, an output inverter is just a few more parts (another resistor, a transistor, maybe a diode), but they're not part of the Alexkor circuit - that's another yellow card...

So, I further modified the circuit with the new resistor/capacitor line, pulled that big-ass 1nF cap out for the 10, and Thur. In started on what parts I'll need for the output inverter, mainly a PNP transistor--- [bell]

Ok, coming back with the Benitez-8 power test...

[Back To The Stage] - 09:13

Ok, Back to The Stage, continuing the Spring set with Lil Momma - a brand new release from PhiL n' Nem, R&B group from LA. Then it's Hold The Flag - Giant Flying Turtles, an Americana / Rock N' Roll / Jam Band out of Kings County, NY, but they call Brooklyn home. This is from the Sept 2017 album Waltz To The World.

[songs] - 09:44; 12:46

[Second Set] - 16:15

Ok, next up we have opening up - muet, the American noir art rock band from Chicago (and yeah, mea culpa for neglecting to say the song in show 114 - leather jacket perfume). After that we have a little commentary from Dethcentrik, the industrial metal band from around Denver - Government Is Authority And Authority Is For Nazis, also brand new, also practically ripped from the headlines

[songs] - 16:53; 19:02

[Third Set] - 21:25

Ok we wrap the set with taking back control - WOUNDEDSPiRiT, the Indie / Rock / Pop outfit out of Rowley Regis, UK. This new single officially dropping in early May represents the band with a new lineup and new sound, unfortunately I nicked a couple beats off the very beginning and couldn't fix it before airing. Lastly we have Salerosa, a Rock band based in Stockton, E. of Silicon Valley, with Ghosts from their 2018 EP Undisclosed Locations, available now on ITunes and Spotify. And BTW, their next gig - 4/27 at Vox Pop in Stockton.

[songs] - 22:21; 26:05

["Geeknotes"] - 29:08

Geeknotes: 03/23 - The Cave Artist Talk with Michael Warr and Mark Sabb @ Swim Gallery, SF, 03/26 - SURJ Movie Night @ Marin City Library, Sausalito, 03/27 - America in Transition- Special Screening for TDOV 2019 @ NEW PEOPLE, SF, 03/28 - Essential Media Skills for Artists, Activists & Curious Citizens @ E. M. Wolfman General Interest Small Bookstore, Oakland...

Hey, Geeknotes!

Today it's late Friday the 22nd of March, where Spring is finally here on the calendar but not on the ground everywhere north of the Equator, or too much on the ground with all that Midwest flooding, where the Mueller report (AKA the Impeachment BBQ Full Menu) is out, but without Wikileaks expect nothing but gaslight and redactions, where our racist piece of shithole P-Grabby spent the week kicking down against John McCain now that he's 6 feet under, when he wasn't aggressively ignoring the 50 people slaughtered in New Zealand by his goddamn Aussie fan boy. BTW, we could trade every shithole GFY-GOP minion for New Zealand Prime Minister Jacinda Ardern and really make America great again, but then sending that many Nazis to a foreign country would be seen as an act of war...

Meanwhile, it's apparently becoming clear that the Boeing 737 Max 8 crashed twice because the company made safety equipment optional, like buying a car but the seat belts and airbags were expensive extras - gotta love that maximum profit innovation.

Meanwhile, the slimy attack ads against Alexandria Ocasio-Cortez are already starting, calling her a witch, a Manchurian Candidate; why not just call her Godzilla, cause she scares the living uppity shit out of you snowflake fascists.

Anyway, if it's actually Spring where you're at, get out and enjoy it, and let's run a few dates:

03/23 - World Meterological Day

03/23 - "The Cave" Artist Talk with Michael Warr and Mark Sabb, 7:30 PM – 9 PM, Swim Gallery, 509 Ellis Street, SF

Artist Mark Sabb speaks with award-winning poet, editor, and arts consultant Michael Warr about the subjects and inspirations behind his latest exhibition at Swim Gallery titled "The Cave".

Mark Sabb, aka Mark Digital, is an internet artist, digital curator, founder of FELT Zine, and the Senior Director of Innovation and Engagement at the Museum of the African Diaspora in San Francisco. Mark's work focuses on themes related to contemporary culture, global politics, and technology; earning him features in Paper Magazine, Hypebeast, Vice's The Creator's Project, Nylon Magazine, and more.

03/24 - World Day for Truth Concerning Human Rights Violations, World Tuberculosis Day

03/25 - Day to Remember Slavery Victims and the Transatlantic Slave Trade, World Solidarity Day for Detained and Missing Workers, and Waffle Day

03/26 - Purple Day

03/26 - SURJ Movie Night, 6 PM – 8 PM, Marin City Library - Home of the Marin WebStars, 164 Donahue St, Sausalito

Hosted by SURJ Marin - Showing Up for Racial Justice

a roundtable panel with the filmmaker and others. Local filmmaker Shirah Dedman will be here screening her film You a Nomad. There will be a panel after the screening to discuss the film and issues.

In a single generation, Oakland, California's black population has dwindled from 44% to an estimated 26%. Using a unique cross-section voices, short film YOU A NOMAD reveals the systematic roots of gentrification and depopulation of African-American from cities nationwide.

03/27 - America in Transition- Special Screening for TDOV 2019, 6 PM – 9:30 PM, NEW PEOPLE, 1746 Post St, SF

Trans Thrive is proud to present a special screening of "America in Transition" (AIT) is a documentary series and community engagement campaign that explores community, family, and social issues for trans people of color across the United States.

Presented by: Trans Thrive, The SF LGBT Center Office of Trans Initiatives, St James Infirmary Clinic San Francisco AIDS Foundation

Free Event- Tickets thru Eventbrite

03/28 - National Something On a Stick Day, National Black Forest Cake Day, Eat an Eskimo Pie Day, Weed Appreciation Day, and Children's Picture Book Day

03/28 - Essential Media Skills for Artists, Activists & Curious Citizens, 7 PM – 8:30 PM, E. M. Wolfman General Interest Small Bookstore, 410 13th Street, Oakland

For today's artists and organizers, skills for critically evaluating media and effectively producing it are essential. Whether you intend grow your practice, advance a cause or galvanize a community, this 90 minute workshop will introduce you to tools for thriving in today's media environment and techniques for deploying them. While we won't cover technicalities of any particular platform, we will show you how to craft a meaningful message and adapt it to the outlet best suited for your goals.

The ability to tell your story in the right way, in the right places to the right people is remarkably powerful. Our goal is to help unlock some of that power for everyday people, so that we might enrich our communities and one another.

03/29 - Nat'l Vietnam War Veterans Day (celebrated by Cadet Bone Spurs as Deport Vietnamese Refugees Day)

If you have promos, pluggers, gig info, an art opening, etc, send me an email. The address is mfunkyzine@gmail.com. And bands, artists and poets - download links, no attachments, please, and no promises...

[Grid Practice] - 36:45

A Sparkless Gap

Ok, In Grid Practice,

The B-8 power test went pretty well, except for one thing - no spark in the spark gap, even though the current reading here was 5 - 600mA going into the charging battery. At first I thought that was too much, but the specs say 200mA is a typical output from a 555 timer in astable mode, and I didn't pull the reading from pin 3.

The 200nF capacitor might be an issue; the rheostat might be an issue; I saw that Rick Friedrich mentioned a 100W part, where mine is 25W plus the 25W resistor, but that's why I have a scooter ignition coil.

Considering that this is a 555 astable circuit design modified to charge a car ignition coil, I might have to de-modify it back to a regular astable circuit, but the last thing I'll do is put a car coil here...

Meanwhile, the Benitez switches worked fine, the charging directions worked fine, the load terminals between the switches gave just short of 12V, but no sparks.

The Alexkor mess took up most of my time rooting through the tall weeds this week, but I did improve the B-8 setup by adding a heat sink for the 2N3055 power transistor to sit on, and that's where the lab work stands for now...

[One More Tune] - 39:05

Ok, for this week's One More Tune, we close out with The One and Only Jazz Punk Duo from Watsonville, CA, Aurora Bream, playing the tune Jeff Goldblum from the album The Chronicles released July 13, 2017. And BTW, Mr. Goldblum is no slouch on the jazz keyboard. Nice...

[song] - 39:35

Well, OK.

[Closing] - 42:08

Hey, this show is a 1223studios joint.

I'm on iTunes, Internet Archive, Google Play, Spotify, PlayerFM, Stitcher, Tunein, Listen Notes, Podknife and Mixcloud. Episode notes are on the podpages, and you can download the MP3 directly. Send email to mfunkyzine@gmail.com.

If you like the show, tell your friends, and, in the wake of the latest massive security screw up at FB, is it time to consider the platform a utility and nationalize the damn thing? Let's see if Z-Dog spikes my pages over this...

Show themes "Rocket Power" & "Spy Glass" by NY musician and composer Kevin MacLeod. Some additional audio from freesound.org.

Next episode is set for Friday, March 29th.

I'm Larry, trying hard to stay chill at my garrett in the Mission, and this is Magnetofunky, from San Francisco, where we go through, not into, the darkness.