Controlling The Spice

Episode Transcript. Length - 43:01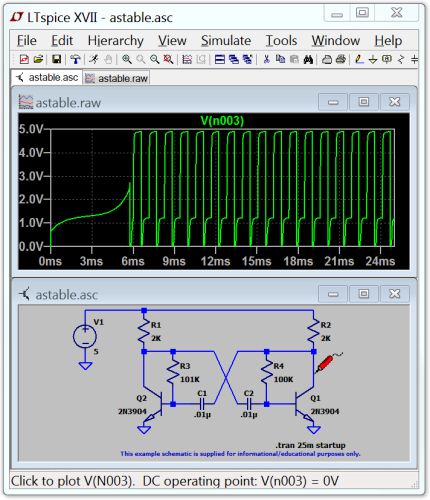 - Magnetofunky No. 117. It's Friday, March 29th, 2019.

[intro theme]

Hey. Larry here. This week it's hands off the Benitez doohickeys as I turn to circuit simulators to help diagnose the systems. The music is another Spring sampling of new indie tunes from the submissions pile...

[song] - 00:46

Ok, that was Familiar - A Haunt We Go, an Alternative / Rock / Indie band in Fairfax, VA, sent in reaction to the freshly updated Craigslist ad. Cool.

This is a laid back (and often explicit - you bet your ass) weekly international podzine of extremely eclectic music and progressive politics, with a focus on energy independence for the 99%. My podpages are 1223studios.com/mfunky.h and facebook.com/1223Studios.

[Grid Theory] - 05:08

Simulator Baby Steps

In Grid Theory,

After the power tests of the Benitez circuits, and seeing that I can't trust circuit schematics unless I actually build and run them, circuit analysis has to go to the next level, beyond just running components through Ohm's Law and Kirchoff's Current and Voltage Laws to get all the currents and voltages in a circuit design, which is where circuit simulators come in. If I was taking a college-level electronics class, simulators would make up the lab part of building and testing. Thing is, most simulators come with just analog component models as default, IC's like the 555 timer you'd have to build from scratch, but there are macro models for the astable circuit available.

As for which simulator to use out of the many, many variations, I looked at QUCS (Quite Universal Circuit Simulator) and LTSpice, but I'm going with Spice. I mean they're both easy to use graphically, if you're just slapping resistors, diodes and wires on the grid - my first day playing with either I had the Benitez-7.5 circuit running. But, my two power plants include the 555 timer, a transformer and a magnetically quenched spark gap. The transformer, like the 555, has models other folks have built; the spark gap, my spark gap, will have to be from scratch, so I'd rather tackle the Spice learning curve (even if all I do is script kitty this thing).

Anyway, I found and downloaded the free pdf book POWER SPECIALIST'S APP NOTE BOOK from Intusoft. It contains over 35 technical articles on power supply design and power electronics modeling, which includes transformers and spark gaps--- [bell]

Ok, coming back with looking at output inverters for the Benitez-7.5...

[Back To The Stage] - 08:10

Ok, Back to The Stage, continuing the Spring new indie set with Dark Places - The Frontier, the indie-pop project emerging from the D.C. area that combines mainstream rock and indie flavors, then it's Insanlar - She Past Away, the dark-wave post-punk duo playing minimalist poetry sung in Turkish...

[songs] - 08:39; 12:22

[Second Set] - 15:55

Ok second set opens with Down the Line - Thieves & Lovers, the acoustic rock alternative pop band outta Baltimore that was formed in sunny southern California. We wrap with local Bay Area rock and roll band Black Angel. Their new tune is Long Live the Dirty South...

[songs] - 16:21; 20:35



["Geeknotes"] - 25:38

Geeknotes: 03/30 - All Out for Gaza, 24th St Mission Bart Station, SF, 04/02 - Oakland Short Film Festival 2019 @ The New Parkway, Oakland, 04/02 - Black Futures Lab and the Black Census Project, Inforum at the Commonwealth Club, SF, 04/03 - Queeriosity: Writing + Performance Workshop @ Qulture Collective, Oakland...

Hey, Geeknotes!

Today it's late Friday the 29th of March, and to no one's surprise, the Mueller report is being stalled as Uncle Caligula does another round of Nazi red hat rallies. But ya know, if total vindication means removing one shovel full of dirt from the mountain of unconstitutional bullshit that P-Grabby and his willing minions keep adding to, the gaslight is getting thin. If the report did totally clear him, it would be spashed on the front page of the Washington Examiner, not hidden under a four page press release. And if Congress - and all of us who paid for it - really wanted to see the complete un-redacted document, we don't need Wikileaks; just go to the office of Nazi Channel propaganda minister and slumlord Sean Hannity, or the demon lord dungeon of Oxycontin boner boy Rush Limbaugh; they're going over it and indicating what to redact and what to spin.

Meanwhile, the minions have jack shit to say about Orange Queenie quipping about machine gunning refugees on the southern border while all kinds of hinkty shit is happening on the Canadian border, but you didn't hear it from me...

And lastly, after the Democratic thunderdome primaries are over next year, whether I supported the candidate or not, I'm absolutely voting for whoever wins the nomination, and all the rest of them should go into the Cabinet. And Daily Kos - kiss my ass with that civiqs poll...

Anyway, let's run a few dates:

03/30 - Earth Hour, National Doctors' Day

03/30 - All Out for Gaza, 12 PM – 3 PM, 24th St Mission Bart Station 2800 Mission St, SF

Saturday, March 30, 2019 will mark the first anniversary of the Great March of Return in Gaza and the 43rd anniversary of Land Day in Palestine. In the past year more than 240 Palestinians have been killed, thousands wounded by live fire and thousands more by tear gas and other weapons.

Despite being trapped inside the largest open-air prison in the world and confronting one of world's most powerful militaries, the Palestinians in Gaza have continued their heroic resistance. The Trump administration and the Democrat party leaders in Congress have not only supported Israel's murderous assault, but also continued to provide the weapons to carry it out. They are seeking to criminalize the Boycott, Divestment and Sanctions Campaign. And Chuck Schumer isn't helping by comparing Ilhan Omar to frigging Nazis...

03/31 - Cesar Chavez Day in Cali., National Crayon Day

04/01 - April Fool's

04/02 - World Autism Awareness Day

04/02 - Oakland Short Film Festival 2019, 6 PM – 10 PM, The New Parkway, 474 24th St, Oakland

Oakland Short Film Festival is an event founded by filmmakers for filmmakers.

We aim to create a festival, where independent short films of all genres and countries of origin get the recognition they deserve, where filmmakers can come together and celebrate each other's work filled with movie fanatics.

Short films have difficulties reaching larger audiences, which is why Oakland Short Film Festival's goal is to showcase the best indie short films of the past years to a large crowd. We aim to show people the high quality of short films, and how they provide a unique film experience, which can be just as rewarding and interesting as watching a feature-length film.

04/02 - Black Futures Lab and the Black Census Project, 6:30 PM – 7:45 PM, Inforum at the Commonwealth Club, 110 The Embarcadero, SF

The issues facing black communities are often complicated, nuanced and heavily weighted by centuries of historical injustice. Black Futures Lab, founded by Black Lives Matter co-founder Alicia Garza, works to make black people powerful in politics by transforming black communities into constituencies that build power in cities and states.

The Black Futures Lab recently completed the largest survey of black people since Reconstruction, with nearly 40,000 respondents from diverse communities across the nation. Join Garza and other experts for a conversation about the inaugural data results and how to use this data to create solutions with lasting impact.

04/03 - Iara & Mi'raj, the Muslim holiday that commemorates the Prophet Muhammad's journey from Mecca to Jerusalem and his ascent into heaven.

04/03 - Queeriosity: Writing + Performance Workshop, 5 PM – 7 PM, Qulture Collective, 1714 Franklin St, Oakland

celebrating LGBTQQIA+ youth voices in the Bay Area. Taught by Youth Speaks poets including Sarah O'Neal and Janae Johnson.

Every Wednesday | March 20th - May 22nd 5:00pm - 7:00pm at Qulture Collective, 1714 Franklin St, Oakland, CA 94607 (near 19th Street BART)

Sign-Up: https://goo.gl/forms/OWMXtikx5RvHzBnB3

This LGBTQIA+ centered workshop will explore personal and historical narratives that (re)frame perceptions of language, sexuality & gender. Participants will be encouraged to write, learn performance techniques, and create the dopest space imaginable.

04/04 - Mine Awareness Day

If you have promos, pluggers, gig info, an art opening, etc, send me an email. The address is mfunkyzine@gmail.com. And bands, artists and poets - download links, no attachments, please, and no promises...

[Grid Practice] - 33:50

Pin 3 Inverter

Ok, In Grid Practice,

Very briefly...

To be honest, I spent most of the non-lab time on deciding between the Qucs and the LTSpice and going through the tutorials, assuming the output inverter would be just a few components added to the breadboard, but when I turned to just this simple inverter on the Google I fell into a crap load of data on DC to AC power inverters, emitter followers and transistor switch inverters.

It took a day just to scan through all this to guesstimate that the transistor switch inverter, specifically the PNP transistor version, the last lab notes pic from last week, is the thing I should try to configure instead of all the other top-heavy setups. For now; I'm not 100% sure, so I'm still gonna go back through all that TL;DR data again, and, though I don't have any components to buy right now, the guy at the Berkeley shop may be able to give me a simple 'yes' or 'no' answer on this subject. And while there I might see if they have a variable air capacitor, a part mentioned a couple times as a way to set resonance frequency. Funny thing - I recognized the part from way back in the day when I've taken apart an old radio. Anyway, I got a lot of reading to do on this, and as for Alexkor, I'm not convinced his final one battery to charge four battery system is worth a damn until I run it through a simulator...

[One More Tune] - 36:04

Ok, for this week's One More Tune, we close out with I Want U But I Cant Have U - SHADDOW, the up-and-coming jazz R&B Neo-Soul artist based in Arlington, Texas. Nice...

[song] - 36:21

Well, OK.

[Closing] - 41:40

Hey, this show is a 1223studios joint.

I'm on iTunes, Internet Archive, Google Play, Spotify, PlayerFM, Stitcher, Tunein, Listen Notes, Podknife and Mixcloud. Episode notes are on the podpages, and you can download the MP3 directly. Send email to mfunkyzine@gmail.com.

If you like the show, tell your friends, and, how come there's no docudrama on the fascist coup the American Nazi royal pricks tried to pull on FDR, and that Congress covered up 'for the good of the nation' back in the day?

Show themes "Rocket Power" & "Spy Glass" by NY musician and composer Kevin MacLeod. Some additional audio from freesound.org.

Next episode is set for Friday, April 5th.

I'm Larry, trying hard to stay chill at my garrett in the Mission, and this is Magnetofunky, from San Francisco, where we go through, not into, the darkness.