Halbach Detour

Episode Transcript. Length - 36:43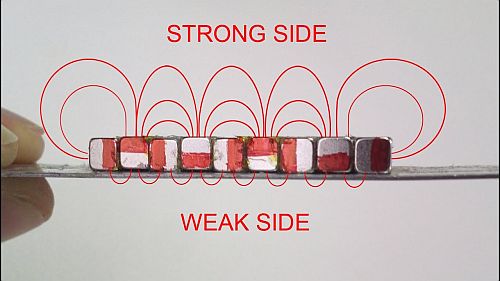 Magnetofunky No. 118. It's Saturday, April 6th, 2019.

[intro theme]

Hey. Larry here. This week I made a little bit of progress cause I only had a little bit of lab time, with a brief diversion into antigravity clickbait. The music is a hard Spring mix of semi Surf tunes and straight up Hip Hop...

[song] - 00:47

Ok,that was Blood Money - Brandon Carter, a Music Producer / Recording Artist from the South Side of Chicago (now living in NYC). He has opened shows for Kanye West, T.I., Fabolous, Ice-T, and LL Cool J. He's also a Certified personal trainer & nutritionist. Fitness model for Nike, Puma, Adidas, Men's Health, and other major brands. CEO @ Bro Laboratories.

This is a laid back (and often explicit - you bet your ass) weekly international podzine of extremely eclectic music and progressive politics, with a focus on energy independence for the 99%. My podpages are 1223studios.com/mfunky.h and facebook.com/1223Studios.

[Grid Theory] - 05:57

Antigrav Clickbait

In Grid Theory,

The week was largely spent outside the lab dealing with etc. etc., and in the lab it's mostly reading and slowly climbing the learning curve on LTSpice, but also I was intrigued with a line of search I stumbled across on the Google. It started with looking at different ways of making magnet wire coils like Rodan coils, then up popped Helmholtz coils (two identical coils connected in series and sharing the same axis) that produces a region of nearly uniform magnetic field, and in some applications, scientists use them to cancel out the Earth's magnetic field. Cool, but then I came across Halbach arrays - a special arrangement of permanent magnets that augments the magnetic field on one side of the array while cancelling the field to near zero on the other side. This is achieved by having a spatially rotating pattern of magnetisation. Yeah, the effect is similar to a refrigerator magnet.

Anyway, my imagination went right to antigravity and yep, on YouTube I saw that this ain't a new idea, and other researchers have proposed that gravity isn't just about mass, there's a magnetic component as well, and some have built doohickeys that demonstrated levitation through Lenz's Law (yeah, another term to look up). Then I saw this crazy video - one of many clickbait videos - purporting to show this Russian cat who built an antigravity device in his garage. I put one version of the video on my FB page that looks very cool, but, it's all in Russian, the video is jumpy, you get an indoor shot of the device taking off and landing, but not in the outdoor portion, and from the camera angles you get a strong sense that this looks like a few of the fake UFO videos out there. There's barely enough info here to attempt to replicate it, even though it's implied that this is some of Nikola Tesla's research that the government stole from Tesla literally within minutes after he died in 1943 (it's common conjecture nowadays that the US, the Russians and the Nazis were all spying on Tesla and other scientists in the thick of WWII).

The thing is, there's still enough speculation among engineers, alternative energy folks and the trolls that this thing is possible, but I firmly believe that if any of this is genuine and not clickbait, you won't see it on a suspect video-- [bell]

Ok, coming back with actual lab notes...

[Back To The Stage] - 09:57

Ok, Back to The Stage, continuing with a triple play of tunes under the heading of 'Surf' curated at Reverbnation... First up we have Green Eyed Monster - Dirty Denim, a Punk / Sleaze Surf / Death Doo-wop band here in Sf, combining obscure sixties garage and surf guitar with 50's doo-wop. Pick up their self-released "Dirty Demo" at their next show or order online. Next, it's American Blonde - Dreamgirl, a Pop / Alternative / Surf band outta Kansas City, MO. Their next gig is 4/18 playing at Minibar in KC along with Drugs & Attics. It's followed by WASTED (v 1) - Mallory Doone, Alternative / rock / punk artist from Boynton Beach, FL. Her genres range from Alternative/ alt. rock, to punk, to emo/ pop punk, to Goth music and experimental/ DIY...

[songs] - 11:18; 13:12; 15:27

[Second Set] - 19:08

Ok, gonna wrap the set with another Hip Hop piece - Sol-1 - Sol Minor, an international alternative online hip hop collective with almost a dozen members - Soundcloud says the internet, Bandcamp says Chicago - it's all good, though (Oh yeah - not worksafe)...

[songs] - 19:38



["Geeknotes"] - 23:57

Geeknotes: 04/08 - Artists Resisting Gentrification, Brooklyn Historical Society, 04/08 - How Do You Pay for Affordable Housing, A BeaconTalk, SF LGBT Center, 04/13 - People's Park 50th Anniversary Part 1, Berkeley...

Hey, Geeknotes!

Today it's Saturday the 6th of April, as the hard Spring sees churches, mosques and black museums mysteriously burning down, expect to see more colored people standing their ground and dispaying their 2nd Amendment pride, cause if Homeland Security dominatrix kirsten Nielsen (AKA Ilsa She Wolf of the SS) killed the red hat terrorist task force, and every bullshit utterance of Orange Queenie (with his cameltoe neck) is almost explicit permission for Nazi hijinks, don't be surprised if Rep. Ilhan Omar and her aides start packing peacemakers.

Anyway, I'm burning daylight here, so instead of calling P-Grabby all kinds of sonofabastard (like his kicked out of Germany for draft-dodging grandpappy), let's run a few dates:

04/07 - Day to Remember Rwanda Genocide Victims, UN World Health Day, Nat'l Beer Day

04/08 - Artists Resisting Gentrification, 6:30 PM – 8 PM EDT, Brooklyn Historical Society, 128 Pierrepont St, Brooklyn, NY

Hosted by Brooklyn Historical Society

Artists are often deemed harbingers of gentrification or pawns in neighborhood rebranding. Yet they can also take charge of their communities' future by bringing attention to economic pressures and pushing for protections for long-term residents. Sharon Zukin, Brooklyn College and CUNY Graduate Center professor of sociology and author of Naked City: The Death and Life of Authentic Urban Places leads a conversation on artists taking action with Arts East NY Founder and Executive Director Catherine Green, artist Martha Rosler, and artist William Powhida.

04/08 - How Do You Pay for Affordable Housing, A BeaconTalk, 6 PM – 7:30 PM, SF LGBT Center, 1800 Market St, SF

Hosted by Bay City Beacon

Affordable housing expert Fay Darmawi has been helping finance community development projects for over 20 years, working with clients such as BRIDGE Housing, Eden Housing, Tenderloin Neighborhood Development Corporation (TNDC), and Silicon Valley Bank. She joins Bay City Beacon writer Mike Ege to answer the multi-billion dollar question: How do you finance affordable housing projects?

04/09 - Nat'l Library Workers' Day

04/11 - National Pet Day

04/12 - Int'l Day of Human Space Flight, Grilled Cheese Day

04/13 - Thomas Jefferson's Birthday

04/13 - People's Park 50th Anniversary Part 1, 1 PM – 5 PM, 2556 Haste St., Berkeley

A concert in celebration of the 50th Anniversary of People's Park! Come celebrate 50 years of public open space, free speech, and resistance (so much resistance). Join us for music, fun, and free speech galore!

Part 2 Sunday 04/28

If you have promos, pluggers, gig info, an art opening, etc, send me an email. The address is mfunkyzine@gmail.com. And bands, artists and poets - download links, no attachments, please, and no promises...

[Grid Practice] - 29:09

Not The Kitchen Sink

Ok, In Grid Practice,

Very briefly...

Ok, I'm still at the Benitez-7.5, making sure what I need coming off that pin 3 is a PNP transistor switch connected in sink configuration. Current flows from the power rail, through the transistor and resistor, and into the 555 where it's internally routed to ground through pin 1.

The schematic is drawn on graph paper so I can see the layout before putting it in Spice, and to be honest, the added components looks like a combination source and sink configuration with the existing transistor output to the magnet wire coil that's helping charge the battery, which brings up the sticking point of the coil - I didn't find any output inverted circuit that directly incorporated the coil, but on paper I can see a possible way to do it by switching the existing transistor.

Anyway, I now have two variations to try in the Spice simulator. And as for the last few Alexkor multiple battery self-charger circuits, the only reason I'm still interested in them is because, frankly, they use almost the same configuration as the big wheel Bedini motor I built - bifilar coil, high speed transistor, a high frequency oscillating DC circuit. Anyway, I wanna finish up with the 7.5 device and dig into the version 8, once I get a couple 35Ah batteries...

[One More Tune] - 31:34

Ok, for this week's One More Tune, we close out with a strong hip hop number - Stoners In Humboldt - Potluck, a Hip Hop / Rap outfit up in Humboldt County. And BTW, their next gig is 5/23 at the Rex Theater in Pittsburg

[song] - 32:05

Well, OK.

[Closing] - 35:11

Hey, this show is a 1223studios joint.

I'm on iTunes, Internet Archive, Google Play, Spotify, PlayerFM, Stitcher, Tunein, Listen Notes, Podknife and Mixcloud. Episode notes are on the podpages, and you can download the MP3 directly. Send email to mfunkyzine@gmail.com.

If you like the show, tell your friends, and, since Puerto Rico is no longer considered part of America (just the people, though; the royal pricks still want the land for resorts and tropical estates), I'd consider the Jones Act null and void, and Canada, Mexico and Cuba no longer have to ask permission to send ship-loads of aid...

Show themes "Rocket Power" & "Spy Glass" by NY musician and composer Kevin MacLeod. Some additional audio from freesound.org.

Next episode is set for Friday, April 12th.

I'm Larry, trying hard to stay chill at my garrett in the Mission, and this is Magnetofunky, from San Francisco, where we go through, not into, the darkness.