COP 0.9993

Episode Transcript. Length - 32:49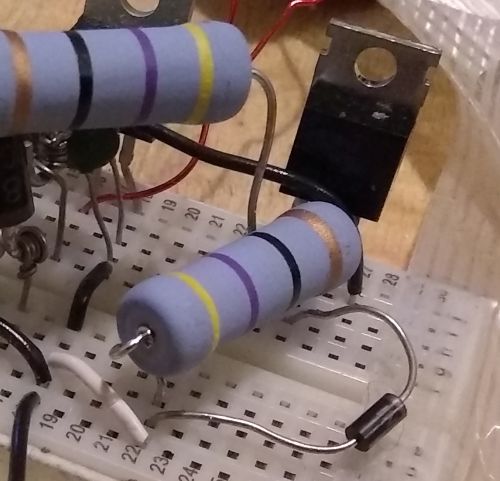 Magnetofunky No. 123. It's Saturday, May 18th, 2019.

[intro theme]

Hey. Larry here. This week I finally got the Benitez-7.5 circuit tested and put to bed, along with Alexkor. The music is a submitted quartet of tunes from two returning bands and two new artists...

[song] - 00:45

Ok, that was Exercise - Kosha Dillz, a hip hop artist currently in LA, best known for his uncanny free styling ability to rap in Spanish, Hebrew, English, and even Yiddish.

This is a laid back (and often explicit - you bet your ass) weekly international podzine of extremely eclectic music and progressive politics, with a focus on energy independence for the 99%. My podpages are 1223studios.com/mfunky.h and facebook.com/1223Studios.

[Grid Theory] - 05:08

Alexkor Pluribus Unum

Ok, In Grid Theory, briefly...

The output transmission switch was installed in the Benitez-7.5 on Sunday, but first, I took one more deep dive into the rather shallow Alexkor world looking for any solid examples of his devices being built with a demonstration on either Youtube or at one of these alternative energy forums, conferences or conventions, and no, aside from incidental keyword mentions on a video, or engineers making unsubstantiated claims of success working with AA batteries, nothing concrete, and these folks have had over ten years with nothing practical for everyday use. Besides, it looks like everybody and their free energy dog has their own variation of battery charger using the original formula - a high frequency oscillating DC circuit that pumps back EMF into a charging battery, what Benitez and Tesla came up with over a hundred years ago. And with the changes I had to make on the Alexkor circuit, it ain't even his anymore, only the 555 timer and the air-core coil remains, and the self-charer circuit uses an 8Ah and four 12Ah batteries, and that's no longer practical for my needs.

So, final analysis is that I'll stick with Benitez and Tesla's basic theories run through the 555, that's the common denominator for all of these circuits, and for that matter I don't trust and wouldn't use that Patrick J Kelly book for anything except a doorstop-- [bell]

Anyway, in a bit the Benitez-7.5 COP test

[Back To The Stage] - 07:36

Ok, Back to The Stage, continuing with a pair of tunes from returning acts - Level Headed, a new single by NY rock band Stereoship. It's the 1st song of their 2nd EP Crisis Averted, coming out June 1st. Then it's the new number CAN YOU FLY WITH ME - JASSNIRO, the Grime / lounge-downtempo, electronica, & / Broken beat artist in Rome, who has a prominent post on his FB page with links to each past episode he's featured in. Very cool...

[songs] - 08:17; 12:50



["Geeknotes"] - 17:32

Geeknotes: 05/19 - Alternatives to Policing 3 - Who Keeps Us Safe, First Congregational Church of Oakland, 05/22 - Harvey's Birthday Block Party, Castro & Market, SF, 05/24 - Africa Day- Bay Area 2019, Oakland Museum of California...

Hey, Geeknotes!

Today it's Saturday the 18th of May, and again burning weekend daylight, so let's keep it brief...

Ya know, Iran ain't Iraq, and it ain't Afghanistan, Syria, or even Lybia, and sorry Tom Cotton, the word 'cakewalk' has already been used to sell that BS Iraq War, unless you unconstitutional assholes are actually serious about nuking Tehran, which y'all might be, considering that nobody, not even your rabid base, takes you psychos at your word, well, except for pro-war chickenhawk Bolton, who was all for the Vietnam war while he ducked and covered his ass in the Nat'l Guard and Reserves...

And let's skip past the mere sophistry of the 'pro-life' fig leaf for the anti-choice measure the Alabama statehouse red hats shoved through, which is actually pro-rapist with parental rights, a desperate scream from the old farts that 'we need more white people for the coming race war', the one they also aren't sending their kids to...

Anyway, let's get on with a few dates:

05/19 - Malcolm X's Birthday, Playwright Lorraine Hansberry's Birthday, Vesak Day (a holiday traditionally observed by Buddhists and some Hindus on different days as Buddha's birthday), Bay to Breakers race

05/19 - Alternatives to Policing 3 - Who Keeps Us Safe, 2 PM – 6 PM, First Congregational Church of Oakland, 2501 Harrison St

In this third in the series of workshops to create alternatives to relying on policing, they'll work together to identify elements of white supremacy culture, which otherwise tends to replicate in whatever "alternatives" are created.

The only real alternative to the police we have is each other, is building genuine community together. How does living in white supremacy culture sabotage our efforts to do that? And what can we do to to combat that sabotage?

World Autoimmune/Autoinflammatory Arthritis Day 05/20 -

05/21 - World Day for Cultural Diversity

05/22 - Emergency Medical Services for Children Day, Nat'l Maritime Day, World Biological Diversity Day Harvey Milk Day here in SF.

05/22 - Harvey's Birthday Block Party, 6 PM – 9 PM, Castro & Market, SF

Back in 1979, a small rally had been planned in honor of late Supervisor Milk by his friends and and the community. When city officials expected an apology for what became known as the "White Night Riot" the night before, Supervisor Harry Britt declared (instead), "No apologies!" He, Sally Gearhart, Cleve Jones, and Sylvester went on with the celebration as planned, and 25,000 people rallied and danced in Castro Street while the cops stayed far away.

In honor of this occasion, the Milk Club will host a small block party at Harvey Milk Plaza with Cleve, Harry, and the Castro Community.

05/23 - Int'l Day to End Obstetric Fistula, World Turtle Day

05/24 - Africa Day- Bay Area 2019, 5 PM – 9 PM, Oakland Museum of California 1000 Oak Street

(formerly African Freedom Day and African Liberation Day), the annual commemoration of the foundation of the Organisation of African Unity (OAU) (now known as the African Union) on May 25, 1963. It is celebrated in various countries on the African continent, as well as around the world.

If you have promos, pluggers, gig info, an art opening, etc, send me an email. The address is mfunkyzine@gmail.com. And bands, artists and poets - download links, no attachments, please, and no promises...

[Grid Practice] - 23:18

Benitez-7.5 COP

Ok, In Grid Practice,

Finally, after deciding that this will wrap up the B-7.5, the long delayed power and Coefficient of Performance test...

I hooked up the B-7.5 board to the battery banks, minus the multimeters and the power test went fine, neither transistor got hot, the only part even getting warm was the two resistors in the pre-circuit voltage divider. Using the A2 battery for the readings, I ran a 30 min. rundown from A to B units, then during the charge up half I put the voltage meter on the circuit for a few minutes as a small load. The ballpark 20mA of current during both portions was apparently enough to just reach 12V.

Now, the final number came to a COP of 0.9993, which is very good for 4Ah batteries on a mere half hour cycle. I'd expect much better results with larger batteries (like 35Ah at least) on a longer charge cycle, but with a successful proof of concept, I'm done with the 7.5, moving on to the B-8, and the first thing to do will be to swap out the scooter ignition coil for a standard car coil and proceed from there...

[One More Tune] - 25:44

Ok, for this week's One More Tune, we close out with Cross My Heart - God Module, a Seattle, Washington outfit that combines elements of harsh Techno, Darkwave, Goth and Industrial. Pounding beats mix with hypnotic synth hooks, deranged film samples and psychotically-effected vocals to make up a sound that is as disturbing as it is danceable. Interesting video, too...

[song] - 26:12

Well, OK.

[Closing] - 31:19

Hey, this show is a 1223studios joint.

I'm on iTunes, Internet Archive, Google Play, Spotify, PlayerFM, Stitcher, Tunein, Listen Notes, Podknife and Mixcloud. Episode notes are on the podpages, and you can download the MP3 directly. Send email to mfunkyzine@gmail.com.

If you like the show, tell your friends, and, to all you farmers impacted by China's blowback to P-Grabby's BS sanctions, be grateful if the corporate media calls that Stormy Daniels-type hush money you're getting 'aid' instead of the welfare check it actually is, cause then you'd have to pee in a cup to qualify for it...

Show themes "Rocket Power" & "Spy Glass" by NY musician and composer Kevin MacLeod. Some additional audio from freesound.org.

Next episode is set for Friday, May 24th.

I'm Larry, trying hard to stay chill (and dry) at my garrett in the Mission, and this is Magnetofunky, from San Francisco, where we go through, not into, the darkness.