Square 1, Take 2

Episode Transcript. Length - 38:43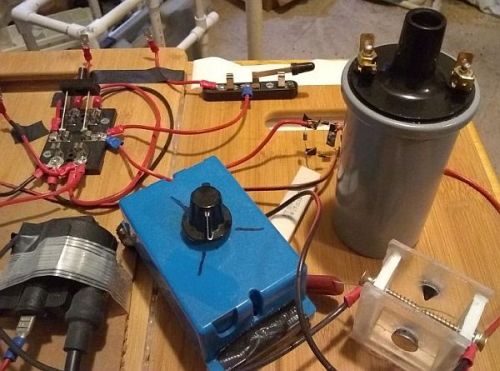 Magnetofunky No. 124. It's Friday, May 24th, 2019.

[intro theme]

Hey. Larry here. This week it's on to pre-testing the Benitez power plant circuit no. 8 and not being in a hurry to get electrocuted. The music meanwhile is a curated/submitted mix of mood music for the long weekend...

[song] - 00:49

Ok, that was ROMANCE AND WARFARE a bit of dark, experimental modular electronica, by Nero Bellum, the driving force behind LA Electronic, Industrial Black Metal band Psyclon Nine - which has a lot of history. He's a songwriter, lead vocalist, lyricist, multi-instrumentalist, and producer. This new tune is from his eponymous solo project. Recorded live over two years in LA and Chicago, each piece in this collection an exploration of synthesis in the modular domain.

This is a laid back (and often explicit - you bet your ass) weekly international podzine of extremely eclectic music and progressive politics, with a focus on energy independence for the 99%. My podpages are 1223studios.com/mfunky.h and facebook.com/1223Studios.

[Grid Theory] - 08:21

Time For The Chicken Stick...

In Grid Theory,

On Sun. I took the 7.5 project board apart but kept the no-longer-Alexkor circuit build and the air-core coil cause it does work. On Monday the weather improved so I went over to the local car parts store and picked up a store-brand old school ignition coil. I did a resistance test on it and saw that the primary was a little over 3 Ohms and the secondary was 8,150 Ohms. Normally, 3 is a little high and I immediately suspected the store of selling me a too old or broken part, but I tracked the coil through its part no. back to the manufacturer who supplies the stores. Instead of a data sheet you got the basic product description - Ignition Coil With Internal Resistor 3 Ohm 12V Universal 35k Voltage Output. If this coil's turns ratio is the standard 1:100, I'm really only dealing with 1200V, which still has no respect for dumb-asses, so here's where wearing gloves and using a chicken stick comes in, and why I didn't just swap out the coils and fire this baby up - I'm just doing the mad science lab's version of 'measure twice cut once'; check everything again before putting serious power to this doohickey-- [bell]

Anyway, in a bit the saga continues...

[Back To The Stage] - 10:43

Ok, Back to The Stage, continuing with Perspektive, a new tune sent in by Tango - AKA Reid Murray, an Indie, Alternative, Rock songwriter & musician from the Bay Area, then it's NEVER GOOD ENOUGH, another new atmospheric electronica piece by Nero Bellum, then it's You're Beautiful - DRRTYWULVZ, AKA studio engineer and producer Levi Witt based out of Austin, TX. He's been producing electronic music for over 9 years, and he's playing tonight in Road to SONIC BLOOM at Meow Wolf in Santa Fe, then he'll be at the Disc Jam Music Festival in Stephentown, NY 6/6-9...

[songs] - 11:49; 14:31; 18:40



["Geeknotes"] - 21:41

Geeknotes: 05/26 - Anti-Doxxing & Digital Security Training, SF, 05/27 - Bridgewatch Memorial Day 2019, Golden Gate Bridge, 05/30 - Film - When Rules Don't Apply, UC Hastings College of Law, SF...

Hey, Geeknotes!

Today it's Friday the 24th of May,

It's been a full week of Impeachment BBQ soap opera, with Mueller going along with a lot of mob lawyer Barr's BS cause he wants to keep his apron spotless. Meanwhile, the latest abortion bans aimed for the SCROTUS, as usual, have an angle the corporate Vichy media are overlooking: the ban's shadow effect is to cripple all of a woman's heathcare during pregnancy, in particular poor and black women, which will raise the already bad enough mortality rate for pregnant black women with no resources in those states, and not just those states...

Anyway, amid all the blatantly unconstitutional BS executed by P-Grabby and his Guild of Calamitous Intent (AKA the minions running the Senate), there's an obvious strategery - force the House to Impeach him so the Senate can exonerate him the same way red hat AG's clear killer cops, and make it happen before the GOP Nat'l Convention next year. Not exactly 3rd dimensional chess, but another atrocity takes precedent over the Beltway soap opera - the latest deaths, plural, of brown children and teens in these Border Patrol gulags. They're obviously unconstitutional and a Democratic Party Pres. might close them in a second term (a whole other argument), but, aside from the sadistic thrills of beating, kicking and sexually abusing defensless minors with official sanction, what's the long-term goal. How about, in the next 10 to 20 years, some of these broken and scarred survivors could start snapping in a wave of domestic terror attacks that would justify scrapping posse comitatus to get on with the race war, particularly since 20 years is about when the majority officially becomes the minority, and because some of y'all have no sense of identity if you don't have an enemy to grind your spleen against. and that cuts across every goddamn soapbox you got - including the 'Both Sides' soapbox.

Anyway, let's get on with a few dates:

05/25 - Nat'l Missing Children's Day, African Liberation Day, National Wine Day, Towel Day (for y'all who have a copy of Hitchhiker's Guide on you)

05/26 - Anti-Doxxing & Digital Security Training, 3 PM – 4 PM, 350 Alabama St., #9, First Floor

Hosted by Democratic Socialists of America: San Francisco

It's a dangerous time for socialists online. The forces of right-wing hate and extremism are actively targeting the DSA, seeking to expose our members' ine identities so they can harass us and our loved ones. Yet with just a few small changes to your security practices (and, admittedly, a really tedious process of getting your personal data removed from the web), you can make yourself much harder to attack.

Learn how in this free, hour-long training, courtesy of DSA SF's Direct Action Working Group. We'll cover basic security practices, privacy on social networks, and the common threats we face, before going into a deep dive on doxxing specifically and the ways you can protect yourself, both now and if an attack occurs.

05/27 - Memorial Day

05/27 - Bridgewatch Memorial Day 2019, 10 AM – 2 PM, Golden Gate Bridge

On Memorial Day, the nation will remember those killed while serving their country. It is our hope for people to think about another kind of Memorial Day – one honoring those who served in uniform and died by suicide. The first jumper off the Golden Gate Bridge was a WWI veteran in 1937. According to the most recent Department of Veteran's Affairs report, the total number of suicides is 20.6 every day. Of those, 16.8 were veterans and 3.8 were active-duty service members, guardsmen and reservists. That amounts to 6,132 veterans and 1,387 service members who died by suicide in one year.

The Bridgewatch Angels are seeking compassionate volunteers to engage in suicide prevention on the Golden Gate Bridge. In 2018, there were 187 interventions and 31 suicides. Check the page for full details.

05/28 - Hamburger Day

05/29 - Int'l Day of UN Peacekeepers

05/30 - Film - When Rules Don't Apply, 6 PM – 9 PM, UC Hastings Law, 200 McAllister St, SF

Experts featured in the film and other distinguished guests

A joint event with Filmmakers Collaborative, Tech Workers Coalition, UC Hastings College, Moderated by Professor Veena Dubal.

For years, Apple's Steve Jobs, Google's Eric Schmidt and other hi-tech CEOs engaged in a conspiracy against their own employees, agreeing not to hire each other's workers. The secret deal denied career advancement and better pay to the very people who made their companies successful. When tipped off, Justice Department lawyers used antitrust laws for the first time in a labor case to prosecute companies like Apple, Google, Pixar, Adobe, Intel, Intuit, and others. It's a tale of greed, power, and arrogance, that reminds us that all workers are in conflict with their bosses.

Reception, Film Screening, Panel Discussion with Experts featured in the film and other distinguished guests Moderated by Professor Veena Dubal, Hastings College of the Law.

A joint event with Filmmakers Collaborative, Tech Workers Coalition, UC Hastings College of the Law.

05/31 - World No Tobacco Day

If you have promos, pluggers, gig info, an art opening, etc, send me an email. The address is mfunkyzine@gmail.com. And bands, artists and poets - download links, no attachments, please, and no promises...

[Grid Practice] - 30:18

Not Quite Plug and Play

Ok, In Grid Practice,

Continuing the lab notes, on Wed. I went back over the original source material for the coil driver circuit, where the dude admitted that the 2N3055 power transistor tends to burn out often because of the high voltage kickback the coil makes, so the circuitry is not too reliable, but then said an IRF640 Mosfet is a possible substitute. Then I wondered about the line from the spark gap to the bridge rectifier, the one without a resistor. Anyway, by Thur. I doublechecked the 25W rheostat with the 25W big-ass resistor, the 3KV capacitor and the 1000W rated bridge rectifier against that maximum 1200 volts, then went and picked up the Berkeley shop's version of the IRF640 Mosfet and a backup 5K Ohm resistor just in case. On Thur. night I was sorely tempted to just plug and play, but I can't just stand it up where the scooter coil went and be reaching over and around it with the circuit running, so that's where I'm at now, deciding how to wire the coil for storage and operation modes, and the first real operation will be the power test before connecting the coil to the spark gap, which will confirm whether these 4Ah batteries have reached their limit...

[One More Tune] - 32:39

Ok, for this week's One More Tune, we close out with It Ain't Right (AcidSwing Dub) - Warp9, the Electronica / Glitch hop / Funkster down in Miami, FL. Next Gig - May 30 at the Nest in Miami, then it's off to Israel, Italy, and France where he will spend the next two months playing shows and writing music.

[song] - 33:13

Well, OK.

[Closing] - 37:20

Hey, this show is a 1223studios joint.

I'm on iTunes, Internet Archive, Google Play, Spotify, PlayerFM, Stitcher, Tunein, Listen Notes, Podknife and Mixcloud. Episode notes are on the podpages, and you can download the MP3 directly. Send email to mfunkyzine@gmail.com.

If you like the show, tell your friends, and, I'll celebrate Memorial Day this year by not hoping the troops become cannon fodder in Iran for desperate political gain, and remembering how disposable they become when they come home broken to this day...

Show themes "Rocket Power" & "Spy Glass" by NY musician and composer Kevin MacLeod. Some additional audio from freesound.org.

Next episode is set for Friday, May 31st.

I'm Larry, trying hard to stay chill at my garrett in the Mission, and this is Magnetofunky, from San Francisco, where we go through, not into, the darkness.