Benitez-8 Baby Steps

Episode Transcript. Length - 34:29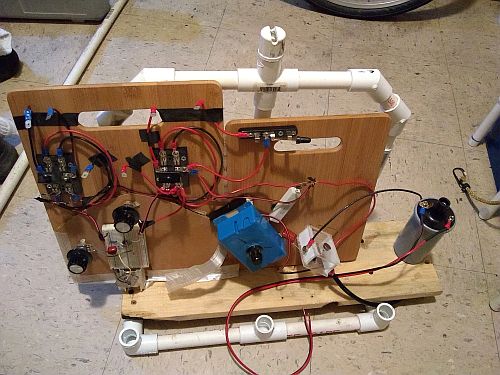 Magnetofunky No. 125. It's Saturday, June 1st, 2019.

[intro theme]

Hey. Larry here. This week the baby steps analysis of the power plant circuit continues, while the music stage officially kicks off the summer season with more mostly fresh surf tunes...

[song] - 00:43

Ok, that was In The Midst Of Darkness.... - Hastings 3000, a Garage-Psychdelic / Surf one man rock show out of Minneapolis, MN. This is from the 2017 album Invasive Species, and his next gig is on 6/12 - Rock-A-Way Beach Festival in New York City.

This is a laid back (and often explicit - you bet your ass) weekly international podzine of extremely eclectic music and progressive politics, with a focus on energy independence for the 99%. My podpages are 1223studios.com/mfunky.h and facebook.com/1223Studios.

[Grid Theory] - 03:42

Nothing Wrong With The Scooter Coil

In Grid Theory,

Picking up from last week, turns out the rotor stand from the Bedini Coil build works as a control panel stand and storage for the Benitez-8. I added a base board for the ignition coil to sit on, then I wired the coil in separate from the spark gap, which also meant half the circuit was off. Anyway, with the batteries in parallel pairs I had 12V 8Ah running, but nothing from the coil, no spark, but when I put the multimeter on the load taps going both ways, I got roughly 12V. Just like the scooter coil, strongly suggesting there ain't a damn thing wrong with the scooter coil. It's the damn circuit, but I'll jump into it later...

One other thing about using coils - in the comments on a 555 coil driver, one joker said 'why go to all this trouble just to generate sparks, why don't you use a BBQ Igniter?' Not having ever messed with a gas grill before, this was a new term, but yeah, you got compact units that run off a AA, and 12V units, and some that won't be hard to wire up. I'm gonna look into this as an option for a compact version of the B-8 [bell]

Anyway, more on the second damn circuit in a bit

[Back To The Stage] - 05:58

Ok, Back to The Stage, continuing the official summer surf set with Refuge - Hemispheres, an Alternative / Psychedelic Rock / Surf outfit in Milwaukee, compared to acts like Weezer, The Arctic Monkeys, Best Coast, among others. BTW, the FB link on the Rev. page goes to the band The Other Shapes, with 2 of the 3 members...

[song] - 06:36

Ok, next up it's You Turn Me - The Vandelles, Rock / surf / Experimental band in Brooklyn with a penchant for 60s garage pop melody and surf rock riffs. This is a 2012 cover of Beat Happening's You Turn Me On, released on Halloween 1966. The band's latest number was the single Techromancer, released last July...

[song] - 09:50

Ok, wrapping the surf set with Shit Sandwich, recorded_jan 5_19 by The Creeping Bent orchestra, a Punk / Surf / Rockabilly act out of Hamilton, ON, CA. And BTW, their next gig is 6/29 during Day 1 of the 2019 It's Your Festival in Hamilton during Canada Day Weekend...

[song] - 15:00



["Geeknotes"] - 17:38

Geeknotes: 06/01 - ImpeachOnTheBeach, Ocean Beach, SF, 06/02 - Yolo Juneteenth Celebration, Veterans Memorial Center Theater, Davis, 06/03 - Speech Police and How to Govern the Internet, World Affairs, SF...

Hey, Geeknotes!

Today it's Saturday the 1st of June, And instead of reacting to the latest handful of temper tantrums thrown by P-Grabby, like the Mexico tarriff threats, a distraction for him and his small rabid base to get over the feel of that gut punch delivered by Mueller, or the abortion bans - don't expect the red hat controlled SCROTUS to ever strike down Roe v. Wade; the whole point is for a few states to punt these obviously extremist laws to the Court to keep this issue hot to gin up the shrinking base. Kicking Roe back to the states gives the impetus to the left, and why would they do that?

Anyway, instead, let's look at the goddamn elephant in the room - fucking FB. The bogus doctored video of Nancy Pelosi. The refusal to take it down when YouTube did it - "the company does not have a policy that stipulates that the information you post on Facebook must be true." Yeah, one of the operatives told that to a different Corporate Vichy media organ Politico.

FB may have started as a social media thing, but now it's a news platform that knows its systems are being manipulated by foreign and domestic actors to sow division, promote extremism and spread misinformation, and the money's too good to give a shit or offer more than mumbled lawyer-ball apologies for all the 2016 shit, but if you're fed up, what are you gonna do? (Now, right now I'm only talking to people on FB. All you jokers bragging 'never been on it, never will', news flash, ZDog does have an account on you and adds to it every day, and you don't know what's in it and have no agency over it...)

If you're tied to FB because you make money there, or all your near and far homies are there, etc., the platform has become that suck-ass job you stay at because better job hasn't come by yet or you need the health plan, but eventually even people addicted to likes get fed up with the BS, and say you quit, pull a copy of all your content and bail, just remember that whatever alternative platform you go to, you'll be moving from a bustling city to a sleepy little frontier town. Or else just move everything over to Pinterest. Anyway, I'm seriously considering bailing, before the 2020 campaign - Linkedin lets you post podcasts... Anyway, let's get on with a few dates:

06/01 - Global Day of Parents

06/01 - ImpeachOnTheBeach, 11 AM, Ocean Beach, SF

Meet up at Ocean Beach (near the Cliff House) at 11:00am to help create a brand new I-M-P-E-A-C-H human banner. Afterwards, head over to the Moscone Center, for the rally outside CADem covention from around 1:30-3:00. BRING IMPEACH SIGNS AND BANNERS, & be prepared for a long and impeachful day!!!

06/02 - Yolo Juneteenth Celebration, 12 PM – 5 PM, Veterans Memorial Center Theater, 203 East 14th Street, Davis, California

The 2019 Juneteenth Celebration will be a joyous mix of free music, food, dancing, and will include cultural and educational exhibits, presentations and performances for the whole family. Over 500 people attend the Davis Juneteenth celebration annually.

Juneteenth is the oldest African-American holiday and celebrates the freeing of enslaved people in Galveston, Texas on June 19, 1865.

06/03 - Speech Police and How to Govern the Internet, 6:30 PM – 8 PM, World Affairs, 312 Sutter St, Ste 200, SF

"There is an epidemic sweeping the world," the Nigerian Minister of Information, Lai Mohammed, said. "It is the epidemic of fake news. Mixed with hate speech, it is a disaster waiting to happen."

Some argue that the disaster has already happened. What should be done about this enormous problem? How do we keep from helping authoritarian regimes to censor their critics?

David Kaye, author of "Speech Police, The Struggle to Govern the Internet" brings us behind the scenes, from Facebook's "mini-legislative" meetings to the European Commission's closed-door negotiations, and introduces journalists, activists, and content moderators who take down a virtual flood of photos, videos and text every day.

06/04 - Eid Al-Fitr, World Day for Child Victims of Aggression, National Cheese Day

06/05 - World Environment Day, National Running Day

06/06 - D-Day

06/07 - National Donut Day

If you have promos, pluggers, gig info, an art opening, etc, send me an email. The address is mfunkyzine@gmail.com. And bands, artists and poets - download links, no attachments, please, and no promises...

[Grid Practice] - 26:04

The Circuit Did It

Ok, In Grid Practice,

I'm looking at the circuit mainly because it's supposed to drive the coil that needs 3 to 5A to run, and I barely got a voltage reading from the secondary.

I went back to looking at 555 coil drivers, specifically those with a running demo of the circuit diagram, and while I found one by a cat named Chemelec that strongly suggests that the simple driver I built is missing parts, even better was a link to a video from Skinny Research and Development showing how to adjust the duty cycle of a 555 timer without changing the frequency (also without using a reversed output transistor switch). He wrote up the diagram, put it on a breadboard and ran it through an oscilloscope. His was 9V input, but 12 is just as good, and using a potentimeter instead of a regular timing resistor locks down the high frequency oscillations, the core of Benitez, Bedini and Tesla's work in controlling and channeling back emf into a battery.

So now I have another option to the more complicated coil driver design, that after all is specifically for generating big discharges, and this one I think I already have the parts for. This design wouldn't need magnetic quenching, and these igniters look like they might last longer than car relay switches run continuously. Anyway, worth checking out while modifying this circuit...

[One More Tune] - 28:37

Ok, for this week's One More Tune, we close out with HAL 9000 - King Ghidora, a Sonic Surf Rock outfit From Outer Space Satellite Ranch, OR. This probably counts as a vintagge surf tune, although, you can hear a re-activated take on the song in THE SECRET ORIGIN OF AN UNKNOWN PLANETARY DESTROYER, released last year. And BTW, their next gigs are:

Sat Jun 01 Midway Music in Salem, OR

Sat Aug 10 Llamapalooza! Music Festival in Willamina, OR

[song] - 29:25

Well, OK.

[Closing] - 32:39

Hey, this show is a 1223studios joint.

I'm on iTunes, Internet Archive, Google Play, Spotify, PlayerFM, Stitcher, Tunein, Listen Notes, Podknife and Mixcloud. Episode notes are on the podpages, and you can download the MP3 directly. Send email to mfunkyzine@gmail.com.

If you like the show, tell your friends, and, don't forget, under all the soap opera from P-Grabby huffing and puffing over Mueller and impeachment, the label he really fears is 'Pres. Fredo Corleone' which will come when his financial records finally come out and he's exposed as just another gangster up to his ass in hock (the debts you can't settle with money), worth only millions, not billions. Then he'll probably blow a gasket when we all start laughing at him. Look for that around Halloween or Thanksgiving...

Show themes "Rocket Power" & "Spy Glass" by NY musician and composer Kevin MacLeod. Some additional audio from freesound.org.

Next episode is set for Friday, June 7th.

I'm Larry, trying hard to stay chill at my garrett in the Mission, and this is Magnetofunky, from San Francisco, where we go through, not into, the darkness.