Summer Steps

Episode Transcript. Length - 27:00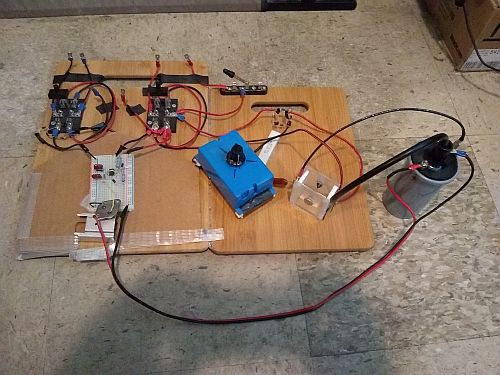 Magnetofunky No. 128. It's Saturday, June 22nd, 2019.

[intro theme]

Hey. Larry here. Ok this week I actually had more progress on the car search than the testing of the new Benitez-8 circuits. The music is a fully curated mix of funk and punk from Seattle to San Diego, Big Sur to Waikiki...

[song] - 00:51

Ok, that was COP JOB - the ground, a Punk / Alternative / Pop band out of Seattle that uses and abuses elements of dusty Texas twang, DC punk, rock classique, and the freaky fuzz of the great Northwest

This is a laid back (and often explicit - you bet your ass) weekly international podzine of extremely eclectic music and progressive politics, with a focus on energy independence for the 99%. My podpages are 1223studios.com/mfunky.h and facebook.com/1223Studios.

[Grid Theory] - 03:45

Boost and Scan

In Grid Theory,

I get into the power test for the circuit in the Practice segment, but here I'm gonna update what I'm building the Benitez device for.

In a RV or camper van one of the staples is a solar power setup, at minimum a 100-200W panel, a charge controller and a house battery. And if I was getting a 10-year old ride sure, I'd look at installing 2-4 panels on the roof, along with a Fantastic Fan, but not in a 20-year old van. I don't even plan to do an extensive conversion on a vehicle I may only maintain for 5 or 6 years before getting another old van, but I still need house power.

So, once I get the Benitez power plant going, I connect the load tap to a DC-DC boost-buck converter. I just ordered two modules that have variable resistors for constant current-constant voltage set levels. The under-12V from the load taps can be dialed up to 18V output, and the current can be dialed up to 4, maybe 5A, the output from a 100W solar panel. That would go to a 20-30A charge controller then to a minimum 100Ah house battery that feeds a couple 12V outlets and a 500W power inverter. This system would only take up a few cubic feet and run day and night.

And speaking of which, I'm still looking through car inspectors, meanwhile I got a van to check out next week in the East Bay, so I'm compiling my own short-arm inspection list and I'm buying an OBD2 (On Board Diagnostics version 2) scanner used to check auto error/Check Engine Light codes in vehicles from 1996 - 2005. They're fairly cheap, and I'm pretty sure I'll need one-- [bell]

Anyway, coming back with the first circuit power test...

[Back To The Stage] - 06:41

Ok, Back to The Stage, continuing the west coast funk and punk set with Liquor Store - Ease Up, a Reggae / Ska / Punk oufit from San Diego that has shared the stage with many popular ska/reggae/rock bands including: Fishbone, The Aggrolites, The Expendables, Mishka, The English Beat, The Dirty Heads, Echo Movement, and many more.

Next up it's LOUSEY LASS - Battery Powered Grandpa, an improvisational psychedelic metal funk punk band down in South San Francisco, long time friends who play off the cuff, straight from the gut but don't call it jamming!

Lastly, we have Hype - NASALROD, an Art-Punk / Rock and Roll band up in Portland, OR, musical masterminds that can't be locked into one or two genres. Next gig - July 7th, Rontoms Sunday Sessions, Portland

[songs] - 07:56; 11:29; 13:26



["Geeknotes"] - 15:45

Geeknotes: 06/22 - Communities Charging For Change Launch Event, Richmond Civic Center Plaza, 06/25 - Steve Seddon at The Gallery Cabaret, Chicago, 06/25 - Urge Oakland to Ban Facial Recognition Tech, Oakland City Hall...

Hey, Geeknotes!

Today it's early Saturday the 22nd, celebrating the Solstice and not the start of the last war in the Middle East, that warmongers Mike Pompeo, John Bolton and Tom Cotton finally started, before Vladimir yelled in P-Grabby's ear and cockblocked the airstrike, but frankly, I don't care if Orange Queenie did all this just to rattle the news cycle and steal oxygen from the Democratic Thunderdome debates and the Reparations hearings, or red hats denying that the border death camps are even concentration camps (and let's remember - crossing the border illegally is not a goddammned felony, it's a misdemeanor that y'all are killing people over). And we're not even getting into the big wet kiss an Iran war would be for the damn Saudis, on top of the nuclear weapons tech Trump keeps trying to slip them.

Meanwhile, I think it's past time that the House slaps Robert Mueller with a subpoena for an open hearing and some plain talk on what is what ain't.

Anyway, let's get on with a few dates:

06/22 - Communities Charging For Change Launch Event, 12 PM – 4 PM, Richmond Civic Center Plaza 325 Civic Center Plaza, Richmond

celebration of the launch of fast charging electric hub in Richmond. The event takes on a S.T.E.A.M. theme as tech. and art combine to provide a diverse experience for all ages.

This event is part of EVgo's "Equal Access Charging Hubs" (EACH) program, which promotes more sustainable communities through public education and expanded access to EV fast charging.

06/23 - National Pink Day, Int'l Widows Day, Public Service Day

06/25 - Day of the Seafarer

06/25 - Steve Seddon at The Gallery Cabaret, 7 PM to 9PM, 2020 N Oakley, Chicago

06/25 - Urge Oakland to Ban Facial Recognition Tech, 6:30 PM – 7:30 PM, Oakland City Hall

The Oakland Public Safety Committee will be considering a Facial Recognition ban on Tuesday evening. Please show up to the meeting and urge the Committee to support a complete ban on Facial Recognition Technology.

Face recognition technology runs the risk of making Oakland residents less safe as the misidentification of individuals could lead to the misuse of force, false incarceration, and minority-based persecution.

The City of Oakland should reject the use of this flawed technology that infringes on our right to privacy.

06/26 - World Day Against Drug Abuse and Trafficking, World Day gto Support Torture Victims.

06/28 - Christopher Street Day, the LGBT celebration held in a number of different cities all over the world since 1970 and is the predecessor of Gay Pride Day.

If you have promos, pluggers, gig info, an art opening, etc, send me an email. The address is mfunkyzine@gmail.com. And bands, artists and poets - download links, no attachments, please, and no promises...

[Grid Practice] - 20:54

The Phantom Spark

Ok, In Grid Practice,

Yeah, I put the test off for a day or so while I got more carving done and started the research on how and where and for how long and how much to park my eventual vehicle, which is an extra pain in the ass because of how damn hip and trendy my neighborhood is. Anyway, thanks to the app SpotAngel I'm working on free parking spaces...

Anyway, the test put the fixed 555 circuit in and wired to the switches, then the ignition coil. With the batteries wired up I caught the first issue - the power meter was connected to the load taps, but the juice came on with the battery switches, not the power switch. It only happened in the 'up' position A to B units, and I haven't spotted the short yet. Anyway, with the coil hooked up I got a reading between 800 and 1300V AC, from the coil, across the spark gap, through the capacitor, but still no damn spark. The load taps were reading just under 11V DC, and yeah, that could be due to the hidden short, but with the battery switches 'down' the voltage didn't change. As far as I can tell, the thing works; I'm getting voltage across the spark gap, but I can't take a current reading until I fix the short. Anyway, progress, even if only half a step...

[One More Tune] - 23:16

Ok, for this week's One More Tune, we close out with Jokers - SFV Villains, a Punk / Ska / Rock / Hip-Hop group in Los Angeles, spreading the love that is music...

[song] - 23:31

Well, OK.

[Closing] - 25:39

Hey, this show is a 1223studios joint.

I'm on iTunes, Internet Archive, Google Play, Spotify, PlayerFM, Stitcher, Tunein, Listen Notes, Podknife and Mixcloud. Episode notes are on the podpages, and you can download the MP3 directly. Send email to mfunkyzine@gmail.com.

If you like the show, tell your friends, and, here's a little something for your libertarian uncle to chew on at the next BBQ - if all taxation is theft, why isn't all profit robbery?...

Show themes "Rocket Power" & "Spy Glass" by NY musician and composer Kevin MacLeod. Some additional audio from freesound.org.

Next episode is set for Friday, June 28th.

I'm Larry, trying hard to stay chill at my garrett in the Mission, and this is Magnetofunky, from San Francisco, where we go through, not into, the darkness.