The Back End

Episode Transcript. Length - 37:44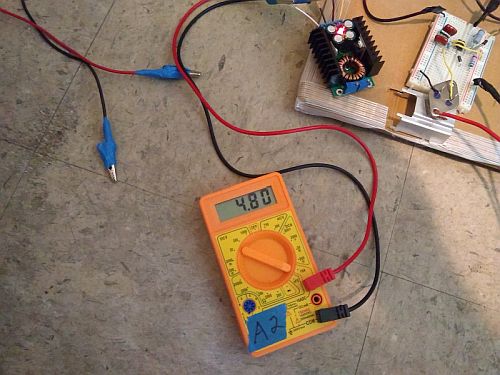 07-04G - The DC-DC Buck (Only) Converter connected to the load taps and dialed up to 4.8A... Magnetofunky No. 130. It's late Friday, July 5th, 2019.

[intro theme]

Hey. Larry here. This week I'm correcting a few pilot error issues in the lab because I've been cargo van shopping. Meanwhile, the music is an all-submitted set of eclectic tunes I could put under the heading of 'new americana.'

[song] - 00:48

Ok, that was Silent Warrior - The ATif, feat. Jamaica, a Pop Rock Alternate artist in NY, in it for the fun of it with catchy music with a naughty flirtatious spin.

This is a laid back (and often explicit - you bet your ass) weekly international podzine of extremely eclectic music and progressive politics, with a focus on energy independence for the 99%. My podpages are 1223studios.com/mfunky.h and facebook.com/1223Studios.

[Grid Theory] - 05:31

----Title---

In Grid Theory,

This week was mostly 2 steps forward, 1.5 steps back...

No van to check out this time, but sorting through all the early-2000 Econolines with the spark plug issues and very few Express vans and many more Astros on Craigslist still takes time. I'm looking at vans in FB Marketplace too, but there it's a crapshoot - few vehicles are on both local platforms, and FB's codeslaves and algorithm miners don't require enough information on the vehicles yet. Crapshoot.

Anyway, the van business (and my keeping up to date with the videos on car repairs and vanliving, like CheapRVLiving) has bled into lab time - well, that's the best excuse I can give for a few dumb mistakes I'm just catching that's getting in the way of my spark in the Benitez spark gap.

I considered going on and building the circuit I found before that uses a 555 astable setup with many more components to drive an ignition coil. The accompanying video's not fake-ass clickbait, and I think I have most of the other components to add on, but I'm not convinced my basic astable circuit is too weak to drive the coil, because the battery charging part works.

Anyway, that's the front end of the setup; the back end (everything after the spark gap) is the headache this time, starting with the capacitor. I thought I had one of the 3KV caps I used in the mini Tesla coil build, but instead it was a 630V cap and I wasn't paying attention. 3KV is too low anyway; the mini Tesla coil has a 9KV cap bank. So, Wed. I went to the Berkeley shop and found it closed till the middle of next week. Back at the lab I scrounged up all my other polypropolene capacitors to make a proper bank. They're all above 250V, but in total it comes to 3600V, and with the caps in series, the end result is 5.5 nanofarads. Still too low voltage, but I thought that might show me something-- [bell]

Anyway, with a mini breadboard, the rheostat and bridge rectifier mounted and squared away, time for another power test, and more pilot error...

[Back To The Stage] - 09:14

Ok, Back to The Stage, continuing the fresh eclectic new americana set with a pair of tunes sung - first Cemetery Girl - starship gazelle, AKA Shar down in San Jose (now that I'm running my Craigslist ad in the San Jose to Santa Cruz area). After that it's Don't Be Afraid, another entry by KGizzle over in the greater Atlanta area

[songs] - 09:50; 12:57

[Second Set] - 16:10

Ok, second set is a pair of instrumental grooves - Hot Sauce - UnCommon, a soulful instrumental jazz fusion band from the DC area that mixes elements of artist like Santana, Chick Corea and Snarky Puppy. The piece is from their 2018 album "Free Space". We wrap up with Memories In The Wind - Charmas, a group in Santa Cruz whose original music includes Celtic fusion/rock, surf rock, and American folk-pop music. Just before Labor Day, they'll release a crazy party song (and later instrumental dance version) called Hot Punch, with Go-Go's style singing, flute, fiddle, saxophone, keys, and Great Highland Bagpipes.

[songs] - 17:10; 21:41



["Geeknotes"] - 24:41

Geeknotes: 07/07 - Beach Cleanup, Ocean Beach, SF, 07/09 - Stop LAPD Drones, LAPD HQ, LA, 07/12 - STOP ICE, 630 Sansome St, SF...

Hey, Geeknotes!

It's Friday the day after P-Grabby's wet dish rag Nazi rally that I didn't spend 10 minutes worrying about, otherwise every other political atrocity has been going full speed ahead, including the corporate media's being more or less the actual alt-light of the alt-right, and the DNC being its own separate party at war with its base. In other words, to get the show out the door on time, any extended or pithy rant I come up with I'll post up on the FB page, except for one thing - Hey Z-Dog, if I refuse to take your $15 boost credit to help market the show, why the bloody hell do you think I'd ever take your damn 'Libra' cryptocurrency?

Anyway, let's get to the dates...

07/06 - World Kissing Day, National Fried Chicken Day,

07/07 - Beach Cleanup, 9:45 AM – 12 PM, The Beach Chalet, Ocean Beach, SF

Join up with Surfrider SF to clean up Ocean Beach. Plan to meet at Beach Chalet at 9:45am.

They ask that you fill out a waiver prior to arrival. Check the FB page for full details

07/08 - Video Games Day

07/09 - Stop LAPD Drones, 9 AM – 11 AM, LAPD HQ, 100 W 1st St, LA

In October 2017, against intense community opposition the LA Police Commission voted 3-1 to approve a one year pilot program for LAPD SWAT Unit to use drones. The community made it very clear about their distrust of LAPD, mission creep, and the continuing militarization of police.

Now the LAPD wants to make Drones a permanent part of their weaponry and Air Fleet, and is expanding the use, expanding the capacity and range of the drone, and creating access for other LAPD departments to launch drones. Mission Creep is full on!

Recently the State of North Dakota approved the weaponization of police drones. The state of Connecticut has also been discussing the weaponization of police drones. Drones are being used by the US military to murder, surveil, harass, and intimidate communities around the world..

07/11 - World Population Day

07/12 - STOP ICE, 2 PM – 5 PM, 630 Sansome St, SF

WHERE: ICE HQ (630 Sansome Street) in San Francisco
WHY: Responding to the call for a week of action against ICE from July 8th to 12th, we choose to rally outside their SF office.
WHAT DO WE WANT? The camps closed, the families reunited, and immigrants left alone!

If you have promos, pluggers, gig info, an art opening, etc, send me an email. The address is mfunkyzine@gmail.com. And bands, artists and poets - download links, no attachments, please, and no promises...

[Grid Practice] - 29:50

Treading Water

Ok, In Grid Practice,

This week subtitled 'treading water' because my latest doohickeys came in two weeks early, but what I'd convinced myself was a boost-buck converter for less than $5 was just a buck converter. I'm not gonna act like a red hat and blame the eBay seller for misleading advertising; it's my mea culpa for just seeing what I wanted to see.

Anyway, before I caught the capacitor error I ran a powet test with the analog DC milliamp meter and found that the actual current running from the load taps was 30mA, not 50, but not bad. I swapped in the 1nF and the 390pF caps and saw from the multimeters on the batteries that the 32KHz freq. charging rate was so much better than 13 and 1KHz that I could skip comparing Coefficient of Performance charts. That's when I caught the wrong capacitor, yada yada, etc...

Anyway, on Thur., the newly prettified circuit was hooked up, still no sparks, I added the converter to the load taps and then realized it was a buck only converter when I couldn't increase the output voltage past 12v input, just the output current, which I nicely dialed up to almost 5A. I can still use the thing - I mean 18V x 5.55A = 99.9W. At 12V you just bump the current up to 8.3A, but no way would I do that with these 4Ah test batteries, or even a pair of 35Ah batteries and expect them to last more than year or so, so I'm looking again for a genuine boost-buck converter that will cost around $20 minimum.

When the Bekeley shop comes back from vacation I'll probably add parts for the coil driver to the proper capacitors, and before stopping to produce the episode I thought of one last simple error that might be canceling the spark gap - the primary conections to the ignition coil, coming from a previous driver circuit diagram, might be backwards, but I'll see about that after the weekend...

[One More Tune] - 33:30

Ok, for this week's One More Tune, we close out with Born From Underneath/Plopped Out 1974 - Uppercase D & the lowercases, AKA Daniel Shaw, an East Coast musician that turned into a multimedia artist. The tune is short, sharp, and a very cool video...

[song] - 33:57

Well, OK.

[Closing] - 36:24

Hey, this show is a 1223studios joint.

I'm on iTunes, Internet Archive, Google Play, Spotify, PlayerFM, Stitcher, Tunein, Listen Notes, Podknife and Mixcloud. Episode notes are on the podpages, and you can download the MP3 directly. Send email to mfunkyzine@gmail.com.

If you like the show, tell your friends, and, a simple lesson some national Democrats keep forgetting: when a bully orders you to give in 'or else', once you do give in, you get the 'or else' anyway...

Show themes "Rocket Power" & "Spy Glass" by NY musician and composer Kevin MacLeod. Some additional audio from freesound.org.

Next episode is set for Friday, July 12th.

I'm Larry, trying hard to stay chill at my garrett in the Mission, and this is Magnetofunky, from San Francisco, where we go through, not into, the darkness.