Calling Dr. Funk- I Mean, Frankenstein

Episode Transcript. Length - 31:00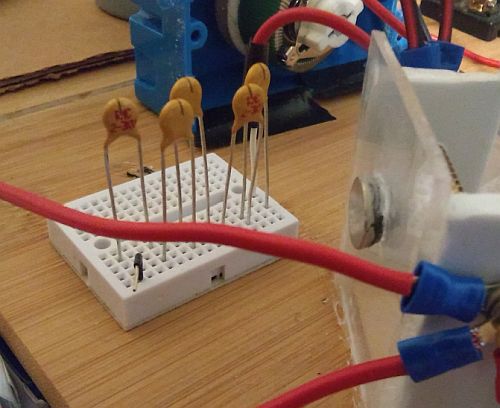 Magnetofunky No. 131. It's late Friday, July 12th, 2019.

[intro theme]

Hey. Larry here. This week I retrofitted the circuit after finding the last (I hope) bug in the power plant design, and I think I'm finally gonna get sparks in my spark gap. The music is a bit more west coast showcase, checking out a few tunes from Honolulu (not surf tunes)...

[song] - 00:51

Ok, that was Life As A Grouper - Navid Najafi, Lyrical Hip Hop Indie artist, born in Tehran, Iran. Raised in NY. Living in Hawaii. Very nice.

This is a laid back (and often explicit - you bet your ass) weekly international podzine of extremely eclectic music and progressive politics, with a focus on energy independence for the 99%. My podpages are 1223studios.com/mfunky.h and facebook.com/1223Studios.

[Grid Theory] - 04:12

Re-Using The Wheel

In Grid Theory,

While the lab waited for the Berkeley shop to re-open (and did another check to conform that you cannot buy analog electronic components anywhere in San Francisco - no capacitors, resistor or diodes, not a grunion) I spent some time running the basic power test and going back over previous lab notes looking for the simple thing I missed, cause a simple circuit with a simple bug will have a simple fix. When I repeated checking the voltages around the circuit I realized I didn't get a recorded read off the transistor, so this time I checked and got 10.5 - 11V off the collector going to the ignition coil primary. This is a 12V coil.

Finally, the bug; this plain vanilla 555 timer astable multivibrator is actually too weak, that's why the other driver circuits I saw had the output from pin 3 going to a transistor, then to a mosfet, then the primary. But I didn't want to build another whole circuit, so in comparing the other oscillating circuits I decided to go Dr Funkenstein on the breadboard and just add what I needed, and the wiring schematic I changed from directly driving the coil so that the secondary makes the spark gap, to the schematic I already built, for the mini Tesla coil. Yeah, this gives me two spark gaps, but the torus on the secondary can be isolated, insulated or capped, leaving the useful spark gap in the loop charging the primary coil.

Also while waiting on the shop I finally nailed down a boost-buck DC-DC converter that didn't look junky, where the specs agreed with the advertising - an Automatic Boost/Buck Converter, CC CV, 5-30V input To 1.25-30V output, 8A, 100W.

Meanwhile, the van search is cropping up more Chevy Astros and Express vans with minor issues, and Bastille Day is rapidly approaching-- [bell]

Ok, coming back with the changes after the shop reopened...

[Back To The Stage] - 07:30

Ok, Back to The Stage, continuing the Honolulu beat with just a couple pieces, but they both have a kick...

First it's MANSION CREW "HOUSE" - Nico Canada, who performs a mix of Electronica & Reggaeton he calls Reggaetronica. He got no bio but he's very active on the global scene...

Then we have Turkish Morning Club (Instrumental Chant) - The Julian Day, who plays World / Alternative / Electronica. The band fuses the songs of the great singer/songwriters of the 70s with the experimentation of 80s bands like New Order, U2 and Echo and The Bunnymen. Nice.

[songs] - 08:22; 13:42



["Geeknotes"] - 17:08

Geeknotes: 07/17 - La Diaspora Festival - Kickoff Showcase, Artillery AG, SF, 07/18 - Digital Democracy with the World's First Transgender Minister, 1455 Market, 4th Fl, SF, 07/20 - Spectra 3.0 Hackathon, Make School, SF

Hey, Geeknotes!

It's Friday the day of another week of P-Grabby's bluster and wolf tickets about attacking brown adults and assaulting brown children to satisfy his rabid base, which won't be nearly as bad as the anguish he's generating, but the LICE roundups will get some nice footage for the Nazi Channel... Meanwhile, the cracks in the body politic are growing enough that we can all see that the two party system is just one hog trough with a left and a right end, but the ones feeding are in their own corporate party, the ones not feeding are their own separate party, the corporate 'liberal my ass' media is its own damn party that always votes for the money, and us the actual informed voters make up another two or three separate parties, and don't forget, the Electoral College is its own separate party anybody can swing, so what the hell is wrong about breaking up this Team Red-Team Blue bullshit our sacred slave-owning founders did not want? And re-iterating - don't concern-troll me with bogus fears of 15-20% dominance: the 1/10 of 1% is steering the ship into the iceberg now, and if these royal assholes get the new Constitutional convention they been wet-dreaming about for 40 years, we'll get the one party state aristocracy back, they think, and they'll try. Meanwhile, I could care less that AOC and Speaker Pelosi are having a disagreement. I can think Pelosi's a pain in the ass and still vote for her, and calling calling any Democrat a socialist means squat, cause I'll take socialist over a Nazi any damn day, wearing that Made-in-China red hat that should read "Make Lynch Mobs Great Again."

Anyway, let's get to the dates...

07/13 - National French Fry Day

07/14 - International Nude Day, Bastille Day

07/15 - World Youth Skills Day

07/17 - World Emoji Day, National Hot Dog Day

07/17 - La Diaspora Festival - Kickoff Showcase, 6 PM – 9 PM, Artillery AG, 2751 Mission Street, SF

La Diaspora Festival is an International Cultural Festival, taking 20 artists from the Bay Area to Puebla, Mexico in November/December of 2019. We will be showcasing the work of some of the artists who are coming to Mexico to honor the journey of our ancestors and create cultural bridges with our roots.

Sliding scale 10-15 dls. No one turned away for lack of funds.

07/18 - Nelson Mandela Day

07/18 - Digital Democracy with the World's First Transgender Minister, 5 PM – 7:30 PM, 1455 Market, 4th Fl, SF

Uber and Taiwan Café present Open Forum - How can technology shape the future of democracy, and increase government transparency and public participation in policy making? Join the conversation with hacker-turned-digital-minister Audrey Tang who was named top global thinker by Foreign Policy and the coolest digital minister by the German media.

audreytang.splashthat.com
ONLINE REGISTRATION IS REQUIRED

07/20 - Spectra 3.0 Hackathon, 8:30 AM – 10 PM, Make School, 555 Post St, SF

With 3 years in the making, the team at Spectra is passionate about creating an inclusive space for tech enthusiasts that identify as women or non-binary. Spectra, a 12-hour non-competitive hackathon based in the Bay Area, opens its arms to any skill level with the strong belief that our attendees can create a lasting impact in the field of technology.

If you have promos, pluggers, gig info, an art opening, etc, send me an email. The address is mfunkyzine@gmail.com. And bands, artists and poets - download links, no attachments, please, and no promises...

[Grid Practice] - 23:47

Surgery With Wiggle Room...

Ok, In Grid Practice,

Picking up after my quick visit to Berkeley, where I mainly got my capacitors after telling my guy there that I was building another Tesla coil - these weird 300pf capacitors, 2-3KV each.

Back at the ranch-- I mean, lab, I went Dr Funkenstein on the Benitez-8, combining the Friedrich circuit design to the mini Tesla schematic and putting five of the caps on the mini board to the spark gap loop, giving me 10-15KV in series, with a total of 60pf. I added a single capacitor from the spark gap to the rheostat, and that should be fine unless I get the blue smoke...

On the circuit board I added a 2N2222 transistor after the outpin as a 'preamp' to the 2N3055 power transistor, that should bump the collector above 12V...

Next I moved the positive line from the 'charging' battery that was powering the resistor-capacitor timing rail to just powering the 4 pin; here instead of making the battery do work when it should just be charging, now it'll keep that 4 pin occupied and hopefully improve the coefficient number...

The last modification of the circuit is a 1uf 35V Tantalum capacitor across the power leads of the circuit. In the other coil drivers, it's there to handle voltage spikes across the entire circuit on the breadboard, so it couldn't hurt...

And here's where I stopped to do the show. I'll double-check my re-engineered circuit with hopes that the wiggle room is big enough to cover the next test on Saturday...

[One More Tune] - 26:42

Ok, for this week's One More Tune, we close out with Love and Joy - Ruido Ecuador, an Electronica / Experimental / Downtempo project with no bio or other active links other than the Rev. page, and this may be the only vintage tune this week, but you can still dance to it...

[song] - 27:08

Well, OK.

[Closing] - 29:35

Hey, this show is a 1223studios joint.

I'm on iTunes, Internet Archive, Google Play, Spotify, PlayerFM, Stitcher, Tunein, Listen Notes, Podknife and Mixcloud. Episode notes are on the podpages, and you can download the MP3 directly. Send email to mfunkyzine@gmail.com.

If you like the show, tell your friends, and, a simple feedback loop: you can't have gerrymandering without redlining, and you can't have redlining without HUD-financed sundown towns and suburban enclaves. Just another reminder that the New Deal was color-coded...

Show themes "Rocket Power" & "Spy Glass" by NY musician and composer Kevin MacLeod. Some additional audio from freesound.org.

Next episode is set for Friday, July 19th.

I'm Larry, trying hard to stay chill at my garrett in the Mission, and this is Magnetofunky, from San Francisco, where we go through, not into, the darkness.