The Slayer Exciter Lateral Shift

Episode Transcript. Length - 39:46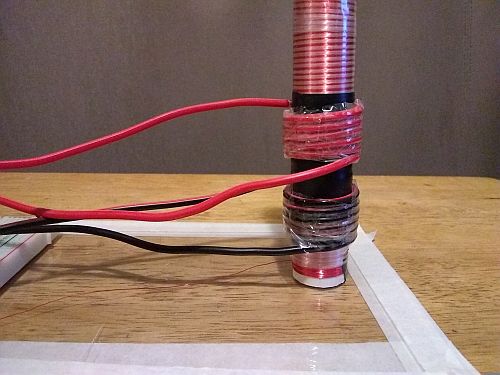 Magnetofunky No. 132. It's late Friday, July 19th, 2019.

[intro theme]

Hey. Larry here. This week I took a lateral step away from the 555 timer and back into the weeds for improvement on the Benitez-8's oscillating circuit and coil. The music is all fresh indie from the submissions pile, oh yeah, this one's not worksafe...

[song] - 00:51

Ok, that was Nasal Passageways, an interesting piece by WDIA - no, not the famous Memphis radio station, this is a DC artist who goes by 'We Do It All.' I almost missed it cause he sent it to my spam folder, sitting among the letters from Nigeria asking me to help them smuggle a hundred million out of the country...

Anyway, no bio, but it kinda fits in the other tunes, very danceable, mostly dark, but all new.

This is a laid back (and often explicit - you bet your ass) weekly international podzine of extremely eclectic music and progressive politics, with a focus on energy independence for the 99%. My podpages are 1223studios.com/mfunky.h and facebook.com/1223Studios.

[Grid Theory] - 04:00

A Better Tesla Coil

In Grid Theory,

Well, after the last power test last Sun. with the other 555 circuit, I tried one last trick - linking the 2N2222 to the IRF510 Mosfet in a Darlington pair to further boost the amplification - but still no dice. That settles it - it's the damn circuit, and by then I was getting sick of the 555 timer, but, taking a step back into the weeds, instead of obsessing over the 555 and the ignition coil, all I really want is just an oscillator and just enough voltage to make a small spark gap for the back half of the Benitez-8. And I think I found just the thing while slogging through the Google - a lateral improvement on the Tesla coil called the Slayer Exciter. It's an air-cored transformer that works a little like a joule thief as it steps up a very low DC voltage to a very high AC voltage, it's self-resonant so doesn't need tuning and doesn't need a 555 timer, just a transistor and a few analog parts along with the coils - a poor man's solid state Tesla coil that can light up CFLs and LEDs in your hand.

A number of years ago Dr. Ronald R. Stiffler and Gary Bluer invented the device, and apparently they're active in the alternative energy community (in Dr. Stiffler's case at least a few decades it looks like). Since it's such a simple schematic there are many variations out there depending on how far you want the electric field to extend, but it's still high enough voltage to require safety protocol-- [bell]

Ok, coming back with the replication so far...

[Back To The Stage] - 06:45

Ok, Back to The Stage, continuing the dark indie beat with Seed Of Evil - Black Needle Noise, the latest single from industrial producer/musician John Fryer (of Cocteau Twins, Depeche Mode, This Mortal Coil), featuring a guest vocal performance by his Lardship, PIG's Raymond Watts, a founding member and lead singer with KMFDM through their most prolific and successful period from 1984-2003.

Next, it's ANOTHER PRAYER TO LUCIFER - Nero Bellum, the driving force behind LA Electronic, Industrial Black Metal band Psyclon Nine, from his eponymous solo project.

We wrap the set with Hope - Azam Ali, an internationally beloved singer-songwriter/producer, from her new 13th album Phantoms (release date September 13). You can hear her sound sculptures in movies, on TV and some big video games...

[songs] - 08:09; 12:53; 18:22





["Geeknotes"] - 24:07

Geeknotes: 07/21 - Beach Poets 2019, Loyola Beach, Chicago, 07/23 - Live Ship Chat from the Arctic, Exploratorium, Pier 15, SF, 07/25 - Pack the Court Hearing on Muslim Travel Ban Lawsuits, Phillip Burton Federal Building, SF...

Hey, Geeknotes!

It's Friday in another week where P-Grabby double downshifts to the only option he has left - all Nazi fear and rage rallies all time, where the only citizens that matter are the red hats, those 'rural voters' versus the dark underbelly of urban voters, whose votes already have less weight via the Electoral College. The way Orange Queenie throws daily news bombs to keep the 'Liberal My Ass' Media busy, expect to start hearing a few accidentally spewed 'final solution' dog whistles he can run through his bullshit bullhorn. It's all in the script in his head, unfortunately that script is the Jimmy Cagney movie 'White Heat' (for y'all that don't get the reference, insert Al Pacino's 'Scarface').

Meanwhile, I'm done with even listening to 99% of the GFY-GOP minions still in office, busy stuffing their pockets while holding their noses and plugging their ears to Mount Twitler's destruction of the body politic. Anything you have to say about anything is just mere sophistry (AKA 'the BS I have to say to get what I want.').

Anyway, more power to the squad, and I'll leave the rest of the stack of political outrage and get on with a few dates...

07/20 - 50th Ann. of Apollo 11 Moon Landing

07/21 - National Ice Cream Day

07/21 - Beach Poets 2019, Loyola Beach, 1230 W Greenleaf Ave and the Lake, Chicago

Hosted since 1990 by Cathleen Schandelmeier, Sundays at 2 pm

The Beach Poets started in July, 1990, when "Sheffield's School Street Cafe" where Cathleen was hosting a poetry reading, closed for rehab without informing the poets. A featured poet & 30 people showed up - so Cathleen decided to take them to the Beach!

Each Sun. till Aug. 25th

07/23 - Live Ship Chat from the Arctic, 1 PM – 3 PM, Exploratorium, Pier 15 Embarcadero at Green St, SF

Join a live chat with scientists and educators on board a research vessel in the Canadian Arctic, retracing the ice-clogged Northwest Passage route that doomed John Franklin's 19th-century expedition.

Now virtually ice-free in late summer, this modern-day expedition will navigate the once perilous journey with a team of scientists, students, historians, and a film crew to research and document the dramatically changing Arctic Ocean.

Included with museum admission and free for Daytime Members.

07/24 - National Tequila Day

07/25 - Pack the Court Hearing on Muslim Travel Ban Lawsuits, 9:30 AM – 12:30 PM, Phillip Burton Federal Building, SF

450 Golden Gate Ave.

A hearing on the two class action cases challenging the unlawful waiver process of the Muslim Travel Ban - Emami v. Nielsen and Pars v. Pompeo.

If you have promos, pluggers, gig info, an art opening, etc, send me an email. The address is mfunkyzine@gmail.com. And bands, artists and poets - download links, no attachments, please, and no promises...

[Grid Practice] - 29:46

Building In The Weeds...

Ok, In Grid Practice,

After a couple days researching, I decided on a particular design to replicate and modify - a Dual Primary Tesla Coil built by the cat Ludic Science (a reliable electronic spotter who always shows his work). The dual primary arrangement allows me to channel the two positive battery lines and maintain the common ground. The other modifications are to add a capacitor to each circuit, bigger resistors and, instead of the recommended transistor (TIP31C) there are at least half a dozen claimed equivalents, like the 2N2222, 2N3904 and the 2N3055 that I already have (oh, and I just saw a video where an IRF510 Mosfet is used). At any rate, the Berkeley shop will likely just have the NTE291 equivalent to the TIP31C...

Anyway, I drew up my modified circuit and wound the secondary coil, 550 turns of 30 AWG on some .5 inch pvc, cut out a piece of lucite for the base and scrounged up the components - this time no $10 trip across the Bay to buy $5 worth of parts.

So, after a check and double-check, I put the two primary coils on the secondary in the opposite direction, and I'll have to make sure the connections are right or it won't work at all. The circuit itself will be tested by itself before I add it to the Benitez board, but right now I'm in the middle of building.

Meanwhile, my boost-buck converter came in two weeks early from China - it's like it came on a plane instead of a boat. Anyway, it's another task I'm pausing till I put out the episode...

[One More Tune] - 32:59

Ok, for this week's One More Tune, we close out with The Collective You - Traumabond, a hardcore band from Melbourne, from the previously featured Darkwave compilation album The Unquiet Grave...

[song] - 33:17

Well, OK.

[Closing] - 37:48

Hey, this show is a 1223studios joint.

I'm on iTunes, Internet Archive, Google Play, Spotify, PlayerFM, Stitcher, Tunein, Listen Notes, Podknife and Mixcloud. Episode notes are on the podpages, and you can download the MP3 directly. Send email to mfunkyzine@gmail.com.

If you like the show, tell your friends, and, 50 years after the moon landing, I'm still pissed that we don't already have a moonbase (as far as we know), but instead of going back to the moon, in addition to Mars we should be in the asteroid belt mining the raw materials that will make up the infrastructure of our space civilization. Here's a what-if: what if a bunch of ET's came and claimed the belt's resources for themselves, thereby confining us to our own solar system, what the hell could we even do about it? That'd be an interesting sci-fi flick...

Show themes "Rocket Power" & "Spy Glass" by NY musician and composer Kevin MacLeod. Some additional audio from freesound.org.

Next episode is set for Friday, July 26th.

I'm Larry, trying hard to stay chill at my garrett in the Mission, and this is Magnetofunky, from San Francisco, where we go through, not into, the darkness.