SitRep12

Episode Transcript. Length - 39:47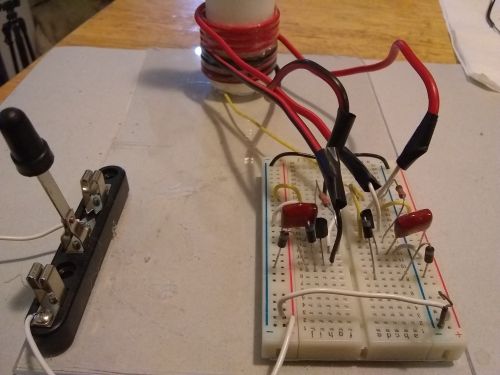 Magnetofunky No. 133. It's Saturday, August 3rd, 2019.

[intro theme]

Hey. Larry here. This week is a week later as I assess and report the situation in the lab. The music is another short set of all new eclectic indie tunes...

[song] - 00:45

All right, that was Adventures In Babysitting The Antichrist by Industrial Trip-hop Darkwave band Velvet Acid Christ based in the Denver suburb of Westminster, formed back in 1990 with over a dozen albums behind them. This new album, Ora Oblivionis, touches on new and old aspects of the band's sound.

This is a laid back (and often explicit - you bet your ass) weekly international podzine of extremely eclectic music and progressive politics, with a focus on energy independence for the 99%. My podpages are 1223studios.com/mfunky.h and facebook.com/1223Studios.

[Grid Theory] - 06:46

View From The Thicket

In Grid Theory,

The drawing board is more like stuck in a thicket wrestling with the Slayer Exciter circuit (which actually is named after the 80's rock band), and I'm only halfway up this hill, so I don't have a clear view of the next one, but, my power test of the DC-DC boost/buck converter was cool, the output voltage is now set at about 15V, and the output current is at a comfortable 5A. Once I work out the main circuit I'll see about mounting and hard-wiring it to the board.

The next part, the charge controller I've decided will be MPPT, not PWM (as in digital, not analogue), that way I can get by with a 10A doohickey instead of 20 or 30A, luckily I've seen models between $15-20. And that brings me to the house battery and its relationship in size to the two Benitez batteries. I went back through the Benitez patents to see whether it matters and, based on his using banks of 60V 40Ah batteries to run an alternator and motor (with more than enough juice left to run load taps) I didn't see that my two power plant batteries have to be the same capacity as the house battery. His final patent has the math formulas I can run to be sure, but I may be able to get away with say, a 12V 60Ah house battery and a pair of 12V 18Ah power plant batteries.

I also went back to Sr. Benitez' first patent from 1914, where his high freq. oscillator, stripped down, is just a spark gap and two tank circuits - two capacitors and two air-gapped transformers. The only big difference between his 1914 and 1918 design patents is the added rectifier and rheostat. Rick Friedrich's version of the 1918 schematic (my Benitez-8) shows two tank circuits; that's starting to look a damn sight easier to build--- [bell]

Ok, coming back with the actual trip through the thicket...

[Back To The Stage] - 10:14

Ok, Back to The Stage, continuing with Love Me - Get Back VAL, a metal pop artist down in LA, with no bio, but it's a radio-ready piece...

[song] - 10:29

Ok, next up it's Among The Stars - Frantic Romantic, a local SJ/LA band that plays alternative rock with elements of 80s/90s and pop. Six strangers stuck in a world that had left them behind...

[song] - 14:01

Ok, we wrap the set with Beyoncé (feat. Courtney) - Starranko, Pop, Hip Hop, Rapper, Producer, and songwriter from Falls Church, Virginia, who, when not creating music or working on other forms of art he enjoys chilling with his family, friends, fiancé, and his pet rabbit Zorro! Nice...

[song] - 18:43



["Geeknotes"] - 22:50

Geeknotes: 08/05 - Black Girls CODE Chicago Summer Camp, Chicago, 08/09 - Acorazado Tijuana, Teatro Frida Kahlo Theater, LA, 08/10 - Boys 'n' Guns - Masculinity in a Culture of Violence, Menlo Park City Council Chambers, 08/10 - 2nd Anniversary of Charlottesville - Act Against White Supremacy, Congresswoman Nancy Pelosi's Office, SF...

Hey, Geeknotes!

It's Saturday afternoon, new month, two debates series in the Democratic Thunderdome are done, and the clear losers are John Delaney (who I don't want anywhere in the next administration) and CNN, pinch-hitting for the Nazi Channel with their extremely shitty handling of the format. Almost everybody else on stage I got no problem with being in the House, Senate or the Cabinet (except Marianne Williamson, no matter where you might put her). In fact, at this point I have no interest in even having the eventual Democratic Nominee debate President Shithole unless said Nominee is free to tell P-Grabby to STFU when he starts playing the dozens instead of arguing policy during said debate.

Meanwhile, I'm done with the 'Liberal My Ass' media slobbering over misunderstood racist red hat voters and wondering if Orange Queenie's gonna campaign via race war, when that's been a feature, not a bug of the GFY-GOP since Nixon.

Meanwhile, Mango Unchained finally got some federal money to start his mob building project (AKA border wall), except it's coming out of the military pension kitty.

Meanwhile, a huge welfare fraud ring was just busted, and surprise, the gang all passed the paper bag test. Truly shocking...

Anyway, let's get on with a few dates

08/04 - Coast Guard Birthday

08/05 - Black Girls CODE Chicago Summer Camp! 9 AM – 4 PM CDT, 30 E Lake St, Chicago

Mon, Jul 29, 2019, 9:00 AM – Fri, Aug 9, 2019, 4:00 PM CDT

Our two week camp provides hands-on, project-based instruction, where young ladies ages 13-17 engage in tech instruction, where girls can learn computer science and coding principles in the company of other girls, with mentorship from women they can see themselves becoming. A graduation ceremony is held on the last day from 4-6PM.

08/07 - Purple Heart Day

08/08 - Int'l Cat Day

08/09 - World Indigenous Peoples Day

08/09 - Acorazado Tijuana, 8 PM – 9:30 PM, Teatro Frida Kahlo Theater, 2332 West 4th Street, LA

...This is a play about caged immigrant kids and youths. Inspired by a crude reality. A call to action for justice!

A bilingual play

INDEPENDENT THEATER WITH A MISSION
We are a theatre group directed by Diego de Los Andes.

08/10 - Nat'l S'mores Day

08/10 - Boys 'n' Guns - Masculinity in a Culture of Violence, 11 AM – 12 PM, Menlo Park City Council Chambers, 701 Laurel St., Menlo Park

Our special exhibition, Confronting Violence: Improving Women's Lives, opens July 8, along with an accompanying event series.

In a time where gun violence is used as conflict resolution, it's not just about gun control; it's also about masculinity control.

Siavash Zohoori was a near victim of a mass shooting at UCSB in 2014. He transformed that traumatic experience into a mission to foster more compassionate communities, helping to instill values of respect for women, emotional expression and connection with others, and empathy for fellow human beings.

08/10 - 2nd Anniversary of Charlottesville - Act Against White Supremacy, 1 PM – 2:30 PM, Congresswoman Nancy Pelosi's Office, SF

We will rally at Congresswoman Nancy Pelosi's office, Federal Building, 90 7th St, San Francisco.

We hold in our hearts the memory of anti-racist activist Heather Heyer and the dozens injured by the fascists in Charlottesville, including Deandre Harris, a 20-year-old Black man, who was beaten with metal poles in a parking lot by a fascist gang, putting him in the hospital. While it was a Nazi thug who murdered Heather, it is the bigot-in-chief Donald Trump, endorser of the "very fine" Nazi and Klan scum, who has enshrined their genocidal ideology as his national policy against the disabled, the LGBTQ+ community, and all People of Color.

If you have promos, pluggers, gig info, an art opening, etc, send me an email. The address is mfunkyzine@gmail.com. And bands, artists and poets - download links, no attachments, please, and no promises...

[Grid Practice] - 29:45

Puzzle Pieces

Ok, In Grid Practice,

The subtitle I'm calling 'puzzle pieces' cause of all the swapping out parts and simplifying the breadboard layout, looking for simple errors in the build.

So, after I finished the first modified Dual Primary Slayer Exciter, I hooked up the primaries with the bottom wires going to the positive rails and the top wires going to the Drain pins of the IRF510 Mosfets (the Collector if I used a transistor). I tried to run it with 9V, got no juice but no smoke either, I did the 12V power test, worried that it wouldn't work, but it seemed to work just fine, for two seconds, then both Mosfets went poof. I did the multimeter test and, yeah they both bit the dust. Next I swapped out the #16 primary coil wire and put in #22 wire, put in 2N2222 transistors, still no progress but these transistors didn't get hot at all.

After more research and paying more attention to actual photos of other S-E circuits instead of diagrams, I realized I had the resistor-to-transistor wiring wrong, so I changed that up and added a pair of 10nF caps. Still no progress. Then I got the bright idea to build a basic 9V S-E, using the hair-thin wire from a car relay for the secondary (according to Ludic Science it's between #36 and #42 AWG), but the wire kept breaking, so I tried #32 wire with no luck. I went back to the dual primary unit, put the #16 coils back in with the proper connections, still nothing, even though I tried to orient the primary coils in the same direction as the secondary, cause one build video showed it working even though everybode else said they had to be opposite.

Anyway, right now I've broken open another car relay for more hair-thin wire, and I'm suspecting that I may have shorted out the breadboard during all the swapping, but that's when I went back through the Benitez patents for what looks like the simplest oscillator.

It's been a long week and a half, and speaking of which - outside the lab, my driving test retry is two weeks away, this time in Oakland...

[One More Tune] - 33:37

Ok, for this week's One More Tune, we close out with The Bullet Wins, another new piece by Velvet Acid Christ. Very not worksafe. And BTW, on their Bandcamp page the Limited Deluxe Edition of Ora Oblivionis has a bonus album featuring early unreleased VAC tracks.

[song] - 34:05

Well, OK.

[Closing] - 38:18

Hey, this show is a 1223studios joint.

I'm on Spotify, Tunein, Google Play, Stitcher, iTunes, Internet Archive, PlayerFM, Listen Notes, Podknife and Mixcloud. Show notes are on the podpages. Send email to mfunkyzine@gmail.com.

If you like the show, tell your friends, and, the next time your neighborhood red-hat spews BS about 'damn illegals', remind him or her that there's over a million Americans living in Mexico, and 91% of them are 'damn illegals' but that's fine and dandy cause they pass the paper bag test too...

Show themes "Rocket Power" & "Spy Glass" by NY musician and composer Kevin MacLeod. Some additional audio from freesound.org.

Next episode is set for Friday, Aug. 9th.

I'm Larry, trying hard to stay chill at my garrett in the Mission, and this is Magnetofunky, from San Francisco, where we go through, not into, the darkness.