Tank Circuit Shuffle

Episode Transcript. Length - 39:20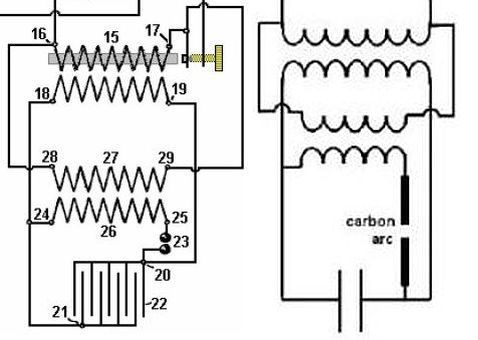 Magnetofunky No. 134. It's Friday, August 9th, 2019.

[intro theme]

Hey. Larry here. This week was mostly spent on the drawing board wrestling with an exotic tank circuit and coupled inductors that might or might not make my Benitez power plant work. The music is another fresh batch of indie goodness...

[song] - 00:47

Ok, that was Barbie Doll - Duckwood, AKA Kevin Janosky, who caught my Craigslist ad dropped at Asheville, North Carolina. This alt pop rock number comes from the new album Casstettes Vol II - Home Now, released a couple weeks ago. This cat is prolific; you should really check out his Bandcamp page.

This is a laid back (and often explicit - you bet your ass) weekly international podzine of extremely eclectic music and progressive politics, with a focus on energy independence for the 99%. My podpages are 1223studios.com/mfunky.h and facebook.com/1223Studios.

[Grid Theory] - 05:31

Meta Homework

In Grid Theory,

In the past week I left the Slayer Exciter models alone and focused on the previous patents of Sr. Carlos F Benitez, nailing down the specifics before going half-assed into another build. For example, the specific patent I'm now focused on is no. 14311, submitted in 1915 and accepted in 1916, that has 3 variations of the first patent that had capacitor banks, transformers and a spark gap. Version 1 uses battery banks to drive an induction coil with interrupter, a second transformer and the spark gap. Version 2 has the induction coil with interrupter but without a second transformer and the interrupter replaces the spark gap. Version 3 adds a load with the transformer in series with the induction coil with interrupter. Rick Friedrich labels these versions switch 5, 6 and 7. I decided to stick with version 5 because it uses a spark gap. The Sr. went back to a spark gap in switch no. 8, and the main difference between versions 5 and 8 is his going from battery banks to single batteries.

The other misstatement I'm clearing up has to do with the diagrams in the patents. What I focused on and said was in the printout of the Sr.'s first patent was actually added to the final 1918 patent that laid out switch no. 8. After the Benitez diagram, there's an updated schematic of no. 8 drawn by Bruce A. Perreault, the guy who apparently discovered these patents over 10 years ago. The last page of the pdf is an unattributed diagram of switch no. 5, which shows what the Sr. said was an induction coil, a transformer and a spark gap, but instead calls this arrangement 'a spark gap and two tank circuits, inductively coupled.'

Before considering the meta data on this unattributed diagram, I was a couple days into researcing coupled inductors and running the math on what size inductor to wind and capacitor to pick to get a specific frequency. I was ready to run to the Berkeley shop for a couple ferrite toroids when I backtracked to the meta data. I spent another day researching Benitez abstracts and drawings other people have made, and after downloading pdf copies of the Sr.'s patents from different sources, I confirmed that this unattributed schematic only shows up in one place - the pdf provided by Rick Friedrich on his big free Energy Benitez-Daniel M. Cook potentialtec[.]com page. The diagram in that case is either from Friedrich or Bruce A. Perreault (and specifically not from Patrick Kelly or his free energy book, which Friedrich says has intentional errors, one of which I found myself on the Alexkor stuff). The point is, transformers and induction coils, with or without interrupters, are not exactly the same, coupled inductors either, but, with an idea where the unattributed schematic came from, I decided to play along and return to designing the parts for my own version of switch no. 5-- [bell]

Ok, coming back with the actual trip through the thicket...

[Back To The Stage] - 10:40

Ok, Back to The Stage, continuing with a hat trick of hard fresh hip hop, starting with I Am - Kidd Ralphie, a rapper based in Fargo ND. He's 20 with 2 years of recording experience. Next up is Eminem, by the previously featured Rapper, Producer and songwriter Starranko over in Falls Church VA. And wrapping the set with I Can't Be - Shyboylo, a rising artist originally from Charlotte NC, now in New York City. He's released two very successful singles this year with an album coming in late August and a two month residency at the infamous Nuyorican Poets Cafe in Gotham. And yeah, Cathleen, let's just call this whole set not worksafe...

[songs] - 11:45; 15:15: 16:27



["Geeknotes"] - 19:53

Geeknotes: 08/13 - Ibram X. Kendi, 'How to Be An Antiracist' with Shaun King, Congregation Beth Elohim, Brooklyn, 08/14 - CODEPINK August Local Meeting, Somewhere in Venice, 08/14 - The Wrong Place, 826 Valencia Tenderloin Center, SF, 08/16 - Free Citizenship Clinic, Masjid Al Salam, Oakland...

Hey, Geeknotes!

It's late Friday, barely a week after three red hat race war attacks, where once again one heavily armed snowflake with a manifesto ripped from a Trump Nazi Rally (and fuck his name) was taken in peacefully by the cops - the only thing missing was a goddamn happy meal, where Bloody P-Grabby turned a visit to survivors in a hospital into a craven campaign event. And that's all I'm gonna say about this, except that the 'Liberal My Ass' media can kiss my left nut about tying gun culture to mental illness or fucking video games, the Columbine excuse, and each attempt to normalize President Shithole's empty crocodile tears.

I'd rather peel back to an ongoing scandal - the tax returns. The real reason he's scared shitless of the returns coming out ain't the clear evidence of fraud and embezzlement (his mob lawyers can dicker over that in court like every other time), the real reveal is that it would blows holes in his BS status as a billionaire - Not! He's barely a millionaire, floating on the grift from the hotels and golf courses. This orange sack of shit couldn't run a casino! What did Montgomery Burns say; 'I've discovered the perfect business: people swarm in, empty their pockets, and scuttle off.' How do you fuck that up in any way that's not intentional? Bankruptcy isn't failure to this asshole, it's a standard cashout maneuver, with no accountability, no responsibility, and no apologies.

And speaking of intentional, the trade war with China is gonna crash and burn the same way, as the Wall Street roller coaster ride demonstrates. And BTW, if China actually gave a damn which party was in power here, they could easily throw a few monkey wrenches - 'hey, ya wanna see all of Trump's tax returns, want some skeletons on all the GOP senators. We got 'em!' Granted, China would be just as frustrated with President Hillary as this jackass, but the chaos in the air here is near perfect cover for Beijing to pull a Tienanmem 2.0 in Hong Kong, and when they do, don't be surprised when Xi Jinping says something along the lines of 'we have our own Monroe Doctrine.' Chew on that, and one last thing - Tucker Carlson is a hoax and an aristocrat wearing jackboots, but the one thing he ain't is a journalist.

Anyway, let's get on with a few dates...

08/11 - Eid al-Adha

08/12 - Int'l Youth Day

08/13 - Left-Handers Day

08/13 - Ibram X. Kendi, 'How to Be An Antiracist' with Shaun King, 7:30 PM – 9 PM EDT, Congregation Beth Elohim, 274 Garfield Pl, Brooklyn

From the National Book Award-winning author of Stamped from the Beginning comes a bracingly original approach to understanding and uprooting racism and inequality in our society—and in ourselves.

Ibram X. Kendi's concept of antiracism reenergizes and reshapes the conversation about racial justice in America—but even more fundamentally, points us toward liberating new ways of thinking about ourselves and each other. In How to be an Antiracist, Kendi asks us to think about what an antiracist society might look like, and how we can play an active role in building it. Click the link for ticket info.

08/14 - CODEPINK August Local Meeting, 5:30 PM – 7 PM, Venice

Join CODEPINK LA for their monthly local meeting. They'll be discussing an upcoming trip to the U.S.-Mexico border to bring supplies to asylum seekers and immigrants, and to discuss how you can get involved in the divest from war campaign locally.

**RSVP to receive the address for the event or email carley@codepink.org to receive the address.***

08/14 - The Wrong Place, 7 PM – 9 PM, 826 Valencia Tenderloin Center, 180 Golden Gate Avenue, SF

Unmuted Stories presents The Wrong Place: Or, How Not to Write a Play About the Rohingya Genocide, an original play about the Rohingya genocide in Myanmar and Bangladesh.

The play takes a critical look at how this tragedy unfolded, why it has taken the international community so long to act, and how everyday people engage with humanitarian crises.

The play will be performed as a staged reading followed by a brief Q&A hosted by Sue-Jean Sung with writers Aiden Ardine and Trevor Stankiewicz.

7:00pm on Wednesday, August 14
7:00pm on Saturday, August 17

08/16 - National Rum Day

08/16 - Free Citizenship Clinic, 4 PM – 8 PM, Masjid Al Salam, 1005 7th st, Oakland

Council on American-Islamic Relations - SFBA, Pars Equality Center, and Asian Americans Advancing Justice - Asian Law Caucus are sponsoring a free Citizenship Clinic.

TO BE ELIGIBLE FOR CITIZENSHIP YOU MUST BE:

• 18 years of age
• A legal permanent resident for 5 years, or 3 years if married to a U.S. citizen. Click the link for full details.

If you have promos, pluggers, gig info, an art opening, etc, send me an email. The address is mfunkyzine@gmail.com. And bands, artists and poets - download links, no attachments, please, and no promises...

[Grid Practice] - 28:27

Inductor Options

Ok, In Grid Practice,

Speaking of the modified Benitez circuit, which takes my version of switch 8 and adds the coupled inductor tank circuits to the existing magnetically quenched spark gap, I have options: try again with a car relay switch as an induction coil with interupter, substitute a transistor as oscillator, or go the coupled inductor route. The relay switch isn't practical unless you have a stockpile of them for when they rapidly wear out, and I plotted out what parts correspond with a transistor, but in the end a transistor is not a coil, and as of Friday morning I'm not sure I could get away with the crazy idea of running the charge from the transistor's emitter to an axial RF Choke inductor (the kind that looks like a resistor) as a parallel coil. After the show I'll see if anybody else tried this, but what's left is the coupled inductor route indicated by the unattributed switch 5 diagram.

What I researched there dealt with using bifilar wiring on either an air-core form (like pvc) or a ferrite ring or toroid. The toroid wiring formulas would depend on what's available at the Berkeley shop, but I still have some 1/2" and 1" pvc pipe and already worked out the specs based on using #22 wire and a 2 uF cap, holding the oscillation frequency at 35 KHz. It all depends on whether the two tank circuits actually will bounce charge back and forth to power the spark gap. I don't know; I'm still putting pen to paper and searching DuckDuckGo for examples. Meanwhile, I'll see about the Slayer Exciter breadboard and carry on with the homework before building anything else...

[One More Tune] - 31:20

Ok, for this week's One More Tune, we close out with Save You, another alt pop rock tune from Duckwood, from the album Lesser Things Below, released in May...

[song] - 31:34

Well, OK.

[Closing] - 37:51

Hey, this show is a 1223studios joint.

I'm on Spotify, Tunein, Google Play, Stitcher, iTunes, Internet Archive, PlayerFM, Listen Notes, Podknife and Mixcloud. Show notes are on the podpages. Send email to mfunkyzine@gmail.com.

If you like the show, tell your friends, and, answering a question some of y'all won't ask - there's about half a million illegal immigrants from Europe in the country right now, but rest assured, none of them will be starring in any red hat campaign ads for Latino Immigration and Customs Enforcement...

Show themes "Rocket Power" & "Spy Glass" by NY musician and composer Kevin MacLeod. Some additional audio from freesound.org.

Next episode is set for Friday, Aug. 16th.

I'm Larry, trying hard to stay chill at my garrett in the Mission, and this is Magnetofunky, from San Francisco, where we go through, not into, the darkness.