Tank Follies

Episode Transcript. Length - 42:55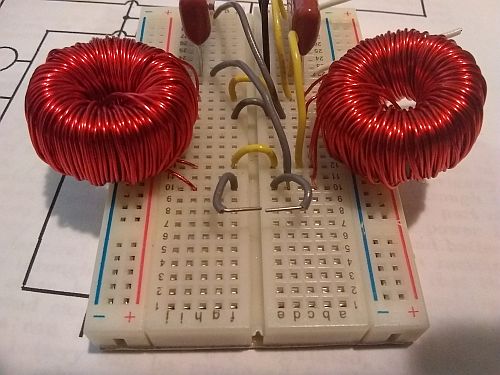 Magnetofunky No. 136. It's late Saturday, August 24th, 2019.

[intro theme]

Hey. Larry here. This long week was more wandering through the weeds and getting an answer to the mystery Benitez diagram, while the music is a mix from the pending pile that's starting to pile up...

[song] - 00:45

Ok, that was The Waiting Room, from the brand new album Mortal Geometry by Numb, One of the most talented acts in the burgeoning electro-industrial wave of the late 80's & 90's, coming outta Vancouver. Sent in by Metropolis Records. Nice...

This is a laid back (and often explicit - you bet your ass) weekly international podzine of extremely eclectic music and progressive politics, with a focus on energy independence for the 99%. My podpages are 1223studios.com/mfunky.h and facebook.com/1223Studios.

[Grid Theory] - 07:07

Back Step

In Grid Theory,

I'm picking right up from last week, with something I didn't even consider until after I finished the show: what's wrong with where the load taps are? Did Sr. Benitez intentionally separate the load taps from the oscillation part of the circuit? Each of the interations of the first patent from nos. 1 to 7 has the taps connected to an induction coil whether directly or via the tank circuit capacitor, but switch 8 has them isolated as an open DC output on the way to the common ground. And, the load taps here don't affect the math for the tank circuits (and if I was backward thinking on the concept, the load taps on the capacitor don't affect the tank circuit math either).

On Tues. I had to leave the lab and go take my second driving test, this time in Oakland. Frankly, I almost passed it except I missed a stop sign. Talking with my instructor, I agreed that I haven't had enough time practicing to ingrain the process; a 1 Hr. lesson beforehand ain't cutting it. So, that means doing it the hard way - getting my vehicle now and practicing like a first-time teen driver. My third test is in November (the earliest date available), and even if I have to get a dust buster minivan or a Chevy Astro, just gotta get 'er done...

On Wed. I installed the new breadboard on the Benitez-8, un-installed the superfluous 555 common ground and the extra wires cluttering the spark gap. I haven't decided yet whether to use the additional load taps once I get it working (and we'll see whether or not the unattributed circuit diagram actually gives me a spark gap), but I did get a flash of having another DC boost-buck converter pumping the equivalent of a second 100W solar panel out of this modified power plant. That would be cool--- [bell]

Ok, coming back with the Tank Circuit test...

[Back To The Stage] - 10:42

Ok, Back to The Stage, continuing with a trio of love songs from the pending pile. First up it's a number from the previously featured Neo Soul Funk artist Jassniro from Rome, Italy - In New York featuring Latisha & Philips, followed by Come Back, Haunt Me - Haunted Heir, an Alt Goth Happy Apocalyptic dark folk duo down in LA, then it's If I Can't Have You, an Indie Pop tune by the previously featured band The Frontier from Vienna, Virginia. This is from the new album Luminesce, released June 28. Check the podpgae for band links...

[songs] - 11:41; 16:52; 20:58





["Geeknotes"] - 24:11

Geeknotes: 08/26 - Lessons from BDS Activism, UC Berkeley School of Law, 08/31 - Slavery and Underground Railroad Tour, Lower Manhattan, NYC, 08/31 - Good Riddance David Koch Party, 740 Park Ave, NYC, 08/31 - Bully Busting Clinic 2019, Robinsons Taekwondo-North, North Highlands...

Hey, Geeknotes!

It's Saturday afternoon, as the weekend long ago stopped providing a respite from the news, as Bloody P-Grabby jets off to piss all over the latest G-7 economic conference, and between his tanking the stock market over his trade war with China and demanding the G-7 bring Russia back from the penalty box and the stupid bluster over Greenland, by this time next week, don't be surprised if the G-7 becomes the G-6...

Really, at the rate things are going, as Orange Queenie continues bitching about voter fraud in order to deny losing next year's election, it's only a matter of which despotic banana republic this asshole will try to emulate when, no longer if a serious recession happens before the election - Somoza's Nicauragua, Trujillo's Guatemala, hell even Idi Amin put more actual thought into his bloddy rule. No, you still have to pull from the comics, the way Art Spiegelman did, calling P-Grabby 'Orange Skull' and getting blasted by the post-Stan Lee Marvel Comics Corporate Deathstar. For that I call yellow card, though Stan Lee's daughter would pull a red card on 'em...

Anyway I'm burning daylight here, so let's get on with a few dates:

08/26 - National Dog Day, Women's Equality Day

08/26 - Lessons from BDS Activism, 6 PM – 8 PM, UC Berkeley School of Law 215 Boalt Hall, Rm 140

Join the Berkeley Law Students for Justice in Palestine in an evening discussion on Immigrant Detention, Mass Surveillance, and Occupation.

Presented by Dalit Baum, Director of Economic Activism at the American Friends Service Committee. She has worked with AFSC since 2013 in the San Francisco office. She is a feminist scholar and teacher who has taught about militarism and the global economy from a feminist perspective in Israeli and U.S. universities.

08/29 - Int'l Day Against Nuclear Tests

08/30 - World Day of Vctims of Enforced Disappearance

08/31 - Int'l Overdose Awareness Day, Muharram (the first month of the Islamic calendar)

08/31 - Slavery and Underground Railroad Tour, 10 AM – 2 PM EDT, Lower Manhattan, NYC

This tour takes place in Lower Manhattan, starting around Bowling Green and ending near City Hall Park.

Follow the Freedom Trail in New York! On this two-and-a-half hour walking tour, your informed guide will describe in colorful detail how a band of brave men and women in New York City formed the hidden networks that became the Underground Railroad. As you check out these inspiring sites, you'll learn about the riots, revolts and dramatic escapes of this time and hear tales of courage and triumph about real New Yorkers who risked both life and property in the name of freedom.

08/31 - Good Riddance David Koch Party, 1 PM – 4 PM EDT, 740 Park Ave, New York

Hosted by The Foundation for the Resistance Against Donald Trump

One of the Koch brothers has left the building, and that is a huge cause to celebrate! We are calling all Americans to come celebrate the passing of one of societies largest arsonists! We are meeting right outside of his New York home.

08/31 - Bully Busting Clinic 2019, 11 AM – 2 PM, Robinsons Taekwondo-North, 6840 Watt Ave, North Highlands

Bullying can happen to anyone anywhere, so join us to learn how to counter a bully. Avoid, deflect, defuse or deter a bully at this free family event.

As the new school year begins, many children are faces with the fear of being bullied by their classmates. Give your child a "leg up" by attending our self-defense class.

If you have promos, pluggers, gig info, an art opening, etc, send me an email. The address is mfunkyzine@gmail.com. And bands, artists and poets - download links, no attachments, please, and no promises...

[Grid Practice] - 31:18

Tank Test

Ok, In Grid Practice,

On Thur. after more research wading in the tank circuit weeds, I finally did the power test. I added clip leads to the extra load taps, swapped out the brass wood screws for steel machine screws. I put a multimeter on the extra taps and the LED power meter on the regular taps. Power on, the run battery dropped from 12.6V to about 12.2V, exactly what the regular load taps read (for the first time!), but, the extra load taps read zero volts.

Now, with the other multimeter's negative clipped to the common ground, the voltage at the tank circuit capacitor was the run battery's voltage, but at the spark gap I only got 300mV, same through the back end cap and rheostat to the bridge rectifier; only at the connection from the rectifier to the B battery positive did I see the run battery's voltage again...

This is what the extra research was for - looking and not really seeing solid confirmation that the unattributed circuit diagram with two mutually inductive parallel tank circuits standing alone would oscillate, even with a spark gap. I saw one, just one reference that said 'a standalone tank circuit needs a driver', but the test result is pretty clear, just a cap reading battery voltage. I'm calling yellow card on the unattributed schematic design, so the next step is to look for a basic tank circuit driver, which leads back to a set of oscillators invented roughly between 1915 and 1920 - Hartley, Colpitt and Clapp oscillators. I came across them earlier, but that's what I'll dive into next, while seriously looking for my cargo van...

[One More Tune] - 34:27

Ok, for this week's One More Tune, we close out with Happy Birthday Mr.President, a bit of experimental psychedelic gothic by The Legendary Pink Dots from The Netherlands, a band that since 1980 has thrived far outside the mainstream and released more than 40 albums. Their latest, two years in the making, is Angel in The Detail. Nice...

[song] - 34:58

Well, OK.

[Closing] - 41:00

Hey, this show is a 1223studios joint.

I'm on Spotify, Tunein, Google Play, Stitcher, iTunes, Internet Archive, PlayerFM, Listen Notes, Podknife and Mixcloud. Show notes are on the podpages. Send email to mfunkyzine@gmail.com.

If you like the show, tell your friends, and, lest y'all red hat pointy heads forget, when 'white' was first marketed as a colonizer and slave trading class term, it meant Portuguese and Spanish before Dutch and English; only in this country did it start as largely English, and every other European cohort here had to fight their way into the white-only private club, but guess what, 21st Cen. Latinx and Asians are following the Black tip - they don't have to storm the castle to join the club; the America that's coming will just go around and make it irrelevant. Being ignored is what ultimately scares the privte club...

Show themes "Rocket Power" & "Spy Glass" by NY musician and composer Kevin MacLeod. Some additional audio from freesound.org.

Next episode is set for Friday, August 30th.

I'm Larry, trying hard to stay chill at my garrett in the Mission, and this is Magnetofunky, from San Francisco, where we go through, not into, the darkness.