Spark Gap Cake

Episode Transcript. Length - 49:06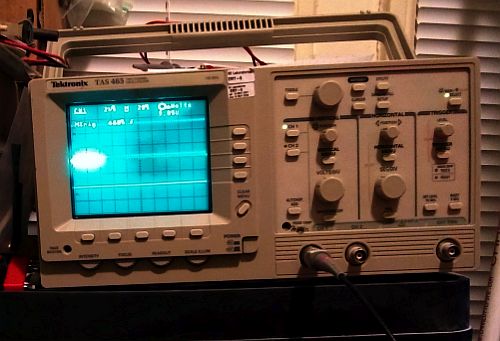 Magnetofunky No. 139. It's Saturday, September 21st, 2019.

[intro theme]

Hey. Larry here. After a week and a half chasing another analog fix for my Benitez device, I'm finally doing what the Sr. did to move forward, as my vehicle timeline is getting short. Anyway, the music is a blend of chill techno pop picked last week and some fresh hard industrial beats...

[song] - 00:55

Ok, that was Apricot Orange - HZK, an electronica band/artist found at Bumpfoot, a non-profit netlabel in Japan that releases full albums under Creative Commons. Nice.

This is a laid back (and often explicit - you bet your ass) weekly international podzine of extremely eclectic music and progressive politics, with a focus on energy independence for the 99%. My podpages are 1223studios.com/mfunky.h and facebook.com/1223Studios.

[Grid Theory] - 05:59

Ground Clearance

In Grid Theory,

The Grid stuff - the tiny bit of actual circuit testing and more research - I'll get to...

Actually the past couple weeks was half spent zeroing in on my vehicle, which is looking more and more like a dustbuster minivan or an SUV; Astros and decent looking Chevy Express vans in my price range have about disappeared, and the '96 - '98 Econolines have dried up too (plenty of early 2000 models out there with the Triton engines that spits out spark plugs, and I saw that the Triton goes back to '97). Anyway, while I'm adjusting to the reality of a camping tent on wheels, the remaining issues are mileage and boondocking ability (ground clearance/4WD), I'm sticking to years '96 - 2005 (the OBD-II years) and just these vehicles - the Toyota Sienna, the 2005-only Dodge Grand Caravan and the Chevy Suburban.

The Sienna has decent mileage and almost 7" ground clearance, while the Grand Caravan has an extra 20 cu.ft. of storage space, but only 5.6" clearance - still good enough to go as far as a car to put some trees between me and the highway; the Suburban is my version of a truck camper with truck mileage but 4WD and 8.5" - 9" clearance - good enough for me to go almost to the back country, or far enough to get completely away from highway noise on solid ground - after all, I want to start getting out of the city, partly as an anti-earthquake measure. Minivans and SUVs with the back windows covered and a blackout curtain behind the front seats is obviously not stealth. Anyway, in SF there are lots of free 1-7 day parking spots for campervans (not big RVs). Anyway, the only other vehicle options left are those 15-passenger vans that are too big and frankly unsafe for new or inexperienced drivers.

I also checked out years to avoid and so far only the 2004 Sienna has popped up. For Suburbans the '97, 2000, '01, and '03 models rang that bell on different mechanic websites. That leaves plenty to pick from--- ------------ [bell]

Anyway, back to the actual lab work in a bit...

[Back To The Stage] - 09:56

Ok, Back to The Stage, continuing the somewhat longer music mix with another chill piece, experimental android work 05 - ish10 yow1r0, another techno pop effort found on the Japanese netlabel Bumpfoot, then it's the first hard beats tune - Something Whole - A Projection, a post-punk / indie band out of Stockholm, founded in 2013 that's gone through some changes since their first two albums. This is the new single from their third album Section that won't drop until late October...

[songs] - 10:48; 13:47

Ok, next up a couple more non-industrial pieces - I Was Instrumental in the Making of You - Zachary Weiss over in Chicago; a Poet/Author. Singer/Songwriter/Lyricist. Co-Editor at Transcendent Zero Press, among many other qualifiers, then it's Pool, a trip hop number by Audionautix, AKA Jason Shaw, Composer Producer Engineer, born in Pittsburg. Nice...

[songs] - 17:28; 20:30

Ok, gonna wrap the set with some hard industrial - the first of two brand new cuts by the legendary German alternative industrial outfit KMFDM. Marking 35 years of conceptual continuity, and showing no signs of slowing down or mellowing out, their new album Paradise, their 21st, dropping in a week or so, is a juggernaut of industrial/rock, topped off with scathing and confrontational lyrics that challenge the social and political zeitgeist. The piece is K-M-F, and Cathleen, just go ahead and skip the next 4:22...

[songs] - 23:57



["Geeknotes"] - 28:19

Geeknotes: 09/23 - 2019 SF Latino Film Festival, 09/25 - Global Strike SF at the Brasilian Consulate, 09/28 - Harambee, African Library Project Annual Gala, Pittsburg, CA...

Hey, Geeknotes!

It's Saturday morning, nobody's talking about John Bolton anymore, but to be fair, is anybody talking about the 30 Afghan farmers murdered by a drone just the other day - I'm sorry, was the drone on 'AI' mode? then it was murder that we brush off as collateral. Anyway, instead of indulging the usual two minutes hate over P-Grabby's unConstitutional actions, I'm still pissed that the corporate Dems are still more worried over the optics of full-bore impeachment proceedings (and you know the GFY-GOP would be running a Benghazi impeachment circus right now with a Pres. Hillary). I agree with AOC that the Gaslighting Old Pricks should be on record refusing to convict Orange Queenie's obvious high crimes, or is the DNC waiting for this asshole to start actually shooting folks on Main St...

Anyway, with half a dozen hurricanes blowing across the Gulf of Mexico and 3 billion less birds in the US, the summer season closes for good. I got a feeling it's gonna be like Halloween for non-red hats for the rest of the year, but that's just me.

Anyway, let's run a few dates...

09/23 - Mabon - the Wiccan pagan harvest festival which is celebrated on the Autumnal Equinox, named after a Welsh deity. It's also Int'l Celebrate Bisexuality Day.

09/23 - 2019 SF Latino Film Festival

The 11th San Francisco Latino Film Festival presented by Cine+Mas SF runs from September 20-29.

The SFLFF program includes award winning and critically acclaimed documentary, narrative, feature and short films from throughout the Americas, the United State and Spain. Local and visiting filmmakers from around the country and Latin America will be in attendance.

The festival is proud to open this year at the Roxie Theater in San Francisco. Additional venues include the Alamo DraftHouse Theater (SF); the San Francisco Public Library, Civic Center; Eastside Cultural Center (Oakland). Additional venues/dates and full program to be announced.

09/25 - Global Strike SF at the Brasilian Consulate, 7 AM – 5 PM, 300 Montgomery St, SF

Please join Brasil Solidarity Network and hundreds of other people in the Bay Area as we shut down streets in San Francisco on September 25th where decision making about the harms to Mother Earth are being made.

We are declaring that WE LOVE THE AMAZON! We love her and we envision a world and future where love and respect are given to all living beings and the Amazon flourishes with all the incredible variety of life there is within her.

09/26 - Johnny Appleseed Day, World Maritime Day, World Day to Eliminate Nuclear Weapons.

09/27 - Native American Day in Cali, World Tourism Day

09/28 - National Public Lands Day, National Drink Beer Day, World Rabies Day.

09/28 - Harambee, African Library Project Annual Gala, 6 PM – 10 PM, African Library Project, Pittsburg, CA

You are invited. Come hear "The Boy Who Harnessed the Wind" author, William Kamkwamba, share his story, explore African literary works, and savor an array of African cuisines and cultural artifacts at our annual fundraiser.

If you have promos, pluggers, gig info, an art opening, etc, send me an email. The address is mfunkyzine@gmail.com. And bands, artists and poets - download links, no attachments, please, and no promises...

[Grid Practice] - 34:02

Transformer Weeds

Ok, In Grid Practice,

Let's get the scope test out of the way...

I checked the oscilloscope with the signal generator, going through all four waveforms, then I wired up the Benitez-8, power on, and began probing the tank driver output, the oscillator, the spark terminals and the back end. All I got was a rapid DC pulse. No square waves. All the previous readings remained... 15 minutes.

After the scope test, I gave up on the coupled inductors and the idea of the big ferrite toroids substituting for a transformer, or rewinding it into one - I already have 5 transformers, and only one will work with the circuit specs of the back end. My 10 Ohm 25W rheostat has a voltage rating of 300-500V, up to 10 times less than the 3600V of the caps, which are 10 times less than the max voltage from the automotive ignition coils, the flyback, and the salvaged microwave transformer (and not buying a 50KV capacitor and a 500W rheostat), so the painful conclusion - I can't have my gap and spark it too on this circuit. The last one, the 12 - 120V low wattage pc transformer, just might work, but it has to go in front of the circuit and not on the spark gap. Then it's just DC to AC, a power inverter.

But first I wasted a couple days going through diagrams for simple inverters using the tank driver and again, still thinking of building it. And on one website with an astable design, the math to determine resistor and capacitor sizes was off - the exponents were transposed (it's a big damn deal when you have 10 to the -4 instead of -3!). After finding a few tank inverters (with no follow-up on whether the circuit was ever built), instead of trying to replicate some crap that might fry my oscilloscope, and after watching the Afrotechmods video 'Don't build this 12V DC to 120V AC inverter circuit,' I decided to go quick and dirty and just buy a low wattage AC car inverter. Usually these are minimum 75 and 150W, but I saw 20W models with a regular AC outlet on Google Shopping but none locally. A 75W unit IS more common locally (costs twice what you can get online), and a 100W rheostat is less than a yuppie foodstamp. And a 240-250V 47uF capacitor is a few bucks. Better, but I like the 20W model first.

That still leaves the extra 12V positive line from the 'B' side battery, but I can fix that by putting a tiny dummy load on it. For example, a 10K Ohm resistor on 12V max will pull 1.2mA current and dissipate 14.4mW. A dinky 1/4W resistor shouldn't even get warm, but I'd go as high as 4 or 5W, run it to the common ground and forget about it.

After all that stumbling in the weeds, some daylight is nice, so I'm gonna go get another 12V outlet and some of the other parts, I'd also need to upgrade to minimum 18Ah batteries for the 75W inverter, and the spark gap is getting pried off the board, but I'm not done with it - maybe I'll make another Tesla coil...

[One More Tune] - 39:26

Ok, for this week's One More Tune, we close out with Disturb The Peace another hard industrial piece by KMFDM. Dig it...

[song] - 39:39

Well, OK.

[Closing] - 47:39

Hey, this show is a 1223studios joint.

I'm on Spotify, Tunein, Google Play, Stitcher, iTunes, Internet Archive, PlayerFM, Listen Notes, Podknife and Mixcloud. Show notes are on the podpages. Send email to mfunkyzine@gmail.com.

If you like the show, tell your friends, and, from the climate marches this week one quote stood out from one of the news blogs - a teen answering a climate denier chastizing the kids for skipping class on Friday - 'if you don't care about the future, why should we?' Damn right...

Show themes "Rocket Power" & "Spy Glass" by NY musician and composer Kevin MacLeod. Some additional audio from freesound.org.

Next episode is set for Friday. Sept. 27th.

I'm Larry, trying hard to stay chill at my garrett in the Mission, and this is Magnetofunky, from San Francisco, where we go through, not into, the darkness.