Benitez Circuit For Dummies

Episode Transcript. Length - 32:27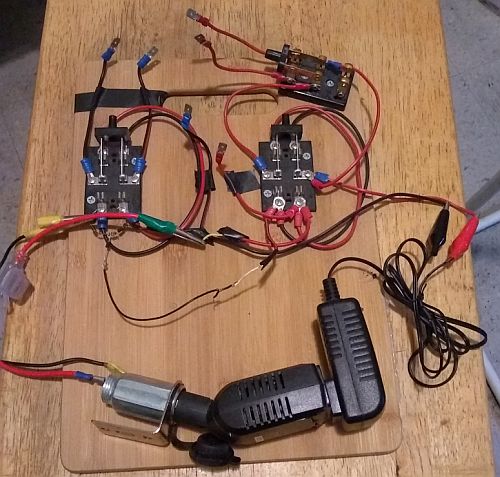 Magnetofunky No. 140. It's Saturday, September 28th, 2019.

[intro theme]

Hey. Larry here. I think I worked out an idiot-proof circuit schematic to run the Benitez power plant that's almost too simple. Anyway, the eclectic tunes this week come from a day wandering the stacks at the free band directory site w.unsignedbandweb.com...

[song] - 00:57

Ok, that was Redemption - Rodney and Fattius Blinn, an outfit out of Brunswick, Maine that loves to mess around with different styles of music, from Acoustic, to beats and even Reggae. No other info.

This is a laid back (and often explicit - you bet your ass) weekly international podzine of extremely eclectic music and progressive politics, with a focus on energy independence for the 99%. My podpages are 1223studios.com/mfunky.h and facebook.com/1223Studios.

[Grid Theory] - 02:40

Too Simple?

In Grid Theory,

Picking up where I left off - if I use a power inverter as the front end of the Benitez-8 circuit, why fuss with the back end components at all - replace them with an AC battery charger. Simple, too simple, right? Anyway, I dived into those weeds and discovered that, on paper, the setup looks good once three hurdles are cleared...

One, the original circuit I found goes battery to power inverter to AC battery charger to the same battery. It's obvious to me that won't work, but, the Benitez schematic has a second battery being charged, and the small dummy load guarantees that the current out will always be less that current into the charging battery. Hurdle two is making sure the AC charger is the right Amp rating for the battery. Apparently, a general rule of thumb when selecting a charger for a lead acid battery, match the voltage (no 24V charger on a 12V battery) and use one that is no more than 20% of the capacity rating of the battery (at a 20hr. rate). Example; to charge a 12 volt / 7.5Ah battery, select a charger with a maximum charge output of 1.5 Amps (7.5 x 0.20 = 1.5). My 4Ah batteries max is 800mA; the charger is a 500mA model for 6/12V batteries.

That's fine, and since I have that 160W inverter for my laptop I should be able to just hook up what I already have and get on with a power test, but hurdle three is that my power inverter is a modified sine wave model and though many common AC appliances can handle that just fine, an AC battery charger will either work badly and get hot or it'll fry cause it needs a pure sine wave. And of course, pure sine wave inverters are more expensive. Luckily, it seems 300W pure sine models can be found for around $40-50. But I saw one listed at Alibaba for $12 ($12, really? Plus, down the page in the specs it clearly says - in small print - 'modified sine wave')--- [bell]

Ok, the remaining labwork I'll cover in a bit...

[Back To The Stage] - 06:17

Ok, Back to The Stage, continuing the eclectic mix with a three-fer from unsignedbandweb, which is an ongoing site with fresh tunes submitted, but the pieces I liked came from various charts and some of the songs are up to five years old. Anyway, first up it's Silence 2014 - Demon Slave, one of a number of producers and djs in a group called the Nias Consortium. No other info. Next up it's For Me - Boi Bry, a Hip Hop artist down in Fort Worth, part of the group 2 Suns N the Sky with a 2016 EP. Briefly not worksafe in the middle.

Closing the short set with Threnody - Exempt From Gravity, an experimental band in Aalborg, Denmark, a self-indulgent endeavour presenting pieces freely for like-minded souls. released May 10, 2018.

[songs] - 07:42; 09:14; 13:41



["Geeknotes"] - 16:02

Geeknotes: 10/01 - How to Take Back the Supreme Court, Manny's, SF, 10/03 - Remembering a Police Riot - The Castro Sweep of 1989, The GLBT Historical Society, SF, 10/05 - What White People Don't See - Applying the Lens of Privilege, Movement Strategy Center, Oakland

Hey, Geeknotes!

It's Saturday, new day, next phase of the Impeachment BBQ, as Speaker Pelosi has finally taken over the damn grill and started serving the moo and oink, meanwhile brown children are still being tortured and raped in concentration camps, brown soldiers and their families are still being robbed and deported, and assassination plots are being hatched for the top dozen spots on President Pussy Ass Bitch's public shit list, so I'm not celebrating yet. This is only the end of the beginning, and it's gonna get nasty and bloody from here on, and don't expect much more than concern trolling from most of the corporate media (as in, aside from a few opinion writers, the New York Times is no better than the goddamn Nazi Channel in fluffing Orange Queenie).

Anyway, watch out for breathless fake news from bots, and let's run a few dates...

09/29 - National Coffee Day, VFW Day, National Gold Star Mother's Day

09/30 - Rosh Hashana, National Chewing Gum Day, National Love People Day

10/01 - Int'l Day of Older Persons, World Vegetarian Day, International Coffee Day, National Hair Day

10/01 - How to Take Back the Supreme Court, 6:30 PM – 7:30 PM, Manny's, 3092 16th St, SF

The Supreme Court has lurched to the right. How can we take it back? Here to discuss are Kate Kendell, formerly from the National Center for Lesbian Rights and Aaron Belkin, from the Palm Center. They've formed a new organization - Take Back the Court.

10/02 - Int'l Dao of Non-Violence, World Cerebral Palsy Day, National Walk to School Day, National Pumpkin Seed Day, National Coffee with a Cop Day

10/03 - National Boyfriend Day, National Techies Day

10/03 - Remembering a Police Riot - The Castro Sweep of 1989, 7 PM – 9 PM, The GLBT Historical Society, 4127 18th Street (Between Castro and Collingwood), SF

On Friday, Oct. 6, 1989, San Francisco police responded violently to a small, peaceful ACT UP march protesting government neglect of people with AIDS.

Nearly 200 San Francisco Police officers — half of all those on duty — invaded the Castro district for more than three hours, beating activists and passersby, systematically sweeping all pedestrians from seven city blocks and placing thousands in businesses and homes under virtual house arrest.

The Castro Sweep remains the single most massive police attack on LGBTQ people and people with AIDS in the history of San Francisco. To mark the 30th anniversary, a panel of veteran activists will recount their memories of the sweep and its aftermath and will discuss the evolution of relations between the SFPD and the LGBTQ community.

photo by Marc Geller

10/04 - World Animal Day, National Vodka Day, National Taco Day, National Body Language Day

10/05 - Astronomy Day, World Teachers Day, National Get Funky Day, National Do Something Nice Day, National Apple Betty Day

10/05 - What White People Don't See - Applying the Lens of Privilege, 10 AM – 1 PM, Movement Strategy Center, 436 14th St, Oakland

This workshop offers those who are new to racial justice work an opportunity to reflect on and analyze the role that whiteness has played in their lives. Through individual, small-group, and whole-group activities, participants will be invited to:

*Reframe racism as a system, rather than a product of individuals who are "good" or "bad" *Reflect on how their own racial identity has influenced their experiences in the world *Create a plan for taking at least one action in their own lives to deepen their commitment to racial justice

If you have promos, pluggers, gig info, an art opening, etc, send me an email. The address is mfunkyzine@gmail.com. And bands, artists and poets - download links, no attachments, please, and no promises...

[Grid Practice] - 22:50

Project Reset

Ok, In Grid Practice,

I decided not to screw with my magnetically quenched spark gap, so I just separated the project boards. I cut the wires from the bridge rectifier, removed the breadboard circuits, moved the power switch over, yada-yada.

Now I gotta give a disclaimer to the cover pic for this episode - If you're playing along at home, please do not put power to this setup with a modified sine wave inverter, it's an obvious mockup as a visual aid. If you have a spare AC battery charger, be my guest, but I don't like the magic blue smoke...

Anyway, to make damn sure of my components, I double-checked the datasheets for my inverter and AC charger. The inverter sheet says it's a 'simulated sine wave' model, but that's like calling naughehide 'Mercedes Leather', and nowhere did the charger sheet specs explicitly say 'modified wave is OK.' So much for that. I could put it on the oscilloscope just to be sure, cause the term 'simulated' is going around...

A more expensive option is to get a 12V DC - DC battery charger, as in much more expensive. But, recently the solar company Renogy came out with a 20A and 40A DC - DC charger, starting around $120. Not bad...

I did go to the auto store for a few 5A fuses cause for this circuit I'm not using the regular 10A fuses. The store didn't have any pure sine wave inverters, but I don't expect to get a deal in town anyway. I'm gonna use a busbar for the common ground, and I found a twist on the dummy load idea.

The free energy community has apparently been kicking this method around the last few years, some using a 'split the positive' connection to the power inverter, as in the 'B' battery positive connected to the inverter negative, no dummy load, no line to common ground. Interesting...

[One More Tune] - 25:53

Ok, for this week's One More Tune, we close out with The Delorian - Poppa Neptune, A bunch of Iowa boys trying to make a little acid jazz to bring back the old school with a little bit of new school. Found links at FB, Rev. and Soundcloud, most recent dates to back to 2015...

[song] - 26:21

Well, OK.

[Closing] - 31:06

Hey, this show is a 1223studios joint.

I'm on Spotify, Tunein, Stitcher, Google Play, iTunes, Internet Archive, PlayerFM, Listen Notes, Podknife and Mixcloud. Show notes are on the podpages. Send email to mfunkyzine@gmail.com.

If you like the show, tell your friends, and, by this time next year, as the election season wil be in high fever pitch, I hope I can only count on one hand the number of political campaign shootings committed by a goddamn redhat snowflake...

Show themes "Rocket Power" & "Spy Glass" by NY musician and composer Kevin MacLeod. Some additional audio from freesound.org.

Next episode is set for Friday Oct. 4th..

I'm Larry, trying hard to stay chill at my garrett in the Mission, and this is Magnetofunky, from San Francisco, where we go through, not into, the darkness.