Trick or Treat from PG&E

Episode Transcript. Length - 40:11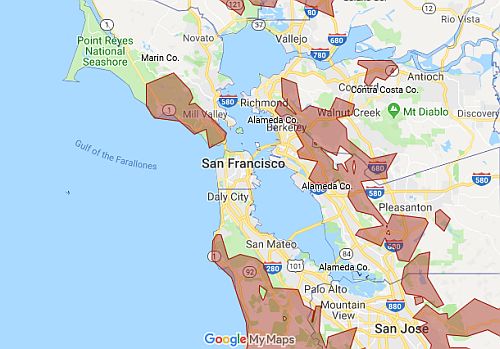 Magnetofunky No. 142. It's Friday, October 11th, 2019.

[intro theme]

Hey. Larry here. This week the action is all around the Bay - the forced blackouts, an early Halloween present from Pacific Gas & Electric, and if they can do it, I can do my horror show early, curating tunes from unsignedbandweb and Reverbnation...

[song] - 00:54

Ok, that was Monster - DTFamous, a Hip Hop / Rap / New School trio from Millsboro, DE, found at Rev., officially retired 2018 according to their FB page. Since I did a Halloween keyword search at the two music directories, the tunes are mostly blasts from the past. Anyway...

This is a laid back (and often explicit - you bet your ass) weekly international podzine of extremely eclectic music and progressive politics, with a focus on energy independence for the 99%. My podpages are 1223studios.com/mfunky.h and facebook.com/1223Studios.

[Grid Theory] - 05:31

Dancing Grid Downs

In Grid Theory,

This week the chaotic action is all outside the lab, with Pacific Gas and Electric's forced outages across the Bay Area (everywhere except the city of SF) is a sad and expensive spectacle of overcautious corporate housekeeping and revenge on the state that frankly wants to turn it into a utility, meanwhile Wall Street gunslingers are in Sacramento brandishing stacks of cash and making threats while stuffing Democratic and Republican pockets. This kinda crap is exactly why everybody should have some kind of emergency power, even if it's just for your phone.

The Bay Area has a clear view now of what a single day Level 3 Grid Down can do - gas stations down, medicine spoiled, medical equipment down, etc. Compare that to the estimated 5 days of chaos PG&E has planned. Here's a money quote lifted from an article by Chronicle writer J.D. Morris:

Sonoma County Supervisor Shirlee Zane, whose Santa Rosa district was heavily impacted by the October 2017 Tubbs Fire, voiced extreme frustration with PG&E on Tuesday.

"The ramifications of not having electricity for five days is a full-blown crisis that is being manufactured, honestly, to maintain their corporate bottom line so they can avoid liability," Zane said. "It's immoral what they're doing."'

This ain't the last one either - within the next couple years, expect to see more and larger heat-related power outages. And the next time they pull this crap, the city itself will be the target---- [bell]

Ok, the little bit of labwork coming up in a bit...

[Back To The Stage] - 08:15

Ok, Back to The Stage, continuing the seasonal selections with Ghoul Grunge - Crispy Dead, a Rock band out of Valencia, in SoCal, last posted on FB in 2012, then it's Wrong Eyed Jesus - GERM BOMB, from Sweden, recorded in September 2009 in Gothenburg on a 24 track tape recorder. They last checked in at unsignedbandweb in Nov 2010.

Then it's Witch! - Slow-Fi, an Electronica artist in Columbia, MO, who loves video games, fine smokeables, liquor, and guns. 'Merica! This tune has a current FB link that goes to novelist Blaize Oldham. Cool...

And closing out with Haunted - Concrete Theory, a 5 piece modern rock band from Lexington, North Carolina that had a big following and radio play on the east coast and the UK, but they last checked in in Oct 2006...

[songs] - 09:38; 14:26: 16:10; 19:19



["Geeknotes"] - 24:24

Geeknotes: 10/14 - Indigenous Peoples Day, Yerba Buena Gardens Festival, SF, 10/18 - The 4th Annual Environmental Equity Summit at Cornerstone, Berkeley, 10/19 - Poetry Pentathlon 2019, The Book Cellar, Chicago

Hey, Geeknotes!

It's finally Friday, the Blue Angels are buzzing the city during Fleet Week, but with the Bay Area just beginning to recover from the forced blackout, I don't think it's much of a distraction from the horrible mess piled on top of all the other horribles going on, like Orange Queenie giving Turkey free reign to massacre the Kurds in Syria in return for something we'll discover much later, as our own troops get caught in the crossfire, meanwhile more of our troops are being given to the frickin Saudis to play with (also in return for something we won't like), specifically to MBS (who shall be referred to henceforth as 'Prince Bonesaw'), because if P-Grabby can't provoke Iran to start the next big Middle East war, Turkey and the House of Saud can do it, because two anonymous missles striking an Iranian oil tanker aren't enough.

Meanwhile, Deutsche Bank claiming they can't find Trump's paperwork is as weak as the Dallas police claiming Joshua Brown, the murdered witness against killer cop Amber Guyger was a typical black drug dealer killed over some goddamn weed.

Meanwhile, President Double Down Dickhead has nowhere to go except to call for open Civil War now that he's ramped up the pace of self-impeaching, and making sure his VP and half the Cabinet can't jump ship when it finally goes down. And even though he still can't be bothered to pay the mounting tab for his many Nazi rallies, Rep. Ilhan Omar should nontheless send him the bill for the bulletproof headscarf and vest she should be wearing at all times.

Anyway, that's enough fuming, let's run a few dates...

10/13 - Navy Birthday, Pastor (and Clergy) Appreciation Day, National No Bra Day, National Train Your Brain Day, National Yorkshire Pudding Day

10/14 - National Dessert Day, Be Bald and Be Free Day, National Online Bank Day, National Kick Butt Day

10/14 - Indigenous Peoples Day, Free Program, 12 PM – 3:30 PM, Yerba Buena Gardens Festival, SF

Indigenous Peoples' Day at Yerba Buena Gardens Festival with Native American art, music and vendors. Jonathan Cordero (Ramaytush Ohlone) begins the celebration with an opening and land acknowledgement.

10/15 - White Cane Safety Day, Int'l Day of Rural Women, National I Love Lucy Day, National Latino AIDS Awareness Day

10/16 - Boss' Day, World Food Day, National Dictionary Day, Hagfish Day, Medical Assistants Recognition Day

10/17 - World Day for Poverty Eradication, National Mulligan Day, Black Poetry Day,

10/18 - Alaska Day (AK), National Chocolate Cupcake Day, National No Beard Day, National Mammography Day

10/18 - The 4th Annual Environmental Equity Summit at Cornerstone, 7 PM – 10 PM, Cornerstone Craft Beer & Live Music, 2367 Shattuck Ave, Berkeley

The Environmental Equity Summit is a bold platform for representation and activism that elevates and amplifies the voice and power of people of color as leaders in the environmental justice movement. Participants come together to share experiences and discuss steps to diversify the Green Movement as well as providing a platform to discuss the specific needs of vulnerable communities. This event will foster collaboration between large ENGOs and smaller grassroots environmental justice groups so that the needs of underserved communities who are most impacted are better represented.

The full schedule is on the FB page..

10/19 - Sweetest Day, National Seafood Bisque Day

10/19 - Poetry Pentathlon 2019, 6 PM – 8:30 PM CDT, The Book Cellar, 4736-38 N Lincoln Ave, Chicago

The Poetry Pentathlon is a chance to show what you've got in a head-to-head competition judged on word-smithing skill and presentation. If you're in town, drop in, but, the Pentathlon runs on real time rather than poetry time; get there early, and buy something for the venue. All the info on the FB page...

If you have promos, pluggers, gig info, an art opening, etc, send me an email. The address is mfunkyzine@gmail.com. And bands, artists and poets - download links, no attachments, please, and no promises...

[Grid Practice] - 31:27

More Parts is Parts

Ok, In Grid Practice,

While waiting for the pure sine wave inverter, I'm considering using the spark gap section to make a Jacob's Ladder instead of a bigger Tesla coil, but instead I'm starting the design of the more permanent control panel, which will only comprise the battery switches, power switch, load tap terminals and the common ground busbar. I have an enclosure for it and a few toggle switches will do, but with the current blackout affecting Berkeley, I'm not even going to the shop (no,I didn't call to see if they're open).

Instead I focused on the charge controller, the part after the boost-buck converter on the load tap side. Since I'm using a steady dc source instead of a fluctuating solar panel, it's possible to use a pwm model as an alternative dc-dc battery charger. I saw a video where a guy used the 12v outlet from his vehicle as an imitation solar panel to a charge controller to an RV-style house battery. Another spotter used a buck converter with charge controller to charge a smaller battery with a larger battery.

Since the issue of pwm vs mppt is a moot point in my application, I can go with a cheap brand name model...

What I settled on is a 10a 12v 100w solar charge controller for about $20 that will do for my project, but for a practical everyday system I'll bump that up to at least 30a, which gives me the option to connect my planned 600w power inverter to it instead of my eventual house battery, that way the battery wouldn't be tapped if I run an appliance from the inverter while the power plant is running. Now there's considerable debate over where you connect the inverter, but only if you're running a heavy load system (1kv and up inverter). And, a single 600w inverter won't strain a 100ah house battery no matter how I hook it up.

Anyway, the other question I have concerns the capacity of the power plant batteries in relation to the house battery, if there is one. To answer that I'm gonna try an 18ah house battery, a 4.5:1 ratio to my dinky 4ah test units. If that works (meaning the boost-buck converter doesn't kill the run battery), that would be amazing...

[One More Tune] - 35:10

Ok, for this week's One More Tune, we close out with a twofer from an outfit called Toxic Pulse Music, from somewhere in the uk, no bio or other links, last checked in Sep 2010. We got a pair of short smoking beats - Soft Revolution/Devil Claws...

[song] - 35:35

Well, OK.

[Closing] - 38:31

Hey, this show is a 1223studios joint.

I'm on Spotify, Tunein, Google Play, Stitcher, iTunes, Internet Archive, PlayerFM, Listen Notes, Podknife and Mixcloud. Show notes are on the podpages. Send email to mfunkyzine@gmail.com.

If you like the show, tell your friends, and, everybody's all uptight about P-Grabby refusing to leave after he loses the election, but in the hood, when you refuse to leave your rental after being righteously evicted, the sherriff comes in, removes the front door and sets all your shit out on the sidewalk. In this case, the White House furniture stays so only Trump's stank ass family and glad rags get carted out, but do check the luggage for silverware afterwards...

Show themes "Rocket Power" & "Spy Glass" by NY musician and composer Kevin MacLeod. Some additional audio from freesound.org.

Next episode is set for Friday, Oct. 18th.

I'm Larry, trying hard to stay chill at my garrett in the Mission, and this is Magnetofunky, from San Francisco, where we go through, not into, the darkness.