Political Treats and Tricks

Episode Transcript. Length - 40:53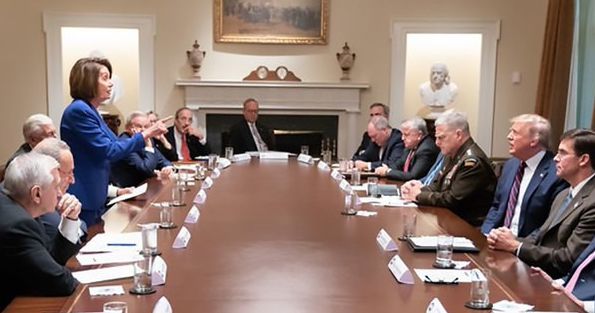 Magnetofunky No. 143. It's Saturday, October 19th, 2019.

[intro theme]

Hey. Larry here. This week the action is still all around the Bay and in DC - the Impeachment BBQ is getting hot and we had two east bay quakes adding to the seasonal spirit. Anyway, this week the music is another selection of red hot keywords...

[song] - 00:55

Ok, that was Abandoned - The Program, an artist from Dallas, TX, delving in Electronica / Trance / DubStep. I picked it for the Kurds who've been abandoned for real by P-Grabby The Great, kow-towing to Turkey (a country that fought WITH the Nazis during WWII). Nice hard tune, and I got another one from The Program later...

This is a laid back (and often explicit - you bet your ass) weekly international podzine of extremely eclectic music and progressive politics, with a focus on energy independence for the 99%. My podpages are 1223studios.com/mfunky.h and facebook.com/1223Studios.

[Grid Theory] - 05:32

Capital Crises

In Grid Theory,

This week is pretty much like last week, except that the forced blackout was replaced by the pair of local earthquakes keeping the anxiety level at yellow alert and increases the urgency to find my vehicle. I'm letting go of the Dodge Grand Caravan and the Chevy Suburban, and for a full size van, no more passenger models, I'm looking at cargo vans in decent shape with metal shelves and a bulkhead even, that leaves just the Toyota Sienna, because in further research and videos with boondockers, I learned that most western boondocking land is able to accomodate cars with 4 in. of ground clearance. The Sienna is 5.9-6.9 in. I also compared the cargo volume of the 2005 Suburban to the late-90s - 2003 Siennas. The Suburban has 131.6 to the 4 dr. model Sienna's 133.5 cu.ft. As long as I avoid deep ruts and deep mud (and put skid plates on the vehicle), I'll take that extra 4-5 mpg...

This segment is also part rant due to the current crises both in the DC Beltway and in Sacramento starting to accelerate, what with Orange Queenie now blantly self-impeaching so the Senate can hurry up and spring him as soon as possible next year, then claim a double jeopardy mulligan on the continuing crimes 'you can't impeach me twice for the same thing' Uh huh... Losing Rep. Elijah Cummings is a reminder of all the people who won't be around to see the end of this sorry chapter of American history, the many people the orange rat bastard will never apologize to when he eventually resigns to avoid an orange jumpsuit.

Meanwhile here in Cali, people are still recovering from the revenge blackout. The title I saw on a blog the other day says it all - 'Bankrupted PG&E rejects San Francisco's bid to buy back the power grid.' Apparently $2.5 billion wasn't enough for the hedging investors or the overstuffed executive bonus babies to bail out of the business and admit to failure. Hell no, the money's too good and none of the executives have gone to jail yet, right? And after the whole rotten mess with Enron back in the day, if PG&E goes backrupt again, that just means the stock is ripe for the picking and buybacking until the price goes back up, cause the might-as-well-be-a-monopoly utility has to be protected by the state no matter how badly its run.

Meanwhile, I think solar panel, battery and generator purchases are continuing in the Bay Area, cause the next blackout is like the earthquakes - a matter of when, not if--- [bell]

Ok, the little bit of labwork coming up in a bit...

[Back To The Stage] - 09:40

Ok, Back to The Stage, continuing the hard political seasonal selections with Treason - The Class Assassins, Punk Rock outfit from Toronto. They've been favourably compared to punk rock standard bearers Bad Religion, The Angelic Upstarts, Sham 69 and The Clash. Cool...

Next it's collusion - RECREATE, a Melodic Hardcore Punk band from Malaysia 2011 - 2015. I should mention that a few F-bombs are scattered throughout the two sets, otherwise crank it.

[songs] - 10:28; 15:06

[Second Set] - 18:38

Ok, next up we have some Texas rap - Betrayed - Jamie Green the Pothead, One of the Realest MC's coming out of the DFW Metroplex, Embodied by that Southern Rhythm & Soul that has helped shape the Texas Rap Genre.

And we wrap up with a Hard Rock piece from early this year - Time To Impeach ft The Whispy Fescue - Gab Session Studios. This was a recording session at the studio in Forest Grove, OR. The songs were co-written mixed and or, musically backed by Marty Robbins and John DeLorme. Crank this one because it's not worksafe...

[songs] - 19:32; 22:07



["Geeknotes"] - 25:54

Geeknotes: 10/20 - Afro Comic Con, SAE Expressions College, Emeryville, 10/22 - Book Talk - The Lie of Global Prosperity, The Green Arcade, SF, 10/25 - Critical Mass, Justin Herman Plaza, SF...

Hey, Geeknotes!

Ok, no rant here, just doing some housekeeping...

I have finally officially had it with goddamn FB and Z-Dog, for reasons everybody knows, and for the shit that's coming that he's openly bragged about. Instead of grumbling about it on FB, I've already downloaded all my data today in both HTML and JSON, this is the last episode I'm posting on FB and I'm putting up a notice to inform my FB friends for a week then I'm deleting the account. I've already signed up to one alternative social media site (MeWe) but I suspect I might have to spread my contacts out to like Twitter, Pinterest or LinkedIn, but not Instagram (funny thing, lots of people send me tweets but nobody reads mine)...

Anyway, anybody who only checks out the show on FB should subscribe or get it from iTunes, Spotify or your favorite podcatcher.

That said, let's run a few dates...

10/20 - National Youth Confidence Day

10/20 - Afro Comic Con, @ SAE Expressions College, 6601 Shellmound Street, Emeryville

. We highlight people of color in the arts/media/entertainment & comic art industries. We have Artists, Workshops/speakers & Panels, Special guests, Cosplay, Mini-film festival, Costume contest/fashion show, gaming/VR, theme rooms and much more.

Sunday is Free Kids Community Day, 11am - 4pm

10/21 - Apple Day, National Pumpkin Cheesecake Day

10/22 - National Nut Day

10/22 - Book Talk - The Lie of Global Prosperity, 7-8:30 p.m., The Green Arcade, 1680 Market Street, SF

Seth Donnelly's new book The Lie of Global Prosperity: How Neolilberals Distort Data to Mask Poverty and Exploitation deconstructs the assumption that global poverty has fallen dramatically, and lays bare the spurious methods of poverty measurement and data on which the dominant prosperity narrative depends. Donnelly analyzes just how global poverty, rather than being reduced, is reproduced by the imperatives of capital accumulation on a global scale, and since capitalism is rooted in exploitation and plunder, how human poverty cannot be effectively eliminated by neoliberal "advances." Donnelly will be in conversation with Pierre Labossiere of the Bay Area-based Haiti Action.

10/23 - National Boston Cream Pie Day, Swallows Depart from San Juan Capistrano Day, iPod Day

10/24 - United Nations Day, National Bologna Day

10/25 - National Greasy Food Day, National Frankenstein Friday, Chucky, The Notorious Killer Doll Day,

10/25 - Critical Mass, Justin Herman Plaza, 1 Market, San Francisco Union Square/ Financial District

Thousands of cyclists take to the streets en masse for a (mostly) friendly ride to protest the automobile's stranglehold on the road.

If you have promos, pluggers, gig info, an art opening, etc, send me an email. The address is mfunkyzine@gmail.com. And bands, artists and poets - download links, no attachments, please, and no promises...

[Grid Practice] - 31:07

Inverter Wave Tester

Ok, In Grid Practice,

There's only a bit of labwork during the week, designing the Benitez-8 control panel module and building a circuit for reading the waveform of my 160W power inverter.

For the control panel I have the scrap board from the Benitez-7 switch. The components are small enough to mount on this project board, and the whole thing is small enough to fit in an old milk crate. Cool...

Now the easest way to check for pure sine is to plug in a fan and see how the motor runs - if it's rough in any way that's modified sine wave, not pure. I want to see the actual wave, so cue the oscilloscope.

I found a 2014 video from a spotter with the handle 'vuaeco' testing a modified and a pure wave inverter, demonstrating dangerously how to connect the oscilloscope probes to a suicide cord (a power cord with a plug going to exposed wires). The guy said he'd rather use a step-down transformer to drop the high voltage to 12 - 24, 30v. Ok, I have a 115 to 12v step-down transformer, so I hooked it up to a lamp cord and that's the inverter wave tester. I took a voltage reading of 14V AC off the transformer, then connected the probes. You can see in the lab notes pic what kind of rough modified sine wave I got - only one step between the trough and the peak. Really dirty electricity, even though my laptop works on it.

Meanwhile on the output side I saw a real difference in how the DC-DC converter/imitation solar panel could work. Because it's a steady 18V at 5.5A and not fluctuating like a real solar panel, you could do without the charge controller and house battery and go directly to a power inverter, something you'd never do with a real panel. The idea of real time AC with no house battery at all is extreme, but you can test it. Just by running this circuit at night you'd outperform a real solar panel.

I'm interested in what the 150W PSW inverter will show me, how close it'll be to what the vuaeco video showed - a very modified wave with 20-30 steps between the trough and the peak, instead of a smooth sine wave. But I'm might have to wait until after Halloween to find out...

[One More Tune] - 35:11

Ok, for this week's One More Tune, we close out with Human Rights Deactivist - The Program, damn nice piece, and the title suggested to me that this might be the only prize he deserves...

[song] - 35:31

Well, OK.

[Closing] - 39:07

Hey, this show is a 1223studios joint.

I'm on Spotify, Tunein, Google Play, Stitcher, iTunes, Internet Archive, PlayerFM, Listen Notes, Podknife and Mixcloud. Show notes are on the podpages. Send email to mfunkyzine@gmail.com.

If you like the show, tell your friends, and, here's a radical idea - stop playing defense and bring back an organizing tool that energized the political landscape - bring back ACORN. Everybody knows now a manufactured scandal killed it, so use that a rallying cry to reform to fight against the voter suppression going on right now, not just next year. ACORN 2.0. And to hell with being called 'socialist' anything - I'll take a socialist over a nazi any damn day of the week...

Show themes "Rocket Power" & "Spy Glass" by NY musician and composer Kevin MacLeod. Some additional audio from freesound.org.

Next episode is set for Friday, Oct. 25th.

I'm Larry, trying hard to stay chill at my garrett in the Mission, and this is Magnetofunky, from San Francisco, where we go through, not into, the darkness.