The Full Monty DC Set

Episode Transcript. Length - 38:26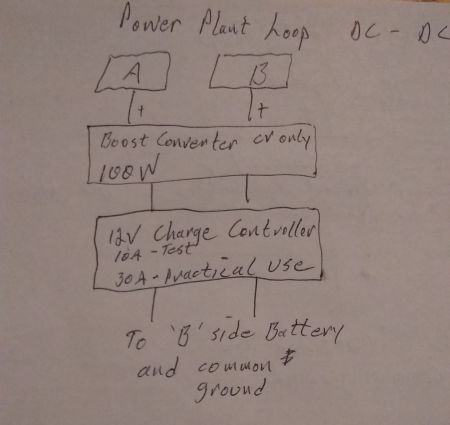 Magnetofunky no Magnetofunky No. 145. It's Saturday, November 2nd, 2019.

[intro theme]

Hey. Larry here. This week I'm still treading water waiting for my circuit components, but at least I have the design stripped down to its essentials. Meanwhile, the music is another Aussie spring celebration of eclectic fresh beats...

[song] - 00:48

Ok, that was Spangula - Marmaleene and the Moondusters, a Rock band in Brisbane delivering Voodoo Spaghetti Twangy Psychedelic Surfbeat, since I haven't played any surf music in a while. Anyway, all the tunes come from the charts at the site Triple J Unearthed.

This is a laid back (and often explicit - you bet your ass) weekly international podzine of extremely eclectic music and progressive politics, with a focus on energy independence for the 99%. My podpage to listen or subscribe is 1223studios.com/mfunky.h.

[Grid Theory] - 05:59

Power Loop Strip Down

In Grid Theory,

As the wildfire/forced outage situation continues around the Bay Area, I spent another couple days looking at the high price of the PSW inverters, and admitting that after the experiment, it'll be the most expensive and inconvenient point of failure in actual use. I mean, sticking with the inverter here means having to have one as a spare, and buying another 2-3 AC chargers for each time you change the capacity of the 2 batteries to find the ratio to the house unit, but, a couple DC controllers covers that spread for much less cost and frankly less voltage drop. So to save time and aggravation, I'm gonna just use a second charge controller to the 'B' side battery. But, this controller needs to see a steady higher voltage just like the one to the house battery, so I decided on a 10A Boost Converter with only a CV potentiometer to set the output at 14.4V, should be enough.

Now I'm window shopping for a model with only has CV control, more leery of the online stores - ain't found it yet, but I did re-order a couple charge controllers --- [bell]

Ok, I'll cover the other part of the updated circuit in a bit...

[Back To The Stage] - 08:06

Ok, Back to The Stage, continuing the eclectic Aussie Spring mix with River Dry - Budjerah, a 17yr old Roots music singer-songwriter from Fingal Head, Northern NSW, a small surfing town, just near the Gold Coast. Next is a hard number - Bother Me - Drastic Park, a 3-piece Punk Rock band from the outer suburbs of Melbourne, heavily influenced by the early 2000s Punk Rock sound, currently working on a soon-to-be-released EP...

[songs] - 08:45; 11:48

[Second Set] - 15:02

Ok, two more tunes - Crawl The Night another hard rock piece by Bare Bones, a 5 piece punk rock band formed in 2013 in Sydney, with two released EP's 'Villains' (2013) and 'Cut Throat Living' (2014). And then You Said, the new single by Altai, an Indie outfit in the Mid North Coast, NSW, led by multi-instrumentalist and vocalist Tessa Hayes. Nice...

[songs] - 15:42; 18:54



["Geeknotes"] - 22:15

Geeknotes: 11/03 - Impeachment, mass protest & the urgency to end the Trump Pence regime, Unitarian Universalist Society of San Francisco, 11/08 - Collisions SF Opening Night with Filmmaker In Person, Roxie Cinema, SF, 11/09 - 3rd i's San Francisco International South Asian Film Festival 2019...

Hey, Geeknotes!

Ok, had to wait for all the week's news to drop - Beto O'Rourke's dropping out of the Democratic Thunderdome, the Keystone pipeline already spilling tar sands crude, and the GOP minions in the Senate already promising that any articles of impeachment will be automatically DOA, seein as the jurors are all members of the gang being prosecuted. Jury nullification, anyone? Meanwhile, don't be surprised if we see another gov't shutdown or a phony 'Reichstag fire' assassination attempt to derail impeachment and cancel the election - cause what else is left for Double-Down Dickhead...

Meanwhile, as parts of Cali are burning in the dark and talk of taking over the investor-owned utility are increasing, it's starting to smell like PG&E may be leaving SF off the power outage map as part of a long con... imagine six months from now it leaks that the power bosses got the state gov. to go easier on the punishment and penalties for PG&E in return for leaving SF alone. That would be a huge monkeywrench thrown into whatever solidarity exists in the Bay Area as a center of independence from P-Grabby.

Meanwhile, for those in the forced blackout counties, if you have a car and know how to hook up the battery to a 1000W inverter, with the car idling, that's enough imitation solar to keep your fridge running for hours; you can McGyver a car usb plug and a 9V battery to charge your phone, and in a pinch, even bleach batteries can keep a phone going. And having an emergency crank radio could be a lifesaver. Nobody wants to say it, but welcome to the new normal, only thing missing will be a formal west coast split from the shithole country a re-elected and impeached P-Grabby would bring, if enough liberals don't get off their asses playing Fortnite and go vote. Anyway, I'm gonna go prepare to be a pollworker next week, so let's run a few dates...

11/03 - National Housewife's Day, National Sandwich Day, DST ends

11/03 - Impeachment, mass protest & the urgency to end the Trump Pence regime, 9:30 AM - 11:00 AM pst, Unitarian Universalist Society of San Francisco, 1187 Franklin St. at corner of Geary, SF

In this panel discussion, speakers from Refuse Fascism and Vigil for Democracy, Barry Thornton and Dr. Amy Morgenstern will present why they think the street protests that have begun across the country led by their respective organizations can and must grow exponentially so that the power of a mass upsurge from below can bring an end to the Trump Pence government at the earliest possible time.

11/04 - National Candy Day, National Stress Awareness Day

11/05 - National Doughnut Day, National Love Your Red Hair Day, , ,

11/06 - National Nachos Day, Saxophone Day, World Day to Protect the Environment in War

11/07 - National Bittersweet Chocolate with Almonds Day

11/08 - National Cappuccino Day,National Harvey Wallbanger Day, National Parents as Teachers Day, National STEM/STEAM Day

11/08 - Collisions SF Opening Night with Filmmaker In Person, 7:00 PM - 9:00 PM pst, Roxie Cinema (3117 16th Street, SF)

Written and directed by Bay Area filmmaker Richard Levien, COLLISIONS is a moving drama that reveals the devastating impact of U.S. immigration policy on one family when the mother is detained by ICE.

11/09 - National Scrapple Day

11/09 - 3rd i's San Francisco International South Asian Film Festival 2019, 12:30 PM - 10:30 PM pst

Come celebrate 3rd i's seventeenth annual SF International South Asian Film Festival (Bollywood and Beyond) with some of the best cinema from India, Sri Lanka, UK and the USA. This year's festival lends an ear to Young voices, capturing both intergenerational relationships, and stories of youth coming-of-age in rural areas and in megacities. For expanded program and ticketing information, please visit: http://www.thirdi.org

November 7-10, New People Cinema and Castro Theatre, San Francisco November 16, Palo Alto Arts Center, Palo Alto

If you have promos, pluggers, gig info, an art opening, etc, send me an email. The address is mfunkyzine@gmail.com. And bands, artists and poets - download links, no attachments, please, and no promises...

[Grid Practice] - 29:53 Phantom Solar

Ok, In Grid Practice,

Well first, an update on the buck converter I talked about last week. No, 100W ain't enough, so I'm going with a 200W model for the crackerbox 150W inverter. I saw on the Google plenty of 600W, 1000W and higher charge controllers and DC-DC converters, so upgrading parts and keeping spares won't be a pain in the ass on this side.

The lab notes pics includes my updated diagrams for the power plant side and the load tap side, the 'phantom peak solar' boost buck converter with parallel outputs to a house battery line and an inverter line. The remaining pieces would be a small 20-60W solar panel trickle charger for the house battery, and maybe one or two other components thst don't come to mind right now.

Anyway, at this point I'm in the full monty cha-cha-cha feedback loop and might be here for the whole month - I'm giving the online stores exactly 7 business days to ship my items after taking my money before cancelling and starting over. I just wish the Berkeley shop had DC converters...

[One More Tune] - 32:59

Ok, for this week's One More Tune, we close out with Unholy (Feat. Camille Foley) - Surf Dad, a Dance, Electronic, Pop band in Central Victoria, AKA the brothers George and Declan Sands. Enjoy...

[song] - 33:21

Well, OK.

[Closing] - 37:07

Hey, this show is a 1223studios joint.

I'm on Spotify, Tunein, Google Play, Stitcher, iTunes, Internet Archive, PlayerFM, Listen Notes, Podknife and Mixcloud. Show notes are on the podpages. Send email to mfunkyzine@gmail.com.

If you like the show, tell your friends, and, if the real world was a James Bond movie, Mark Zuckerberg (alias Z-Dog) would be the most suitable pick for Blofeld, just another reason to cancel FB...

Show themes "Rocket Power" & "Spy Glass" by NY musician and composer Kevin MacLeod. Some additional audio from freesound.org.

Next episode is set for Friday, Nov. 8th.

I'm Larry, trying hard to stay chill at my garrett in the Mission, and this is Magnetofunky, from San Francisco, where we go through, not into, the darkness.