Make It Campervan Simple

Episode Transcript. Length - 43:15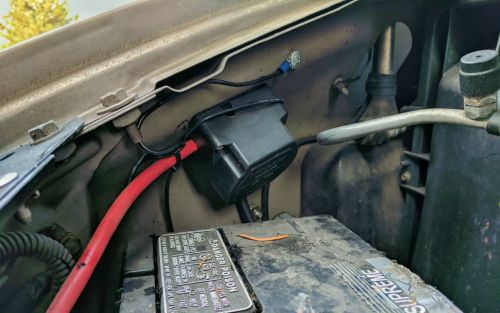 Magnetofunky No. 147. It's Friday, November 15th, 2019.

[intro theme]

Hey. Larry here. This week the parts logjam is done, as in all the slow boats from China have come in and I can get on with setting up the Benitez power plant project board. Meanwhile, the circuit has been further simplified to work in a camervan. The music is all submitted and came this close to being a showcase for a single Bay Area band - this one...

[song] - 01:01

Ok, that was Cool Beans - TREZ MASCHINE, a Punkadelic Power Trio whose members have been players in the Bay Area's scene for the last 25 years. Take, Primus, Radiohead, Rush, Queens of the stone Age and maybe some Chilli Peppers, and you get in the ball park of their punkadelic sound. More on the band in a bit.

This is a laid back (and often explicit - you bet your ass) weekly international podzine of extremely eclectic music and progressive politics, with a focus on energy independence for the 99%. My podpage is 1223studios.com/mfunky.h. My new Twitter handle is @Magnetofunky.

[Grid Theory] - 05:24

Smart Solenoids

In Grid Theory,

As I keep checking out the sizes of the Toyota Siennas and Chevy Astros around the neighborhood and still not convinced a 6-ft. cot will fit, let alone my Benitez-8 system with its three full size batteries, and if my house battery is emergency-only power, I save space by not connecting it to the power plant - it's simpler to just put it up near the front seats and hook it to the electrical system with a smart solenoid isolator. As long as the vehicle runs it'll charge.

Now, with the Benitez-8 power plant just running an inverter, it eliminates the need for the 200W buck converter (and I can use it along with the 1.2kW boost converter in the scaled up circuit). This makes the project board output circuit Load Taps - Boost-Buck Converter - Charge Controller - 12V outlet - 150W Inverter. Cool.

I also wondered about how to account for the possibility that the losses within the two batteries cycling might be more than a charging cycle can handle. Yeah, you got 5, 10, 20W solar trickle charger/USB systems for lifeboat power (I still wanna get one), but that'll help only if I have the luxury of sitting with my thumb up my ass in a non-running vehicle for the three or four days of good sun it would take to charge up a deeply discharged car or house battery (worse case). As long as the vehicle runs I could just go outside the box and try this - two battery isolators. The wire that normally goes to an isolator instead goes to a three-banger busbar, one lead going to the house battery solenoid, the other lead going to the power plant solenoid, different models with ratings for 100Ah and 35Ah, just run that positive lead to whichever the 'A' battery is that needs to be topped off while driving; when done disconnect the line from the battery and the solenoid input busbar.

Yeah, I looked and looked online and this is definitely outside the box, but it should work---[bell]

Ok, in a bit, the last of my parts arrived from their magical mystery tour...

[Back To The Stage] - 08:50

Ok, Back to The Stage, continuing the indie set/showcase with Little Sighs by TREZ MASCHINE. This song, like the lead-off, comes from the latest release and second album. The band members are Gorden Mack (Guitar), Brian Kenney (Bass) and Kyle Malone (Drums).

Next up we have FADING OUT (NEW Mark Needham Mix) - Rocket, So Cal Alternative Rock / Pop Punk band, acclaimed as one of the "BEST BANDS TO CATCH" by CBS LOS ANGELES. Their hot single Giants was in fact featured in show no. 79 - Next gig is tomorrow night the 16th @ The Whisky A Go-Go in W. Hollywood, with The Atomic Punks in a Tribute to Van Halen!

[songs] - 09:57; 14:54

[Second Set] - 18:05

Ok, next up we have a second submission by SF aspiring singer/songwriter/producer of electronic rock kenny hwang, under the handle xilefuniverse. The new number has a long strange title I've shortened to 'Fls/Test 11 10/With Bridge.' You can find it on his soundcloud page.

And we wrap up with another TREZ MASCHINE pick from their new album Disinterest. And BTW, they just finished a 2-hour set a couple nights ago in Capitola at the Sand Bar. Check their website w.trezmaschine.com/ for upcoming gigs...

[songs] - 19:00; 22:13



["Geeknotes"] - 28:48

Geeknotes: 11/17 - Church of the Open Mic - Chapter 510 Edition, Oakland, 11/20 - Trans Women and Trans Femmes' Support Circle, Oakland LGBTQ Center...

Hey, Geeknotes!

Ok, I'm not gonna waste breath on the expected impact of the first week of Impeachment hearing testimony - we all have our own sources for reasoned analysis, gossip, or the Nazi Channel doing their best to throw shit on the wall hoping something sticks for their rabid captive audience. What about the 70,000 brown children disappeared into white supremacist shadows to be raped, sold or chained up in the basement of some rich asshole pining over the good old days? What about the deported veterans? What about Turkish strongman Erdogan coming to the White House for the express purpose of rick-rolling P-Grabby (and just what does he have on the first son-in-law?)

Meanwhile, former NY Mayor Michael Bloomberg and former Mass. Governor Deval Patrick can both kick rocks about entering the Democratic Thunderdome at this late date (like sneaking into a marathon halfway) - neither one of you Red Dog corporate Dems terrified of Eliz. Warren and Bernie Sanders is my pick, not even in a ranked choice contest. And yeah, I would crow about Cthulhu-worshipper Roger Stone being convicted on all counts, except his ass ain't wearing an orange jumpsuit right now, is he?

Ok, that's enough, let's run some dates...

ANyway, let's run the dates:

As far as holidays, they run thick in the fall and winter, so these are only some picked out -

11/17 - World Day for Road Traffic Victims, National Take A Hike Day, National Homemade Bread Day, National Adoption Day, World Prematurity Day.

11/17 - Church of the Open Mic - Chapter 510 Edition, 6PM, 2301 Telegraph Ave., Oakland

This space is part church, part group therapy, part Tarot reading, part think tank, part revolution, part showcase — all collaborative exploration. Chapter 510 is a made-in-Oakland youth writing & publishing center that provides a safe space and supportive community for young people ages 6-18 to bravely write. For more info - 510-469-0108

11/18 - Mickey Mouse Birthday, National Princess Day, National Vichyssoise Day.

11/19 - Int'l Men's Day, National Carbonated Beverage With Caffeine Day, National Play Monopoly Day, World Toilet Day.

11/20 - Africa Industrialization Day, National Peanut Butter Fudge Day, Universal Children's Day.

11/20 - Trans Women and Trans Femmes' Support Circle, 7:30PM, 3207 Lakeshore Ave., Oakland

This is a safe space for all trans women and anyone identifying with the transfeminine / amab nonbinary spectrum to come experience love and support, regardless of your presentation or whether you came out yesterday or years ago. For more info - 510-993-8004

11/21 - World Philosophy Day, National Stuffing Day, National Red Mitten Day, National Jukebox Day, National Rural Health Day, World Television Day.

11/22 - National Cranberry Relish Day, JFK Assassinated, National Day of Mourning (started in 1970 as a protest against Thanksgiving and the democide of the Native American peoples by the United States government and as a reminder of the injustices that the Native American peoples faced. It is a day in which people of all colors, creeds and philosophies can learn about Native American culture and their historic and current struggles.)

11/23 - World Hello Day, National Espresso Day, National Day of Listening, Buy Nothing Day (maybe wait until the actual Black Friday).

If you have promos, pluggers, gig info, an art opening, etc, send me an email. The address is mfunkyzine@gmail.com. And bands, artists and poets - download links, no attachments, please, and no promises...

[Grid Practice] - 35:09

The Slow Boat Is In...

Ok, In Grid Practice,

Keeping it brief...

On Wed., the pair of 2A boost converters arrived on schedule, leaving only the charge controllers on a slow boat I couldn't track. Anyway, I couldn't put off another store run to Berkeley so I took my shopping list and for the 30A DPST lighted power switch I found a 25A non-lit toggle; for the battery switches I was reminded that quick connect with and without parentheses are completely different. The 5-banger common ground busbar they had kinda eliminates using the little project box I have. The 30A Anderson Powerpoles and crimp terminals were very reasonable. 10 ft. of 12 gauge red and black zip line, and the guy at the shop said the wire stripper/crimper is fine - it has a spot for 30 - 45A terminals. Cool...

Late Thur. I was shocked by the two charge controllers coming in, looking generic as hell, not even a brand name. Anyway, I still need one more latching DPDT switch and a bigger project box - 6x4x2 should work, and four inline switches, but this is all for the practical use scaled up version; I have what I need to build up the project board doohickey, with the change that I'm doubling up my test batteries to have two 12V 8Ah units as the power plant, so the weekend will be prep time for the board and the batteries...

[One More Tune] - 37:55

Ok, for this week's One More Tune, we close out with one last TREZ MASCHINE tune - Rope Swing Mix from their first album. And honestly, I could have run with just this record for a whole show cause new submissions were rather thin (and BTW, sending me a Spotify song link will only get you a poor quality result, and I won't pretend it's an earnest effort recorded in a garage, cause it ain't.) Anyway, TREZ MASCHINE has smoking beat and flow, and if this is your introduction to the band, you're welcome...

[song] - 38:43

Well, OK.

[Closing] - 41:12

Hey, this show is a 1223studios joint.

I'm on Spotify, Tunein, Google Play, Stitcher, iTunes, Internet Archive, PlayerFM, Listen Notes, Podknife and Mixcloud. Show notes are on the podpages. Send email to mfunkyzine@gmail.com.

If you like the show, tell your friends, and, I wonder if there's a liberal legal mind out there who could argue that when it comes to the bonanza of heavy military gear gifted to police departments across the country, is this an end run around the Posse Comitatus Act of 1878 (that BTW came about because southern Democrats were so put out by the presence of federal troops keeping the peace during Reconstruction). Both Democratic and Republican regimes have allowed this backdoor BS to happen, so maybe somebody can argue that turning your local police into an undesignated army is a violation of Posse Comitatus, could somebody in the Bay Area chew on this please?

Show themes "Rocket Power" & "Spy Glass" by NY musician and composer Kevin MacLeod. Some additional audio from freesound.org.

Next episode is set for Friday, Nov. 22nd, a date that P-Grabby will tweet something about from a golf course.

I'm Larry, trying hard to stay chill at my garrett in the Mission, and this is Magnetofunky, from San Francisco, where we go through, not into, the darkness.