A Hundred Baby Steps

Episode Transcript. Length - 41:06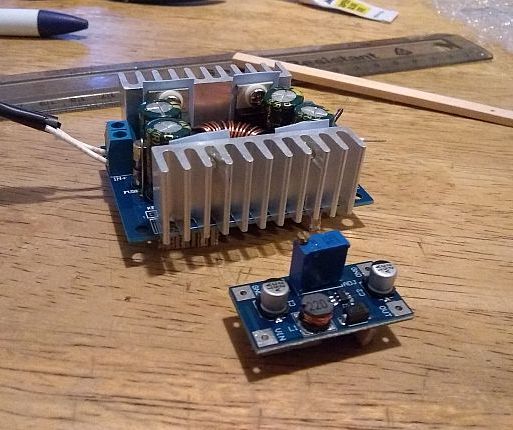 Magnetofunky No. 148. It's Friday, November 22nd, 2019.

[intro theme]

Hey. Larry here. It took most of the week to finish what should taken a couple days, but the Benitez-8 updated model is assembled and the first power test is mostly successful. The music is all curated last minute, a sampling of sounds from three particular countries under the stress of upheaval due to this country's Monroe Doctrine hijinks - Chile, Venezuela, and Brazil...

[song] - 01:01

Ok, that was Western Boy - Sarah Keys, Brazilian singer, songwriter and musician. New song from First EP "Future Comes". Inspired by Lady Gaga, Billie Eilish, The Doors, David Bowie, Elvis Presley, Ariana Grande, Depeche mode, Black Rebel Motorcycle Club, Prince, Lana Del Rey, Frank Sinatra, The Strokes, IU, Mark Ronson and so many others. Cool. And no, I'm not gonna make a big stink about all the undiplomatic dirt done in our backyard, like a military coup the corp. media won't call by name, I just did a last-minute visit to the free stacks at Reverbnation to see what was there...

This is a laid back (and often explicit - you bet your ass) weekly international podzine of extremely eclectic music and progressive politics, with a focus on energy independence for the 99%. My podpage is 1223studios.com/mfunky.h. The Twitter is @Magnetofunky.

[Grid Theory] - 05:47

Long Prep

Ok, In Grid Theory,

The week is pretty much all practice because of the many baby steps it took to just assemble the new project board for the power test - starting with moving all the components off the little bamboo board to a slightly bigger one. It took me two trips to a couple auto stores for another inline fuse and the right size mini-fuses. A dollar store corner bracket and leftover hardware is my new common ground busbar.

The two controllers were checked and calibrated to 16V output and 18V 5.5A output and mounted, all new 18 gauge wires were cut and connected, and then the controllers had a battery and my LED meter connected to see how the controller sets up - turns out there's no memory for the unit to remember the setting, and during the test the load taps unit might have shorted out--- [bell]

Ok, in a bit, the power test itself...

[Back To The Stage] - 07:37

Ok, Back to The Stage, continuing the South American groove with Lou Alma De Dinosaurio - Niño Nuclear, an Alternative / Experimental Space Rock band from Barquisimeto, VE, may or maybe not still active since 2012. After that it's Sweet (2016) - The Flick Leslies, a Rock / Alternative Rock / Hard Rock band from Santiago, fronted by a California girl living in Chile with a different flavor of Southern Rock. Unfortunately, the band's website is gone and there's been no activity since 2016, just the Rev. page...

[songs] - 08:36; 12:02

[Second Set] - 15:45

Ok, two more numbers - Yo quiero ser - Cindy López, Alternative / Jazz / Rock artist in caracas with another song from 2012, although she's now running a marketing agency in the city. And we wrap with Luciérnagas - Novella Inc., a Rock / Alternative outfit in Santiago. Their debut album Anuario came out in 2013. The following year they won the Live Latin Rock contest at Hard Rock Cafe, representing Chile in the world final. This song is from the 2018 album with the same name...

[songs] - 16:33; 19:34



["Geeknotes"] - 23:28

Geeknotes: 11/24 - Mass Meeting on driving out the Trump/Pence regime, SF, 11/25 - AIM West Coast Conference, SF, 11/29 - Bay Area Women in Black March and Vigil, Powell Street BART to Union Square and back, SF...

Hey, Geeknotes!

Ok, I'm still not gonna waste breath on the expected impact of the completed Impeachment hearing testimony and the impeachable offenses laid out, because it's too few actual articles charged, which might be expediant, but also makes it easier for the GFY-GOP minions in the Senate to spike whatever farce of a trial we'll get. This whole thing could be wrapped up by the end of January, in time for the primaries.

Even if P-Grabby is replaced by Pence, even if one of the Dems can get past the crooked Electoral College and outright win the election, the fact that so much illegality has been overlooked and pushed aside to keep the more or less status quo, means the nuts and bolts of corruption in the whole system gets another pass. I suspect that our democratic republic (small d small r) is and has been for a good while the best example of a two-party state, a beast with enough HP to interchange heads and keep right on trucking, where the corp. Dems and corp. everybody else maintain the status quo while acting out the soap opera to keep the mob divided and fighting each other (you remember the mob - the people who the founding fathers wanted to have no real power).

Anyway, as long as we have fixed political factions and a fixed Electoral College, true political and economic progress in 'Mercia will always have one quality defining it - temporary.

Ok, that's enough, let's run some dates...

11/24 - National Sardines Day

11/24 - Mass Meeting on driving out the Trump/Pence regime, 2:00 PM - 5:00 PM, 3358 Cesar Chavez, San Francisco

Hosted by La Colectiva de mujeres.

If you are anguished by what the Trump/Pence regime has already done and filled with dread for the future, join in to develop the plans to drive out this regime. Your ideas are urgently needed – as is your active participation. Please bring your organization's views and thinking into this meeting and/or set up a time for Refuse Fascism to talk with your group.

11/25 - World Day to Eliminate Violence on Women, National Parfait Day, Blase´Day, Shopping Reminder Day.

11/25 - AIM West Coast Conference, 2969 Mission St., San Francisco

First day of two-day conference, 50th Anniversary and Reunion honoring the "Indians of All Tribes", women and men who sacrificed their livelihoods to reclaim Alcatraz Island beginning on November 20, 1969. For info on the Presentations and panels during the conf., call 415-577-1492.

11/26 - National Cake Day.

11/27 - Tie One On Day, National Bavarian Cream Pie Day, National Craft Jerky Day.

11/28 - Thanksgiving, National French Toast Day, National Package Protection Day.

11/29 - Electronic Greetings Day, Acadian Day (LA.), Amer. Indian Heritage Day (Maryland), Family Day (Nev.), Lincoln's Day (Indiana).

11/29 - Bay Area Women in Black March and Vigil, 11:45 AM - 1:15 PM, Powell Street BART station to Union Square and back to BART station, SF

Bay Area Women in Black's annual Black Friday March and Vigil calls for a boycott of products whose sale supports the cruel and illegal occupation of Palestine. Fliers and signs offer the rationale for the boycott and urge the end of U.S. military aid to the State of Israel. This is a non-violent event.

11/30 - National Give Space Day, National Mason Jar Day, National Mousse Day, National Meth Awareness Day, Computer Security Day, Stay Home Because You're Well Day, National Mississippi Day.

If you have promos, pluggers, gig info, an art opening, etc, send me an email. The address is mfunkyzine@gmail.com. And bands, artists and poets - download links, no attachments, please, and no promises...

[Grid Practice] - 30:19

First Power Test

Ok, In Grid Practice,

Just a bit more prep:

When I connected the second charge controller to a battery, then the boost buck converter wires, then the load wires the converter came on, from juice flowing backwards through the solar input terminals - the doohickey's supposed to prevent that.

Anyway, before the actual run test, I did a thorough battery check and charged two of them to the full 13.8V float and made sure to give them an hour to rest afterwards to make sure they read a proper 13V; the other two batteries read 12.6V. I propped the board in the pvc Bedini frame, hooked up the two battery pairs of 12V 8Ah and turned it on.

The power loop side with the boost converter and charge controller is working just fine, the controller giving the slow blinking light that meant normal charging. No solar input light though.

The second controller only showed a red blinking load light with no load attached. I moved the 12V outlet from the battery terminals to the load terminals with no change. I plugged in the 150W inverter and it powered on, but it wouldn't even light my little .3W nightlite. I hooked up the milliammeter to the 'A side' and got a reading of 400 - 600 milliamps pulsing in irregular spurts. I plugged the cheapo phone into the USB port and saw it being 'charged, not charged' so it's kinda working. Anyway, I got this much done late last night, so after the show I'll check out the second controller to see if it's shot, but it's coming off, since in this case the controller is a third wheel - just another voltage and current regulator, like the boost buck converter.

Anyway I still have the option to bypass that controller and just

And, I found on a forum called Solar Panel Talk a 2015 discussion of a guy hooking a DC power supply to the solar inputs of a controller to charge a battery. One reply said you could, but it is not needed or required if you can adjust the DC Supply voltage. So, that's that - reset the phantom solar to 13.8V 7.3A - 100W geared to the 12V outlet. And to deal with the pulsing on the load tap side I'll try the leftover bridge rectifier between the taps and the phantom solar module to cut the ripple.

For now, I feel like I'm on third base with the project - two steps forward, half a step back...

[One More Tune] - 34:51

Ok, for this week's One More Tune, we close out with Le Bateau d'Orpheu - Bombay Groovy, an Alternative outfit in Sao Paulo, with no bio, but there is a FB link to Rodrigo Bourganos, sitar player with the band since 2013. Interesting...

[song] - 35:15

Well, OK.

[Closing] - 38:48

Hey, this show is a 1223studios joint.

I'm on Internet Archive, Spotify, Tunein, Stitcher, Google Play, iTunes, PlayerFM, Listen Notes, Podknife and Mixcloud. Show notes are on the podpage. Send email to mfunkyzine@gmail.com.

If you like the show, tell your friends, and, while we all celebrate what we imagine will be the Impeachment BBQ Full Court Feast, immediately followed by the Fast Senate Fix, just get ready for the challenge next year: do we evolve back towards an actual functioning democratic republic, or devolve into another civil war - if the usual informed non-voters don't go vote, they'll allow an impeached tinpot conman and an army of foreign and domestic mercenaries steal power again - and the 2020's will be a decade of shit hitting the fan - and Russia, China, N. Korea, Saudi Arabia, Iran and Israel will all be sitting back with big bags of popcorn (in between doing business with both sides), waiting for the country's collapse, cause you know what happens when an overextended global empire collapses from within - the pieces all become bite-size...

Show themes "Rocket Power" & "Spy Glass" by NY musician and composer Kevin MacLeod. Some additional audio from freesound.org.

Next episode is set for Friday, Nov. 29th, a day for shopping with turkey hangovers, or buying nothing.

I'm Larry, trying hard to stay chill at my garrett in the Mission, and this is Magnetofunky, from San Francisco, where we go through, not into, the darkness.