Test Week

Episode Transcript. Length - 36:09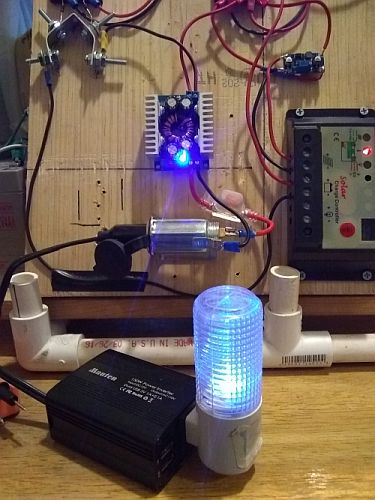 Magnetofunky No. 149. It's Friday, November 29th, 2019.

[intro theme]

Hey. Larry here. The Benitez-8 power plant demo passed the second power test with flying colors and I can move on to stage 2. The music is a short sampling of fresh tunes from another global hotspot - Hong Kong...

[song] - 00:48

Ok, that was Streets of Kowloon (We Love Hong Kong) ft. the SuVee Gees - The Blisco Brothers Band, an Alternative / rock-disco-funk / stoner-groove trio in Kwai Chung, HK, a Scottish Danish Aussie Hong Kong band formed in 2014. The song is from their 2018 album A Joint Venture.

This is a laid back (and often explicit - you bet your ass) weekly international podzine of extremely eclectic music and progressive politics, with a focus on energy independence for the 99%. My podpage is 1223studios.com/mfunky.h. The Twitter is @Magnetofunky.

[Grid Theory] - 05:35

No Pi Filter

In Grid Theory,

The PWM pulses from the power loop side charge controller seemed to bleed over as noise into the load tap side, making the second controller nerky.

I checked the second controller with a low charge battery and saw the battery light showing a little green a little yellow and the load terminals starting at the default of always on. I went through the settings, and no, it's not broke at all, so it's a spare.

Next I reset the V and I and re-mounted it and the 12V outlet, leaving room for another component just in case. Actually I fried another pair of clip lines dialing up the current and had to make a set with the 12 gauge wire to be able to get it past 6A to about 7.2, even the multimeter wires got warm - that is pushing it with an 8A DC converter...

The just in case, before running the second test, I looked into how to smooth out the PWM into constant current, and very quickly I got to low pass filters. Looking at the two types on the Java simulator showed how they worked to smooth out the DC, then I found a calculator to determine the analog parts. Anyway the two types are RC [resistor/capacitor] and RL [resistor/inductor]. My particular RC would be a 500 Ohm resistor and 5uF cap. with the cutoff frequency at 60Hz; the RL is only for 100kHz and above. Anyway, next I moved on from audio systems to power supply filters, looked into Capacitor input and Choke input. a capacitor input filter would be used where voltage is the prime factor and the choke input filter is used where a steady flow of current is required--- [bell]

Anyway, I whipped up an inductor-capacitor pair for a choke input filter, then I ran test 2...

[Back To The Stage] - 08:59

Ok, Back to The Stage, continuing the short Hong Kong set of bands gleaned from the free stacks at Reverbnation, which I restricted to bands active within the past three years, which meant passing up some smoking tunes from 9 and 10 year old band pages. Anyway, we pick up with Alternative / Metal / Post-hardcore Hong Kong band Utopian with their tune Firework. Unfortunately, this is the only non-English song I found to include.

Then we close the set with Dark Circles (Qrt version) - Bruce Hunnisett, an Experimental / Nu-Jazz sax player in Hong Kong. Bruce moved to HK in 2014 to expand his teaching and playing opportunities, after spending a couple of great years in Seoul, South Korea. He's performed in, and lead several jazz groups, written music for various projects and has released several CDs, including the critically acclaimed "Dark Circles" solo album. His next gig in fact is next Fri. Dec. 6, playing in the Yvonne Barrie Quintet at Peel Fresco music lounge in HK.

[songs] - 10:36; 14:37





["Geeknotes"] - 19:32

Geeknotes: 12/01 - What's Really Going On in Hong Kong, Unitarian Universalist Society of SF, 12/06 - National Climate Strike & March for Green New Deal, BlackRock HQ, SF, 12/07 - Palestinian Holiday Crafts Fair, Middle East Children's Alliance, Berkeley...

Hey, Geeknotes!

Ok, we're into the seasonal orgy of eating and shopping, and I can proudly say the only shopping I did today was for trash bags. Anyway, I'm largely taking a break from the usual rant, except to note that Uncle Caligula is finally, fighting with the military over giving a war criminal SEAL (who was testified against by the people who knew him best) a 'bro's before hoes' type get out of jail free card. Two points on that - this is something a regular GOP asshole Pres. would do on his last day in office, and, it's actually a good thing that P-Grabby is pissing off the Pentagon (who can get in line behind the FBI and the CIA). Something is already in the works on the inside from his side to make sure this orange mofo is a one termer, cause frankly he's rocking too many strategic boats and it's starting to look less and less like random rampage. And that's just one thing out of dozens.

Anyway, I haven't watched the latest episodes of The Mandalorian or Dr. Stone yet, so let's run some dates...

12/01 - World AIDS Day, Day With(out) Art Day, Rosa Parks Day, National Rhubarb Vodka Day

12/01 - What's Really Going On in Hong Kong, 9:30 AM - 11:00 AM, Unitarian Universalist Society of S.F., 1187 Franklin St. at Geary

the first of 2 discussions exploring different perspectives on the upheaval in Hong Kong from a pro China viewpoint and then on Sunday, December 15 Forum will focus on the perspective from the side of the Hong Kong protesters. Free event.

12/02 - Cyber Monday, World Day for Slavery Abolition, National Mutt Day, National Fritters Day, Special Education Day

12/03 - World Day for Persons with Disabilities, National Roof Over Your Head Day

12/04 - National Cookie Day, National Dice Day, National Sock Day

12/05 - Int'l Volunteer Day, World Soil Day, AFL-CIO Day, Bathtub Party Day, International Ninja Day

12/06 - National Pawnbrokers Day, National Microwave Oven Day, National Gazpacho Day, Miners' Day

12/06 - National Climate Strike & March for Green New Deal, 10:00 AM - 12:00 PM, BlackRock HQ, 400 Howard St SF

Hosted by Youth VS. Apocalypse. In San Francisco, there will be a youth strike speak-out from 10am to Noon outside BlackRock HQ at 400 Howard Street. At noon, there will be a march from BlackRock HQ to a Congressperson's office (to be announced.)

BlackRock is an investment firm that has funded the destruction of our planet and the oppression of black and brown people. BlackRock has funded the burning of the Amazon, leading to environmental catastrophe and the murder of indigenous people, and have invested in private prisons and detention centers. BlackRock must be held accountable.

12/07 - National Pearl Harbor Remembrance Day, National Cotton Candy Day, Int'l Civil Aviation Day.

12/07 - Palestinian Holiday Crafts Fair, 10:00 AM - 5:00 PM, Middle East Children's Alliance, 1101 8th Street, Berkeley, Suite 100

A tantalizing array of extraordinary gifts from Palestine. Your purchase aids Palestinian children & their families.

If you have promos, pluggers, gig info, an art opening, etc, send me an email. The address is mfunkyzine@gmail.com. And bands, artists and poets - download links, no attachments, please, and no promises...

[Grid Practice] - 25:57

Phantom Solar Test

Ok, In Grid Practice,

I uploaded a short raw video to the lab notes YouTube channel, but basically a run-through of the Benitez-8 circuit test 2. The power loop circuit didn't change, but the flow and frequency of current on the run battery side did change to match what the controller did. I only used a single low voltage 4Ah unit for charging, and the controller did the proper solid red for constant charge.

The milliammeter showed the 'A side' current quick pulsing at 14mA about 6 times per sec. - roughly between 300-400Hz, which fits the charge controller's constant charge mode.

The load taps side didn't show any effect this time through the plugged in power inverter. My AC nitelite worked just fine, no flicker at all. The Kill-a-Watt meter said the inverter read 116V AC with no load, and the nitelite pulled a tiny 10mA. This Benitez-8 100W Demo Power Plant - the stupid simple idea of not refabricating the Senor's hardware, but his method; using conventionally available tech with his battery switching design, is actually working as conceived, with no low pass or choke input filter needed. And now that it's standing up on the drawing board, I gotta beat the hell out of it to see how it stands up.

So, yeah, I spent a day basking in the glow of the demo, but the new day brought the new hill - the return of Stage 2, the Coefficient of Performance testing, and the chart that's been gathering dust for months, so now I can test the system with no inverter, inverter idling, and powering a small load, and see how long it actually takes to run a cycle, and how close it gets to 1.1 COP. A proper test will require single 8Ah batteries, but I can wait until next month to order 'em; locally, 7-8Ah 12V batteries are damn near $40 ea.

Anyway, parts - I have a list for a 600W and a 1000W scaled up system, that's as much power as I'd put in this particular mobile setup that's meant to only take up about two milk crates worth of space in a dustbuster-size campervan. Anyway, by next week I'll put the lists up along with a labelled diagram of the power plant in the lab notes, just in case anybody else wants to test this phantom solar self charging power plant...

[One More Tune] - 30:11

Ok, for this week's One More Tune, we close out with My House, an Electronica / Rock / Electro piece by JUNK!, a one man merging of sequins, keytars, beat box solos and electro-rock who hangs out in the Hung Hom section of HK. The universe of JUNK! is turned firmly towards the 1980s, where women, Jewish chicken soup, video games and bad dance moves are all explored using a laptop, MIDI controlled drum pads and video game hardware to create hours of glitches, pops, sonic assaults and engaging visuals. And he's definitely not a DJ!

[song] - 31:02

Well, OK.

[Closing] - 33:56

Hey, this show is a 1223studios joint.

I'm on Internet Archive, Spotify, Tunein, Stitcher, Google Play, iTunes, PlayerFM, Listen Notes, Podknife and Mixcloud. Show notes are on the podpage. Send email to mfunkyzine@gmail.com.

If you like the show, subscribe, tell your friends, and, ya know, the biggest boosters P-Grabby got in 2016 and now was and is the frickin corporate media. The media bosses only want to keep butts in seats during the endless commercial breaks, and a real life bread and circus spectacle is so profitable, the blood rushing to their bottom lines must be like crack. That's why the endless NY Times profiles of redhats who like what P-Grabby's doing, and the played-out 'Both Sides' BS on news opinion shows. At this point, I wouldn't even call the corp. media Republican - they're their own damn political party with their own agenda and no permanent alliances. And we ain't supposed to see it...

Show themes "Rocket Power" & "Spy Glass" by NY musician and composer Kevin MacLeod. Some additional audio from freesound.org.

Next episode is set for Friday, Dec. 6th.

I'm Larry, trying hard to stay chill at my garrett in the Mission, and this is Magnetofunky, from San Francisco, where we go through, not into, the darkness.