Shakeout

Episode Transcript. Length - 40:02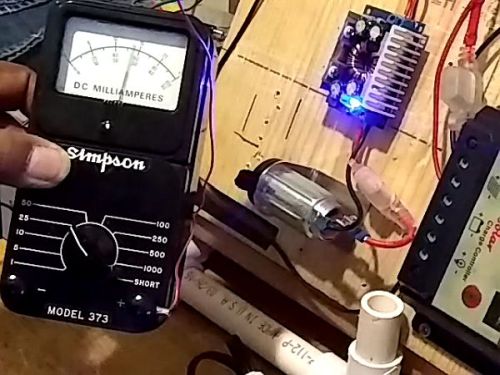 Magnetofunky No. 150. It's Friday, December 6th, 2019.

[intro theme]

Hey. Larry here. The week went fast with a big break on Wed., but, I got circuit diagrams of the power plant up on the Twitter, and I gave the system a short stress test to ensure it gets through COP testing. The music is all fresh and submitted, including a couple seasons greetings...

[song] - 00:55

Ok, that was We Three Kings - Sue Hutton and Athan Maroulis, she (of the beloved Canadian ensemble Rhea's Obsession and presently of Indarra), and he (presently of NOIR and formerly of Spahn Ranch, Black Tape for a Blue Girl, and Executive Slacks), collaborated on this new release, Christmas Nocturne, a string of intimately lavish dark duets offers a haunting brand of holiday caroling, including this song, which celebrates its twentieth anniversary. The portland, OR outfit Projekt Records sent me the headsup on the band, and this makes them the third record company that now sends me advance copies of fresh tunes. Nice...

This is a laid back (and often explicit - you bet your ass) weekly international podzine of extremely eclectic music and progressive politics, with a focus on energy independence for the 99%. My podpage is 1223studios.com/mfunky.h. The Twitter is @Magnetofunky.

[Grid Theory] - 05:23

Hot Jacking

In Grid Theory,

The weekend was wasted trying to find a way to fix the three short videos of the circuit test, but I did also go through the weeds on power system circuit protection and how it relates to my 100, 600 and 1000W systems. Anyway, I drew up the diagrams with the specific parts, and they're on the twitter. I want to hurry up the 600W system build now so I can have it ready when I finally nail down my campervan.

Meanwhile, I got both 'A' side batteries back up to as full as possible, and went out early Monday morning for the 100W circuit protection - two more inline fuse holders. I'm sacrificing the other one I had so it'll be four mini-fuses in this case, and 25-30A circuit breakers for the other setups. Cool thing is, I saw ATC-type blade fuses that are actually little circuit breakers, 10-30A.

Anyway, after installing the new fuses (15 and 10A at the power switch, and a 3A from the 2A boost converter to the charge controller), I did a continuity check, then I hooked up the parallel batteries and the milliameter and, as long as I'm reshooting the power test for lab notes, I went on and did a raw shakeout stress test. I turned the system on, got a reading of 14ma, then jacked the inverter into the live outlet---[bell]

Anyway, we'll pick this back up in a bit...

[Back To The Stage] - 07:41

Ok, Back to The Stage, continuing with tunes that kinda fit this moody Impeachment Xmas vibe. First up it's Trash, an appropriate number from the suburban Denver Trip-hop Darkwave outfit Velvet Acid Christ, from the new album Ora Oblivionis. BTW, this is why album submissions are cool - more chances to mix it up...

[song] - 08:10

Next up we have EINE KLEINE HEXENNACHT MUZIK - Hanzel Und Gretyl, an industrial black metal band in New York. This is the last song on their new record Hexennacht, a bestial feast from an imagined Bavarian Halloween (which fits here cause we got a Fri. the 13th before Xmas, the date the record drops).

[song] - 12:42

ok, we wrap the set with another submission by Projekt Records - Ancient Machines, the title cut from the just released album by veteran Bay Area electronic musician and multi-instrumentalist Forrest Fang. This is his 18th album and reflects both his Western influences as a classical violinist and his Eastern influences as a player of Javanese gamelan and other Asian instruments. Cool...

[song] - 17:16





["Geeknotes"] - 22:58

Geeknotes: 12/08 - Sixth Annual Howard Zinn Book Fair, 12/11 - Poor People's Mass Meeting and March, San Francisco City Hall, 12/14 - Solidarity Meeting With The People Of Chile & Bolivia, ILWU Local 34, SF...

Hey, Geeknotes!

Ok, like a lot of people, I stopped what I was doing on Wed., and listened to the House Judiciary Cmte. Impeachment hearing where we all got an intense civics lesson on impeachment in context within the zeitgeist of the Constitutional Convention, and an intense loathing for all the grade A horseshit spewed by the GFY-GOP minions (including the eloquent shinola delivered by the well-paid Jonathan Turley trying to maintain that fig leaf of 'well, I didn't vote for Trump, but yadayada...'). A lot of this experience feels just like the Watergate Impeachment hearings in the summer of 1974, the year I graduated from high school. Anyway...

As I gritted my teeth through all the lying-ass GOP antics, I thought of one line of query the Dems won't even approach: when the Russians et al hacked the DNC servers for embarassing and damaging goodies, they were also hacking the RNC servers, and as the DNC dirt was disseminated for effect, the Russians got more mileage out of blackmailing the entire upper echelons of the GOP, which is why they've clung so hard to the bloated orange albatross around their necks - Putin has 'em by the short and curlies. It's actually too bad we don't have our own Fsociety and a Mr. Robot who could help us see what the Russians know about the GOP. Can you imagine a skeleton worse than Nixon spiking LBJ's Paris Peace Talks during the 1968 campaign, or Reagan cutting a deal with Iran during the 1980 campaign to cut Pres. Jimmy Carter off at the knees? What happened to Anonymous anyway?

Anyway, let's run some dates...

12/08 - National Brownie Day, Pretend To Be A Time Traveler Day

12/08 - Sixth Annual Howard Zinn Book Fair, 10:00 AM - 6:00 PM, City College of San Francisco - Mission Campus, 1125 Valencia Street, S.F

The fair draws upon the legacy of legendary historian and activist Howard Zinn by gathering together over 60 publishers, booksellers, zinesters and community groups and dozens of author readings, panel discussions and workshops, all to explore the ways people can take collective action to build a better future. The theme of this year's book fair is "Strike! Discovering Our Power." We selected this theme to celebrate the ways in which everyday people discover their ability to work together.

Suggested $5 donation, but no one will be turned away for lack of funds.

12/09 - Int'l Anti-Corruption Day, World Genocide Commemoration Day, National Pastry Day, Weary Willie Day

12/10 - Dewey Decimal System Day, Human Rights Day, National Lager Day, Nobel Prize Day

12/11 - National App Day, National Noodle Ring Day, Int'l Mountain Day

12/11 - Poor People's Mass Meeting and March in San Francisco, 5:45 PM - 8:45 PM, San Francisco City Hall

This nine-month, 22-state tour is in town. City Hall is the starting place for the March, culminating at the Glide Memorial Church, 330 Ellis Street for a Mass Meeting, where you'll hear from people directly impacted by systemic racism, poverty, ecological devastation, militarism and the war economy, and the corrupt moral narrative. You will also hear from Rev. Barber and Rev. Theoharis, Co-Chairs of the Poor People's Campaign: A National Call for Moral Revival.

12/12 - National Ambrosia Day, Gingerbread House Day, Poinsettia Day

12/13 - National Cocoa Day, National Violin Day, National Guard Birthday

12/14 - National Bouillabaisse Day, National Alabama Day, Monkey Day

12/14 - Solidarity Meeting With The People Of Chile & Bolivia, 2:00 PM - 4:00 PM, ILWU Local 34, 801 2nd St. Next to AT&T stadium, San Francisco

Sponsored by United Public Workers For Action.

The massive repression and attacks on the Chilean and Bolivian working people is a threat to all democratic rights. The need for solidarity with the Chilean and Bolivian people is critical and this meeting will look at the history of US labor in supporting the people of Chile. Dockworkers in Chile have called for an international boycott and the International Dockworkers Council IDC has recently called for a full boycott of cargo.

If you have promos, pluggers, gig info, an art opening, etc, send me an email. The address is mfunkyzine@gmail.com. And bands, artists and poets - download links, no attachments, please, and no promises...

[Grid Practice] - 30:21

Snapshot Specs

Ok, In Grid Practice,

To continue...

After I jacked the inverter into the live outlet, the meter spiked and settled at 100mA, the charge controller reset, and the nitelite load didn't light up when I plugged it in, but no fuses blew. I applied the standard Windows OP SYS fix (yeah, I turned the system off and back on) and the inverter idling ran a current of 350mA, and with the nitelight it's 400mA, and with a moderate load (AC boombox - 12W) the system ran at 1A and change.

Now with that basic info post-Shakeout, I have the test stages and the two types to run them through:

Stages: without inverter - with idling inverter - inverter with different loads.

Time Test - One to several hours for each half of the test, at best a ballpark baseline C of P number.

Full Cycle Test - Run until the charge controller says the 'B' side battery is full for each half of the test, for a more accurate Coefficient number under an expected all day workload.

The last stage will be to run my laptop through the system, which is about 90W - a heavy load for this arrangement, but by then I'll have an answer to how well the scaled up system should work.

[One More Tune] - 33:00

Ok, for this week's One More Tune, we close out with one more atmospheric Xmas carol by Sue Hutton and Athan Maroulis - God Rest Ye Merry Gentlemen. BTW, Projekt Records says it's America's premier independent label specializing in passionately intense introspective music across a variety of genres; artists include Steve Roach, Voltaire, Erik Wollo, Black Tape For A Blue Girl, Mark Seelig, Lycia and others.

[song] - 33:37

Well, OK.

[Closing] - 38:20

Hey, this show is a 1223studios joint.

I'm on Internet Archive, Spotify, Tunein, Stitcher, Google Play, iTunes, PlayerFM, Listen Notes, Podknife and Mixcloud. Show notes are on the podpage. Send email to mfunkyzine@gmail.com.

If you like the show, tell your friends, and, to Melania and every other redhat minion screaming in outrage over the offhand mention of Barron's name during this week's Impeachment hearings, here's a name none of you asswipes gives a shit about - Carlos Gregorio Hernandez Vasquez, the latest brown child to die in a Trump death camp (that we know of), and, until little Barron has as many death threats as Sasha and Malia are still getting, all y'all kiss my red, white, black and blue ass!

Show themes "Rocket Power" & "Spy Glass" by NY musician and composer Kevin MacLeod. Some additional audio from freesound.org.

Next episode is set for Saturday, Dec. 14th..

I'm Larry, trying hard to stay chill at my garrett in the Mission, and this is Magnetofunky, from San Francisco, where we go through, not into, the darkness.