One Long Hump Day

Episode Transcript. Length - 31:28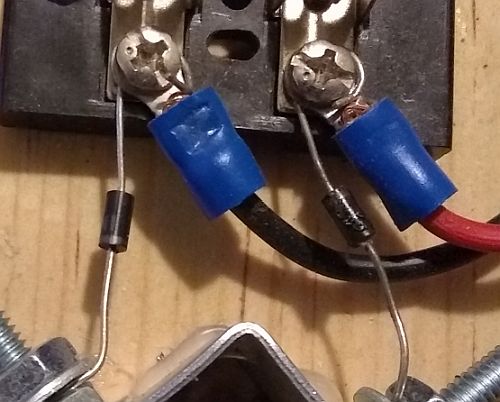 Magnetofunky No. 153. It's Friday, January 3rd, 2020.

[intro theme]

Hey. Larry here. This week we turn over into 2020, a leap year, an election year, and since it starts on a Wed., it's one long-ass hump day. Three days in and already you can see how much heavy lifting we're all gonna be doing. The music is a curated set of hump day tunes from the free MP3 stacks at Reverbnation...

[song] - 00:54

Ok, that was HUMP DAY, one of many remixes of the old Lotto commercial, this one done by Slypex, an EDM artist over in Trenton, OH, with no bio or non-Rev. links at all, and, since the tunes are keyword-specific, this coulda come out last year or ten years ago. Anyway...

This is a laid back (and often explicit - you bet your ass) weekly international podzine of extremely eclectic music and progressive politics, with a focus on energy independence for the 99%. My podpage is 1223studios.com/mfunky.h. The Twitter is @Magnetofunky.

[Grid Theory] - 05:00

Splitting the Crossover

In Grid Theory,

As the past week turned the calendar page, the lab was fairly busy as my 100W demo power plant underwent quite a bit of evolution...

Last weekend was spent looking over the Electronoobs diy dc current clamp with its BNC connector, and how it compares to diy dc voltage probes made for smartphone oscillator apps. Nobody's done a current version because most phones can only handle like 3V through the mic jack, so there's apparently a translated limit of 3A that could be read. Anyway, a better option is a handheld scope - some of the kits with pre-assembled circuit boards are between $20-30. So, for about $50, I can either buy the clamp meter from downstate or build one with its own scope. I kinda wanna do both, cause I'll need to sell the bench oscilloscope sooner rather than later. Meanwhile, the smartphone app voltage probe is just a phone headset jack, a pair of alligator clips and a 10-to-1 voltage divider...

On New Year's Eve I fixed what I hoped were the last two circuit design bugs in the system - 1.) a set of battery cables with the 12 gauge wire I was saving for the 600W model, which is a bit overkill but to reduce the resistance at the start; 2.) an unbalanced power distribution from the batteries through the positive switch, caused by the crossover wires. To fix that I came up with splitting the crossover wires and employing one-port postive busbars for the new power distribution system that isolates the two sides and balances out the positive flow. The A+ and B+ power loop wires are 2.5" long, and the A+ load tap wires are 4" each. To make room. I bobbed the negative switch crossover wires, thinking that was all I had to do there. With the bigger battery cables I thought that was the last bug in the system, so I turned back to the little V-A meters, to see if I could still avoid the current clamp-[bell]

Ok, back to the lab in a bit...

[Back To The Stage] - 08:00

Ok, Back to The Stage, continuing the hump set with Hoochie Hump - Mr. Lisp, a Punk / Hardcore band outta Norristown, in the Greater Philadelphia region, formed exactly three years ago. Nice...

Next up it's Drum Hump - The Indigenous Funk Rebellion, a Rock / Punk-Funk / Metal / Industrial outfit from Clovis, CA., and we wrap up with Hump Day - James Creel up in Redmond, OR. This is from his solo album Mirror Image released April 2, 2018...

[songs] - 08:42; 10:41;13:53



["Geeknotes"] - 17:38

Geeknotes: 01/05 - UUSF Sunday Forum - The US Needs A Marshall Plan For Central America, U U Center, SF, 01/09 - Protest at Facebook HQ, Menlo Park, 01/11 - Reflections on Exile - Opening Reception, Root Division, SF...

Hey, Geeknotes!

Ok, I've had my Hoppin John and Skipping Betty, and the damn long-ass hump already started with another brother shot in the head for driving while black by the local death squad in Houston - oh, how long does it take to doctor bodycam footage anyway?

So, #IMPOTUS P-Grabby decided to try openly provoking Iran cause maybe Putin told him 'you can use this to cancel the Impeachment and throw Nancy in Gitmo. And when NATO turns against you, I'll back your play...' Somebody who's not a white supremacist should remind this asswipe about Iran and Russia's long ties, and Putin's long memory of what this country did to post-Soviet Union Russia and wanting so badly to return the favor, and hey, if it takes Russia underwriting Pineapple Pinochet's loans at Deutsche Bank, so much the better. What's a little treason if it's a buck I got comin'...

Anyway, I'm still trying to enjoy the new year while I can; the heavy lifting is gonna come from the mass of informed but highly fickle non-voters, some who have been bit in the ass by this regime but still need to be seduced, but, there's more of y'all than voter suppression or ID laws or missing polling places can eliminate to spike an election against the Dems, but only if you get off your ass on actual election day. After this election, it might be too dangerous to march against this Naugheyde-plated asshole...

Here's a few happennings next week:

01/05 - UUSF Sunday Forum - The US Needs A Marshall Plan For Central America, 9:30 AM - 10:30 AM, U U Center 1187 Franklin/Geary Streets, SF

How much longer will we watch the suffering and inhumanity before we agree that we need to do something right. Tom Gallagher former Mass. State Rep. ,President of PDA SF and author will attempt to answer this question as he presents his proposal of a Marshall Plan For Central America. In truth the answer requires a vision of the future, along with an understanding of the past extending beyond the headlines.

01/09 - Protest at Facebook HQ, 4:00 PM - 5:30 PM, 1601 Willow Rd, Menlo Park

This year's US presidential elections are in jeopardy—in part because Bay Area technology company Facebook refuses to take responsibility for the lies, hate, and disinformation that are being spread using its platform. And its efforts to stop the spread of toxic hate and disinformation that have created a climate of fear for immigrants, suppressed voter turnout among African Americans, and threaten the upcoming US census count are too little, too late.

Is it at last, time to regulate Facebook and other technology platforms to safeguard our democracy.

01/11 - Reflections on Exile - Opening Reception, 7:00 PM - 10:00 PM, Root Division, 1131 Mission Street, SF

Curated by Jeanette Alanis, Reflections on Exile examines displacement, restrictive or forced movement, and the after effects of war and persecution from the lens of Bay Area artists. Inspired by Edward Said's description of exile as "the unhealable rift forced between a human being and a native place, between the self and its true home", selected artists will offer a creative lens on how exile has personally affected their lives in order to provide an alternate path forward of open borders.

If you have promos, pluggers, gig info, an art opening, etc, send me an email. The address is mfunkyzine@gmail.com. And bands, artists and poets - download links, no attachments, please, and no promises...

[Grid Practice] - 23:23

Combining the Negatives

Ok, In Grid Practice,

After a break on New Year's Day I set up two of the new digital meters. Since these are the new standard 10A 100W doohickeys, I hoped that fixing the power distribution and adding two 9V batteries to power them separately might tolerate the ammeter shunt and continue charging the batteries normally. So, I mounted the meters and the batteries quick and dirty style with duct tape, plugged in the laptop, once more got a bit of clicking, disconnected A-to-B and reconnected B-to-A, the laptop brick stopped clicking, but one of the diodes within the common ground fried under a 6 amp surge. This turns out isn't a bug - the crossover cables on the negative side had to be modified as well. This is what's left of the Benitez circuit schematic drawn up by Peter Lindemann and Rick Friedrich, only the physical DPDT switches remain, and since I had to split the positive at the front end of the circuit, I had to 'combine the negatives' to resolve the architecture at the back end of the circuit.

I finished that part late last night with a pair of 4" wires from the common ground busbar to the separate sides. That's as far as I got and Friday's been hectic, so this weekend I'll see if this long shakeout session bears fruit, or do I still have to go after a current clamp in order to get on with coefficient testing...

[One More Tune] - 25:34

Ok, for this week's One More Tune, we close out with Bar Hump - Emergency Pullout EPO, alternative band hailing from Denver, Colorado where a young music scene has been born. From this new scene bands like The Fray, 3oh!3, The Flobots, Devotchka, and Tickle Me Pink have put Denver on the map. Hm, I don't think I ever did a Denver-only feature...

[song] - 26:05

Well, OK.

[Closing] - 30:04

Hey, this show is a 1223studios joint.

I'm on Internet Archive, Spotify, Tunein, Stitcher, Google Play, iTunes, PlayerFM, Listen Notes, Podknife and Mixcloud. Show notes are on the podpage. Send email to mfunkyzine@gmail.com.

If you like the show, tell your friends, and, something simple to start off the year: nobody earns a billion dollars - you can win it, you can steal it, you can waste it, you can lose it, but nobody earns a billion dollars...

Show themes "Rocket Power" & "Spy Glass" by NY musician and composer Kevin MacLeod. Some additional audio from freesound.org.

Next episode is set for Friday, Jan. 10th, 2020.

I'm Larry, trying hard to stay chill at my garrett in the Mission, and this is Magnetofunky, from San Francisco, where we go through, not into, the darkness.