The Baker's Dozen SitRep

Episode Transcript. Length - 34:26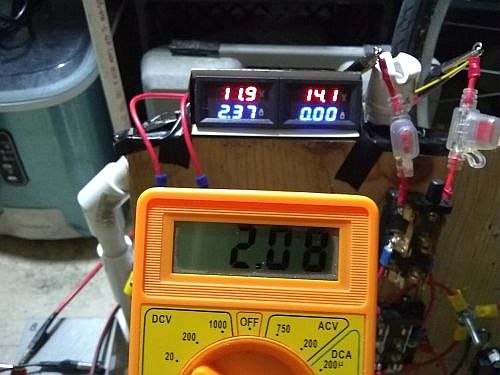 Magnetofunky No. 155. It's Monday, January 20th, 2020.

[intro theme]

Hey. Larry here. The show today is an overdue situation report as the lab is on holiday waiting for parts after much progress on the power plant. The music was very much last-minute but it's an interesting mix that gets more NSFW as we go. I'm talking mostly hard hip hop, mostly from Iran...

[song] - 00:54

Ok, that was FTP - Bidar Record, a Persian Rap / Hip Hop artist in Qazvin, IR who started working on Rap Music since 87. This song was released in 2015 or 16, his FB ends then, but I link to his SC page cause a new piece was posted there a year ago. Now these curated tunes all came from the free MP3 stacks at Rev., and some of these artists were swept up or expelled in one of the many waves of crackdowns of Rock and Hip Hop in Iran, especially if the songs were a commentary on society and the theocratic government. Anyway, I went this way because I only got one new submission for the show (a hard hip hop piece from the west coast) and decided to match the flow. So...

This is a laid back (and often explicit - you bet your ass) weekly international podzine of extremely eclectic music and progressive politics, with a focus on energy independence for the 99%. My podpage is 1223studios.com/mfunky.h. The Twitter is @Magnetofunky.

[Grid Theory] - 05:47

Making Mistakes Faster

In Grid Theory,

Just a rundown of the previous week resolving the last glitch with lots of pictures...

Last weekend re-charging and re-wiring started with sorting the wire first to solder, but once I doublechecked and saw no local wire solder terminals available, and engineers say crimping tinned wire is bad, the only soldering will be the booster. Anyway, after the wire install and calibrating the booster module, the first overhaul was done by Sun. evening and the circuit board cleared the four-way continuity test.

I hooked the batteries up, turned it on and the solar light came on for A-to-B, but not B-to-A. The 3A fuse blew after first use. I tried it again with the down switch, light; up switch, no light. Third try was the Windows method - switch on, yeah light, switch off - count to three - back on, no light. I figured it was the too small fuse, so I went to the local auto store after checking online first, and they did sell 4A mini fuses, but only online. The only 4A blade fuses they had were the regular big 'ATO' size, along with an inline holder. I got them and more 3A mini fuses. Back at the lab, I decided to hook up the other booster module as a backup...

With the backup installed, I ran another continuity check and a shakedown run. Just like before, the circuit ran once or twice, then the 4A fuse blew - three of them too... Since I'm not running a B+ line anymore, the fuse TO the booster should copy the boost-buck converter and go AFTER the booster and complete the circuit overhaul...

After de-soldering and re-soldering, the 4A boost coverter modules are done.

Tu. I ran a couple quick power-on tests, and the 4A fuse didn't blow. I let it run for a minute in both directions and the controller now had a strong solar light, the run battery is cranking at 2.5 - 4.5A, and the charge battery kicking at 13.8 - 14.1V; this is a reading you get with a regular AC battery charger, but more than 25% of battery capacity will cook them. In this case 2A is plenty for an 8ah battery bank, but the V-A meter can't tell how much the split positive is splitting the 4.5A current - here's where a clamp meter can help, but the cheap multimeter with the 10A setting will do--

[bell]

Uh, I'll get back to the lab in a bit...

[Back To The Stage] - 09:12

Ok, Back to The Stage, continuing the Middle Eastern flow with Zirzamin - Mashkook, a Hip Hop artist from Tehran, AKA Hossein Noravesh, who never received official permission to release his music on Disks or for Sale. In about 2005, he started his work in Tehran covering some English language songs, but he gained attention when he began rapping in Persian about social problems and the younger generation in Iran. His cyber footprint stops at 2014, but his FB saw a few posts in 2016-17, last post in June 2017...

Next up is a progressive post rock number - Lady Medicine - EDRAAK, also from Tehran, AKA Hamed habibzadeh, composer and vocalist. Song released December 5, 2016, nothing after that.

We close the set with Don't Lose it - AsEm AK, a Rapper in Baghdad, IQ. No bio, the song was posted at Rev. 5 yrs. ago, but his SC page is current up to a fresh tune last year. Nice...



[songs] - 10:51; 13:40; 18:12



["Geeknotes"] - 21:23

Geeknotes: King Day events on Monday, Anti-War Marches Saturday...

Hey, Geeknotes!

Ok, gonna be brief here - there are no distinct happenings that jumped out this week cause it's pretty much King Day events going on around the country today and all the big anti-war protests going on Sat. I do have band pluggers on the Twitter.

Anyway, laast week's crap is still here, including BLM disinvited to the Women's March in LA, the Sanders-Warren fight the lazy media has been instigating kicked up a little entertaining 'Dems in disarray' action, instead of, say, following up on the other Iranan official P-Grabby tried to airstrike the same day as Solemani, Abdul Reza Shahlai with the Quds Force, probably somebody else on the White House shit list for months, who could be whacked at the best timing for an 'immanent attack' to provide their own impeachment trial diversion - cause why would Iran do anything that blatant to distract from a process that could get rid of the main roadblock to the deal they were upholding? Besides, the real cold war with Iran is them stepping up the hacking of American Gov't, military and corporate computer networks after the Solemani drive-by hit, and the Pentagon wanted to beef up their cyber security force but Orange Queenie them Space Force instead; somebody's hoping Iran can produce a Reichstag Fire event to use...

And about the Impeachment trial - any of the gleefully un-Constitutional GFY-GOP rat bastards sworn in that spits the words 'fake news' during the kangaroo court in the Senate, may just as well be saying 'I take the 5th against self-incrimination.'

Especially P-Grabby, who is seriously losing his shit in general, and the corp. press organs refuse to point it out - do some media bosses already know to the nickel how much more profitable it would be if Mt. Twitler actually did blow a gasket and fired cruise missles at Tehran, especially as Russia and China both have ships in or near the Persian Gulf. Just imagine all those anxious terrified butts planted in front of screens, not even moving during the ad breaks, that are longer, more frequent, or both...

If you have promos, pluggers, gig info, an art opening, etc, send me an email. The address is mfunkyzine@gmail.com. And bands, artists and poets - download links, no attachments, please, and no promises...

[Grid Practice] - 25:22

Bucking Horse With No Saddle

Ok, In Grid Practice,

So in the lab on Wed. I set everything back up with the booster going through the 10A ammeter, and the currents on the two meters as expected almost mirrored. I took 5 shots of the readings within about 20 seconds, turned it off, and the currents at first were very close, then the booster current dropped by about 300mA and that gap remained. - cool...

I did more runs for a minute or so in both directions, putting the charge controller in a little stress as the battery light shifted between amber and green both ways, then the V-A meter on the B battery went nerky - started blinking and froze on 840mA, and the controller solar light went out. I replaced the busted meter, gave it some juice and it started blinking - Ok, it's the 9V rechargeable battery running down, the meter is fine, swap in a fresh 9V...

Anyway, it was the wee hours when I set up again and ran another shakedown, back and forth, and everything looked ok, but I smelled a little electricity and shut it off. The 4A boost converter was warm going on hot, nothing else was...

Ok, the overhaul of the circuit (and cutting the total resistance of the circuit wire in half) has it running at full gallop, and to me it's obviously too much current going through the power loop, but after another round of searching the free energy forums on Thur., I still ain't supposed to use either my brick resistors or the rheostat on a variable load like the booster. And thinking about the booster as an actual 25W solar panel, the term 'limiting current' led to bypass diodes, but that's still voltage, not current. The only thing left is the booster that didn't have but does need a CC control, and there's very few boosters like that available, except from China.

So, late Thur. I started looking at 25 - 50W boost buck units, plenty of them available downstate, and on one eBay seller's page I saw confirmation in the sales pitch / product description that, roughly, when used as a battery charger, without a CC control, a boost-only converter will always run hot, and apparently the charge controller in between it and the charging battery don't matter. That's the full gallop, and the wild horse ain't wearing a saddle...

Anyway, on Fri. at eBay I found my new doohickey - a couple 30W 2A CC CV boost buck converters for $6 total, not from China but Hong Kong - and yeah, on Sat. I called the Berkeley shop to check, but they only had one size boost buck and it only put out 9V max, but I tried...

Anyway, it's coming on another slow boat, so the current situation is damn good; my demo power plant is kicking, and until the saddle arrives, I have a couple weeks to focus on the other major project this year, getting a campervan and going mobile, that's getting its own overhaul...

[One More Tune] - 29:47

Ok, for this week's One More Tune, we close out with the submitted piece the music selection was played off of - Go Shit - by Portland hiphop artist The Dutchess, who had an explosive entrance into the Hip Hop scene last year after becoming the 2018 Coast2Coast Live Showcase-Seattle winner. A month ago she dropped her self released and eponymous debut album with this number as the debut music video. Nice and hard, and while I normally avoid tunes where the N-word is used more than I say it in a whole year, this year in particular, respectability politics can suck it...

[song] - 30:35

Well, OK.

[Closing] - 33:04

Hey, this show is a 1223studios joint.

I'm on Internet Archive, Spotify, Tunein, Stitcher, Google Play, iTunes, PlayerFM, Listen Notes, Podknife and Mixcloud. Show notes are on the podpage. Send email to mfunkyzine@gmail.com.

If you like the show, tell your friends, and, remember, the rat bastards want your SS money, which they consider communism, and one sure way to get it is to crash not only the economy but the gov't itself - if Uncle Sam can't issue checks they don't disappear but they go somewhere...

Show themes "Rocket Power" & "Spy Glass" by NY musician and composer Kevin MacLeod. Some additional audio from freesound.org.

Next episode is set for Friday, 24th, 2020.

I'm Larry, trying hard to stay chill at my garrett in the Mission, and this is Magnetofunky, from San Francisco, where we go through, not into, the darkness.