Bug Out Bike

Episode Transcript. Length - 45:11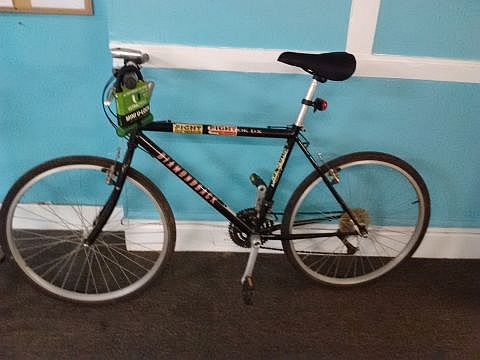 Magnetofunky No. 156. It's Sunday, February 2nd, 2020.

[intro theme]

Hey. Larry here. The show took a short downtime break from the power plant project to reconsider my moves now that the campervan is out of reach, cause the reasons for going mobile remain. Anyway, in light of the sorry excuse for a sham Senate greased pig trial, I decided to do another keyword specific show from the free MP3 stacks at Rev. plus submissions...

[song] - 00:56

Yeah, that was The Fix Is In - Brian Andrew Marek, a Rock / Psychedelic / Minimalist singer/songwriter/musician from St. Louis with a considerable collection of work, the higher quality pieces are on his Bandcamp page.

And whether your reaction to the GOP BS last week shredding the Constitution was [duh dun duun], or the more cynical [rimshot], we get to see in real time how mobsters become a monarchy - or in old school speak, how a bandit chief becomes a king - with help....

This is a laid back (and often explicit - you bet your ass) weekly international podzine of extremely eclectic music and progressive politics, with a focus on energy independence for the 99%. My podpage is 1223studios.com/mfunky.h. The Twitter is @Magnetofunky.

[Grid Theory] - 05:35

West Coast Walkabout-

In Grid Theory,

While it's downtime waiting for the new part, I focused on the mobile lab-studio campervan plan. The reason why hasn't changed - the rent is too damn high and I don't wanna get stuck. I still want a van, but I"m short now unless I buy a piece of crap that won't pass a DMV inspection, and it would take at least a year to save back up while paying rent. And frankly, after 8 years here I've gotten extremely sensitive to the tiny rippling vibrations I feel in my feet and hands leaning against the wall that's a load-bearing wall, and when I check the earthquake app on the phone half the time it shows a small temblor a few miles away sometime ago, and so much of this city is on fill...

So I'm gonna pretend I'm in a Steins/Gate scenario: I got a mysterious email from myself in the future saying a serious quake will hit the city a year from now and I need to bug out before Xmas. And since I do have a vehicle - an old Diamondback hardtail steel MTB, built like a tank - I should actually bug out, put my stuff in storage and go Walkabout. In a year to 18 mo., I could have enough to go another round of driver lessons, pass the test and get the van I want.

I do have one other option of staying on two wheels - a 350-500 cc motorcycle with a trailer, but going that way just puts me in the middle of freeway traffic where any accident is more expensive and hazardous than being on a bike, plus a motorcycle is less stealth than a bike and more exposed than a van. And being on a bike makes me less likely to be pulled over for driving while black (depending on what one-horse sundown town I ride through after dark). Anyway...

There are lots of free to low cost camping and dispersed camping (boondocking) spots all up and down the west coast and a MTB can go into the backwoods as far as a van; with 5G being the new hotness, 4G mobile wifi is getting cheap enough for me to stay connected, many well-marked bike route and trail maps that can keep me out of traffic and just to the parts of the highways where bike lanes actually exist, like Hwy 1 right on the coast, and even there I'm only riding north on any stretches with cliffs. This gives me the chance to actually see the redwoods, Big Sur, the Sierras, places to come back to in a campervan. There are many bike tourist, adventure camping and bikepacking orgs and resources I've only begun to delve into. And yeah, a bear bag or Ursack, bear spray, bleach in a spray bottle, loud whistle and a Crocodile Dundee knife for two-legged vermin----[bell]

Ok, back to the bike in a bit...

[Back To The Stage] - 10:25

Ok, Back to The Stage, continuing the hard flow that I'm calling Tunes for Angry Chair Dancing, with no pro-Nazi Ancient Aryans BS. First a pair of Thrash Punk Metal tunes - King Evil - Frailed Sanity from Vacaville CA., I tracked up to 2013-14. That's Anthony Solis, Garrett Wood, Ray, Max Ross and Joseph Franklin. Did they ever release that debut album... Uh, next we have Evil King by Jakarta, ID band 686, from 2015 album Armageddon. The band relives the energetic era of Thrash Metal back in the 80s...



[songs] - 11:25; 18:16 [Second set]

Ok, next pair of pieces:

Welcome to the Blackout - Die Krupps, led by Jurgen Engler, among the first German punk rockers back in the late 70s and a driving force of the industrial and EBM movements. This is a new piece from his brand new album Vision 2020 Vision, sent in by Metropolis Records. And wrapping up with another darkwave number by suburban Denver Trip-hop Darkwave outfit Velvet Acid Christ from the new album Ora Oblivionis. The title is Conviction - something P-Grabby should get, but won't...

[songs] - 22:40; 26:36





["Geeknotes"] - 31:05

Geeknotes: 02/02-Cannabis Prisoners' National Fast Day, Within and Beyond the Prison Walls, 02/05-Speak-Out Against Another Charter School on Radioactive SF Treasure Island, SF City Hall Rm 400...

Hey, Geeknotes!

Ok, gonna be brief here - I fully expect the Senate to finish the standard trial format for a white cop who murders an unarmed darkie; I fully expect P-Grabby to take a victory lap and a celebratory piss on the floor of the House while the Democrats frown in disapproval (and nobody will yell out 'you lie!'). And I fully expect the corporate media to continue to 'both sides' the country's slide into chaos. And I will never call this pumpkin puss a king or dictator - if anything, Grand Nagus is becoming more fitting every day...

Here's a few happennings next week:

02/02 - Cannabis Prisoners' National Fast Day, 7:00 AM - 7:00 PM, Within and Beyond the Prison Walls

What is Cannabis Prisoners' National Fast Day? It's a day (2/2/20) in which all cannabis prisoners and their supporters (who are medically able) will participate in a 1-day fast (sunup til sundown) to raise awareness and call for an END TO CANNABIS PROHIBITION and the RELEASE OF ALL CANNABIS PRISONERS. Please join us in this peaceful protest. And encourage your family, friends, and community to participate as well! Together we are strong.

02/05 - Speak-Out Against Another Charter School on Radioactive SF Treasure Island, 1:30 - 3:30 PM, SF City Hall, Rm 400

Join United Public Workers For Action UPWA, Defend Public Education NOW! and other community members and trade unionists protesting the decision of London Breed's Treasure Island Development Authority Board TIDA to approve a charter at the radioactive contaminated Treasure Island Public School.

There has been a decades-long cover-up of the dangers at the Island that continues today. Tetra Tech radiation health and safety inspectors were illegally fired and bullied after reporting the falsification of testing and dangerous radioactive materials on the island.

This is a Superfund site that has not been cleaned up despite the efforts of agencies like SFUSD, DPH, and TIDA to declare that this site and Hunters Point is safe. This charter school which they now say they want to open up on a closed public school had previously been shut down by SFUSD in 2005.

If you have promos, pluggers, gig info, an art opening, etc, send me an email. The address is mfunkyzine@gmail.com. And bands, artists and poets - download links, no attachments, please, and no promises...

[Grid Practice] - 34:50

Mobile Studio...

Ok, In Grid Practice,

Now, the walkabout will include the power plant so I can run my laptop and charge my phone, so just like for a van it must be transplanted into a compact box with battery terminals at one end and the 12V outlet at the other, and I could add a pair of skinny 12Ah SLA batteries and be fine with 100W, but now I want to pump it up to 200W with a pair of skinny 22Ah batteries, which would have another 12V outlet - I'll draw up a new diagrams for that. A small sculpture studio can be done with small changes to my stone camp setup, which means I will need a cargo trailer after all for a stone, but specifically a custom piece that can collapse into it's own bag and be strapped to the rear rack. Luckily, there's tons of info on diy trailers that have 60-200 lbs. carry capacity and don't cost $300 - yeah, looking at you, fancy 2-wheel Burleys and 1-wheel BoB trailers.

Anyway, I'm looking at various wheel mounts and hitch setups from a few builds - a diy folding cart made of 1/4" plywood and hinges, and a bamboo copy of a collapsible Burley Travoy seat post hitch trailer shaped like a folding hand truck (in fact some makers have turned a folding hand truck into a trailer with a seatpost hitch and 16-20" bike wheels). And just on Thur. I came across the old Carry Freedom Open Source Bamboo Bike wheel hitch Trailer, which wouldn't require welding or having to buy a conduit bender.

Anyway, I'm starting with the bike, which aside from a simple tune-up is pretty solid mechanically. At the local bike shop (Box Dog Bikes) I picked up a rack bottle holders and new tires - WTB 26 x 1.95" - but before I put the tires on, I gotta start riding to the park again to tune myself up a bit over the next few months. And get a big seat for my big ass and start breaking it in. And breaking news - my boost buck converters just came in late Sat., a week early, so let me wrap this up and I can go riding while everybody else is watching the Super Bowl - and I've paid so little attention to football lately, if it weren't for the snack and beer displays at the grocery store, I wouldn't even know the 49ers were playing - who are they? oh, the Chiefs...

[One More Tune] - 38:56

Ok, for this week's One More Tune, we close out with an insightful piece - Overthrow The People (Edited Version) - Un World Life, an Alternative / Southern Country/Rock / Electronica outfit from York, PA, with no bio or dated cyber footprints left, but I like it because to me it addresses anybody who didn't bother voting the last couple years but claims to be on the left who still demands that they be wooed to vote, or the frevent supporters of Dem candidate X who won't vote at all if candidate Y or Z gets the nod instead (unless those are all Boris and Natasha bots spreading apathy)...

[song] - 39:52

Well, OK.

[Closing] - 43:40

Hey, this show is a 1223studios joint.

I'm on Internet Archive, Spotify, Tunein, Stitcher, Google Play, iTunes, PlayerFM, Listen Notes, Podknife and Mixcloud. Show notes are on the podpage. Send email to mfunkyzine@gmail.com.

If you like the show, tell your friends, and, here's a new meme for anybody who's paycheck requires them to piss on the climate-change movement in snarky denial - just say 'ok cannibal capitalist...' I'll run it up the Twitter and see if anybody spreads it...

Show themes "Rocket Power" & "Spy Glass" by NY musician and composer Kevin MacLeod. Some additional audio from freesound.org.

Next episode is set for maybe Saturday, Feb. 8th, 2020.

I'm Larry, trying hard to stay chill at my garrett in the Mission, and this is Magnetofunky, from San Francisco, where we go through, not into, the darkness.