Coefficience

Episode Transcript. Length - 44:30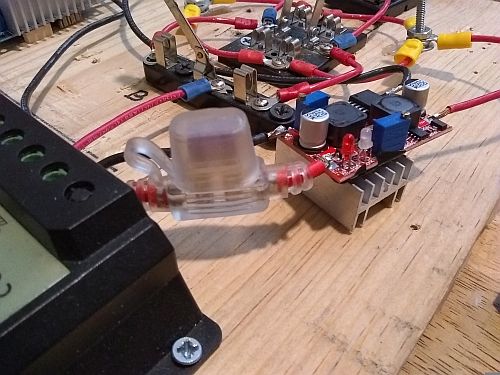 Magnetofunky No. 157. It's Friday, February 14th, 2020.

[intro theme]

Hey. Larry here. Since Super Bowl Sunday, I've made progress on the bike and got my testing done on the 100W power plant, that has gone from demo to working model. Meanwhile, the pace of political atrocity has gone pretty much as expected - as in a sham Senate acquittal is not exoneration. Anyway, almost all the music this time out is fresh submitted and an appropriate measure of tough love to Jabba the tRump - meaning this lead-off is not work safe!

[song] - 01:08

Ok, that was F.U. - Die Krupps, the German punk band from the brand new album Vision 2020 Vision, on Metropolis Records.

This is a laid back (and often explicit - you bet your ass) weekly international podzine of extremely eclectic music and progressive politics, with a focus on energy independence for the 99%. My podpage is 1223studios.com/mfunky.h. The Twitter is @Magnetofunky.

[Grid Theory] - 05:40

Bike Stuff First

In Grid Theory,

First, the monthly elevator pitch:

I'm talking about a 12V battery-operated self-charging phantom solar power plant that splits the positive and runs two loads, a power loop side and an open circuit output side. The power loop uses a 2A boost buck converter (imitation 25w solar panel) to a 10A solar charge controller to a battery. The open circuit output side uses an 8A boost-buck converter (imitation 100W solar panel) - 12V outlet - 150W power inverter. The system ideally is meant to run a laptop (max 90W) while one battery charges the other. A switching system flips the batteries between run and charging sides. The system was patented over 100 years ago by Carlos F Benitez, a civil engineer in Guadalajara MX. I've modified his final design concept using conventionally available parts and equipment. The power plant works just fine. This is a prototype emergency power backup system designed for people living in SROs, or who will never afford a Tesla Powerwall, and can conceivably be scaled up to 1000W...

Now, last week I had plenty of bike time and lab time, so the bike stuff first...

I'm currently changing my campervan plan to touring camperbike plan cause I'mm tired of paying rent. On the lab notes page I have a pic of the bamboo trailer design, from the YouTube and Instructable 'How to Build a Bicycle & Hiking Trailer with Bamboo - BooTec'. I picked up two poles so far, but it'll take five or six to do this. Meanwhile, I can do a pvc mockup...

I put the new rack and the tires on and have been riding now and focusing on any fine tuning issues with the bike as I got familiar with the local camping and bikepacking gear store, REI co-op. That was the only place that had an analog tire pressure gauge, cause a digital gauge just brings one more battery to deal with. Meanwhile, I settled on a diy pannier solution - using duct tape to make a waterproof container for my existing backpacks, but I'm still picking out a design. Anyway, that's the back; the front fork is old school and doesn't have eyelets or bottle mounts. There are p-clamps and u-bolts that can put a rack on, but the guy at the REI said it would wreck 'em and didn't try to sell me something else, so I decided to just replace the fork with one that has bottle mounts you can put stuff sack cages on that wouldn't hold more than 10 lbs. each. Something like a tent and/or a tarp and bivy bag, which is a whole other thing-[bell]

Ok, back to the tests in a bit...

[Back To The Stage] - 10:37

Ok, Back to The Stage, continuing the tough love for tyrants set with the only song curated this time, Reprobate - The Holy Ghosts, a Rock / Alternative / Indie band in Seattle, WA, active in 2012.

Next up it's When You're Evil - Aurelio Voltaire. This is from a 2020 remaster of the artist's 1998 debut The Devil's Bris, released by Projekt Records Portland, OR. Mr. Voltaire is a modern day renaissance man - singer, performer, creator of comic books, animation and toys. Many know him for his songs "Brains!" and "Land of the Dead" from the Cartoon Network show "The Grim Adventures of Billy And Mandy."

And we wrap with We Lose The Night - Then Comes Silence, a quartet from Stockholm known as the Swedish captains of postpunk. This is the advance single from the new album 'Machine' release date - Mar. 13 on Metropolis Records. Nice beat, you can dance to it...

[songs] - 12:05; 15:08; 19:43 [Second set]



["Geeknotes"] - 23:38

Geeknotes: 02/17 - Wake Zuck Up at His House on President's Day, SF, 02/22 - Beyond Contempt - How Liberals Can Communicate Across the Great Divide, Book on B, Hayward...

Hey, Geeknotes!

Uh, I'll spare wasting further breath on worse-than-Pres.-Fredo-Corleone P-Grabby, alias Pumpkin Pinochet holding a for real shit list, alias Grand Negus Queenie, who's only the frontman for all the rat bastards hiding behind his big ass. I'm still giving stink eye to the corporate media, now more corporate than ever, so I'm gonna loosely paraphrase a comment on one of the news blogs a day or so after Warren's tussle with GS on Sunday:

If you overpaid assholes in the corp. media would give any Dem. candidate $5-billion worth of free air time as you all did Trump in the last election, if you pundits in the corp. media would cover any Dem. candidate speeches about policies they support instead of parsing each and every goddamn word they utter, the people might know them better. If you in the corp. media hadn't covered each and every mob rally Trump held just because the mobs were chanting Lock her Up instead of examining his policies, we all might be in a better place. In other words, if you in the corp. media still won't do your goddamn jobs, we might just get the ratings bonanza of a re-elected mobster Administration...

Here's a couple happennings next week:

02/17 - Wake Zuck Up at His House on President's Day! Facebook Protest, 10:00 AM - 11:30 AM, 21st Street and Fair Oaks, SF

This Presidents Day, gather outside Z-Dog's house near Dolores Park to let him know that we won't be quiet in the face of his company undermining our democracy.

Facebook refuses to take responsibility for lies, hate, and disinformation spread on its platform. This irresponsibility is alarming -- especially in light of the 2020 elections.

Facebook sells ads to U.S. politicians but imposes zero restrictions on lies and false claims and is happy to profit from micro-targeted advertising that's being used to misinform, manipulate and incite hatred among vulnerable voters.

02/22 - Beyond Contempt - How Liberals Can Communicate Across the Great Divide, 5:00 PM - 6:00 PM, Book on B, 1014 B St., Hayward

Author Erica Etelson will read from her new book, Beyond Contempt: How Liberals Can Communicate Across the Great Divide.

If you have promos, pluggers, gig info, an art opening, etc, send me an email. The address is mfunkyzine@gmail.com. And bands, artists and poets - download links, no attachments, please, and no promises...

[Grid Practice] - 28:17

It's Baked In...

Ok, In Grid Practice,

So, picking up after Superbowl Sunday, as I calibrated and installed the new boost buck converter, I set the current to 1.5A and the output at 17V over 16V because that is the 'rated terminal voltage of the average 12V solar panel.'

The tests covered either 30 min. or 15 min. each way, measuring the 'B' battery input and output.

The first test (30 min.) with the phone charger showed the system running at 1.6 - 1.8A, or 20W, delivering a C of P of 2.26735. The fan motor at the highest setting only pumped the steady current draw up to a max of 3.2A. C of P of 4.01116. With the laptop plugged in, the heavy 90W load spiked to just over 3A, then settled between 2.5-3A. C of P of 3.30682. No more 5-6A surges; the system is locked down and under control...

On the input side, the analog ammeter connected to the output control switch read a range of 600 - 750mA going into the charging battery no matter the load. Cool, but the little boost buck unit wasn't - it radiated a small amount of heat from the end near the output, so I rooted around and had a small heat sink with a screw I installed, which actually did help..

Anyway, the test results look straightforward - the coefficient is directly proportional to the load the system is running. 20W is over 2; 30W is 3, etc. Any load over 10W will always deliver a C of P above 1.1, meaning overunity is baked in with this circuit topology, whatever overunity means. Now to doublecheck this I compared notes with existing research, like the research study published in Mar. 2018 - Coefficient of Performance of Battery Running and Charging by Magnet Generator Bedini, found in the Journal of Electrochemical Energy Conversion and Storage, Nov. 2018, which involved Coefficient testing of two different Bedini Motor circuit topologies. The math is the same, so my results look good.

There is one more test - a straight one-way charge from A to B where both batteries are measured, which shouldn't take longer than a couple hours, so Wed. morning and afternoon I charged the 'A' batteries back up to 13.0V and the test started at 5pm. The 'B' batteries were at 12.0V. I measured the no-load and load voltage of both batteries at the beginning and end, and the currents as well. Now to cut to the chase, it took 2.5 hrs. to turn the battery light on the charge controller from amber to green, and another half hour to go from bulk charge to float charge. I wanted to go until the battery read 13.2V, but 13.1 at float is sufficient.

The load amps from 'A' battery came to 2.37A, and the charge amps to 'B' came to 625mA. 28W output to 8W input. I have a Coefficient of Performance number too - 3.5868, if it can reasonably apply to the Benitez-8 system strictly as a battery charging device. I don't know whether this proves overunity or how much efficiency is in the coefficient numbers, or if 'coefficience' is a thing, I just know this arrangement of components works just fine, and for sure the rapid switching method of going back and forth every half hour or hour is better than one way straight charge. That makes this system even more simple to run. Of course, YMMV, but I'm moving on to shrinking this design down to a portable control module while bumping it up to 200W. Yeah...

[One More Tune] - 35:12

Ok, for this week's One More Tune, we close out with an eclectic turn away from angry dancing to atmospheric soundscape. This is brand spanking new, being released today - Black Forest - Jarguna - Seetyca, from the album Tales of Millennial Trees, also sent in by Projekt Records. The whole album is full of these ambient electronic environments - good tunes for depressurizing...

[song] - 36:01

Well, OK.

[Closing] - 42:49

Hey, this show is a 1223studios joint.

I'm on Internet Archive, Spotify, Tunein, Stitcher, Google Play, iTunes, PlayerFM, Listen Notes, Podknife and Mixcloud. Show notes are on the podpage. Send email to mfunkyzine@gmail.com.

If you like the show, tell your friends, and, I'm done with the corp. media's 'electability' narrative, which is just the corporations pushing who they want the Dem. candidate to be, and damn the unwashed voters. Far as I'm concerned, if you qualify to be on the ballot in the first place, you're electable, and it's got shit-all to do with how much dialing for dollars or personal bankrolling you do, except where that money warps your policy platform, meaning too much of the wrong money backing you is what makes you un-electable...

Show themes "Rocket Power" & "Spy Glass" by NY musician and composer Kevin MacLeod. Some additional audio from freesound.org.

Next episode is set for maybe Friday, Feb. 21st, 2020.

I'm Larry, trying hard to stay chill at my garrett in the Mission, and this is Magnetofunky, from San Francisco, where we go through, not into, the darkness.