Long Leap

Episode Transcript. Length - 40:14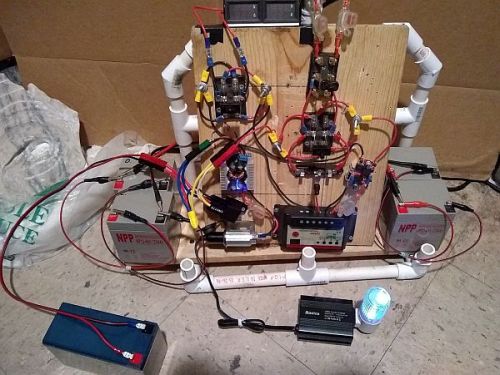 Magnetofunky No. 158. It's Saturday, February 29th, 2020.

[intro theme]

Hey. Larry here. Ok, leap day, SC primary day, three more days of social media bots running wild here in Cali, meanwhile, my Benitez-8 system moves forward. The music is an extremely ecclectic set, opening with another contemplative piece to de-stress...

[song] - 00:52

Ok, that was In Air, It Seems another beautiful ambient number from veteran Bay Area electronic musician and multi-instrumentalist Forrest Fang's latest album Ancient Machines. Nice...

This is a laid back (and often explicit - you bet your ass) weekly international podzine of extremely eclectic music and progressive politics, with a focus on energy independence for the 99%. My podpage is 1223studios.com/mfunky.h. The Twitter is @Magnetofunky.

[Grid Theory] - 06:34

Three Short Runs

In Grid Theory,

After a fortnight I've done enough testing of the Benitez-8 power plant to address the question at hand - when do I have to add that 40-50W solar panel to top off or recharge the system itself?

So, the switch Mode tests - 3 Hr run at 30 min. switch rate; attempted 3 Hr run at 1 Hr switch rate; 4 Hr run at 1 Hr A-B, 30 min. B-A switch rate:

The A battery began at 12.8V and ended the last charge at 12.8V, the B battery began at 12.4V and ended the last charge at 12.5V. The 2A boost buck converter didn't get hot from the rapid switching. The load was the smartphone. During each switch side, the charging battery went from amber to green and buck charge to acceptance, then float. Neither battery bank felt hot, and removing the 9V batteries and running the digi meters directly didn't seem to affect the numbers. The normal losses in voltage expected in running the system aren't apparent in just 3 hrs (good!), so the next test was supposed to be a 12 Hr run at 1 Hr switch rate, with a mix of loads, 6 rounds of data...

I started without charging up the 'A' battery, so the output side was just 12.5V and the 'B' input was 12.1 - worst case scenario. At 1 Hr the voltages were reversed. I started up the 'B' output side and noted that at about 40 min. the battery reached 10.5V under load, and the discharge rate increased rapidly down to 6.0V in a minute and a half as the current spiked above 2.3A. I switched the system back to 'A' output to not damage the 'B' battery. So much for worst case...

Considering that the power loop side only monitors the charging battery, and the two boost buck converters will pull whatever they need from the run battery to maintain CC CV, this system has a baked-in joule thief effect. Ok, bad if you want to maintain the batteries for more than a couple years. But, I might not have seen it if I started with two fully charged batteries.

I could use a couple battery low-voltage disconnect modules with a 10.5V trigger, and I could buy 'em for under $5 ea., but only in mainland China, as in Shenzhen, right across the bridge from Hong Kong where the Peoples Lib. Army has been continuously training lately. So no sidestepping my self-imposed except for-Taiwan and HK China boycott for expediency (just like I don't use Uber because of all the Saudi venture capital backing it up - sorry hipsters)...

So, can I charge a battery as well as hold stasis? The next test was a 4 Hr run with three 1 Hr A-B sides and two 30 min B-A sides. After charging the 'A' batteries back up, they started at 12.8, ended at 12.0; B - started at 12.1, ended at 12.5. Twice the discharge from A, but only half that charge went into B...

So far the 30 min. switch rate seems to maintain stasis, but still need to see how long the system can run like that before needing that outside charge; both batteries should be above 12.4V at start; putting a battery at 12.2V or lower in run position will cause the system to go into joule thief mode and accelerate the discharge. And since the long test needs to be 12 Hrs or so, having to cut the AC power on and off will get old quick, so for convenience it's time to add a backup battery just to the load tap side. Luckily, I already have that Radiodan.com PowerGate DC Switching module - still for sale at eBay for under $30 - so on Mon. I installed the backup switch and made PowerGate hookups, and since the Berkeley shop is closed on Tues., on Wed. I went and picked up a few more feet of 16 gauge red and black wire, the DPDT switch that was out of stock last time and a 12V 7Ah SLA battery---[bell]

Ok, back to the long test in a bit...

[Back To The Stage] - 12:32

Ok, Back to The Stage, continuing the eclectic set with a mix of tunes, the hardest pieces in the middle... First up we have Rollex from Atlanta-area artist K Gizzle, dedicated to Bloomberg's checkbook campaign, and P-Grabby and Big Pharma's notion that another billionaire tax cut and jacked up Corona vaccines will fix the problem - a sick stock market, not sick citizens...

[song] - 13:09

Next up, hard piece no. 1 - Human - German induatrial/EBM artist Jurgen Engler of Die Krupps from the new album Vision 2020 Vision, followed by Fucks To Give, another hard hiphop number by the LA hip hop duo BOCO, AKA Boski the savior and coco danja, produced by cats ric and Thadeus on their upcoming album the vibes are back. And you red hats in the back can sing along...

[songs] - 16:33; 21:06

Ok, we close out with a nice indie pop tune by Parker Rose, a songwriter from Los Angeles. He says 'I have been bullied my whole life, at school and work. This is my way of getting even with the world.' This cat works with many outfits; a short list includes Prayers for Sale, Chihuahua Garbanzo, The Fashion Meltdown, The Endseekers, and The Mazel Tov Cocktail among thers. The song is slowdrive. Cool...

[song] - 25:11





["Geeknotes"] - 28:50

Geeknotes: Super Tuesday Bots Galore...

Hey, Geeknotes!

Ok, long episode, no particular events cause next week it's all Super Tuesday and BS Corona virus conspiracy theories from Orange Queenie - super genius. But before moving on, I will mention my own suspected trollbot encounter:

Going way back during the Nevada caucus, I was reading an entertainment news piece on the new Star Trek show on my phone when an annoying popup ad appeared featuring Carlos Alcala from the Chicano Latino Caucus (a group I've never heard mentioned on the local Pacifica station) with a Bloomberg logo in the upper left corner. It popped up every 10 seconds. The very next day I was reading another Star Trek-related piece on a different enterainment news site, and the same Chicano Latino Caucus ad appeared, but this time there was a Tom Steyer logo in the upper left corner.

I'm just gonna leave that there with the revelation that the trollbots in 2016 mostly targeted black and brown voters, and get back to the show...

If you have promos, pluggers, gig info, an art opening, etc, send me an email. The address is mfunkyzine@gmail.com. And bands, artists and poets - download links, no attachments, please, and no promises...

[Grid Practice] - 31:16

One Long Run

Ok, In Grid Practice,

Continuing from Wed...

Back home I crimped and connected the backup switch and hooked everything up for a quick test and the backup worked perfectly - the night light plugged into the power inverter didn't register any hiccups as the main power cut off and on. Cool, but I saw how low both batteries were, so they needed to be topped off. Wed. night and all day Thur. I charged them back up and Fri. setup the 12 Hr test, after I ran the batteries a bit, because when both sides start above 12.8V, the charge controller stops taking charge from the boost buck converter, and it goes from red to bright blinking orange as the current drops to under 50mA.

For the actual test I plugged in the laptop to really push a practical load. To cut to the chase, it took 5 hrs of run time at the 30 min. switch rate to discharge both batteries to under 12.4V, with 5 min. between sides to take quick voltage readings, while I browsed the web, did camperbike research, watched a few Netflix shows, etc. By the end one battery bank managed to stay above 11.0V under load, but the other pair dropped fast to 6.5-7V - I think they may be done. Also, these being 8Ah battery banks instead of say, 18-22Ah units adds to the strain the device puts on them. So for now I have a heavy-load baseline on the device, and to bump the mobile system up to 200W, a pair of 18-22Ah batteries and a 5A boost buck converter should do the trick...

[One More Tune] - 33:55

Ok, for this week's One More Tune, we close out with another de-stressing number - I wish you could smile - Stoa, from the album Of these reminders - a tribute to Black tape for a blue girl, the American Ethereal band, on Projekt Records.

[song] - 34:21

Well, OK.

[Closing] - 38:37

Hey, this show is a 1223studios joint.

I'm on Internet Archive, Spotify, Tunein, Stitcher, Google Play, iTunes, PlayerFM, Listen Notes, Podknife and Mixcloud. Show notes are on the podpage. Send email to mfunkyzine@gmail.com.

If you like the show, tell your friends, and, If you like the show, tell your friends, and, because the corp. media is so critical in helping create and maintain our current gangster administration, starring not Scarface, more like Butterface, anyway, nothing will change as long as profit is more important than proven facts, and the media bosses should admit that they love hearing the uninformed spout 'fake news' at facts - it's so easy to tell people what they want to hear...

Show themes "Rocket Power" & "Spy Glass" by NY musician and composer Kevin MacLeod. Some additional audio from freesound.org.

Next episode is set for maybe Friday, Mar. 6th, 2020..

I'm Larry, trying hard to stay chill at my garrett in the Mission, and this is Magnetofunky, from San Francisco, where we go through, not into, the darkness.