Essential Business

Episode Transcript. Length - 47:01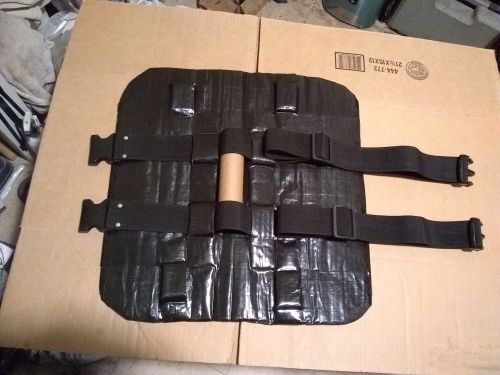 Magnetofunky No. 160. It's Friday, April 17th, 2020.

[intro theme]

Hey. Larry here. Yeah, it's been a whole month sheltering in place and only doing essential business while standing in line everywhere because of hoarders, but I did DIY a piece of bikepacking gear and a bugout trailer. Anyway, the music, this time mostly sent in by Projekt Records, is a set of chillout-type tunes for taking a walk or bike ride through the park - for y'all who still can do that without 'Papiers s'il vous plaît!'

[song] - 01:06

Ok, that was Airborne 2 - Erik Wøllo, Norwegian guitarist/synthesist, from his 2012 album Airborne, reissued by projektrecords. He manages to synthesize influences from Tangerine Dream and Pink Floyd to Steve Reich and modern electronica.

This is a laid back (and often explicit - you bet your ass) weekly international podzine of extremely eclectic music and progressive politics, with a focus on energy independence for the 99%. My podpage is 1223studios.com/mfunky.h. The Twitter is @Magnetofunky.

[Grid Theory] - 07:23

Face Mask Etiquette

In Grid Theory,

As expected, not much theory due to the semi-lockdown in the city, which has greatly slowed the impact of the first big wave of Covid-19, and the second wave, the delayed reaction from all those Spring Breakers who partied globally, not just Florida, has already started.

Meanwhile, I've been dealing with the hassle of the different states of face mask etiquette over the past month. To start with, I have a 2-3 yr. old N95 mask that's part of my sculpture studio gear, and I wore it a few times grocery shopping, but I felt like somebody else in the store who's, say, a stressed healthcare worker, might just think I was a selfish prick showing off...

Before and after the mask, for a while I was wearing my black bandanna, which was really uncomfortable walking into the big grocery store and especially the corner liquor store, looking like black bart...

So finally, Thur., I didn't cover my face at all. I'm not recommending or advocating for anybody else, but I think I'm covered. Yeah, I'm over 60, but I don't have an pre-existing condition (and I beat the Type-2 Diabetes more than 3 yrs. ago), I don't have a cold or the flu, have gotten anal about washing my hands like everybody else who cares, and the best part - I was getting social distancing space by the yuppies and tech-necks before the pandemic hit, and not wearing a mask ensures the 6-feet. Nice that I'm not in NYC or Paris, and as long as the numbers stay low here, it won't become a thing with a fine...

One last thing - the guy in my building, the Trump supporter who worked at the grocery store and came down with Covid-19, well, last week the Health Dept. seal on his door was broken so I was waiting to see him and ask if he still thought it was a media hoax. I didn't see him, so this week when I saw one of the bldg. managers, I asked about him, and they said he died at the hospital and his kin was there picking up effects. I mention this because the other day a red hat asshole in that store was trying to argue with a couple people around him in line who weren't biting. 'It's all a hoax, the media just wants to make Trump look bad. Do you know anybody who died from it? I didn't think so.'

If he ever shows up and starts that shit near me, I'll tell him he should bring all his friends to shop there, that'll show the libs...[bell]

Anyway, in a bit making my own bike gear...

[Back To The Stage] - 11:37

Ok, Back to The Stage, continuing the walk through the park with a new piece by Mercury and the Architects, the epic anti-pop community of individuals down in LA. It's called 'Loophole'...

[song] - 11:53

Ok, next up it's more chillout - Ghost Colored - lovesliescrushing, from the 2013 album Ghost Colored Halo and the band's 10th. Somewhere between My Bloody Valentine and ambient music, the duo of Scott Cortez and Melissa Arpin-Duimstra has been crafting lo-fi dreamscapes since the fall of 1991. Another projektrecords release, and I didn't see it on their Bandcamp page, but I think they're a Seattle group...

[song] - 15:51

Ok, wrapping the set with space - mira, just because I wanted some dreamy shoegazer pop with edgy angular guitar... I think she's another local Seattle-area artist reissued by projektrecords - this is from her 2nd album released 2001. It's on a Bandcamp name-your-price page. Nice stuff...

[song] - 21:17



["Geeknotes"] - 26:57

Geeknotes: No Zoom...

Hey, Geeknotes!

Ok, gonna keep this short cause there's no way to succinctly cover a month of Pres. Shithole's egregious mendacity, so a few points:

The novel coronavirus has already mutated a handful of times, but according to one article's experts, the new mutations are happening in slow motion and extremely similar to the original virus that appeared in Wuhan, China, and don't seem to be any more aggressive than it already is - and yeah, there are stories that imply the exact opposite. So maybe a vaccine will protect people against the original strain and any mutations, maybe not.

Of course, a working vaccine is still a minimum of 8 mo. to a year away and no matter what, the second wave may take off in the rural red states sometime around May Day, because too many red hats throwing temper tantrums are trying to spread it and succeeding, with an eye toward monkeywrenching the summer, but they needn't bother - the refusal of Pres. Shithole to call for widespread public testing at all, and still dragging his heels, demanding governors give him either a public handjob or a hummer before he'll lift a finger, is likely to result in 80K - 100K US deaths by Nov. if the red states health infrastructure gets overwhelmed...

Y'all can say 'Chinese Virus' and blame the WHO all day, but China didn't kill Pres. Obama's Pandemic Response Team in 2018, and the WHO didn't spend a single day in Feb. on the golf course calling the pandemic a hoax; they made almost 2 million masks...

And finally, the angry and impatient 1%'ers going all 'damn the plague and get back to work' aptly demonstrates the business acummen that proudly worked slaves to death, and is at the heart of the rot of American capitalism, birthed on the plantation: the absolute contempt for manual labor, because massa/boss was used to getting it for free (in the Antebellum N. and the S. - Life, Liberty, and Owning A Couple Strong Bucks), that's why wages for manual labor were, and are viewed by many captains of industry as a tax, and back then before the Civil War there was no income tax, and the rich planters basically ran the slave states (and how many of the first doz. Pres. were slave owners?). They collected what taxes there were and built only the civic infrastructure they felt like; making the slop and rags and shacks provided to slaves pretty much a personal expense that paid for itself (and if it didn't, you could always sell off a kid or two)...

Anyway, digressing...

No events highlighted, not even Zoom happenings, because of all the trolls, but I will predict that 4/20 will be an actual thing this year and not just a Nazi play date, and two weeks from now May Day will be a big fricking deal everywhere, cause social distancing and mass protest can go together...

Ok, for the duration, If you have promos, pluggers, gig info, an art opening, etc, send me an email and I may add it to my Twitter feed. The address is mfunkyzine@gmail.com...



[Grid Practice] - 31:56

MYOBG

Ok, In Grid Practice,

Well, what should have been two weeks turned into a month since the last show, partly due to my former bank, but anyway, on the mobile Bentez-8 power plant, I settled on a dollar store plastic container as the enclosure for parts. Next was waiting for check day to order the 22Ah batteries when the former bank got froggy, but anyway, while dealing with that crap I worked on the bug out plan, picking gear to buy at the REI store (like a handlebar harness), but because I couldn't walk in and buy it, I started comparing the $100 and up models to DIY harnesses, I ended up making what I hope is tough, flexible, waterproof and should easily carry 10 - 15lbs. of camping gear...

There's a ton of pictures on the lab notes page, so I'll be brief: the core is Reflectix, 18 x 18", covered in three layers of duct tape on both sides. The outside has belt loops for straps, and the whole thing is designed to hang from a handlebar extension bracket. It weighs about 2 lbs., and the total cost will run under $50.

Next, my camp stoves: two very basic tuna can type alcohol stoves (10 oz. and 5 oz.), and my mini rocket backup stove for burning wood, which should provide a decent one-person campfire...

According to a few YouTube reviews of alcohol stove fuels, Heet in the yellow bottle is good and fast for outdoor use, but only Everclear should be used indoors (and apparently denatured alcohol stinks as it burns). The 10 oz. can stove is too big for the kettle, but it will work with a 7 - 10 in. skillet...

Last thing was the cargo trailer. The model I want I can't even buy local, meaning if it broke a part on the road, I'm kinda SOL. But, looking over DIY trailers, I saw a Pinterest link to a dead link - a 2012 bikehacks.com forum page found via Internet Archive's Wayback Machine - 'Utility Cart Bike Trailer Hack'. It was a granny cart strapped to a bike rear rack using bungee cords with bangle ends. Granted, not many touring bikers go this route because of concern over the wheels, and it looks kinda ghetto, but, depending on the wheels, some have a carry capacity between 80 - 120 lbs. And if this thing broke down, I'd only need to limp it to the nearest store where I could buy another $20 granny cart and keep rolling...

I don't like the bungee hitch, even though I tried it with bungee bangles and it seems ok. Thing is, since 2012, very very few folks replicated this design, and the original poster never followed up, so I imagined a solid hardware hitch...

Once my new bank was setup (and I finally got my check), I picked up parts from the hardware store - a 3/8" single bolt pipe repair clamp; two 3/8" eyebolts, two 3/8" x 2" bolts, nuts, washers; two heavy duty house grade 6-hole corner braces. A master lock serves as a hitch pin, as suggested by more than one bike forum. With minor alterations to the shopping cart handle and the rack, the hitch bolted together nice and solid, and added hose clamps lock the mount in place laterally...

Yesterday, Thursday around Noon I brought the bike and trailer out and ran a short test ride. I went a few blocks up Valencia, then a few blocks down, checking the hitch cause I didn't feel it at all. The cart rattled a bit from the light dummy load, as expected, but otherwise, 5x5, and I don't see an issue as long as I don't try more than say, 80 lbs., and don't ride faster than 30 mph...

Next thing will be a longer test ride, like to the park, to shake out any other bugs, while I look for replacement wheels so I CAN carry 100 lbs...

[One More Tune] - 38:38

Ok, for this week's One More Tune, we close out with some new ambience from projektrecords - Illusion of Duality - Jarguna, an Italian electronic music artist. This is his 31st album, The Morning Star, released March 21...

[song] - 39:02

Well, OK.

[Closing] - 45:25

Hey, this show is a 1223studios joint.

I'm on Internet Archive, Spotify, Tunein, Stitcher, Google Play, iTunes, PlayerFM, Listen Notes, Podknife and Mixcloud. Show notes are on the podpage. Send email to mfunkyzine@gmail.com.

If you like the show, tell your friends, and, to the rabid red hats - don't ever again say shit about 'Benghazi' and the 4 dead bodies y'all repeatedly flogged Hillary with, when thousands of dead Americans is a small price to pay to reinflate Wall Street and Trump's poll numbers, Mr 'I don't take responsibility at all but I have total authoritah!' Screw you sideways with a ventilitator...

Show themes "Rocket Power" & "Spy Glass" by NY musician and composer Kevin MacLeod. Some additional audio from freesound.org.

Next episode is set for maybe Saturday, May 2nd, 2020.

I'm Larry, trying hard to stay chill at my garrett in the Mission, and this is Magnetofunky, from San Francisco, where we go through, not into, the darkness.