Black Summer

Episode Transcript. Length - 31:41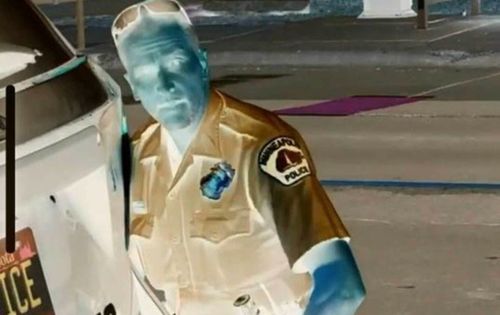 Magnetofunky No. 165. It's Friday, July 3rd, 2020.

[intro theme]

Hey. Larry here, trying to resume a regular weekly schedule under the weight of triple-decker shitstorms I shouldn't have to name. As professional-grade ordinance gives way to regular fireworks in celebration of our founding fathers enjoying the blessings of slavery in this land of the free, this week of small but significant baby steps in my lab is accompanied by tunes on or about the brave battalions of bad apples in blue with black tape covering badges and body cams - yeah, cop songs...

[song] - 01:06

Ok, that was killer cops free open verse type beat rap by East Oakland HipHop Mixtape music FREE AGENT Yellow Rob, with no bio or other links found at R., and like the rest of this week's tunes, it don't matter if it came out 10 years ago or last month, it's infuriatingly current...

This is a laid back (and often explicit - you bet your ass) weekly international podzine of extremely eclectic music and progressive politics, with a focus on energy independence for the 99%. My podpage is 1223studios.com/mfunky.h. The Twitter is @Magnetofunky.

[Grid Theory] - 05:34

MYO Bivy...

In Grid Theory,

More bike stuff, just a couple baby steps as it's the turn of the month, but a crucial piece of camping gear. So on Mon. I bought an 8' x 10' tarp, double sided carpet tape and gorilla tape for my DIY tarp bivy bag, copied from the YouTube video by Nampahiker. The next day I got the final item, 5' of skinny velcro tape, keeping the total cost to just under $30, less than half the cheapest entry-level bivy bags at any sporting goods stores...

Before doing the bivy I took the rear trailer hitch off the rear bike rack and un-bent it to slip some vinyl tubing over the loop. I bent the steel bar back around the rack, resulting in a 1/4" offset to the loop that won't affect the trailer, but still ain't pretty. At least the loop isn't tilted up from the rack now...

Anyway, the DIY part took a couple hours, biggest problem was the cramped floor space. I trimmed the tarp to 6" wide, left it 8' long, minus the part with grommets, then followed the video - sealed the seams and turned it inside out. With the pad and bag inserted, I wiggled in and confirmed that I had enough room for comfort. The bivy itself weighs less than a pound. I'll probably roll it up with the sleeping pad inside, maybe the bag as well as long as it doesn't get wet----[bell]

Ok, in a bit, the mobile control panel power test...

[Back To The Stage] - 08:20

------... Ok, Back to The Stage, continuing with a quartet of cop tunes, first, Cops at my door a 2010 Pop, Glitch, Breakbeat piece by German artist DRONE, who you'd know if you're familiar with the Lab30 festivals in Augsburg. I found this over at the FMA. After that it's a new release (sort of), a cover of the Body Count number Cop Killer done by Thanatos, from their projektrecords compilation Los Angeles '92​-​'95, released a little over a week ago, celebrating the time the band lived in Eagle Rock, near Pasadena in LA. The podpage link goes to their Bandcamp page, BTW...



[songs] - 09:17; 12:26

[Second set] - 14:54

Ok, second short set opens with Cops - The Clockwork, 3 freshman from Richmond making Hip Hop / Intellectual / Political music for the fun out it out of their VCU dorms, and no, the R. page has no date stamps. And we close out with Police Truck (part. Carlão), some hard 2012 Breakcore by São Paulo Brazil artist Retrigger, who has been producing hard and experimental music since the year of 2001. He recently released two vinyl compacts (Vengeance! And Pink Violence) by the French label Ego Twister, and though I found this piece at the FMA, check out his currently kicking FB page...

[songs] - 15:50; 19:05





["Geeknotes"] - 21:54

Geeknotes: Black Summer Begins...

Hey, Geeknotes!

We are now in the black summer of Boogaloo bastards, broken badges (not the Canadian TV show), the resumption of PG&E blackouts, the arrest of Trump butt-buddy Jeffrey Epstein's procurer Ghislaine Maxwell (who I sincerely hope is not being kept in Epstien's suicide special jail cell), and the BLM protests the corp. media is getting bored covering.

Now we have the real Trump tell-all book he fears - the one his niece wrote, not the self-serving doorstop put out by John Bolton, who apparently knew about Russian bounties for dead soldiers since Feb. last year, and sat on that info with his book already in mind instead of giving testimony in an impeachment hearing he had to know was a strong possibility - yeah, money over party, party over country...

Also, at the rate that angry, entitled tantrum-throwing Karens are switching from phones to handguns because they're so itching to shoot some black person if they're not being filmed, they might actually be the ones to start the race war Pres. Shithole and the Nazi Channel desperately needs, even though it's too late for that now. And, while I have no real problem with using the name 'Karen' to tag these members of the Lynch mob cotillion, I agree with those who suggest the more appropriate name 'Ivanka' to hang on these putrid princesses...

And leave the Golden Girls alone; just like shit from shinola, we know a mudmask ain't blackface, and removing a statue doesn't change an institution.

Anyway, for the duration, If you have promos, pluggers, gig info, an art opening, etc, send me an email and I may add it to my Twitter feed if possible. The address is [email protected]

[Grid Practice] - 25:03

One Day Lab...

Ok, In Grid Practice - real short...

This part was worked out on Tues. after settling on the skinny velcro tape for the bivy bag. After running the continuity test twice, I hooked up the batteries, the power inverter and plugged in the night light, connected the backup battery, made sure no wires inside were gonna short, and with the power switch off the power meters registered properly. I only used a single 4Ahr battery for the two sides, uncharged because I won't redo an actual run test until I have proper 22Ahr batteries.

The A to B lines checked out fine; the B to A lines as well, all the while checking to make sure that nothing started smoking. This took about 40 min., easy peasy. What's left is deciding how to heat shield the plastic as I hot glue the components to it, and how to cushion the whole thing for travel while it's in the cargo trailer. A couple baby steps, but done and done, and once I have the proper batteries I can hit the weeds for the 50W portable solar panel...

[One More Tune] - 26:44

Ok, for this week's One More Tune, we close out with a danceable getaway number - Patrol Patrol - Dark Party, an Electronica outfit from Brooklyn with no bio or online footprint aside from their R. page...

[song] - 27:05

Well, OK.

[Closing] - 30:13

Hey, this show is a 1223studios joint.

I'm on Internet Archive, Spotify, Tunein, Stitcher, Google Play, iTunes, PlayerFM, Listen Notes, Podknife and Mixcloud. Show notes are on the podpage. Send email to [email protected]

If you like the show, tell your friends, and, a question: why haven't we heard any public calls for UN election monitors in every state that gutted the Voting Rights Act? Ya wanna make it in-country only, fine - just have Jimmy Carter run it; he knows how to make it work even in these shithole states...

Show themes "Rocket Power" & "Spy Glass" by NY musician and composer Kevin MacLeod. Some additional audio from freesound.org.

Next episode is set for Friday, July 10th 2020.

I'm Larry, trying hard to stay chill at my garrett in the Mission, and this is Magnetofunky, from San Francisco, where we go through, not into, the darkness.