Mobile Studio Set

Episode Transcript. Length - 26:30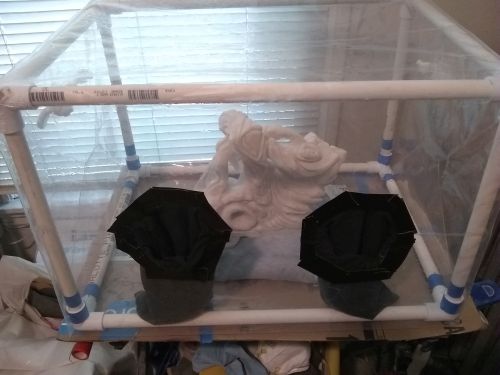 Magnetofunky No. 166. It's Sunday, July 12th, 2020.

[intro theme]

Hey. Larry here. Friday came and went while I was still working in the lab with an eye to what fresh BS the Trump crime family would pull thinking none of us were watching, and nobody was surprised when he pulled another card from his deck of jokers and sprung his dirty trickster Roger Stone from the horror of a single day in a federal country club jail while screaming 'law and order' at BLM protesters, the citizens the corp. media is getting bored with reporting cause there's not enough fire and blood to justify the continuing police brutality.

Anyway, yesterday I went looking for particular songs to go with my mood and found a few at R., Triple J Unearthed and the FMA...

[song] - 01:28

All right, that was the newest piece featured this week - I CAN'T BREATHE Feat. BARKAA - DOBBY, a rapper, drummer, speaker and workshop facilitator, based out of Sydney, NSW, who proudly identifies as a Filipino and Aboriginal musician, showing that police brutality and the 'law and order' excuse is a global thing...

This is a laid back (and often explicit - you bet your ass) weekly international podzine of extremely eclectic music and progressive politics, with a focus on energy independence for the 99%. My podpage is 1223studios.com/mfunky.h. The Twitter is @Magnetofunky.

[Grid Theory] - 05:49

Mini Dexter Box

In Grid Theory,

July is a slow month in the lab with the updated DC power converters and the camo tarps still out of reach, but meanwhile I have the matter of completing the portable studio past the half patio umbrella and big bug net, which is only for the hammer and chisel phase. At the dremel and riffler stage, I just need to control dust, but my Dexter-style dust room won't travel at all. Luckily, there's lots of diy dust box designs that'll fit the size stones I'm curently working on, even a cardboard box with a sheet of plastic on top, but those are indoor tools. I need a fully portable box that breaks down and folds up, and that's where the lab notes pics start...

On Mon. after window shopping online, I went to the Container Store and got their extra large plastic fabric sweater and comforter chest for $10; 24" x 18" x 15" high. The plastic is just thick enough to take medium duty handling. The only modification it needed was cutting out arm holes and adding sleeves from an old t-shirt.

To hold up the form I decided to use two frame types - a quick fold-up cardboard box frame and a pvc frame for longer term use, like at the sculpture symposium that could stay up for days at a time. Anyway, after trimming the 1/2" pieces the 'stone camp' frame looks fine and breaks down small enough to fit in a dollar store sized plastic bag (yes, plastic bags are still a thing in the peoples republic of SF).

Now that I have no excuse for getting on with the current stones (4 stones: one just past hammer and chisel stage at 1st base, two on 2nd, and the marble between 2nd and 3rd), instead of dirtying up the pvc frame, I started on the cardboard box version--[bell]

Ok, finishing the studio set in a bit...

[Back To The Stage] - 08:43

Law and Order?

Ok, Back to The Stage, continuing with a surrealistic pair of tunes because it's hard to glean political takes on the theme of the corrupted justice system from the haystack of cookie-cutter gangster rappers bragging about being the latest incarnation of fucking Scarface... Anyway, the very short set opens with What is the Law? - The Worsh Ahts, AKA Steve Loborec, an "experimental post-punk indie whatever" band outta Pittsburgh. The piece has no time stamp, and yeah is a sample from "Island of Lost Souls" the 1932 Paramount horror flick, followed by an Electronic, Sound Collage, Noir Schizo Trip-Hop number - Donald Trump's Hairpiece Robs Local Bakery, Posts Footage on Twitter - The Fucked Up Beat, A sound project from NYC by Eddie Palmer and Brett Zehner, uploaded to the FMA in Jan. 2016, well before the Electoral College selected the orange pustule, which features the voice of Ronald Reagan, the Pres. who started the country's long slide into depravity, AKA Nixon's Revenge...



[songs] - 10:11; 11:06





["Geeknotes"] - 15:11

Geeknotes: P-Grabby's Nero Decree...

Hey, Geeknotes!

Just a few quick takes cause I'm not wasting my beautiful mind on these necrophiles:

Kanye Jackass is running for Pres. under, what, the walking okee doke party? So what... And Shithole Salin finally wears a mask and demands praise? Too goddamn little and 137K lives too goddamn late...

And seeing how the sudden dread some are feeling about what P-Grabby will do between losing the election and Biden's Inauguration, the term 'Nero Decree' is trending. You know - Hitler's orders near his spiteful end to destroy German infrastructure and blow up the Eiffel Tower as a parting gift to the approaching allies, which were not carried out cause the two Nazis who had to do may have been evil but they weren't batshit? Well, Trump won't start it after the election; he started that BS right after he was sworn in and started dismantling everything Obama touched...

And finally:

Eric Garner, Michael Brown, Tamir Rice, Walter Scott, Alton Sterling, Philando Castile, Stephon Clark, Elijah McClain, Breonna Taylor, George Floyd, David McAtee, Patrick Underwood, Jorge Gomez, Rayshard Brooks, Andrés Guardado, and a woman, four men and a teenage boy lynched and brushed off as suicide. How many trials and guilty verdicts resulting? Don't tell me there's no such thing as a fucking perfect crime...

Anyway, for the duration, If you have promos, pluggers, gig info, an art opening, etc, send me an email and I may add it to my Twitter feed if possible. The address is [email protected]

If you have promos, pluggers, gig info, an art opening, etc, send me an email. The address is [email protected] And bands, artists and poets - download links, no attachments, please, and no promises...

[Grid Practice] - 18:12

Quick Frame

Ok, In Grid Practice,

Finishing up the mobile dust box, the cardboard frame is just a regular shipping or moving box; the closest size match is 24" x 18" x 14", or the box shown in the first lab note pic. Easy enough to replace and customize with a box cutter and a little duct tape. It folds down flat enough to fit inside the plastic bag, but with the plastic it's a rather snug fit and the pipes would rattle if left in the cargo trailer, so a tarp carry bag come next.

I drew up a simple pattern very similar to the tarp bivy bag, took my time measuring three times and cutting once, taped it together and added a handle that only looks like a shoulder strap. It has enough room to easily fit both frames and a few other items, like a small mist spray bottle and shop towel to tamp down any drifting dust inside, and a small sponge for quick cleanup. The carry bag fits inside the trailer, and wrapping the pvc in the plastic bag stops it rattling.

Lastly is a portable platform the dust box can actually sit on, to fit my camp table. With the remaining leftover boxes I cut out a folded shape 13" x 21" per side, added another two matching pieces of cardboard and applied carpet and gorilla tape. It fits in the carry bag that now is a little snug. Nice.

The hammer and chisel setup is much easier, being the half umbrella, bug net and a ground tarp to go with my Black & Decker Workmate, and since it breaks down with a screwdriver and a socket wrench, I'd only use it if I get another chance to attend stone camp and won't be carrying both. I'm not working on a fresh stone now, so this studio gear goes on the back burner as I go back to window shopping for my camo tarps and the upgrade DC power converters, and forget about any more fancy bikepacking bags and consider how much I should carry in a backpack aside from electronic gear...

[One More Tune] - 21:15

Ok, for this week's One More Tune, we close out with another Raw and gritty Punk Rock number from Sydney - Above the Law - C.O.F.F.I.N, the Rock / Punk / Reggae band whose names means Children of Finland Fighting in Norway. This is a 2014 piece, but check out their Bandcamp page for their latest album Be Gone, released last Aug...

[song] - 21:45

Well, OK.

[Closing] - 24:47

Hey, this show is a 1223studios joint.

I'm on Internet Archive, Spotify, Tunein, Stitcher, Google Play, iTunes, PlayerFM, Listen Notes, Podknife and Mixcloud. Show notes are on the podpage. Send email to [email protected]

If you like the show, tell your friends, and, to all the 'law and order' assholes (yeah - slave law, plantation order), talking about so-called protesters looting, get back to me after you condemn the many, many 1%'er cronies and red hat hate groups that went on an orgy of smash and grab looting of the PPP funds while the GOP rat bastards decided which of the working poor were deserving enough to get a one-time unemployment check bonus...

Show themes "Rocket Power" & "Spy Glass" by NY musician and composer Kevin MacLeod. Some additional audio from freesound.org.

Next episode is set for Friday July 24th, cause I got other shit to do.

I'm Larry, trying hard to stay chill at my garrett in the Mission, and this is Magnetofunky, from San Francisco, where we go through, not into, the darkness.