Fallout

Episode Transcript. Length - 45:49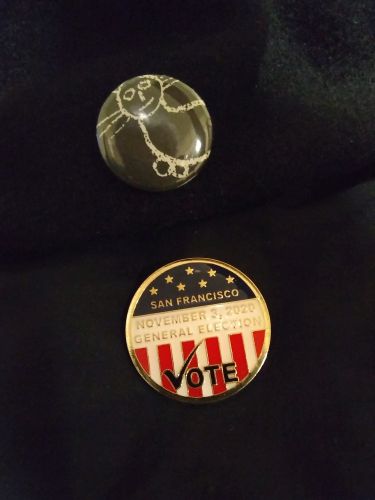 Magnetofunky No. 173. It's Friday, November 20th, 2020. [intro theme] Hey. Larry here. Stating up front - I started writing this script the week before Election Day, because no matter what the outcome, I'm feeling like I need to speed up my timetable for going walkabout, cause regardless of the outcome the next two years are gonna get crazy and SF is feeling more and more like a stationary target. Even now a couple weeks after Election Day, I'm still wearing my pollworker pin cause the expected tRump temper tantrum is playing out after Biden won - from screaming voter fraud to continuing to raise money from his lynch mob base as the go-to-hell-GOP plays along...

Anyway, this episode is rightly called 'Fallout' because the politically radioactive dust ain't about to settle, and the music this time out is a mix of newly submitted and exclusive tunes with a lead-off on the theme of fallout...

[song] - 01:42

Ok, that was The Fallout - Wake Up Eric, a Rock outfit/one-man outfit from Culver City, CA, pulled from the free MP3 stacks at Reverbnation. A cat with no info whatsoever as to when the song was posted or the page set up, or gig info, but the piece works as either a sincere or a snarky feature. The close out piece also has 'fallout' in the title and is worth hanging around for...

This is a laid back (and often explicit - you bet your ass) international podzine and personal journal of extremely eclectic music and progressive politics, with a focus on energy independence for the 99%. My podpage is 1223studios.com/mfunky.h. The Twitter is @Magnetofunky.

[Grid Theory] - 06:52

Gear Triage

Ok, In Grid Theory, if this is your first time listening, here's the elevator pitch:

My focus on energy independence resulted in a working model 100W 12V battery-operated self-charging phantom solar power plant that splits the positive and runs two separate loads, a power loop using a 2A boost-buck converter (imitation 20w solar panel) through a 10A solar charge controller to the charging battery, and an open circuit output to an 8A boost-buck converter (imitation 100W solar panel) to a 12V outlet and 150W power inverter. The system runs small AC appliances like my laptop and a dremel for sculpture work, while one battery charges the other. A switch flips the batteries between run and charging states. The switching system was patented over 100 years ago by Carlos F Benitez, a civil engineer in Guadalajara MX. I modified his 1918 patent using conventionally available parts and equipment. It can theoretically be scaled up to a 1000W emergency grid-tied power backup system for people who live in an SRO or are otherwise too low income to ever afford a Tesla Powerwall...

And now in the aftermath of the election, no matter which way it went I decided to move up the gear prep of my power plant, sticking with the 100W system. The 300W upgrade system requires a 1200W booster, 500W power inverter, two 22Ah batteries, a 20A charger controller and a minimum 50W solar panel, but with the existing system, I can get away with a pair of 12Ah batteries and a dinky 25W backpack solar panel to start and upgrade later. A 25W panel will charge a flat 12V 12Ah battery in 6 hrs, or, one day of decent California sun. These batteries go for an avg. of $20-30/ea. online, only a little bit more locally; 2 of 'em only weigh around 15lbs with a smaller footprint in the cargo trailer.

The solar panel can be tied to my trailer, or hang off the backpack I'll be wearing. A quick Google Shopping check says a 25W 12V panel starts around $30-40, and a 50W panel starts around $50 (if you trust eBay or Banggood or Aliexpress). Since I got banned from Craigslist, I pretty much stopped going there for anything, but since some things have to be bought online, if by long-shot chance the GOP pulls a rat-bastard move via the SCROTUS or a jiggered Electoral College and re-installs Pres. Superspreader, I might just un-ban Shenzhen from my eBay vendor source list for expediancy (since China is where P-Grabby actually pays his damn taxes)...

At any rate, I updated the power plant control panel with a travel safety cover and moved the 1200W booster below the batteries and the solar panel on the shopping list. And as for upgrading, it wouldn't be that hard to do it on the road - gimme the components, another Tupperware cotainer, my soldering iron, xacto knife, and wire cutter and I could make do---[bell]

Ok, practice camp stuff in a bit...

[Back To The Stage] - 11:50

Ok, Back to The Stage, continuing with an eclectic set of new releases, starting off with an exclusive drop from Audionautix, AKA Jason Shaw, Composer Producer Engineer out of Pittsburg. The piece is Iceberg, from a set of new exclusive tracks not available anywhere yet...

[song] - 12:16

ok, next up is It's A Man's World, an alternate take on the James Brown classic by LA Punk artist CrowJane, from her solo debut album Mater Dolorosa. kick-ass video too...

[song] - 15:28

Next up it's When We Were Young - more darkwave by amsterdam-based band CLAN OF XYMOX from the album Spider On The Wall I featured recently, on Metropolis Records...

[song] - 18:43

Ok, wrapping the set with another Sam Rosenthal Projekt Records collaborative piece, released October 9 to mark the centennial of Timothy Leary's birth, called TIM, WHERE ARE YOU NOW? an electronic space music/art rock collaboration with the label's electronic artists. This particular piece is Trip 1 (featuring Alex Cox). I featured this piece in hopes of getting back to life where politics doesn't fill every waking damn moment of the day...

[song] - 23:18



["Geeknotes"] - 27:03

Geeknotes: Drawn Out Separation...

Hey, Geeknotes!

1. Denial and isolation; 2. Anger; 3. Bargaining; 4. Depression; 5. Acceptance. Where we at - stages 1, 2 and 3 all happening at once? And stage 4 will be, what? a surprise attack in Iran? It's not stages of grief with the go-to-hell GOP, it's stages of revenge against the country for voting some of them out, cause I'm not convinced the votes for Sens Mitch McConnel, Lindsey Graham and Susan Collins weren't rigged. We're all at the stage of getting away from an abusive partner who's still in the rear view mirror chasing after you, for the next two months, with no break for the holidays...

Anyway, most of what I'd say here was already tweeted over the past couple weeks, so these points are extra:

* I'm not calling this dented tin pot dictator Orange Queenie anymore - from now till the Inaugural he's the Lame Duck in an Orange Jumpsuit, still causing chaos with diminishing returns, more annoying than feared...

* You pollsters can all pound sand unless, and until yourr models can sample everybody. There's no such thing as a monolithic ethnic or class group in the US, but there will always be caste groups with divisions by race, like some good-ole boys and male rappers with identical toxic masculinty worldviews having no problem backing the next poster boy for rape culture the GOP props up...

* A point I'm bringing back from before - the corp. Dems, GOP moles and saboteurs I don't want anywhere near Biden's Cabinet, like Rahm Emanuel, anybody from Chicago named Daley, Amy Klobuchar, Tim Geithner, Tom Perez, Meg Whitman, Arnie Duncan, Lawrence Summers, Henry Paulson, Ben Bernanke, Jamie Dimon, anybody else I missed from Citigroup, Goldman Sachs, Morgan Stanley, Wells Fargo - hell, anybody who couldn't pass a short-arm inspection by the Squad (or E. Warren)...

And BTW, NPR - you're already switching focus from over-coverage of right wingers because they're the party in power to over-coverage of right wingers because they're the loyal opposition. Screw you for normalizing the 2021 civil war...

Ok, I have a lot more to say about the vaccines that haven't passed clinical trials yet and what the country may be like after the pandemic (cause the end is in view, even though it's still a year away), but that's enough for now...

Ok, for the duration, If you have promos, pluggers, gig info, an art opening, etc, send me an email and I may add it to my Twitter feed if possible. The address is mfunkyzine@gmail.com...

------...

If you have promos, pluggers, gig info, an art opening, etc, send me an email. The address is mfunkyzine@gmail.com. And bands, artists and poets - download links, no attachments, please, and no promises...

[Grid Practice] - 31:38

Pitch A Tent

Ok, In Grid Practice,

Once I actually get my tarps for my tent condo, where to actually pitch a tent...

Here bumping the timetable gets tricky as it applies to getting a few shakeout trips done. One big issue is frankly, the hassle of finding a conveniently close spot to practice camp. There's plenty of state park, nat'l park, wilderness and BLM camping areas within a day's ride, but many are still closed or severely restricted due to the recent wildfires and the continuing COVID-19 lockdown. Most require reservations months in advance, and the closest ones are pricey (the Rob Hill Campground in the Presidio will run you $80-125/night). There are a couple $5/night sites in the Marin Headlands, but they're all closed until March.

The BLM campsites are further out - best pick so far going N. would be the Point Reyes Nat'l Seashore Campgrounds [Coast Camp], 35 mi. away, which is normally open year round and has a few single and group sites available for $20/night that can be reserved a couple weeks in advance, although visitor reviews earlier this year stated that there were aggressive homeless squatters hassling single women, and after the recent Woodward Fire hit the area, the site remains closed until further notice.

The closest pick South would be Half Moon Bay State Beach, about 28 mi. down Hwy 1, where some camping is still available, and they have hike and bike campsites at I'm guessing $5-10/night with a 2-night limit. Better...

At any rate, I could try it with whatever tarps I could get before Xmas, or wait till the winter rainy season that's already started is done by March, when most state campgrounds start up again. Peak season starts in April, but then I'd rather stealth camp to avoid the crowds - the biggest hassles with safety and theft concerns occur in crowded campsites. And any camping in a nat'l forest or park that's under the BLM will require some kind of bear canister, cause a part of the central coast does run through black bear territory - roughly from Monterey down through Big Sur to San Luis Obispo. And since I'm not going through the Sierras where Sequoia, Kings Canyon and Yosemite are, I don't need an expensive official IGBC - Interagency Grizzly Bear Committee - canister, but a DIY unit made out of a construction-grade 5 gal. bucket with a twist lid will do for black bears, but more for raccoons and rats, etc., cause I've learned frontcountry campsites like those along the Pacific Coast Bike Route are more prone to newbie or weekend campers who don't follow guidelines like proper garbage handling.

Meanwhile, I'm going through a ton of bike touring and bikepacking the California coast resources for overnight stealth camping and boondocking tips.

And as for the trailer, my packing solution is some combination of the big sports duffel bag I have, the 5 gal. bucket, and the big backpack I used at last year's stone camp (last year feels like 3 years ago). Either way works with the studio bag, camp chair and camp table. A fanny pack to hold snacks and ziplock dry bags and plastic bags to line the panniers would be the last real bikepacking gear I'd need (and a mount for the camera). I'm not taking the trailer on my first overnighters, but I will do a few shakeouts to GG park with a full load; I'm still a bit paranoid about the cart because it's the weakest link. So far I found one comment made to a blog bikepacking article early last year; a guy who rode cross country with a folding shopping cart trailer, with no modifications mentioned and nothing broke, so, rare, but I can't be the only one, can I?

[One More Tune] - 37:49

Ok, for this week's One More Tune, we close out with a cool keyword number - In the Fallout Shelter on Typewriters Dreaming/ Bounding Toward the Snowy Horizon, a sound collage by (not worksafe!) THE FUCKED UP BEAT. A Noir Schizo Hop sound project from New York City by Eddie Palmer & Brett Zehner. They say they now release under the name CLOUDWARMER, but you can find them by the old name at theie Bandcamp page, where their latest release is the 2020 album Rust Belt. Nice head piece...

[song] - 38:43

Well, OK.

[Closing] - 44:15

Hey, this show is a 1223studios joint.

I'm on almost all the popular podcast platforms, the latest being Google Podcasts and iHeartRadio. Show notes are on the podpage. Send email to mfunkyzine@gmail.com.

If you like the show, tell your friends, and, if Biden in any way makes noises about letting any of these goddamn GOP traitors and neo-confederate enablers off the hook, say hello to President for life Tom Fcking Cotton in 2024...

Show themes "Rocket Power" & "Spy Glass" by NY musician and composer Kevin MacLeod. Some additional audio from freesound.org.

Next episode is set for whenever I have enough music and get fed up enough to spout off again, but let's see where we are before Xmas.

I'm Larry, trying hard to stay chill at my garrett in the Mission, and this is Magnetofunky, from San Francisco, where we go through, not into, the darkness.