The Long Ugly Exit

Episode Transcript. Length - 43:37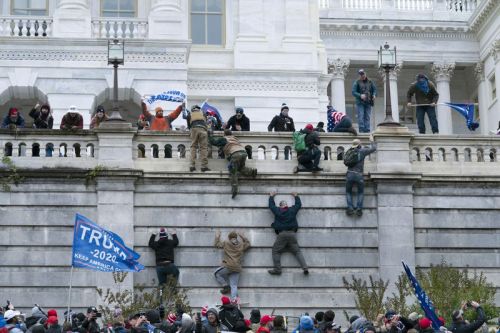 Magnetofunky No. 176. It's Monday, January 11th, 2021.

[intro theme]

Yeah. Larry here, and the calendar says 2021, but it feels like 2020 extra innings, especially after the latest unprecedented day of infamy - Pres. Shithole's instigated, deadly, terrorist, white privilege, GOP-aided, Covid super spreader storming of the Capitol, which delayed, but didn't stop Joe Biden's official Electoral College confirmation as the next President, with 8 GOP senators and over 100 GOP representatives running interference for him. Doesn't matter, he's still getting booted out in two weeks, but the Half-Assed Hump Day Coup De'Etat should be considered Act Two of his Gotterdammerung, with Act Three coming on or right before Inauguration Day.

Meanwhile, herd immunity assholes are causing hospital Covid ICU wards to burst at the seams across the country, but especially here in Calif., as the vaccine rollout is moving like molasses.

Also meanwhile back at the lab, I actually got a first stimulus check and put that little bit of cash to use. But anyway, the music is a purely curated hard set of tunes from the free MP3 stacks at Reverbnation, expressing my thoughs for today, not just after the 20th, that the biggest loser in the country's history, should let the doorknob hit you where the donkey damn sure kicked you...

[song] - 02:24

Yeah, that was Loser - iBURN, an alternative/nu metal band from Dublin ireland active from 2008 untill 2012. They had two releases - 'self titled' in 2010 and 'where it begins' in 2012, both produced by kallaghan. Cool...

This is a laid back (and often explicit - you bet your ass) international podzine and personal journal of extremely eclectic music and progressive politics, with a focus on energy independence for the 99%. My podpage is 1223studios.com/mfunky.h. The Twitter is @Magnetofunky.

[Grid Theory] - 06:00

Odds and Ends-

In Grid Theory,

The grid segments this time are brought to you by an actual stimulus check that came in the last business day of Dec... I never got that earlier one, and I suspect I only got this one because I went on the IRS site Where's My Stimulus late last summer and signed up, and a big chunk of that went to my long overdue glasses. The rest went right back into the local economy for the usual misc. (and no, I don't mean the liquor and weed store), and toward my batteries and a solar panel. The power plant components I'll cover later, first it's more odds and ends...

The handlebar harness scenario I was stuck on is going to a grocery store on the road fully loaded and protecting my gear. Unhooking the cargo trailer turns it back into a shopping cart; the trunk bag has a shoulder strap, but the harness itself would be a target if I just took the bivy sack with me, and the standoffs for the harness weren't really connected, but I found some long black cable ties that would keep them in place. Add a shoulder strap and now I can lock the bare bike and shop securely (once I use a long hose clamp to lock down the harness rack and put a vibration alarm on the bike)...

The DIY Critter Canister (not calling it a bear can anymore) just needed some silicone caulk for the lid and I finished that up by New Year's Day. An important item that was on sale at the local Target was a pretty substantial basic first aid kit. There are a few extra tour-specific items I can add to it, like an epipen or Naloxone (you never know if somebody OD's on the road), but this is often an afterthought in planning a tour...

After the New Year's weekend the bike stores opened back up and finally I got two inner tubes sized for the wider tires and a refreshed patch kit, something you can find in a lot of dollar stores nowadays, but you get what you pay for, and this is something I'm more likely to use any day on the road.-[bell]

Ok, finishing up in a bit...

[Back To The Stage] - 09:07

Ok, Back to The Stage, continuing the set of Get The F**k Out of The Peoples' House tunes. First up it's a cover of the king of pop's Beat it - The RaMaZoNs, a rock/rapper from India. It maybe was dropped in 2011, by a vocalist/guitarist going under the handle 'Lalit Yadav' who is currently a batsman with the Indian cricket team Delhi Capitals. There's no other footprint...

After that it's Take A Walk - The Small Hours, an Alternative band in Los Angeles that had a FB footprint up to 2017...

[songs] - 09:58; 13:42

[Second Set] - 17:38

Ok, the final pair of pieces has Go Away..!!! - ASH ANGER, a Metal Band from Bekasi Indonesia formed in 2012 and still rocking hard. I may just do an all-ID rock show in the near future...

Anyway, we wrap up with GET OUT! - Waren Prize, a rapper and hip hop composer from Prague, CZ, making his own style named Cryphy - I'd call it somewhat similar to hard glitch, but that's just me...

[songs] - 18:22; 24:05



["Geeknotes"] - 27:34

Geeknotes: One Week of Seditious BS To Go...

Hey, Geeknotes!

Ok... The segment this time was intended to cover the different and occasional side effects of the Covid vaccines to counter all the 'they say' misinformation being spread, but the failed domestic terror attack on the Capitol last week kinda scrapped everybody's planned narratives for this week, so the news cycle is full of white supremacist cop killers and seditionists being ID from their own social media posts and arrested, and complicit GOP toadies passive aggressively demanding a mulligan on their actions, and continuing lies on the election results (calling for 'unity' which sounds like 'immunity'), meanwhile, Nancy Pelosi's laptop is an ongoing security breach that still hasn't been tracked down, and while the whole 25th Amend.-2nd Impeachment do-si-do look more symbolic than substantive, additional attacks are surely being planned before and on Inaugration Day.

Out of all that, the best indication that we will have a transfer of power next week is that P-Grabby had his Twitter amputated and the non-tRump Generals at the Pentagon are keeping him away from the nuclear codes. The next 10 days or so are the most harrowing part of ending an abusive relationship - getting the violent asshole out of the house - so we just gotta get through it.

Ok, for the duration, If you have promos, pluggers, gig info, an art opening, etc, send me an email and I may add it to my Twitter feed if possible. The address is mfunkyzine@gmail.com...

And, if you like, or hate the show, give it a quick review. Go to ratethispodcast.com/mfunky and I'll read it here in Geeknotes and tee off appropriately.

[Grid Practice] - 30:34

Solar Stimulus

Ok, In Grid Practice,

Ok, got a couple more odds and ends...

A relatively simple thing is a central pole for the tent condo. One of the reasons I like this setup is that I don't need guy lines or trees to help hold the thing up, but a regular skinny 5 ft. tent pole won't do. Other backpacker forums mentioned using adjustible extension poles, and I found 3-6 ft. poles would work just fine. Well before Dec. I saw a pole at the local hardware store for $20, but held off because Lowe's had one for $10, but just like with the camo tarps the store said was in stock, when I went to the store on Sat., that was the only one that was all gone, none in stock, and the store assistants weren't interested in checking, so more wasted time and busfare, and Lowe's can go to hell from now on. Anyway, I got the $20 fiberglass/aluminum, heavy duty slide lock pole from the local store.

The last odd bit of gear actually will save me more than $10 - water bottles. I spent a day or so looking at all the specialized $10-20-and-up bottles, and the cleaning gear that goes along with keeping mold out of them, but on the bus I saw a bike with a regular Gatorade bottle in the cage, the type with a twist cap. Back home I bought a Gatorade and, yeah, the bottle fits nice and snug in my standard size bottle cage. Problem solved at 1/10 the price...

Now, on to the solar...

Once I got the stimulus I took a serious dive into a portable solution. The choice was between an old school hard solar panel, a flexible panel, or a folding panel. Each has a major pro and major con, but I specifically need a panel that will fit inside the cargo trailer when not deployed, can be easily attached when deployed, and will charge more than a cell phone or tablet.

The only advantage of an old school panel is it's cheaper. Most flexible panels are too expensive and don't actually flex enough (with the exception of Renogy's 50W panel), and their effeciency goes down fairly quaickly. The folding panels are generally made just for charging phone and power packs, but I went with that design and did manage to find a brand name with decent reputation and enough power to do the job - the Eco-Worthy 60W Watt 12V Foldable Solar Panel - 21.5 x 14.6 in. folded, 21.5-23.5% eff., and has carabiners to help mount it to the frame on my trailer.

After looking at reviews and checking out the company, I ordered the kit and got it in about 3 days. The short arm inspection was good, the kit includes a solar charge controller and battery cable. And as soon as we get a good sunny day I need to test it to make sure it works, before the return period runs out...

As for the batteries, I decided to upgrade from 10Ah to 18Ah because that size comes in the narrow conatiner - 7" L, 3" W, 6.6" H. They only weight 4 lb. more and cost a few bucks more. The units from Apex Battery are AGM (Absorbent Glass Mat) deep cycle batteries, and on sale during the holidays, so I ordered them the same day as the solar kit, but I have yet to get them to confirm my order being processed and shipped to the right address, but I'll keep bugging them until I get a shipping number or I'm cancelling the order in a few days.

At any rate, there are only a few items left until I'm fully geared up and my walkabout becomes a real thing...

[One More Tune] - 36:25

Ok, for this week's One More Tune, we close out with Loser - Fried Sunshine, aka David Shepherd, Electronica artist in Seattle. This 2011 release is from his studio The Lion's Den. You can catch his newest work on Bandcamp.

[song] - 36:48

Well, OK.

[Closing] - 40:46

Hey, this show is a 1223studios joint.

I'm on almost all the popular podcast platforms, the latest being Acast. Show notes are on the podpage. Send email to mfunkyzine@gmail.com; Send reviews to ratethispodcast.com/mfunky

If you like the show, tell your friends, and,

With the Covid pandemic not slowing down and global death rates keeping pace, there's enough info on vaccine side effects by now to satify anybody with an open mind, so, to black folks rightfully skeptical of the medical community, I'm gonna be an asshole and say nut up, grit your teeth and take the damn shot. It's an act of faith just like voting for the Democrats. This ain't Tuskeegee 2.0, none of these vaccines are being made just for black folks but for everybody. Do your research with experts who have reputations to protect and stop the lazy fallback to 'they say' hearsay, unless you wanna wear a damn mask in 2023.

And to you right wing white supremacist anti-maskers aggressively breathing and coughing on people like you're shooting them, you assholes should be required to provide bed space to take up some of the slack off all the hospital ICUs bursting at the seams, especially cause the moment you get a serious case of Covid you'll jump in line demanding premium care from the very doctors and nurses you cursed and spit on the day before. It's only fair, but I won't hold my breath waiting on a civic-minded change of heart...

Show themes "Rocket Power" & "Spy Glass" by NY musician and composer Kevin MacLeod. Some additional audio from freesound.org.

Next episode is set for whenever I have enough music and stuff to rant about, but come hell or high water it'll be under President Joe Biden and Vice President Kamala Harris.

I'm Larry, trying hard to stay chill at my garrett in the Mission, and this is Magnetofunky, from San Francisco, where we go through, not into, the darkness.