IOU A Power Grid

Episode Transcript. Length - 33:42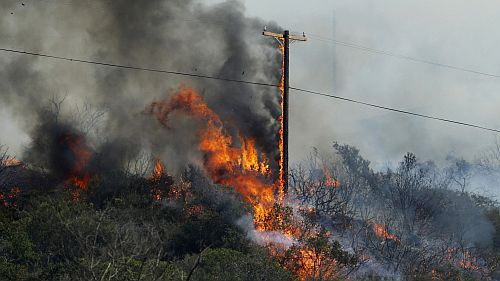 Magnetofunky No. 186. It's Monday, May 31st, 2021.

[intro theme]

Yeah. Larry here. It's officially Fire Season in the state, made worse by the ongoing drought, so the focus of this final brief look at the state's grid concerns the part of the system we all come in contact with as users - the investor-owned utility companies, because CAL-ISO may be the grid managers, but who's name is on the light bill and the maintenance truck?

Anyway, the music is a short set of new tunes sent in the past couple weeks...

[song] - 01:19

Ok, that was Punching Bag, another excellent brand new cut and video by NYC founded, LA based band Mercury and the Architects.

This is a laid back (and often explicit - you bet your ass) international podzine and personal journal of extremely eclectic music and progressive politics, with a focus on energy independence for the 99%. My podpage is 1223studios.com/mfunky.h. The Twitter is @Magnetofunky.

[Grid Theory] - 04:37

Investor Owned Utilities

In Grid Theory,

Two shows ago I looked at CAL-ISO, the California power grid manager you don't normally hear about, but this time it's the last mile grid managers you always hear about - the utility companies, lately under the headings 'mismanagement' and 'fire season.' I'm referring to California's three largest investor-owned utilities: Pacific Gas and Electric, San Diego Gas & Electric, and Southern California Edison.

The most recent news story on Pacific Gas & Electric Co. is them getting hit with a nearly $150 million bill for neglect that caused Northern California wildfires during the past two years and mismanagement of blackouts designed to prevent the utility's crumbling power grid from causing more damage, and there's no guarantee we won't see blackouts this summer.

Most of the problems with the utilities boil down to money, but to keep it simple, here's the Cliff Notes:

Over the last 10 years, environmental constraints as well as the potential risk that investors might no longer be able to recoup long-term investment in power generation resources, resulted in fewer power facilities being built.

Naturally, demand for electricity began to outpace supply. Natural gas prices and emissions costs also skyrocketed. These factors, combined with what was uncovered as market manipulation, created very high prices in the wholesale energy markets. The increase in wholesale prices caused the state's IOUs to pay more to buy wholesale energy than they were allowed to recover from their ratepayers, creating a "collection gap." that snowballed into the current shitshow of further bad boardroom decisions and the prospect of bankruptcy bailouts.

But there is a potential light at the end of the tunnel - community choice aggregators, or CCAs, in local communities throughout the state. an alternative to the investor owned utility energy supply system, in which local entities in the state aggregate the buying power of individual customers within a defined jurisdiction in order to secure alternative energy supply contracts. The main goals of CCAs have been to either lower costs for consumers or to allow consumers greater control of their energy mix, mainly by offering "greener" generation portfolios than local utilities.

It's not a perfect fix - since 2002, when State Assembly Bill 117 laid the foundation for CCA's, there's been much political warfare waged by the investor's minions in Sacramento, resulting in the first CCA only launching service in 2010, and as of last November there are 23 CCAs serving no more than 10 million customers in 180 cities and counties mostly along the coast, that's about 25 percent of the load in the three big utilities' territory.

Eventually the state will get a better handle on this part of the grid and lessen the problems of delivering power in the last mile, meanwhile, I hope fire season doesn't wipe out any campsites this year----[bell]

Ok, the final cargo frame R&D in a bit...

[Back To The Stage] - 08:39

Ok, Back to The Stage, continuing with a few new tunes before summer...

First up it's Follow Me, another unique hip hop take by artist K Gizzle from just outside Atlanta, then it's World on Fire, by Brooklyn-based gothic rock duo A Cloud of Ravens. To commemorate World Goth Day 2021, this tune from their album "Another Kind of Midnight," has been remixed by the legendary Clan of Xymox. The full remixed album will be released by Cleopatra Records on June 24th

[songs] - 09:25; 12:26



["Geeknotes"] - 17:11

Geeknotes: Memorial Traitors...

Hey, Geeknotes!

Today is Memorial Day, to remember the citizens AND non-citizens AND trying to become citizens who died while serving in a branch of this country's military, and yeah, that includes those whose service meant fighting in a war we were lied into, or getting their hands dirty implementing a corporation's business strategy. Even so, we remember an honor them, which is orders of magnitude above the treasonous bullshit demonstrated by the legion of red hat ratfuckers inside and outside the Beltway who are currently pissing on the garden of stone at Arlington Nat'l Cemetary, who have no goddamn business anywhere near a Memorial Day observance, who turn the stars and stripes into a fetid shroud, who even now are plotting the next act of insurrection next year.

But today ain't about them. Let's move on to a short pit stop at the deep end...

[deep end] - 18:42

Ok, a diversion through quantum mechanics and many-worlds interpretation. Whenever a theoritical physicist wanders through the weeds of alternate realities, the default is to always speculate that if you find yourself at a 'turn left/turn right' junction, both possibilities actualize into different universes, but it's entirely possible for the seemingly impossible to also take place, as in the two divergent realities both turn left or turn right. I could extrapolate further into identical reality convergence, but consider how this alone supremely screws with the math of an already vibrating and chaotically stable quantum state of reality...

[back to geeknotes]

Ok, if you like, or hate the show, go to ratethispodcast.com/mfunky. And, if you have non-Zoom promos, pluggers, gig info, an art opening, etc, send me an email. The address is mfunkyzine@gmail.com. And bands, artists and poets - download links, no attachments, please, and no promises...

[Grid Practice] - 20:44

Cargo Frame Overhaul

Ok, In Grid Practice,

Ok, this segment got rather involved for being a simple development of the cargo frame to final design as I ease into the pre-launch phase...

Right after post-production on the last episode, I tested my battery layout, the reason why I got those two narrow batteries in the first place. I put a mock cardboard shelf across the lower rails and the space underneath was 5 1/2", enough room for all three batteries to fit at the front end. At the back end, the tool box and my one gal. bottle of camp water easily fits. The batteries are about 24 lbs, the tool box will be 5-10 lbs, and the camp water is under 8.5 lbs. Add in the food canister and that's about 50 lbs base load.

Bump the bottom rack up to 6" and the middle space is now 18 x 24 x 12 inches (3 cu. ft. or 85 L), making the top and bottom racks 1.5 cu. ft. each. The main space should now have room for the general camp gear AND room for a stone up to 50 lbs. at half a cubic foot. One destination on my list is Stone City in Ventura County, to check out some of their more exotic pieces, and I do want to carry one of my small to medium stones to work on once I find a boondocking spot...

So that's a projected load of 50 lbs on the bottom, a max of 80 lbs. in the middle, and up to 20 lbs up top if stuff has to move to accoodate the stone. That's 150 lbs. Naturally, a pvc mockup frame ain't gonna cut it, so after a bit of research for the simplest structure, I settled on a pretty common threaded rod and plywood shelf design using 1/2" rods two feet long. But plywood is a pain in the ass to sort from scrap bins and custom cut, so I looked at what's already 18 x 24" at the hardware stores, and saw 1/2" to 1" panels of spruce pine and white oak that are cheaper than plywood and less susceptible to water damage.

I checked a load calculator at woodbin.com called the 'Sagulator' to compare pine and oak to plywood, and there was no difference in acceptable load bearing. A 3/4" middle panel could even take a 75 lb stone.

The weight of the threaded rods, wood, and assorted parts comes to about 20 lbs - cool...

Modifications: extra holes in the middle panel to tie it to the trailer side rails; floor or ceiling flanges zip tied to the cart base. A truck bed bungee cargo net with hooks can cover the frame and still have the solar panel tied to the top rail, and a 6' x 8' tarp works as a rain/privacy cover. And wrap the rods with duct tape to tone down the metal. I might still use coroplast under the frame as a splash guard, but no side panels cause a strong crosswind could help push the trailer off the road...

Moving on, according to the site bikes at work.com, someone in reasonable physical condition can generally pull a 300 lb load on level ground with no wind. I entered my weight (about 190 lbs) and a max estimate of the bike loaded with touring gear (about 80 lbs) and the trailer with an empty cargo frame (about 30 lbs) into the Human Power Load Calculator, and it said on level ground with no wind I could haul 316 lbs going 12 mph., about 60 mi. of leisurely travel on a good day. I'm only hauling a projected max load of 170 lbs, a little over half the cargo trailer's max carry capacity, and minus a stone that's 120 lbs at best.

Cool, but even so, to be on the safe side (cause a lot of the Pacific Coast Bike Route from SF to LA is not level ground), on any noticeable uphill grade I'm just gonna dismount and walk while working them brakes and saving my breath, especially at the beginning of my walkabout, which reminds me to do more regular uphill walking now to build stamina...

[One More Tune] - 26:28

Ok, for this week's One More Tune, we close out with Nothing Prevails - Information Society, One of electronic music's most influential bands, emerging from the Minneapolis underground in the mid '80s, now based in LA. This track is from the new album ODDfellows, due to drop on August 6...

[song] - 26:54

Nice...

The music bed this time is Zone One - Forrest Fang, the veteran Bay Area electronic musician and multi-instrumentalist, from his 18th album Ancient Machines...

Well, OK.

[Closing] - 31:47

Hey, this show is a 1223studios joint.

I'm on almost all the popular podcast platforms, the latest being Apple Podcast Connect. You can also say "Alexa, ask AnyPod to play Magnetofunky". Show notes are on the podpage. Send email to mfunkyzine@gmail.com; Send reviews to ratethispodcast.com/mfunky

If you like the show, tell your friends, and, A small personal gripe. I tried to watch the show 'The Underground Railroad' but couldn't get past the first episode. Yes, it's very well done and not supposed to be historically accurate, but I couldn't help but get angry during the scenes of grueling savagery against the slaves when I knew that many, many white boys young and old were watching and getting boners during those very scenes. This show should have been released in weekly installments, not at once...

Show themes "Rocket Power" & "Spy Glass" by NY musician and composer Kevin MacLeod. Some additional audio from freesound.org.

Next episode is set for, let's say June 14th. I'm gonna try to do another surf tunes episode...

I'm Larry, trying hard to stay chill at my garrett in the Mission, and this is Magnetofunky, from San Francisco, where we go through, not into, the darkness.