SitRep 15

Episode Transcript. Length - 41:21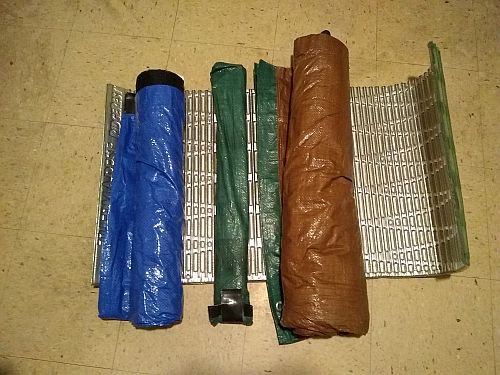 Magnetofunky No. 189. It's Monday, July 19th, 2021.

[intro theme]

Yeah. Larry here. The summer of chaotic limbo is in full swing no matter which way you look, it's like turning a page that don't wanna move... Anyway, it's been almost a year since the last situation report on where I'm at project-wise in the lab/studio - that's as good a theme as any, as last year's long hard black summer mutates into this year's hard hot and cold summer of heat domes, hurricanes, the next COVID wave and unmarked children's graves.

There's not a lot of music this time, but it's all new submitted...

[song] - 01:31

Ok, that was Something That's Different - the latest track from ROB GARZA of Thievery Corporation, featuring rising L.A.-based alternative pop singer EMELINE, in collaboration with the critically-hailed outfit Mercury Soul for their Green Gables video series. This is an alternate classical electronic version, shot at the historic estate of Green Gables in SF. The single was just released on Friday, July 16.

This is a laid back (and often explicit - you bet your ass) underground international personal journal of extremely eclectic music and progressive politics, with a focus on mobile energy independence and creative West Coast wanderlust. My podpage is 1223studios.com/mfunky.h. The Twitter is @Magnetofunky.

[Grid Theory] - 07:19

Post Stimulus Report

In Grid Theory,

It's been a year since the last bird's eye view of my situation; too much has happened to recap (instead you can read the last 20 show transcripts), but I'm calling this report 'post stimulus' because I don't believe a fourth stimulus check will ever manifest (now that the GQP and the Neo Dixiecrats Manchin and Sinema are in full tag team obstruction mode).

Anyway, since the last report I started checking out the 21 state park hike and bike campsites, squared away the tarp tent condo, got the solar panel kit, made the handlebar harness, bug bivy and laundry system, then the mad stimmy shopping spree, then put the mobile power plant together, and though there are still a few items to get, the walkabout project is now firmly in the final Pre-Launch stage that will probably take the rest of the year, as I tweak and adjust here and there...

For example: on the cargo frame, I decided to stick with galvanized or zinc plated metal parts for the threaded rod shelf design because those two flavors of rods, nuts, washers and fittings are safe from corrosive galvanic reactions when wet. Over the previous weekend I began collecting the parts at the local home improvement store (which is not a hardware store cause there's a lot of 1/4" and 3/8" stuff they don't carry). Anyway, they did have the foundation parts - 1/4" threaded rods, hex nuts and washers.

Using the 18 x 24" cardboard shelf mockup I'm tweaking the specs on the bottom and middle shelves for the best way to secure the frame to the cart but keep it removable if I need to stash the bike, trailer and gear for a day in storage--

----[bell]

Ok, more tweaks in a bit...

[Back To The Stage] - 10:00

Ok, Back to The Stage, continuing the short set of submitted July tunes that kinda sorta resonates with the theme of getting through the chaotic limbo we find ourselves in.

First up it's Got Me Down from NY indie rock band Stereoship, a cut from their debut album, Germinar, released on May 1.

[song] - 10:27

Next up is Atrium, an atmospheric introspective piece by Italian electronic/drone artist Lorenzo Montanà, from his new Projekt Records release "TexTrue," an album of resonant ambient drones encircled by echoes of a forgotten past. It was released July 6...

[song] - 15:57

Ok closing the set with The Brink - Jeromy Darling, full-time actor, songwriter, speaker and advocate for human dignity, hanging out in Minneapolis. If I were to hang an insufficient label on his music, i'd start with 'Hard Americana' and go from there. He also gets a mention in Geeknotes...

[song] - 22:31



["Geeknotes"] - 26:23

Geeknotes: Windows 11 Can KMA Until 2023

Hey, Geeknotes!

Well, as the COVID Delta Variant has become the Red Hat Continued Chaos Variant in the US, successfully stalling the vaccine rate and increasing the death rate, indoor masking is back in the city as a strong suggestion. Meanwhile, so much political BS is filling the summer news cycle I'm just gonna do Cliff Notes:

The phony backlash against Critical Race Theory really boils down to 'Don't Teach Black History, don't teach White History, only Founding Fathers Hero Worship and John Wayne's version of the Old West'...

Don't expect any movement on protecting voting rights from Congress until the last minute, something half-assed and almost toothless for the Mid-Terms, and forget about $15/Hr - all talk about that has stopped...

Expect GQP assholes to bum rush and obstruct the select committee on Jan. 6th as soon as it gets going. In fact the Republicans should forever forfeit the label 'Grand Old Party' - call 'em the Boogeyman Party, the Screw The Constitution Party, and as long as they keep selling the Big Lie they can be the STFU Party...

And not to forget the Great White North:

The sickening fact left out of news stories about unmarked graves at Canadian Indian Residential schools: there were 130 of these genocide schools across the country. Even worse, there were more than 350 in this country...

Anyway, my last two cents is on the tech news swimming with all the whiz-bang hype around Windows 11.

To paraphrase a take from a recent tech article, People liked Windows 98, hated ME, loved XP, despised Vista, clung to 7, ridiculed 8, and now for the most part enjoy Windows 10 (personally, I'd rather still be using 7).

The big issue with Win 11 is the requirement for a TPM 2.0 chip that, for one, can be used to encrypt hard disks and makes it harder for certain types of malware to infect PCs. The PITA is that it's effectively impossible to add it to a laptop motherboard. And even if your PC has it, without the right CPU specs you're still SOL (specifically, a minimum 8th gen Intel Core or AMD Zen-based processor). Because MS and Intel are in cahoots, they make their money off pushing new hardware, not the free upgrade software...

So frankly MS, I don't give a damn, because:

Win 11 is an 'every other' OS; Win 10 will be supported until at least 2025, and maybe longer; millions of folks are still using customized versions of every MS OS going back to 3.1; there's at least 5 Linux distributions geared for Windows 10 users; surprise, surprise, you can use BitLocker by itself to encrypt your shit without TPM. And, my personal Rule of Thumb is you need at least two years to discover and patch all the initial bugs and security holes - including what I call the 'broken car window' bugs some engineers leave in to guarantee job security. Long story short: Win 11 can KMA until 2023, and if my current laptop breaks down I'll get another Win 10 box until then...

Ok, this time we got a non-Zoom event date:

The Red Carpet Premiere of STRUNG! starring the afore mentioned Jeromy Darling and son, at Sioux Falls State Theatre, 316 S Phillips Ave, Sioux Falls, SD, Tues July 20th & Wed July 21st, 5:30PM Doors Open | 6:30PM Showtime.

Immediately following the film will be a song and Q&A w/ Producers, Directors, and Jeromy and son for their 13-Time Award-Winning Short Film

Ok, if you like, or hate the show, go to ratethispodcast.com/mfunky. And, if you have non-Zoom promos, pluggers, gig info, an art opening, etc, send me an email. The address is mfunkyzine@gmail.com. And bands, artists and poets - download links, no attachments, please, and no promises...

[Grid Practice] - 32:33

Tweaking The Gear

Ok, In Grid Practice,

Speaking of tweaking the gear, just a few things I'm working on as I attend to a stone piece I'm donating to an art auction for a community art organization, which I haven't updated on the studio page yet...

Anyway, I updated my porta potty from a cut down half bucket to a full size 5 gal. bucket after seeing that it's possible to put an almost full ziploc bag of kitty litter, a pack of baby wipes and a roll of plastic wastebasket bags into the nested space with the food canister bucket on top, taking up almost the same space in the cargo trailer. Nice...

I incorporated all the tent and sleeping bivy parts bikepacking style into the handlebar harness, so that I can camp without the trailer when I do the first overnight trip. With the tarps on the front racks, the total front load is about 15lbs. and the estimated rear load from the trunk panniers about 35lbs...

The bug bivy in particular has an added bivy pole of parts re-purposed from the pvc cargo frame mockup, a stand that keeps the sheer curtain netting off my face...

The last item isn't a tweak, rather a heavy lift...

My oscilloscope, the vintage Tektronix TAS 465, bought in the summer of 2018 to test my Bedini Motor, is no longer needed, but instead of letting it sit in storage I decided months ago to sell it once I hit this stage. The first option was to try Al Lasher's in Berkeley, but unfortunately, the shop closed for good in January - yet another victim of the COVID-19 Pandemic shutdown, and screw Craigslist because I'm still blacklisted there, and this isn't something you can sell flea market style on the sidewalk like an old boombox, so aside from a Craigslist copycat I guess eBay or FB Marketplace, but I'm not sure about giving it a good home. We'll see...

[One More Tune] - 35:22

Ok, for this week's One More Tune, we close out with a Brand new cut from Stone Mtn GA Hip Hop Producer K Gizzle. It's Taking Action, or, what you eventually gotta do to get out of chaotic limbo...

[song] - 35:44

[Music Bed] - 38:58

The music bed this week is Secret Bath, another haunted and serene piece from Italian electronic/drone artist Lorenzo Montanà's new album TexTrue...

Well, OK.

[Closing] - 39:23

Hey, this show is a 1223studios joint.

I'm on almost all the popular podcast platforms, the latest being Apple Podcast Connect. You can also say "Alexa, ask AnyPod to play Magnetofunky". Show notes are on the podpage. Send email to mfunkyzine@gmail.com.

If you like the show, tell your friends, and,

A particular political atrocity the corp. press never gets right on purpose - Cuba being a failed state, a stale narrative almost as old as me. Cuba is an embargoed state that manages to produce world-class doctors and actually helped free third world people from empires. It's far from perfect, but without Castro, Cuba would be just like Haiti, except with casinos.

And how come the PTB never turned Port-au-Prince into a Caribbean Las Vegas? Cause Haiti will always be punished for liberating itself and scaring the shit out of this country...

Show themes "Rocket Power" & "Spy Glass" by NY musician and composer Kevin MacLeod. Some additional audio from freesound.org.

Next episode is set whenever enough music comes in, cause I got my hands full and I'm not curating...

I'm Larry, trying hard to stay chill at my garrett in the Mission, and this is Magnetofunky, from San Francisco, where we go through, not into, the darkness.