8 Lines in the Big Muddy

Episode Transcript. Length - 42:00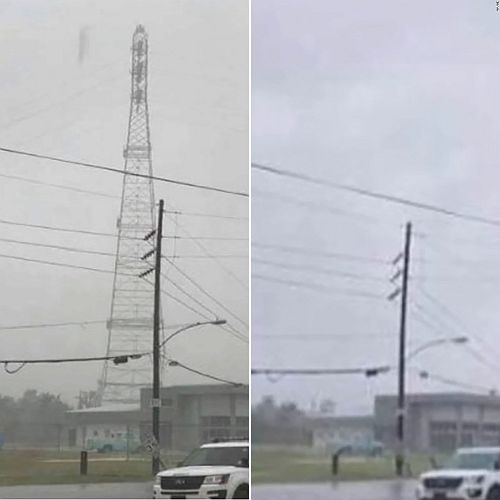 Magnetofunky No. 191. It's Friday, September 10th, 2021.

[intro theme]

Yeah. Larry here, not waiting for the California Recall to fall before putting this episode out, because there's too much happening - New Orleans is suffering yet another post-hurricane blackout, the SCROTUS thinks they've unleashed the Xtian Taliban in Texas, and the 20th Anniversary of the 9/11 attack is tomorrow. Meanwhile, a simple thing like buying wood shelves brings its own drama.

Anyway, the music this time out is a curated set of Indonesian Rock and Punk, a small selection from the bounty of guitar goodness available, all pulled from the free M3 stacks at Reverbnation, and this lead-off is slightly not worksafe...

[song] - 01:31

Ok, that was Nightmare - Avenged Sevenfold, an Indonesian Hard Rock outfit of virtuosos who are scheduled to play Resurrection Fest 2022 in Viveiro, Spain. Nice...

This is a laid back (and often explicit - you bet your ass) underground international personal journal of extremely eclectic music and progressive politics, with a focus on mobile energy independence and creative West Coast wanderlust. My podpage is 1223studios.com/mfunky.h. The Twitter is @Magnetofunky.

[Grid Theory] - 08:23

Post-Ida Blackout

In Grid Theory,

Hurricane Ida hit on Sunday evening, 8/29, the 16th Anniv. of Hurricane Katrina, with two significant differences - Katrina was a Category 3 storm that took out the levee system near New Orleans, but Ida was a Cat. 2 storm that didn't take out the rebuilt levees. Nonetheless, the New Orleans area was immediately cast into a Level 5-6 Grid Down (as in maximum 30 days or minimum 30 days without power). In fact, when Katrina knocked out the power, it took N.O. 40 days to get back to 100%, and rural Miss. three weeks. You should expect the same level of progress, because there's more infrastructure to restore - more computers, phones, electric vehicles, gadgets to recharge, along with gas stations, water treatment and sewage systems, and the added strain on hospitals from the burden of the COVID pandemic that aggressive anti-vaxxers are making worse.

A big power grid chokepoint is the 400 ft. transmission tower just outside N.O. carrying eight high-voltage power lines that Ida knocked into the Miss. River. That was a big part of the redundancy built into the system, that has to be rebuilt to restore full power to the city. And speaking of redundancy, what about backup power?

In a nutshell, distributed energy in the Delta is a joke by design, thanks to the efforts of power players like Entergy, the extortion ring pretending to be a utility company that, for one, shoved a coal-fired power plant down the region's throat instead of the less profitable route of hardening transmission lines to serve the whole city instead of a limited area. Like other utilities, Entergy has fought letting the many home solar systems sell power back to the grid, but what would really help would be grants to help build microgrids and provide batteries, as long as the money didn't get diverted into Entergy's pockets----[bell]

Ok, the blackout continues, but I'm covering the lab in a bit...

[Back To The Stage] - 11:14

Ok, Back to The Stage, continuing the hard set of Indonesian Rock/Pop/Punk. The thing about the scene in Indonesia is that there is so much music to choose from it was hard to pick at first, but this is a nice mix...

First up it's Rise Up and Againts - Legacy HC, a Hardcore band formed in 2014 in Medan, ID. This is from their debut EP released in January...

[song] - 11:49

Ok, next up it's Aku Benci Pacarmu/I hate your girlfriend ( Single 2016 ) - LOWDICK, Rock / Pop Punk crew outta Bandung...

[song] - 14:34

All right, this is BUKAN KOMPETISI/Not a competition - UNDER 18, Hardcore band also outta Bandung, from the album Keep The Faith released February 18, 2016...

[song] - 18:59

Ok, wrapping up with a melodic pop punk number, Indah Tak Sempurna/Beautiful Imperfect - STAND HERE ALONE, also from Bandung. Nice...

[song] - 21:13



["Geeknotes"] - 24:52

Geeknotes: Between Skirmishes...

Hey, Geeknotes!

Ok, I was gonna wait until this time next week to put out an episode, but the political trash piles up so fast nowadays that 3 weeks feels like 3 months. For instance, can't really get into the anti-maskers (AKA the Typhoid Mary Liberation Front) keeping the pandemic going on long enough that we have a new 'Mu' variant on the scene...

Anyway, we got the right wing SCROTUS giving a pass to the clearly unconstitutional Texas abortion ban based on a six-week fetal heartbeat that doesn't exist - yeah, this time the dog caught the car, so to speak, as Texas Taliban posses can hunt down anyone suspected of helping a woman exercise her healthcare rights. Now, normally this kind of BS would be blocked so the GQP could run against it, but suddenly the politicians are downplaying it because killing Roe v, Wade is supposed to be a talking point, not actual policy, but the shit has hit the fan, so to speak. The most hopeful turn from this debacle so far is that the Mexican Supreme Court has totally decrimminalized abortion, meaning many poor women in Texas don't have to cross several state lines, just one border to do what many other people are now doing to get affordable dental care...

Meanwhile, the 20th Annivesary of the 9/11 terror attacks is tomorrow. We all know how rapidly the feeling of solidarity turned sour, but my personal experience of that day includes a blackout. At the time I was a pirate radio dj in Chicago with Guerilla Love Radio. That evening I had the first shift doing my show The Rent Pary. I went to our undisclosed studio somewhere between Wicker Park and Logan Square, setup the transmitter and from 6 - 8pm unloaded my raw feelings of horror and patriotic anger, and pride at the passengers and crew of Flight 93 doing what had to be done. I don't remember anything else about the broadcast. At 8pm the next dj didn't show, I closed up shop, went home, and for a while we went dark; running the station just wasn't important. That's how hard that day was...

And now the BS recall election, the only things to be said now are:

1. - If you still have your mail-in ballot, DO NOT put it in the mail, go to the city hall drop box!
2. - If the two-part question ballot is still "confusing" like the status quo press keeps insisting, that just means you ain't paying attention.
3. - As stated, the red hats are already screaming 'rigged election' cause it looks more and more likely that we won't have to deal with hopeful Gov. Ruckus AKA Larry Elder, the blackface of white supremacy. We'll be dealing with whining and demands to recount this shitshow all the way to Xmas. Just watch...

If you like, or hate the show, go to ratethispodcast.com/mfunky. And, if you have non-Zoom promos, pluggers, gig info, an art opening, etc, send me an email. The address is mfunkyzine@gmail.com. And bands, artists and poets - download links, no attachments, please, and no promises...

[Grid Practice] - 29:47

Shelf Shape

Ok, In Grid Practice,

With the first of the month I put off ordering the eye nuts and went to the Lowe's store expecting something screwy. I got the Light Duty Strap Anchors that actually were where the store website said they were, but yep, when I went to Aisle 36, Bay 21 for the hardwood boards, Bay 21 didn't even exist, and the helpful assistant tried to steer me to the plywood aisle so he could get back to what he was doing when I hit the call button - sitting on his ass and flirting with a co-worker. In Bay 25 among stacks of stair parts, I found the 18 x 24" shelves they were selling - not solid Pine boards, but edge glued panels of Spruce Pine made in Brazil that looked nothing like the board on the webpage.

Smelling the stench of 'bait and switch,' I went ahead and bought two of 'em, knowing Home Depot is no better, and I need the shelves. Anyway, once back home I did a little angry research and saw that yeah, 'edge glued panels' was in the small print of the specs for the hardwood boards, and that it's pretty much standard for shelves more than 8" wide to be edge glued or some other composite (like MDF, OSB and plywood). I couldn't find any stats on shear strength or sagging with these panels, so I'm making the wild assumption that the sagulator wood calculator is assuming that an 18"wide Spruce Pine shelf is a composite just like plywood, and a 1" thick shelf will handle a 50-75lb. load. Even so, I'm adding flat metal braces as reinforcements to the middle shelf, and after wading through the weeds on stains and sealers, decided on Half & Half Pre-Thinned Tung Oil to make these panels last longer in the outdoors...

After marking up the the middle shelf for the stone space, the the hose clamps and the support rods, I made a quick trip to local not-hardware store for wood screws and more sandpaper for the strawberry alabaster stone I'm working on, I happened to see a box of flat steel braces that are 18" long, perfect for the middle shelf. And that's pretty much it until I get the third shelf...

Also, I finished up the list of bike shops more or less along the Pacific Coast Bike Route from the Bay Area down to San Diego. It came to 27 different towns and small cities, with the biggest hurdle being an almost 100 mile stretch roughly between Carmel By The Sea and Cambria with no bike shops or many other shops, the closest thing to a one-horse town so far being the Big Sur Deli. That's where I'll have to drill down for gas stations, general stores, rest stops, places where I can refill water, and alternative bike friendly campsites...

[One More Tune] - 34:10

Ok, for this week's One More Tune, we close out with Hilang/Is Lost - Remember Of Today, a Hardcore Punk band from Jakarta formed in 2010. This is a new version of the song. Enjoy...

[song] - 34:28

Nice...

[Music Bed] - 39:12 The music bed this time returns to Italian ambient/electronic artist Jarguna's album ANIMAS-K released in April. This atmospheric piece is Earth Forged by the Sun.

Well, OK.

[Closing] - 39:56

Hey, this show is a 1223studios joint.

I'm on almost all the popular podcast platforms, the latest being Apple Podcast Connect. You can also say "Alexa, ask AnyPod to play Magnetofunky". Show notes are on the podpage. Send email to mfunkyzine@gmail.com.

If you like the show, tell your friends, and,

Knowing how much the rabid red hats hate Pres. Biden for ending the profitable money pit that was the war in Afghanistan, I wouldn't put it past a GQP terror cell to attempt to 'assist' an Al Quida or ISIS plot to bomb a facility and kill a few Americans on US soil before the 2024 election, if it meant spiking the Democrats control of the White House and Congress. And no, not giving any of them ideas; I'm sure it's already ganed out in somebody's playbook of ratfucking scenarios. If Nixon could make back channel deals with the Viet Cong and Reagan do likewise with the Iranian hostage takers, right before critical elections, why wouldn't they consider it?

Show themes "Rocket Power" & "Spy Glass" by NY musician and composer Kevin MacLeod. Some additional audio from freesound.org.

Next episode is truly set for after the recall debacle and how the sorry spectacle of attempted west coast insurrection turned out..

I'm Larry, trying hard to stay chill at my garrett in the Mission, and this is Magnetofunky, from San Francisco, where we are still slogging through, but no longer into, the darkness.