SitRep10

Episode Transcript. Length - 35:23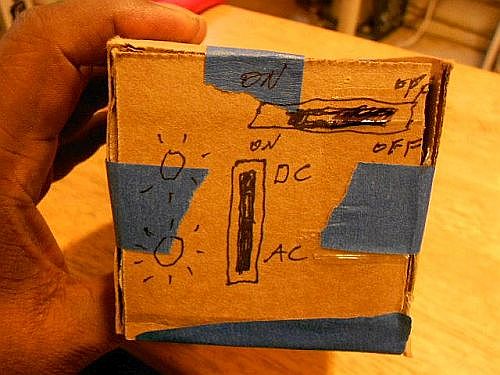 Magnetofunky No. 96. It's Saturday, November 3rd, 2018.

[intro theme]

Hey. Larry here... This week we burn through the last grunions of daylight savings time (which is on the ballot out here), with election day staring us in the face with our backs against the wall... Anyway, I take a quick situation report on the grid progress as I start on the mini-booster enclosure. The music this time out is all Cali...

[96_fase] - 00:57

Ok, that was Medicine (Ft. La Mer) - a bit of Experimental / electronica by ERASERFASE, Los Angeles Native Beat Music Producer with a lot of tracks. This is from the 2013 album OBSOLETISM, his first solo LP, An arrangement of synthesizers, samples and live instrumentation... set to a backdrop of swingy un-quantized beats. Nice.

This is a laid back (and often explicit - you bet your ass) weekly international podzine of extremely eclectic music and progressive politics, with a focus on energy independence for the 99%. My podpages are 1223studios.com/mfunky.h and facebook.com/1223Studios.

[Grid Theory] - 06:09

Attraction Distraction

Ok, In Grid Theory, briefly,

It's been 10 shows since the last bird's eye view of Mfunky Labs, and what brought this one on was my staring at that damn rotor after almost a week, with half a bottle of acetone making no damn difference with the former coil, now just a wire and glue monster, that'll take the next couple weeks exclusively to deal with, when I have almost all the parts for the Benitez-1, and the booster box design waiting in the queue. The Lindemann Attraction Motor is a cool doohickey, but now it's becoming another hobby project, meanwhile, I have that 4.5 - 12V dc motor that'll substitute just fine. I mean, the original plan was to use the Lindemann video just for the battery bank wiring and component layout diagram, not futz with the motor, but I'll build a model 1 as proof of concept, then see about modifying it to a Benitez-7...

Meanwhile, for my grid-tie system I'm gonna follow the rec. of my laptop brand and go with Tripp-Lite on a couple 400-600W inverters---

[bell]

Ok, coming back with the booster box...

[Back To The Stage] - 08:16

Ok, Back to The Stage, continuing the mostly southern Cali set of tunes found under the tags Funk and Experimental at Reverbnation, with a submission from here in town - Starfish, Starfish - Model Americans, the outfit of Singer Songwriter Johnny Delmar. Nice piece.

After that, we have another number from Handtruck (AKA Clinton Kirby (gtr), Stephen Thomas (dr)), Magnetize Yourself...

[96_modam_handt] - 08:56; 11:58

[Second Set] - 15:08

Ok, second set opens with Out of the Dark - Graham Czach, a Pop Rock / Experimental singer/songwriter from Chicago now in LA. Czach fuses modern and progressive rock sensibilities with pop-like hooks and socially conscious message-driven music. He is an original, wildly creative, and accomplished musician, composer, upright/electric bassist, vocalist, and guitarist.

And we wrap up with Brand New Day - Wait For Green, Alternative / Funk / Rock band down in Venice. This song is from the 2013 EP The Deep End, but the latest EP, Breeze of the Palm, came out early this year...

[95_czach_wait] - 16:01; 19:32

["Geeknotes"] - 22:54

Geeknotes: 11/07 - Discussing Peoples Temple @ California Historical Society, SF, 11/08 - AfroTech 2018, SF, 11/09 - San Francisco Transgender Film Festival 2018 @ Roxie Theater, SF

Hey, Geeknotes!

Today it's Saturday the 3rd of November,

And the Lone Wolf Battalion is out and about making election season hunting season, and that includes all the assholes with a burning cross twitch and cute media monikers using the lynching app on their phones against darkies minding their own damn business.

Expect nothing but double down from here on, especially after Tues., no matter what the outcome.

Expect something ugly on Monday, because these hamfisted moves are exactly what a desperate an obvious Orange Queenie will do - and the corporate news mouths will dutifully cover that instead of the rampant voter suppression in crucial races, and has MSNBC covered the actual lynchings of several relatives of Black Lives Matter activists in Ferguson? Have they?

Anyway, with the time change right before going to the polls, cutting off all election ads for those two days couldn't hurt getting in sync.

Anyway, let's run the dates:

...which starts on Election Day, 11/06 - World Day to Protect the Environment in War

11/07 - Discussing Peoples Temple - Social and Cultural Climate, 6 PM – 8 PM, California Historical Society 678 Mission St, SF

In memory of the 40th anniversary of Jonestown, California Historical Society will present an evening public program which explores the complex ways Peoples Temple was interconnected with and influenced by social, cultural, and political movements occurring at the time of its existence. Historians, thinkers, and survivors will come together to discuss how moments and movements of the 20th century, in California and beyond, effected and influenced Jim Jones, the Peoples Temple movement, and Jonestown. Speakers include Professor Russel Rickford, Professor Natalie Hopkinson, and Captain Yulanda Williams. The discussion will be moderated by USF Professor James Lance Taylor.

11/08 - AfroTech 2018, Nov 8 - Nov 11, 9AM - 9PM

The groundbreaking, revolutionary experience for Black techies, startups and entrepreneurs returns! Come join 3000+ of your fellow founders, entrepreneurs, engineers for a 360-degree look at how culture and tech runs the world. The level up continues with an expanded program at various venues in the city by the Bay (like the Palace of Fine Arts and BeSpoke, a chic pop-up space half a block from the Powell BART stop).

Making room for more tech, more talks, more teaching, more learning, more pitching and more glow ups!

Tickets ain't cheap, but then, the cutting edge never is...

11/09 - San Francisco Transgender Film Festival 2018, 8 PM – 9:30 PM, Roxie Theater, 3117 16th St, SF

The San Francisco Transgender Film Festival presents a stellar collection of transgender films from around the globe. This year's festival takes place at The Roxie Theater. SATURDAY NIGHT 9PM program only: Closed-Captioned for Deaf and Hard-of-Hearing audiences. ASL interpretation provided. Podpage link for the full schedule.

If you have promos, pluggers, gig info, an art opening, etc, send me an email. The address is mfunkyzine@gmail.com. And bands, artists and poets - download links, no attachments, please, and no promises...

[Grid Practice] - 28:16

Booster Box

Ok, in Grid Practice...

The booster box is coming along a lot faster than the damn rotor, after a couple days I roughed out a mock up, 3 x 3 x 6 inches. The concept now has it oriented vertically, with enough space to have both an AC and DC outlet, service ports to the circuit side and the battery side, a space for a spare set of AA's, with the control panel on top. The cover pic shows the controls rough sketch, minus the power on light.

And the last thing before starting production on the show, I started on the Benitez-1, installing the knife switches on a project board. The actual wiring of the two battery banks comes after everything else is installed, so when I make another store run for blocking diodes, I'll look at the small transformers they have for the Benitez-7, and slide switches...

[One More Tune] - 29:50

For One More Tune, we close out with TreeToOne - Transisthor - TreeToOne, a Glitch-Hop/Synth-pop / Experimental artist in Los Angeles. Let's see - Electronica synth-based beats from Tijuana, Mexico. Save the Trees!!!

It's got a good beat, you can dance to it...

[96_tree] - 30:15

Well Ok...

[Closing] - 34:18

Hey, this show is a 1223studios joint.

Show files are at iTunes, Internet Archive, Stitcher, Tunein, Listen Notes, Podknife and Mixcloud. Episode notes are on the podpages, and you can download the MP3 directly.

If you like the show, tell your friends, and, if FB was your significant other, how many times would you endure being cheated on and lied to?

Show themes "Rocket Power" & "Spy Glass" by NY musician and composer Kevin MacLeod. Some additional audio from freesound.org.

Next episode is set for Friday. Nov 9th.

I'm Larry, trying hard to stay chill at my garrett in the Mission, and this is Magnetofunky, from San Francisco, where we go through, not into, the darkness.